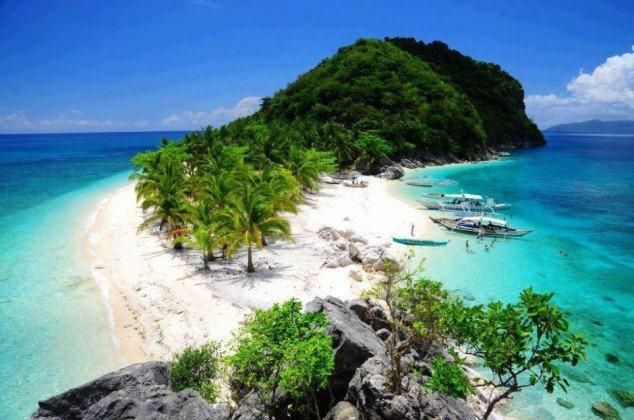 Who of us haven't dreamed of living on a tropical island all by himself? There's certainly something very exciting in travelling to some secluded island, where you can just be yourself and immerse in the beauty of nature.

So how will you get to your dream island, but still maintain a carefree vacation? How will you get in tune with nature? For most people, who normally can't just cut off from society, traveling alone will do the trick. Bringing a companion from home, is like carrying home with you.
Many Islands in the Philippines are perfect for solo traveling.However,planning a trip to virgin destinations is very difficult. For a truly personalized trip, consider the help of a travel agency which specializes in customized vacations. If you want to try doing it yourself,just try any of these 5 islands we found best for solo traveling.
El Nido – Be alone or meet new friends from all over the world
The best beach destination in the Philippines and best island in the world, rivaled only by Boracay in its popularity and fame. There is no need to remind you of the beauty of El Nido. When you think of a tropical paradise you probably imagine El Nido.
So what's in El Nido? It is a small town sandwiched between the surrounding mountains, with lush tropical forests. There are lagoons hidden between limestone cliffs (where you can try some rock climbing), great dives, and white sand beaches.
Being one of the most famous spots in the country, this small town attracts tourists of different nationalities, which have a very important thing in common. They love nature and the serenity about it. They all come here for the search of paradise lost.
You will get the chance to meet many people different than you. You can learn a lot from their different background, customs, manners and style. After meeting people from all over the globe, you'll embark on expeditions to the northern tip of Palawan, and get up close and personal with nature!
Siargao – You will just want wear yourself out, in this natural amusement park
Siargao is turning from a spot hardly heard of a few years ago, to a spot everybody want to check out. Known primarily as the surfing capital of the Philippines, it is considered one of the best places in the world for surfing. Siargao's beauty doesn't fall far behind, if at all, any other destination in the Philippines.And that's including even Palawan and Boracay!
The reason it made it to this list, is thatSiargao has so many activities and places to discover, while maintaining a simple island lifestyle. It's also very affordable - a night in a dorm can go as low as 200P. These dorms draw many young people from all over the world. Most of these places actually organize surfing sessions for the guests, and even rent boards and surfing guides. After a single session, you've already made yourself plenty of friends with whom you shared unique experiences.
You will surely meet great people to explore the island's lagoons, natural rock pools and hidden beaches together with. Ride on your rented motorbikes, going to one of the bars on General Luna, for there is always a small party somewhere on the island. This island is vibrant, and will give you an adventure you will remember forever, while never making you feel bored or lonely.
Batanes–If you love ecotourism
Batanes is on the wish list of every Filipino. It is famous for being unique and unlike anyother partof the Philippines.The grassy green rolling hills, the picturesque lighthouses, beautifulValugan Boulder Beach,the Ivatan people indigenous to this province, and their unique culture. Most people think that due to Batanes's remoteness it's probably a place very difficult to reach, let alone by yourself.
On the contrary! It is perfectly fine, and it'seven better to travel there solo. The people are so friendly and helpful, that you will get all the assistance you'll need. You'll get to feel and experience a lifestyle very different than your own. It will make you reflect on your life, but on contrary to El Nido mentioned above, it is going to be the local culture giving you this sensation.
What welike about Batanes is that it's very easy to take part and feel the local vibes first handedly. Of course you can go classic tourist, stay in hotels, and meet the locals with a camera separating you from them - But that's not the point of these islands (10 in number, only 3 inhabited).
A nuch better idea would bestaying in homestays rather than hotels or resorts - getting intimate with the local culture andmeet the people.This kind of visit will actually help the locals directly. Ecotourism is the nature of the tourism in Batanes. The money you spendwill go directly to the community and not to some big corporates, and that's a great bonus.
Apo Island – perfect for the unaccompanied traveler, especially if he's into diving.
This is a very small island, with less than 1,000 people living on it. There are only 3 hours of electricity a day, and very few resorts you can stay in, and even fewer restaurants. It is a secluded island, with very few people on it, that feels somewhat like a pirate hideout.
So what is so fun about Apo? Well, the simplicity will make you of feel thankful forwhat you usually take for granted. You don't have many distractions, nor a lot to do on Apo, so it's a perfect place to clear your mind and relax. It's so beautiful, and the locals are always smiling and happy to help, that you will realize that you might not need much to be happy.
The true magic though hides beneath the waves. It is just spectacular, and there are so many turtles (even when snorkeling, you'll find them just by the beach ignoring you). It's a great place to learn how to dive, and actually get a discount if you'll stay in the dive club's resort. When diving, you will share a boat with strangers, and dive with them. You will find yourself in a very quiet underwater world, but with new friends around you.
Pagudpud–The Boracay of the north
Filipinos nicknamed this place as the Boracay of the northfor a reason. Both have beautiful white beaches, accommodating resorts and beach activities. But being famous comes with a price. Boracay can be unsafe, especially when going there alone (you might get scammed), and it's not so fun going to a party island by yourself.
Pagudpud on the other hand is very calm. The locals are very friendly and you will not feel unsafe. There are two famous beaches, Saud Beach and Blue Lagoon. In between and around these two beaches you can explore the Bangui windmills, the PatapatBridge, Kabigan Waterfalls, and many other hidden gems.
On Saud and Blue Lagoon you will find beach activities like surfing, zip-lines and such. Pagudpud is great for the solo traveler -choose between the many activities available or just relaxby the beach while sipping a cocktail. It is a classic beach getaway that is affordable and safe, and sure is a lot of fun.
Don't hesitate to travel by yourself to the amazing island here in the Philippines. This is our top 5 list, but there are many otherbeaches and islands in the Philippines that are perfect for the solo wanderer. It is a matter of personal taste and preference, so don't be afraid to discover your own.