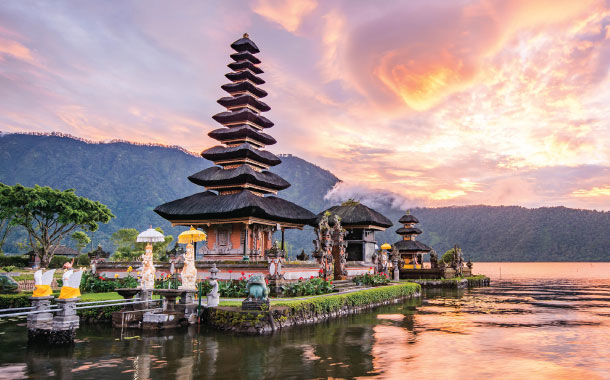 The iconic destination of Indonesia is not only known for its green paddy fields and exotic beaches and of course, cheap air tickets, international tourists, but also for the spicy and delicious culinary experience it offers. From the street-side food stalls that south-east Asia is so well known for to the fine dining restaurants, Bali has a range of mouthwatering dishes that you must try on your visit to the island city.
Here are 5 dishes from the vast palate of Bali cuisine handpicked for you to taste:
1.Sate Lilit
Sate or satay is quite a popular dish in all of Indonesia. Served by both street vendors and restaurants, it is marinated meat grilled and wrapped around a stick. The variant found in Bali is called Sate Lilit – it is a delicious serve of meat of your choice – chicken, fish, pork or beef minced, marinated and soaked in coconut milk, grated coconut, wrapped and pressed around a stick of bamboo or lemongrass or sugarcane and then barbecued with rubbed on condiments. Sauces are an optional choice.
2.Pisang Goreng and Pisang Rai
It is too early in the list for a dessert to appear, but these preparations made from banana are entirely deserving of it. Pisang Goreng is fried banana served with a few coconut flakes and honey/sugar syrup – it is one of the iconic dishes of Bali. So is Pisang Rai which is basically boiled banana coated in rice flour and grated coconut, sometimes with an additional garnish of brown sugar and pineapple squares.
3.Babi Guling
Babi Guling is to Bali what roasted chicken is too many western countries – traditional and wholesome. It consisted of a whole pig stuffed with rich traditional spices and vegetables and rolled over the old-school style of coal fire to roast it to the core. What comes to your dish is juicy, tender pork meat falling off the bones with crisp skin. Once sort of a communal meal, it is now quite a delicacy in Bali.
4.Bakso
This dish looks quite familiar with components like meatball dumplings in piping hot broth and noodles, but it has the typical Balinese taste in all of it. You will mostly find these at the sellers with portable cart. Bakso might not be an exquisite dish, but it smells of everything Bali and would be a shame if you give it a miss.
5.Jimbaran seafood
What's a trip to a beach without tasting a bit of seafood? Bali, which is known for its pretty beaches with turquoise water, has an assortment of beachside cafes. The ones on Muaya beach in Jimbaran Bay have their own culinary style. The shop owners use a unique spice called sambal along with others to create the best of Jimbaran seafood dishes – shrimp, crabs, lobsters, calamari, sea fishes – there is absolutely no dearth of guilty pleasures.
Now that you have bought your International Flight Tickets to Bali make sure you try these delightful dishes while on the trip.