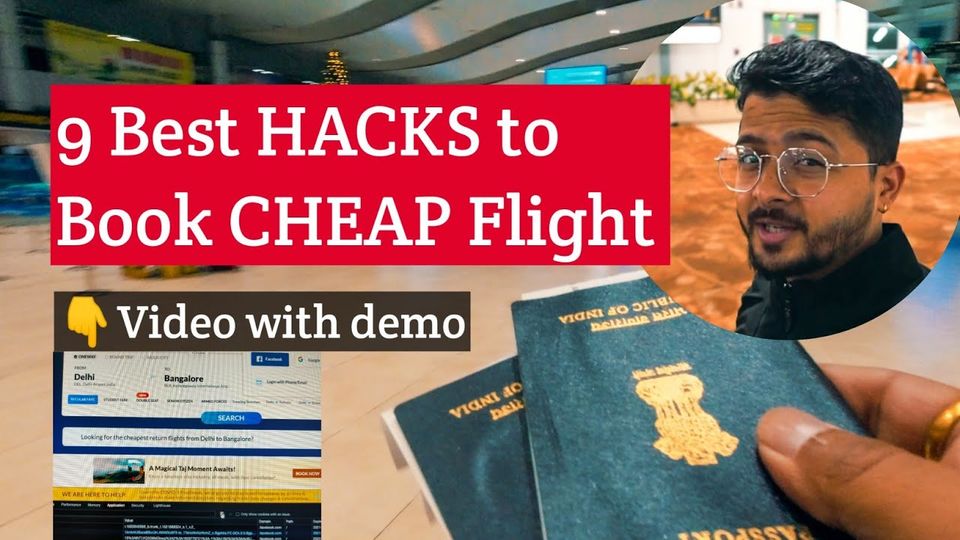 SUBSCRIBE NOW - https://goo.gl/HLrLfg (Free). Are you booking your flights tickets the first time? OR Are you a Frequent Traveller? Here are the 9 Best Ways to Book Cheapest Flight Online. Whenever I fly to any state or country I follow these hacks to book flights to get the lowest fare.
My friends and you guys always ask for my secret of under budget travelling. they keep saying - "Flight Ticket Kaise Book Kare", "flight ticket kaise book karen". So, I thought of making a series of under budget travelling and this is the first video on best flight booking tips.

Apart from these tips, you can check other flight offers as well which other sites like Paytm(provides cashback offer), etc..
9 tips/hack to book the cheapest flight online:
Intro: 00:00
1. Clear your cookies or open an incognito tab before booking: 00:33
2. Look for flights on less busy days: 01:55
3. Always compare fares: 02:47
4. Check fare by changing your location/ currency: 03:21
Use VPN and change your location: 04:19
5. Book one-way tickets and flying into and out of different cities: 05:14
6. Check one-person flights first even if you're booking for multiple people: 06:34
7. Don't be opposed to layovers: 07:07
8. Don't only rely on big-name airlines when flying internationally: 07:57
9. Use Google Flights to find the cheapest destinations from your airport: 08:25
Bhutan Travel Vlogs: https://www.youtube.com/playlist?list=PLvFdD4FeLaivKj4fn6sKw7APtwHVFs6Ao
Leh Ladakh Travel Vlogs: https://www.youtube.com/playlist?list=PLvFdD4FeLaivHUicRHIQHycteIRQBKLKA
Vietnam Travel Vlogs: https://www.youtube.com/playlist?list=PLvFdD4FeLaisrG0wjiFqx5USK3-9sNgih
Bali Travel Video: https://www.youtube.com/playlist?list=PLvFdD4FeLaiunOMKKeTYRIHgEt1WRSPk3
Mobile VPN APP - https://warp.plus/hPU61
Read Travel Blogs
Follow my travel journey on Instagram: