While in Ladakh, eat as Ladakhis do! The local cuisine is wheat-based and heavy to digest but extremely filling. While there's plenty of pizza, pasta and chole puri to go around Leh, don't miss out on these Ladakhi delicacies.
1. Khura
Deep fried in oil and prepared from flour, sugar and milk (sometimes), khura is a great snack to go along with milk tea (chai). Those from Maharashtra/Goa will find a similarity between shakkarpala and kulkuls (Christmas sweet) and khura.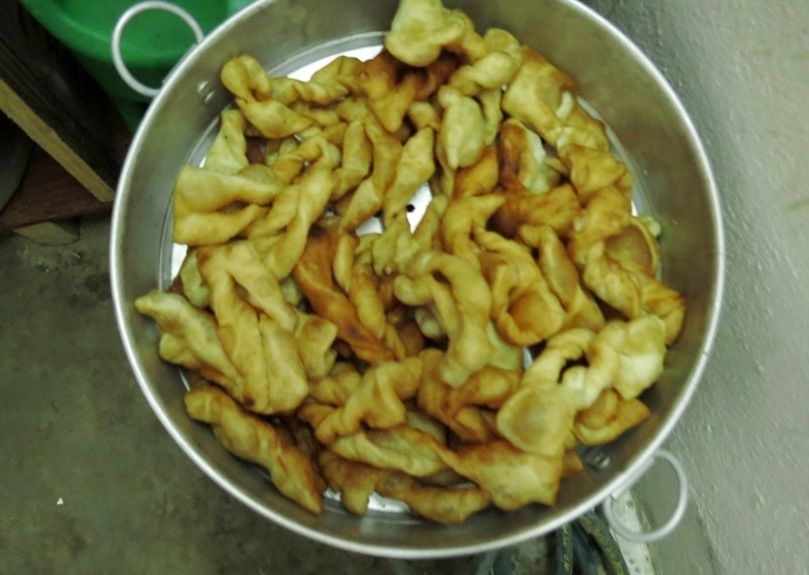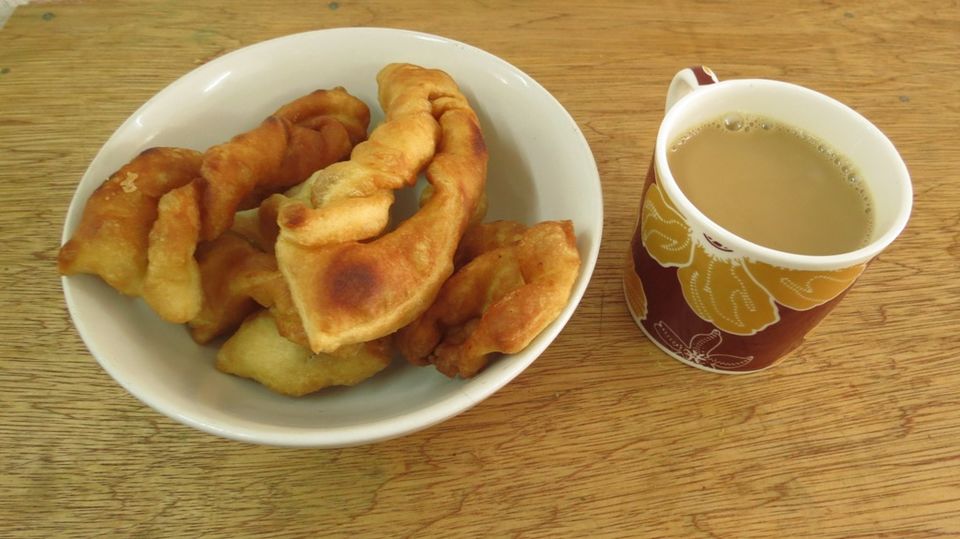 2. Skyu
Eaten for lunch and dinner, skyu is prepared from thumb-sized pieces of wheat dough cooked in a gravy with vegetables and meat. Vegetarian skyu will feature excessive carrots and potato.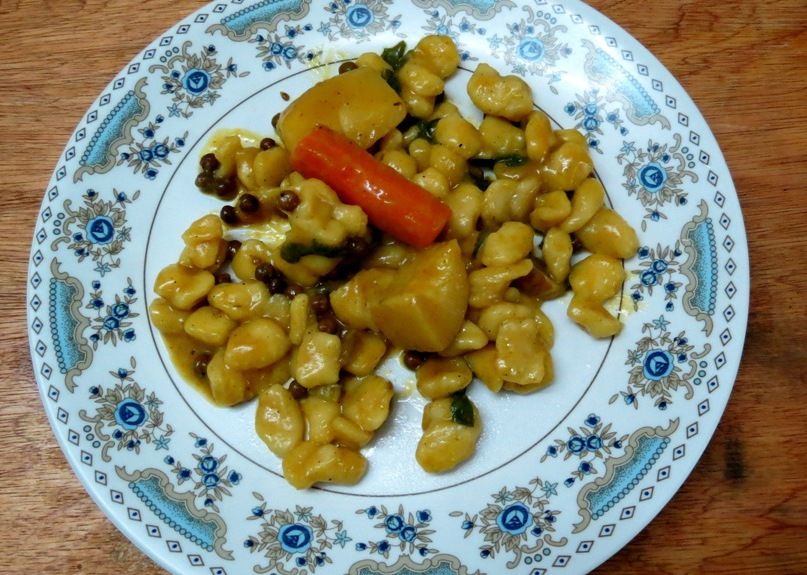 3. Momo
The now ubiquitous momo is a favorite with Ladakhis. These dumplings made from the dough of flour and water are mostly stuffed with minced meat, or shredded cabbage and shredded carrot for vegetarians. Served (sometimes) with a bowl of light soup and (always) with spicy chilly sauce.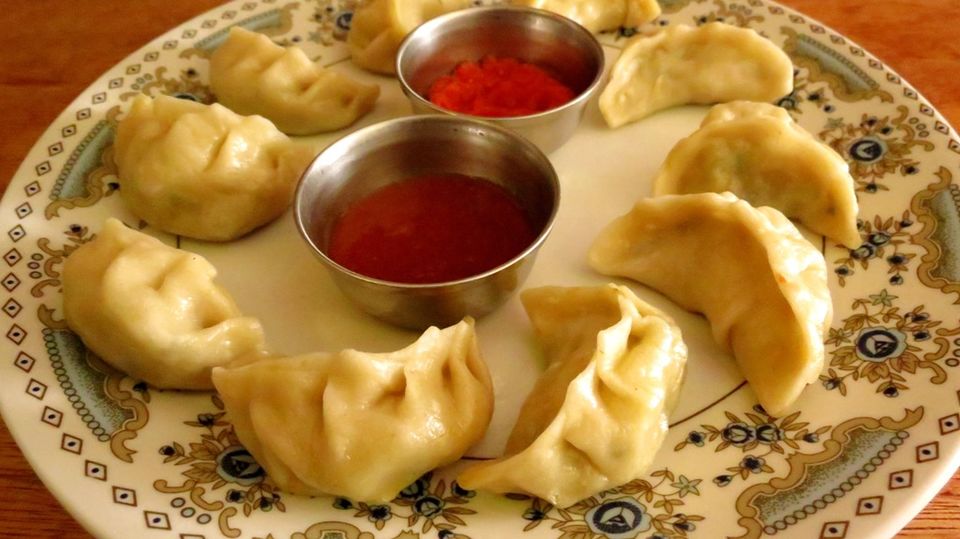 4. Teemo (Tigmo)
A little more difficult to find is Teemo, a steamed bread served with vegetable stew. The consistency of the bread is quite intriguing and nothing like chapathi, sliced bread, roti or pav.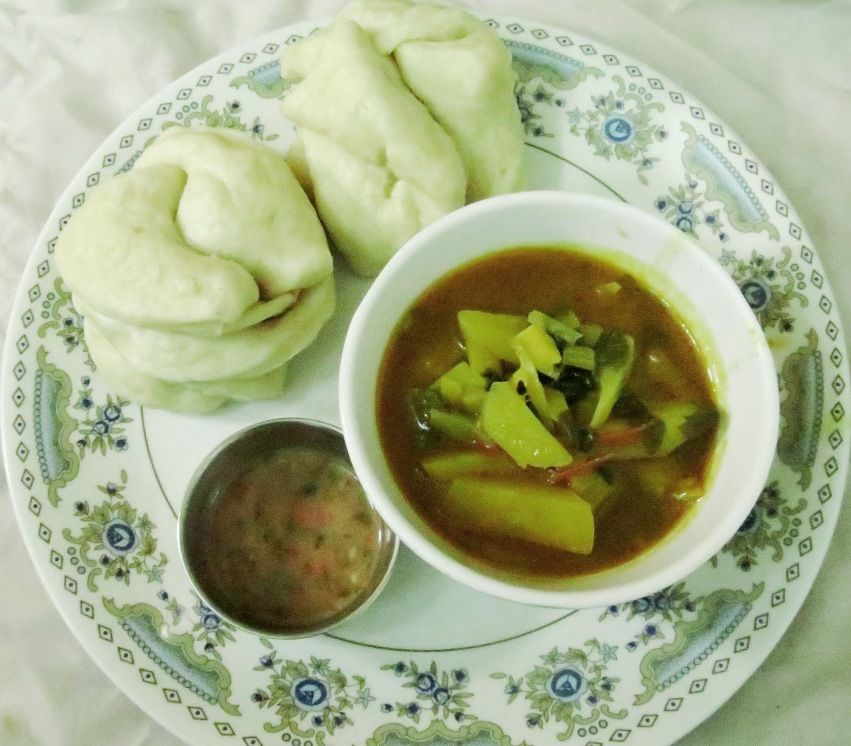 5. Thenthuk
A personal favorite is Thenthuk, especially when Ladakhi black peas and yak cheese are used in the preparation. This Ladakhi soup is made with vegetables, yak meat (or mutton), and uneven pieces of dough that take on the consistency of noodles once prepared. Ladakhis take Thenthuk as a meal in itself owing to its filling quality.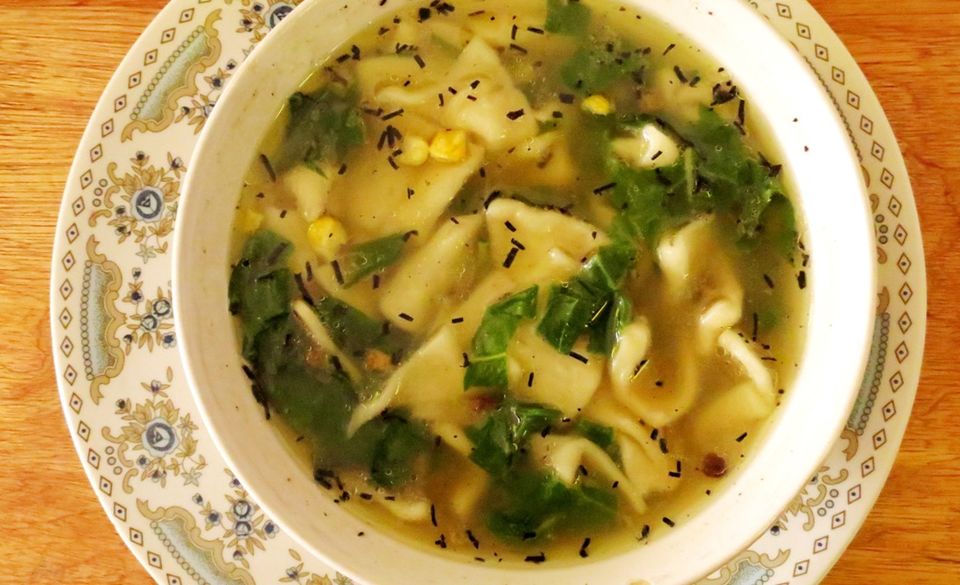 6. Paba Thanthur
This one is a bit of an acquired taste as I've seen scores of Westerners and Indians wasting it. Highly nutritious and filling, paba is a dough made from wheat, barley and Ladakhi black peas (heavy combination I told you). It is served with Thanthur (buttermilk where a tadka of fresh green coriander, hot oil and jeera is mixed in cool buttermilk). Paba thanthur is a staple in Ladakhi dietary habits -- perhaps the equivalent of sabzi-roti or dal-rice for Indians.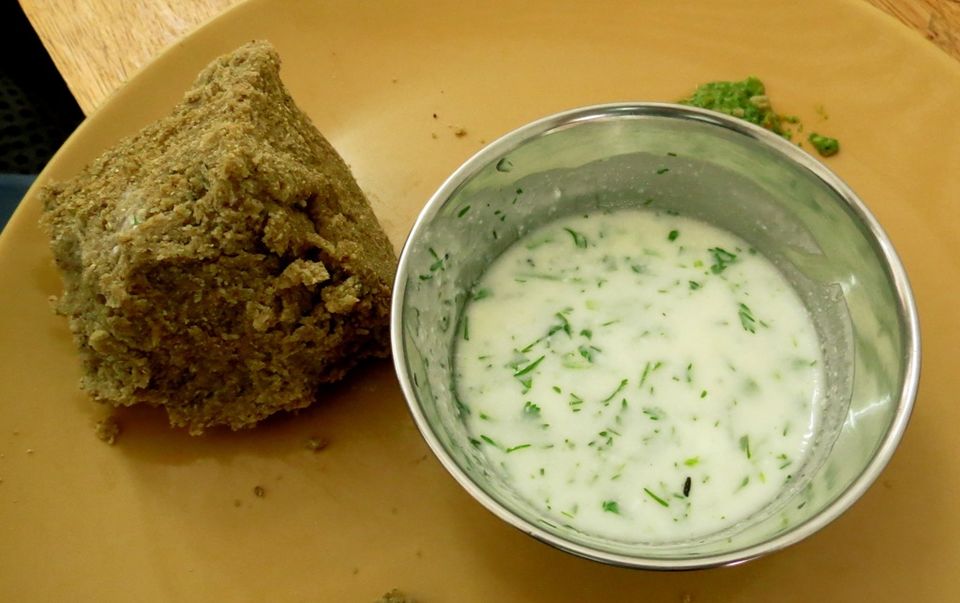 7. Chhu Tagi
Another kind of stew made from water, leafy vegetables such as spinach, carrots, potatoes and dough pieces in bow tie forms (yes really). I found similarities in Skyu and Chutagi.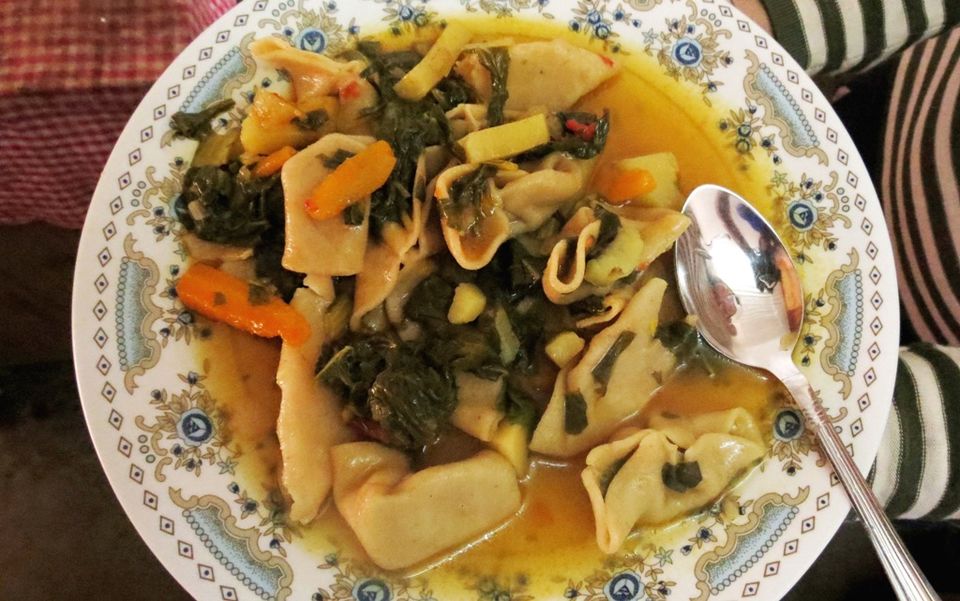 8. Loko Momo
This is yet another hard-to-find delicacy, one of my personal favorites. If you don't find it in restaurants, request your Ladakhi family in the guest house to prepare it for you. Balls of dough steamed in a pressure cooker with salt water and oil, and then served with vegetable stew. Unfortunately, I only have a pic of the loko momos before steaming. But they are delicious and buttery once cooked. You'll probably forget or not want to eat the vegetable accompaniment!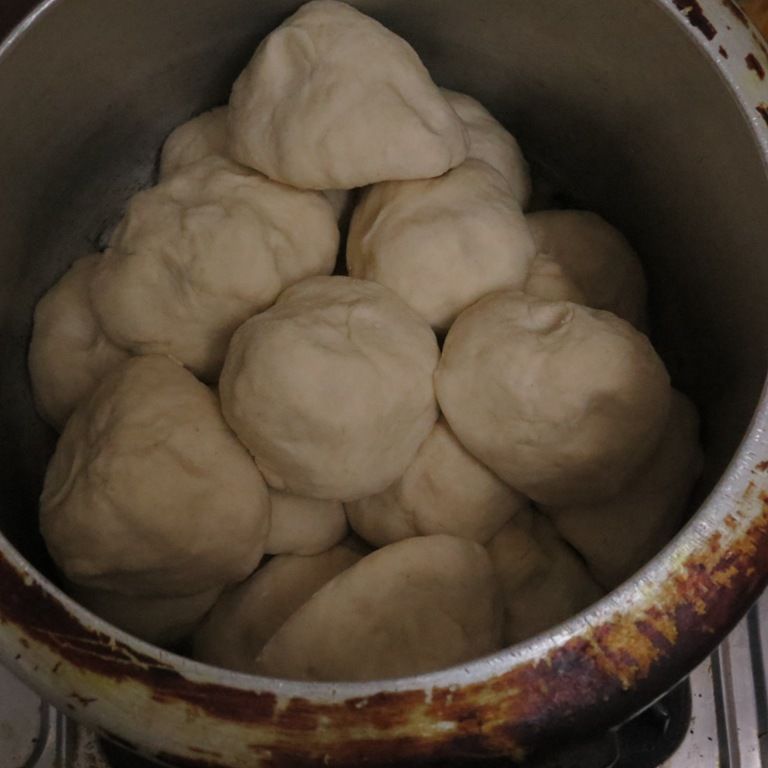 9. Ladakhi Butter Tea
Beat the cold with steaming cups of Ladakhi tea. Often with a pinkish beige appearance, this tea has no leaves but is prepared from salt and butter. I've seen locals add generous dollops of Amul butter too into the tea. Helps with high altitudes and moisturising dried painful lips (butter?).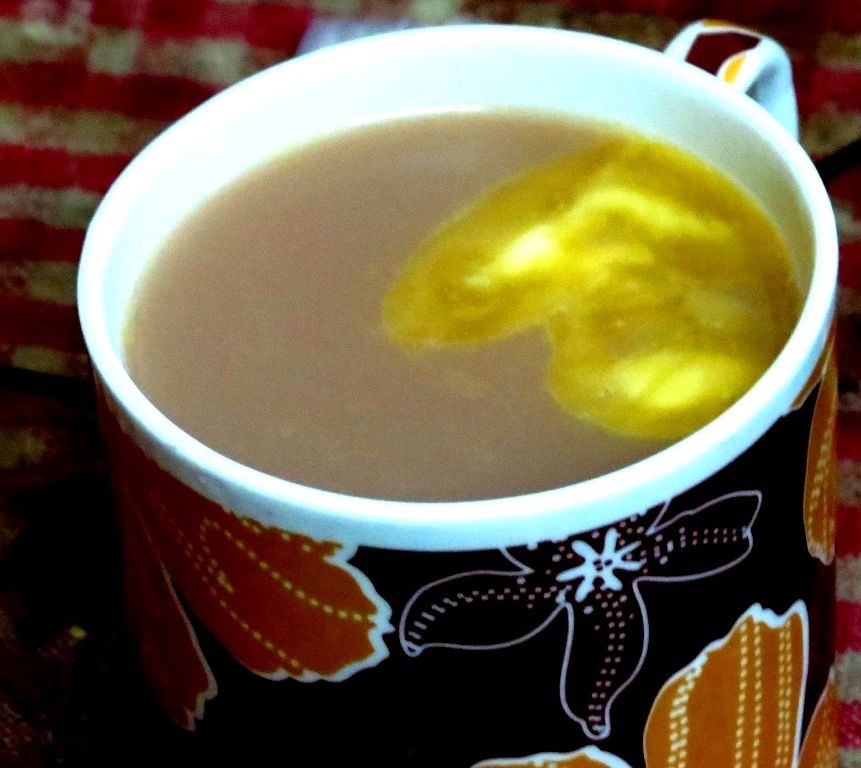 Admittedly, even in Leh city, all of these dishes may be difficult to find. Your best bet is the Ladakhi Food Girls Cafe run by Sonam and Dolma in Zyangsti (HEMIS COMPLEX), very close to the Leh market.
Till soon, Jullay!