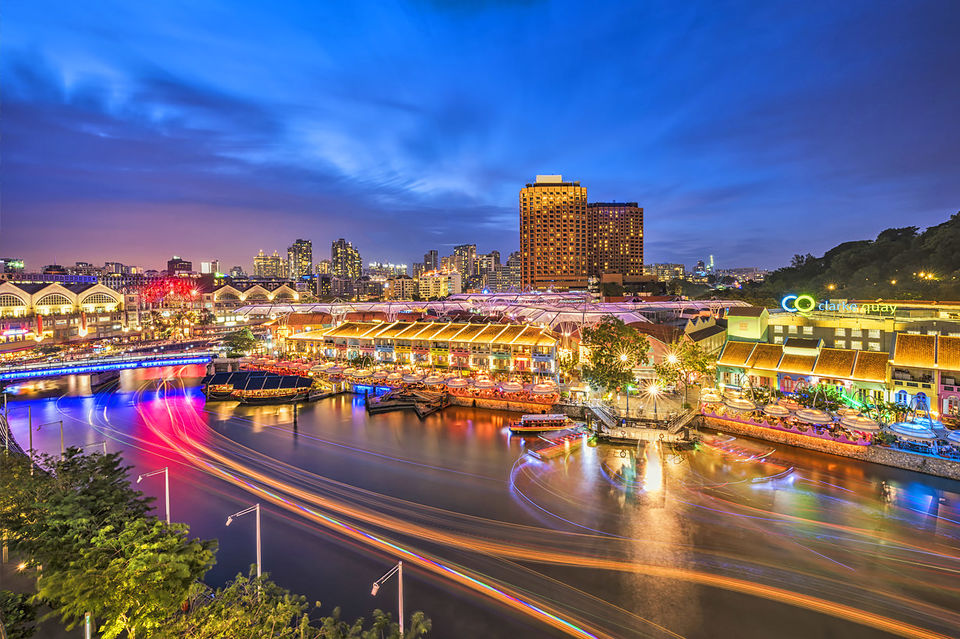 Clarke Quay
The best place in Singapore for the most buzzing night life is undoubtedly Clarke Quay. From magnificent and colourful bright lights to happening night clubs, Clarke Quay has it all. Clarke Quay originally started off as a business centre and has now turned into Singapore's biggest shopping and night life destination. Some of the most famous bars are the Cocoon Bar and the Bamboo Bar at the Forbidden City. If you are in for some recreation then Fusion Bar and Bar Opiume is where you should be!!
Located right in the middle of the Singapore River Planning area Clarke Quay is the name of a road which a few years ago has been transformed into a pedestrian mall. To make the most of the surrounding waters, Clarke Quay has numerous floating pubs and restaurants. Eating, drinking and dancing while in water is something you must experience. The G Max River Bungee is also located in Clarke Quay which opened its doors to the public in 2003.
Singapore has a good network of roads and is very well connected. This makes traveling completely hassle free and convenient. If you are looking forward to visit all of the above places then I recommend you to travel by bus as not only will it save you some money but also time. Check out www.redbus.sg for quick ticket booking and awesome discounts!!
If you love dancing and would like to show off your moves to the people we suggest you some places where music has top priority over others.
Crazy Elephant – Singapore this is considered to be one of the most exciting places in Singapore for music lovers. The organisers also host a week end jam session for all those metal heads out there.
Cuba Libre Caffee and Bar – The most celebrated bar for people who love Latin music, Cuba Libre Caffee Bar claims to be one of the most visited bars in Singapore. You can dance here till you drop with music being played by bands like Adrenalina and the Marisol. Make sure to try out the signature cocktail Caipirinha.
Best way to reach Clarke Quay is by bus. Hop on to Bus no 54 from Scotts Road or Bus Nos. 32 and 195 from the city hall MRT Station.
Universal Studios
One of the latest additions to Singapore's tourist destinations is the newly launched Universal Studios – Singapore. You can start your journey here in the Hollywood section where you will feel that you are in the United States and not Singapore which is a tropical Asian country. Make sure that you experience the lost world which is based completely on one of the most watched movies 'The Jurasic Park'. The lost world features a huge T-Rex statue. Another must visit is the far far away section within the studio dedicated to the shrek fans. Remember to tag your camera along and click plenty of pictures with Fiona and Shrek. The studio is not just about the movies but is much more than that. There is no chance of you being hungry on your tour thanks to the numerous restaurants available within the studio.