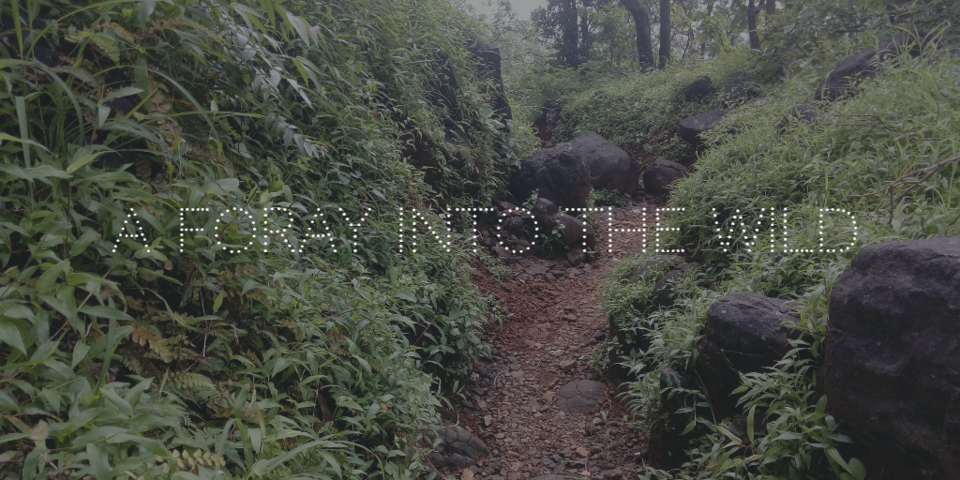 #TripotoTakeMeToHimalayas
#TripotoCyclesToGoa
It's a pirate's life for me , savvy ?
-Captain Jack Sparrow
Despite the ominous caveats by a dead frog which had it's throat burst open to an unnatural angle as if someone had strangled him to death while uttering a secret , which served as an ill omen , we trotted on … to awaiting doom.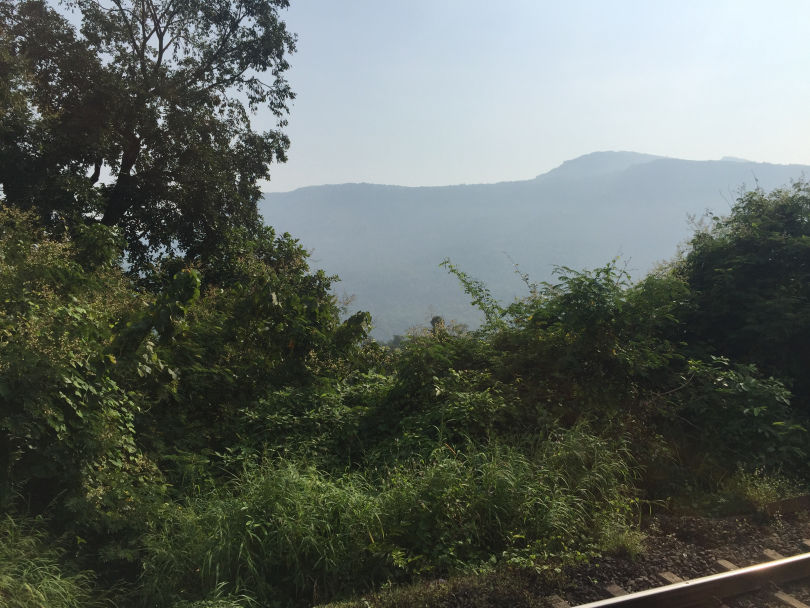 We were seven , mostly the same group with just a few changes such as a missing Prat and a returned non-kafir. Apart from this we were joined by two guys , one of which was a monkey too and the other one was the bearded guy. It was going to be trek. A long trek .
We left our dwelling at 6:45 in the morning and left for a place called Karjat. Bearing with the usual inconvenience that harries an Indian train passenger , we reached Karjat in one-and-a-half hour.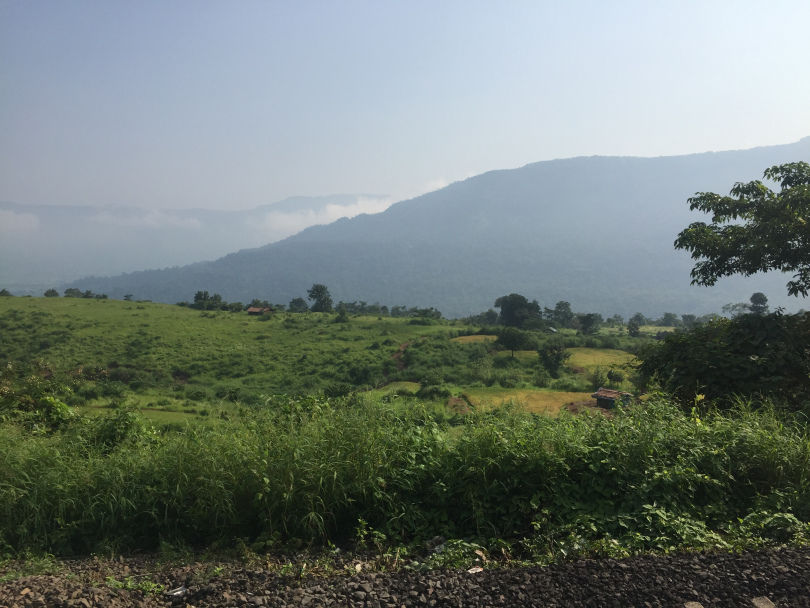 Upon reaching , the tall guy (who now had fancied a pony tail too) felt a pressing urge to take a dump. We ferreted out a lavatory and left him on his own. By the time he relieved himself , I , with the monkey and the non-kafir , set out on the search of a bus station. After a little scouting, we reached the bus station where the bus was about to leave in five minutes!
We called them and gave instructions to run full pelt towards the bus station even if that meant leaving the tall guy halfway-pooping. The driver had started the bus and anyhow , we managed to get a government bus delayed . They came running and reached at the nick of time when the bus had already begun.
The tall guy pooped just the right amount and whether he washed or not , still remains a mystery.
After the narrow escape ,we reached a place called Kashele in half an hour where we boarded a tuk-tuk to Khandas village from where the trek was to begin. The driver, who was intent on leaving without the tall guy , took the vegetable crates out and settled us in.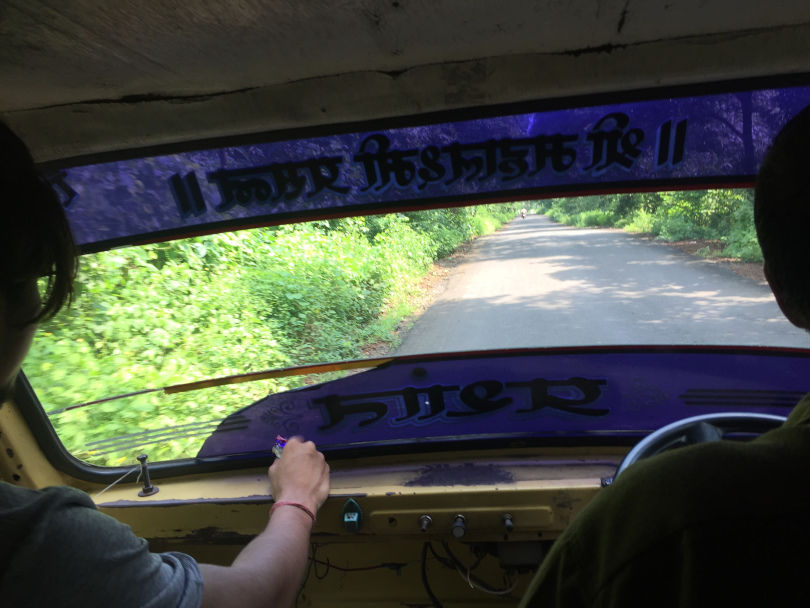 https://youtu.be/2mqdW30sJgg
We left , we reached , and in between the forty-five-minute ride , the lush green backdrop held us enchanted like a beckoning whore. We reached Khandas and had no idea where to proceed. Then as if by divine providence , the slut , the bro , the tall guy and the non-kafir set out on a road without consulting. We remained behind. The bearded guy was away enquiring the whereabouts of Bhimshankar wildlife santuary.
Signal reception was poor so neither of us could call each other and when finally he did , the bearded guy told me to stop the others as they were headed to a dead end , apparently. I ran to them and the caravan took a U-turn . The bearded guy met us at a daily-needs shop where we bought chips and bottles for the trek ahead. The cold drink , however was finished off as soon as it was purchased.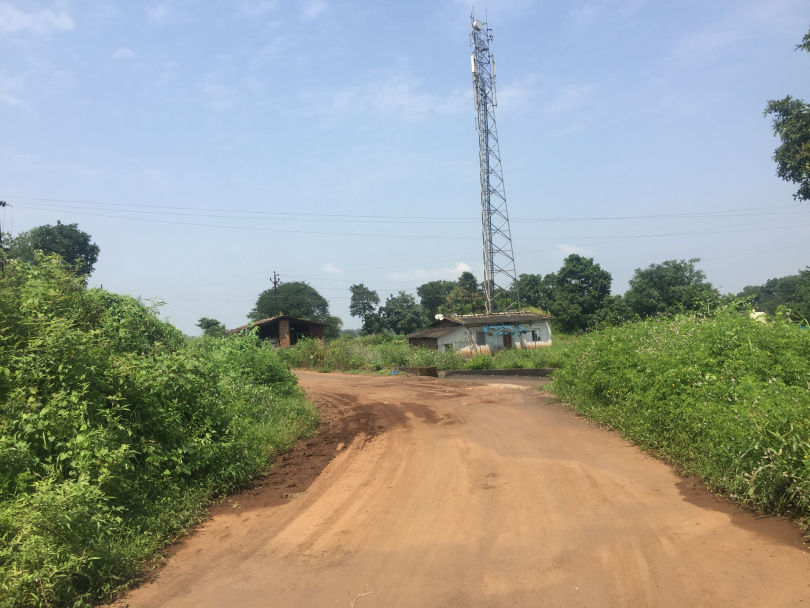 Now , we trotted through the village streets cavorting around and making videos until finally we reached a place from where we had to make a decision.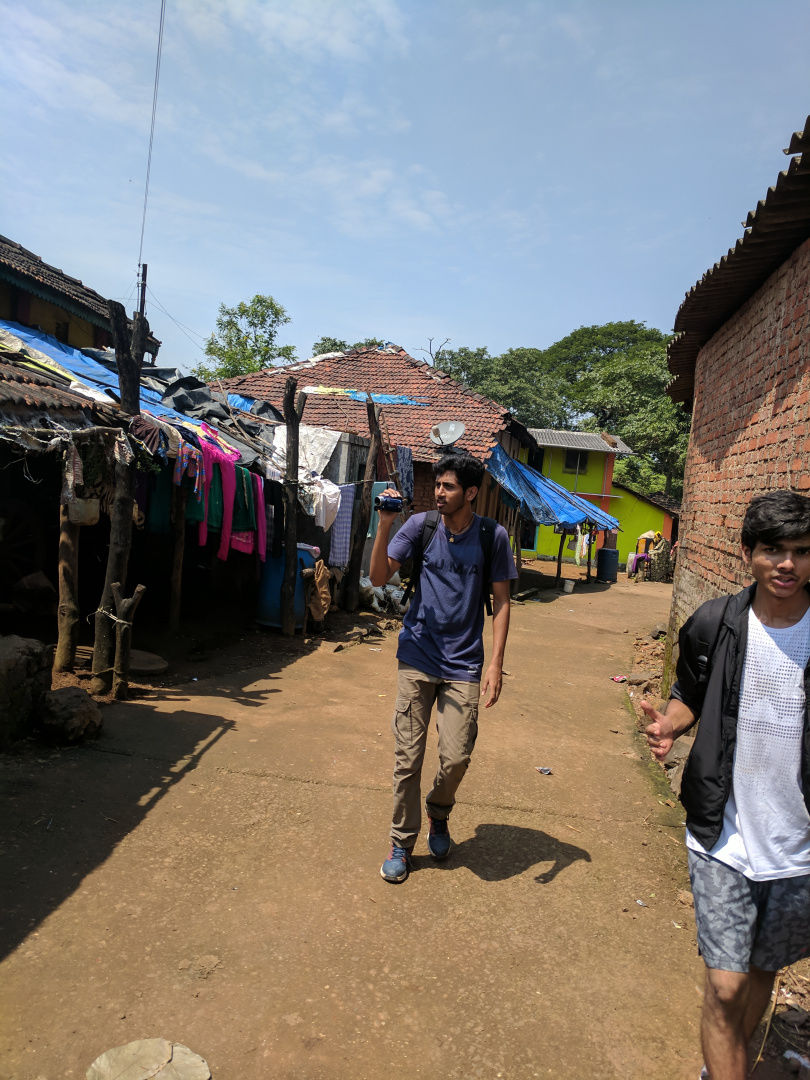 Bhimashankar trek can be done via two routes – Ganesh ghat and Shidhi ghat . The former being 9 kilometres and latter being 7 but quite risky.
We took the easy and long one. After another kilometre of walking alongside a wide brook , we reached the foot of the hill called Bhimashankar hill of the Western ghats. Half of us gave up right on the spot.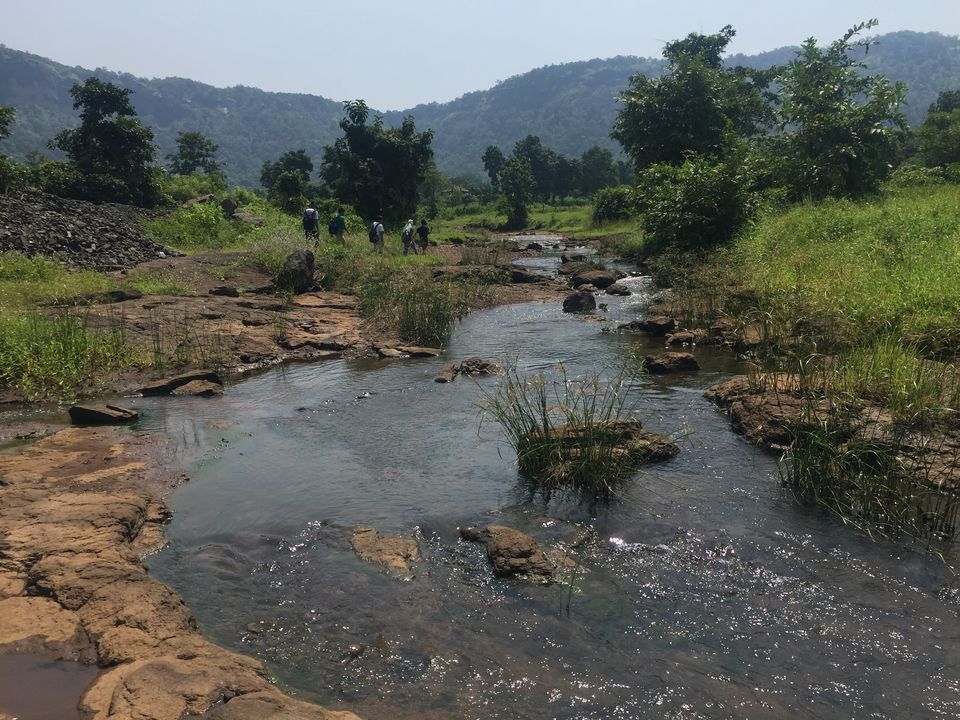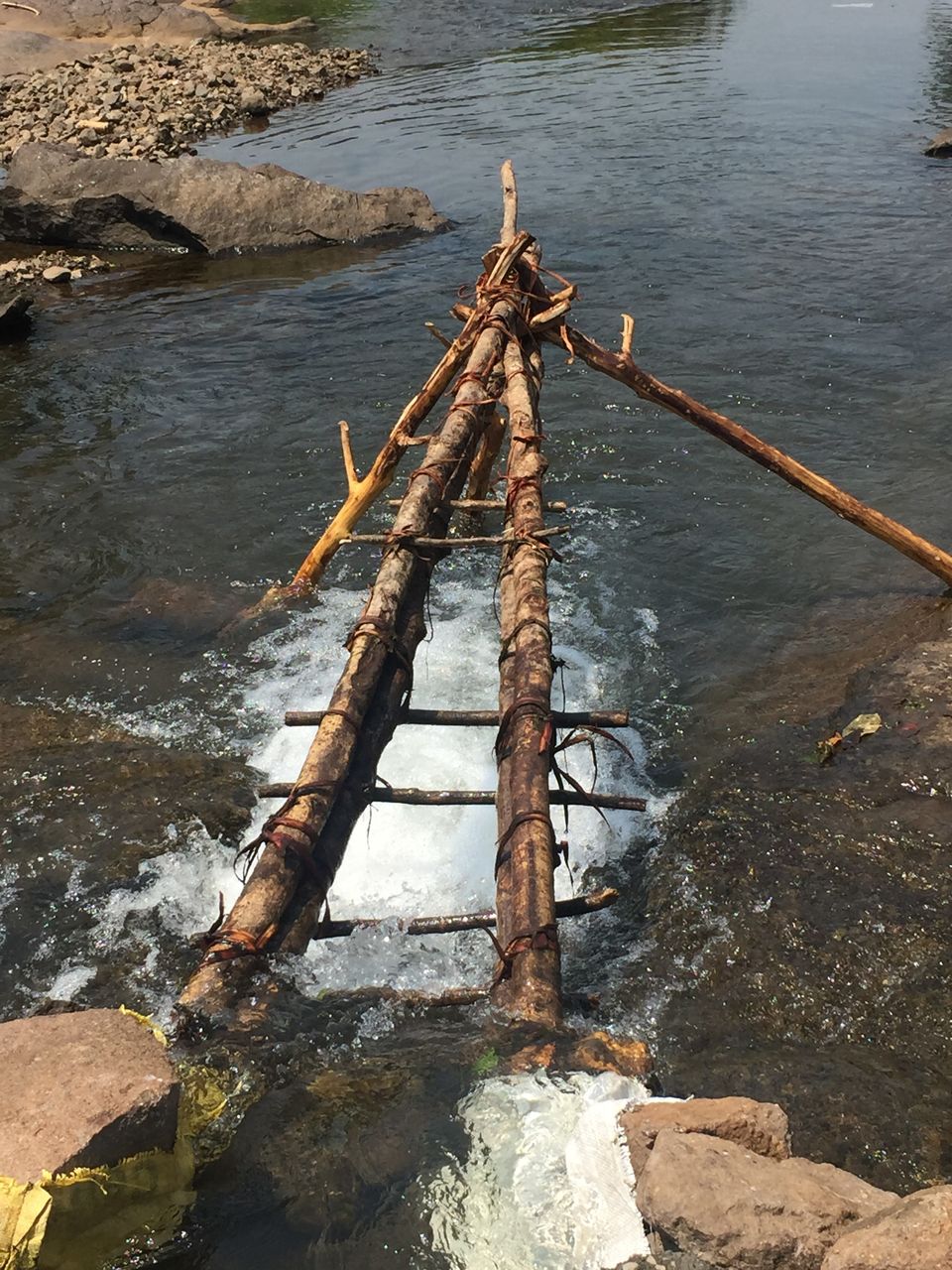 Facing us stood a high and precipitous hill overgrown with jungle – the most difficult trail we had ever seen ( the track was at an angle of 45 degrees). We pushed ourselves and had barely climbed half a kilometre when we fell down for a breath. After another half an hour of climbing , we reached a temple of the elephant-headed Hindu deity Ganesha. We took another break (two of us were still far behind and three had climbed even further).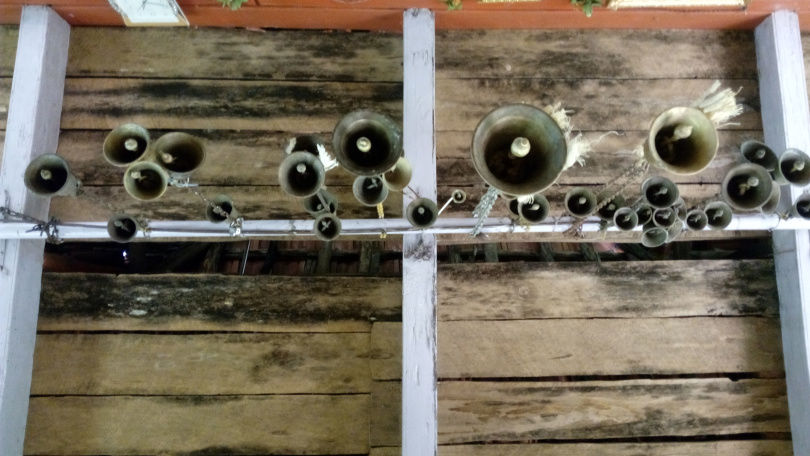 The jungle was too steep for us and was utterly relentless in the hardships. The supportive trek was made even worse by the fact that we couldn't see each other,but just shout out into the jungle and wait for the others to shout back.
After a while I reached where the preceding four were waiting for me. We took a little rest and decided to move on. I remained for the other two. This was the point where we got separated. The remaining two , the slut and the bro , came too late and took too long a break. Then we trekked on.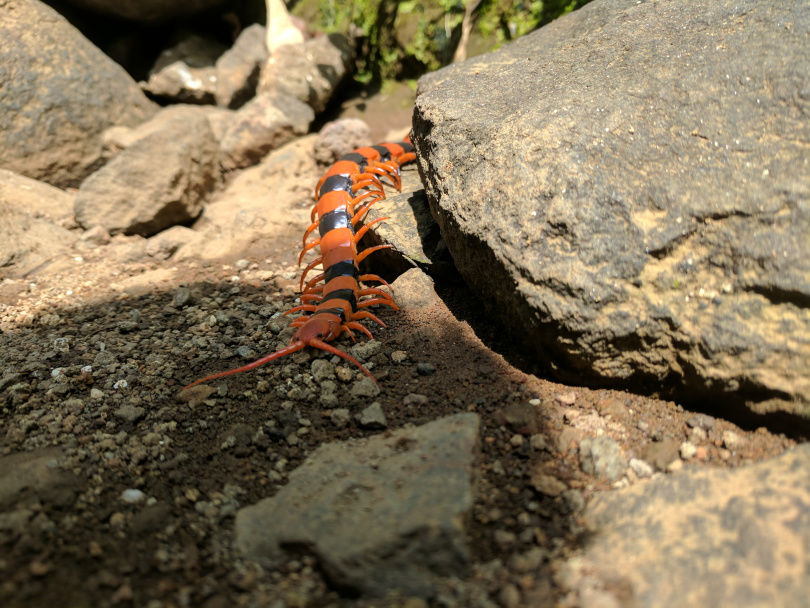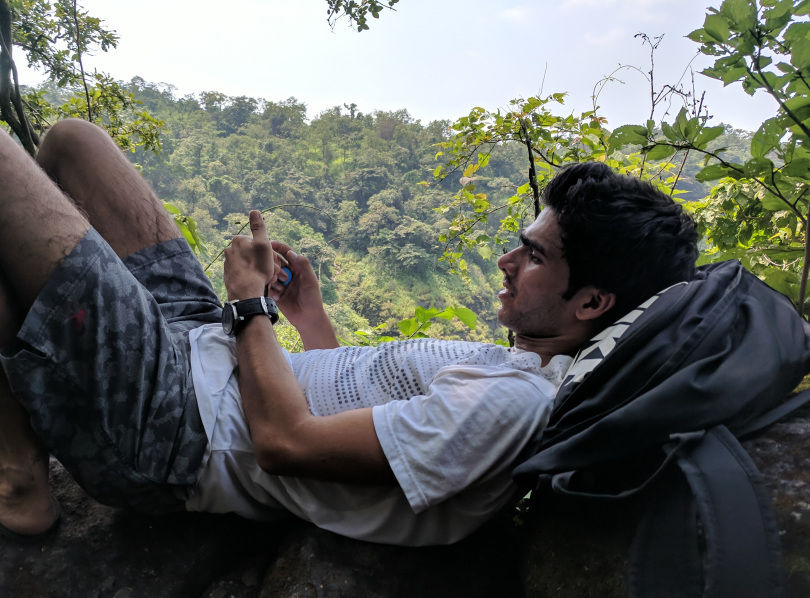 After a while , we found some level ground and a flowing stream , and filled out bottles. On we moved and came the jungle became even darker and difficult. It reminded me of the Sunderbans I had read about in Rushdie's 'Midnight's Children'.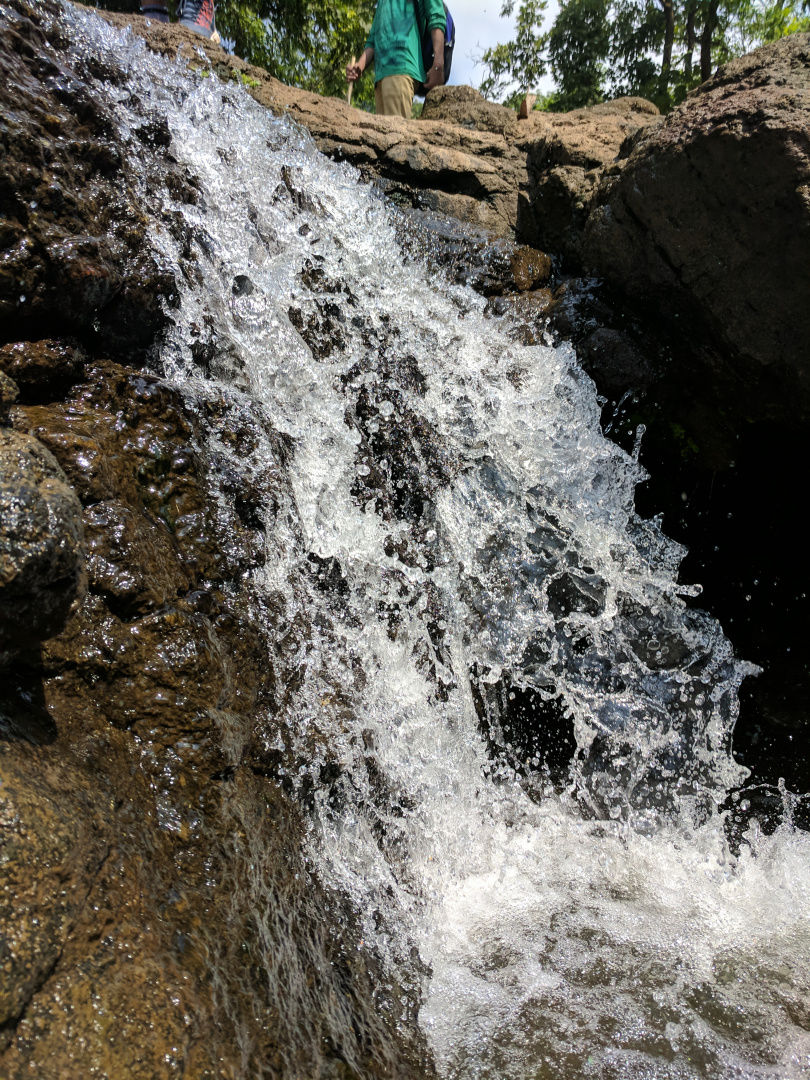 The forest floor ahead was strewn with twigs and leaves and poisonous flowers of all kinds. We were two hours into the journey .then came another open patch and we spotted a langoor , a baboon. Further the trek was slippery and we took every step with precaution and still , slipped many a times. A large spring was our next stop where we rejuvenated ourselves with the cool and surplus water from the top.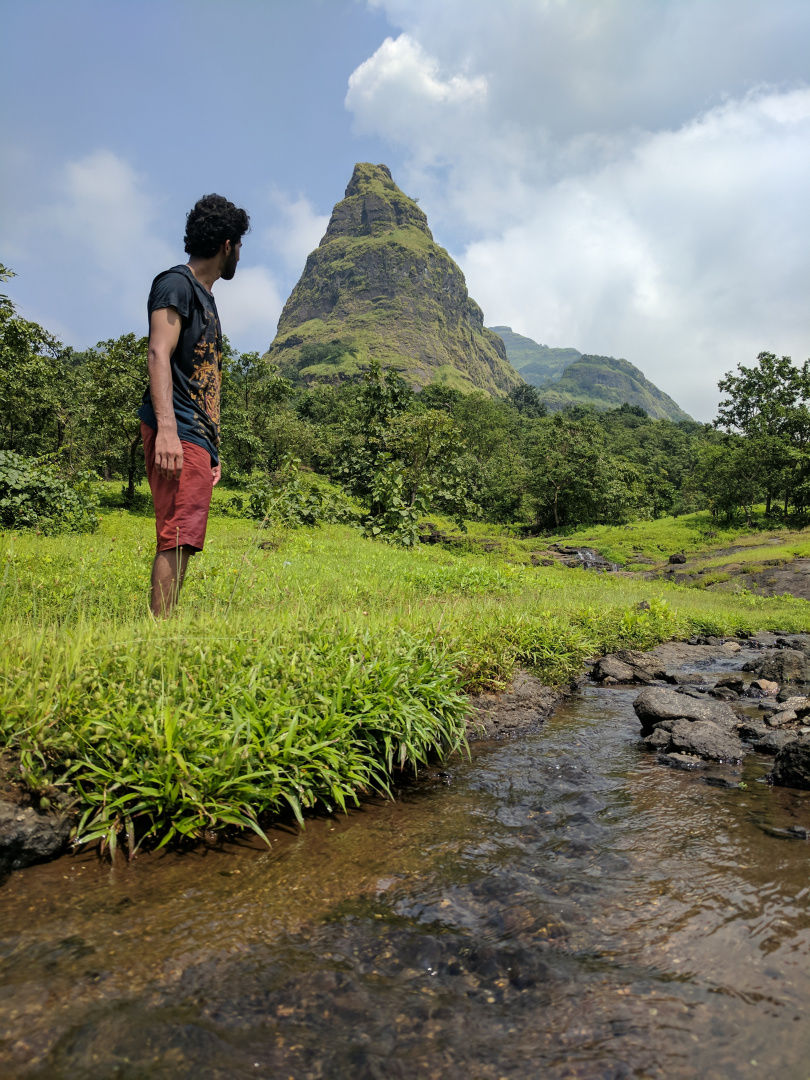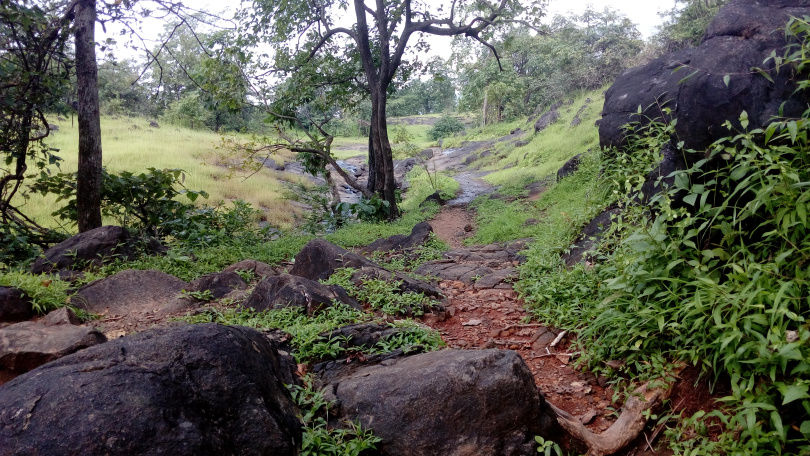 Then we took the track again , and walked through numerous varying landscapes for about a hour before reaching a place where we couldn't make out which way to head for. Then we heard the cries of our other , quicker , inconsiderate companions who were trying to guide us , without much success, as we couldn't figure out what they spoke from such a height. We passed a water and lemonade vendor and climbed further. The toughest part had started. We had climbed up 20 minutes and were resting on the path when we decided not to go any further.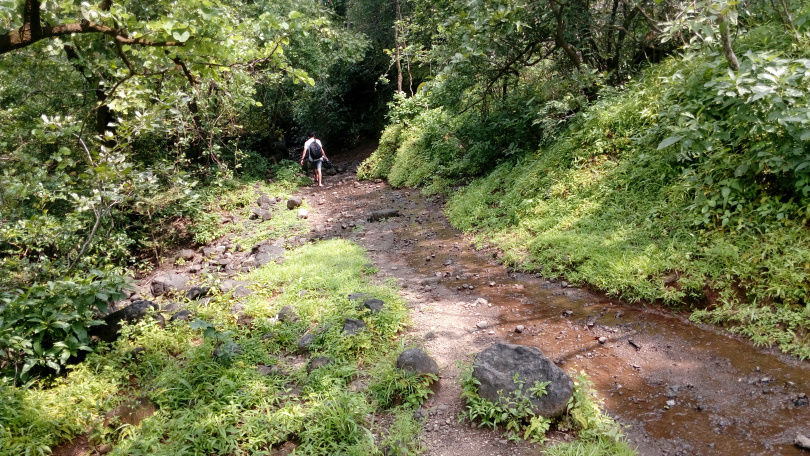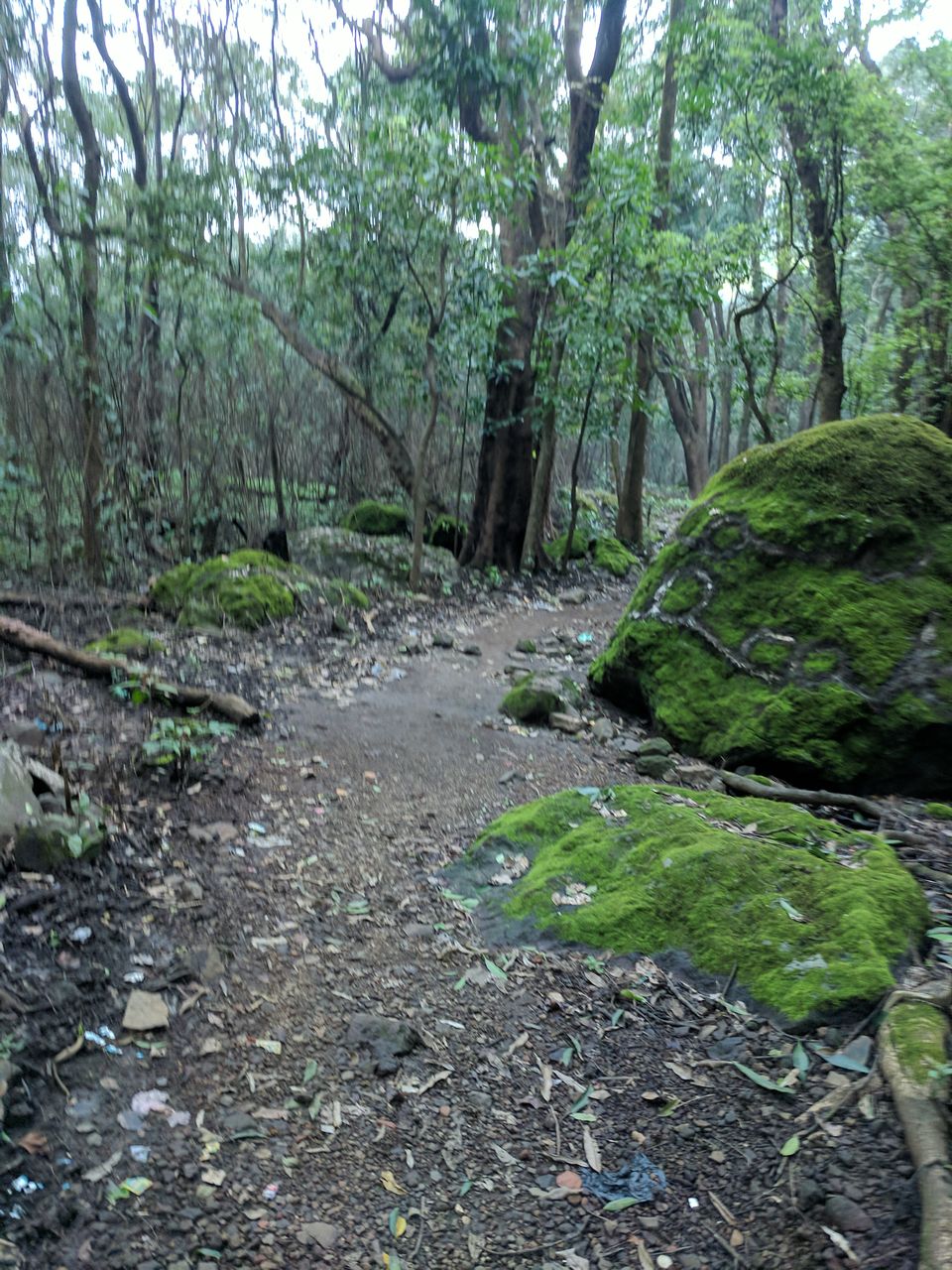 We turned back and enjoyed lemonade under the large thatched shed( there were many sheds on the way). We walked through all we had climbed up and almost freaked out when we saw a , for the first time ,a … A live crab , of the size of a cricket ball. Then we saw another and then many more which was enough for us to know that we weren't safe anymore. When they finally managed to call us (the reception being bad) , we were already halfway down.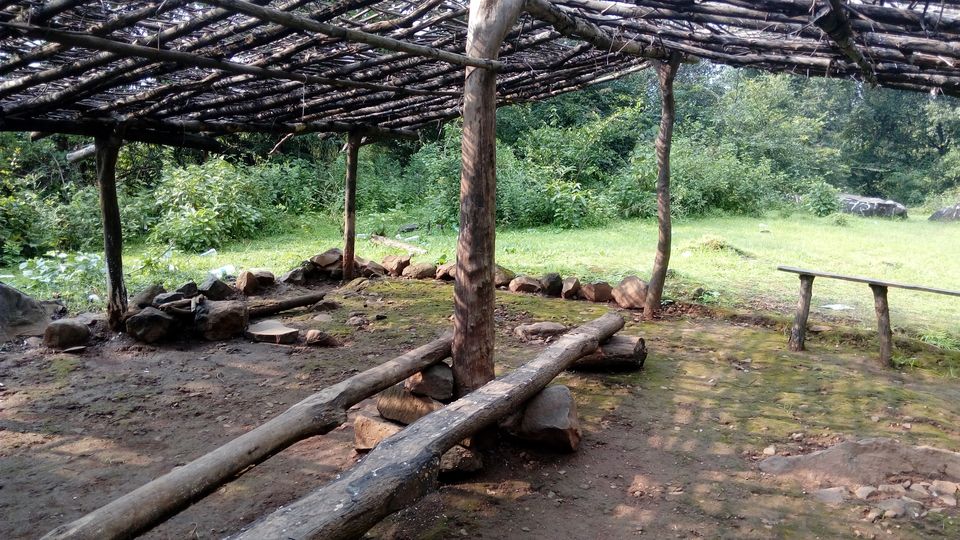 https://youtu.be/Toglo0xb7d0
They told us that there was bus service available at the top ( at Bhimashankar temple) and we didn't have to climb down all the way on foot. But alas! It was too late .
The further trip , of course ,had two different accounts – one of satisfaction , and one of dismay, douchebaggery and failure .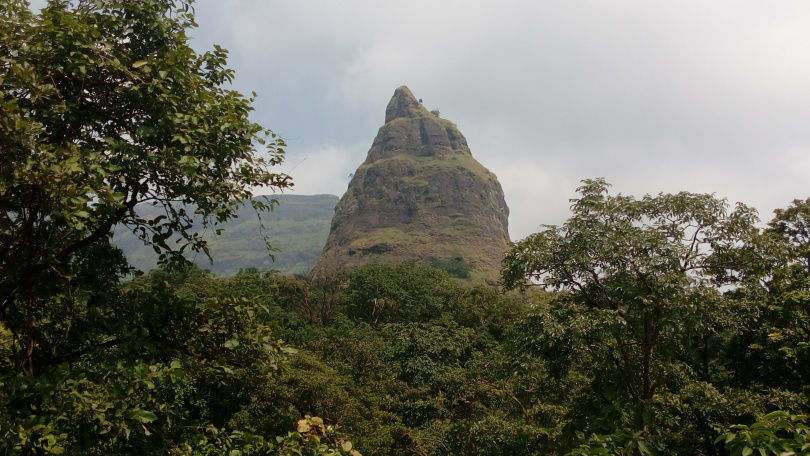 We climbed another 7 kilometres down , unmindful of whatever came ahead , stopping only at the Ganesh temple . A corpulent Ganesha mocked us in his forlorn dwelling amidst the woods . A large gecko , the size of a foot , hissed at us from the wall and we moved further down. Finally we were down . What took us 3:45 hours to climb took us merely 1:45 to get down. Well , it all boils down to a scientific concept called gravity , which we won't be discussing now.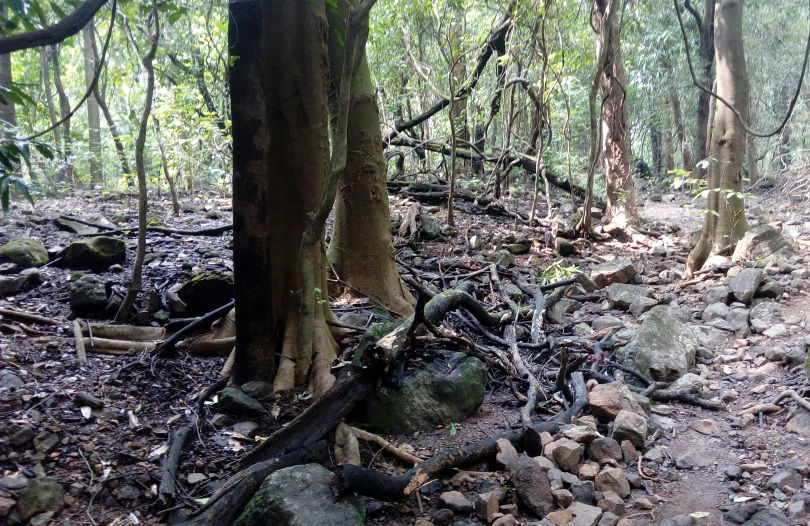 We sat in on rocks in a brook and took off again sometime later. Fortunately for us , a car arrived just then and we promptly reached our arms out , hitched a ride till Kashele ( half an hour) . On the way back I saw him again. Through the windshield , the bastard was clearly visible – the dead frog. Still open-throated ,but with a smirk on his face and perhaps a middle finger jolted up in triumph.
After a meal , we waited for a bus . I scouted in vain for a plate of Biryani until the bus arrived. We boarded and got down at Karjat , at 7:30 in the evening. We had a train to catch , at 7:30 in the evening.
Tickets were bought instantly and then , as if by satanic providence , a computerized voice announced a two-hour delay!
An hour later , we boarded whichever train we could and fortunately , got a seat to lay our bottoms on.
The deserters managed to pull off the climb and went through hell to reach the temple , relieved , feeling accomplished. After relishing their victory , they savoured bhutta (grilled corn) , saw the temple around and then took a bus at 7 to Pune and were the only ones in the bus.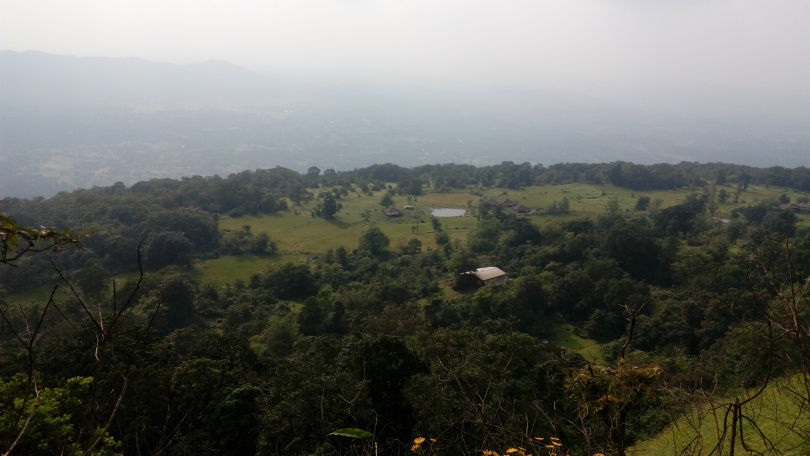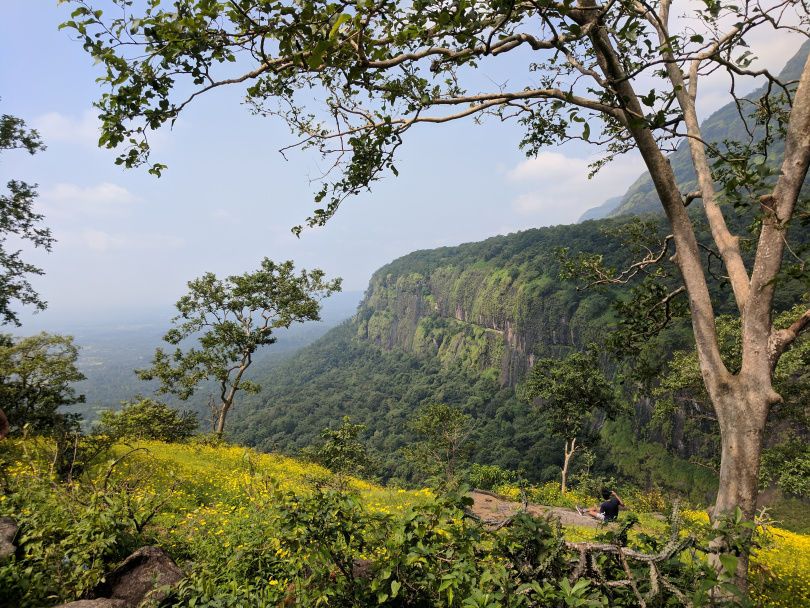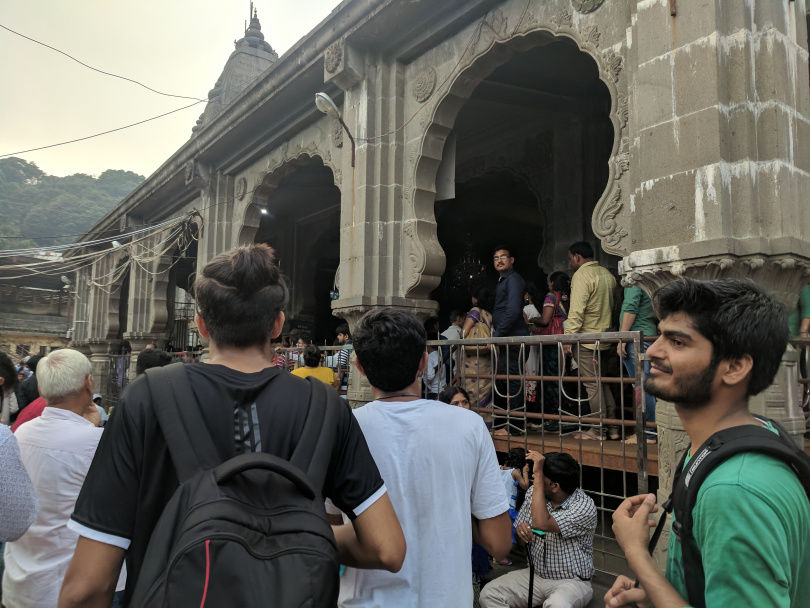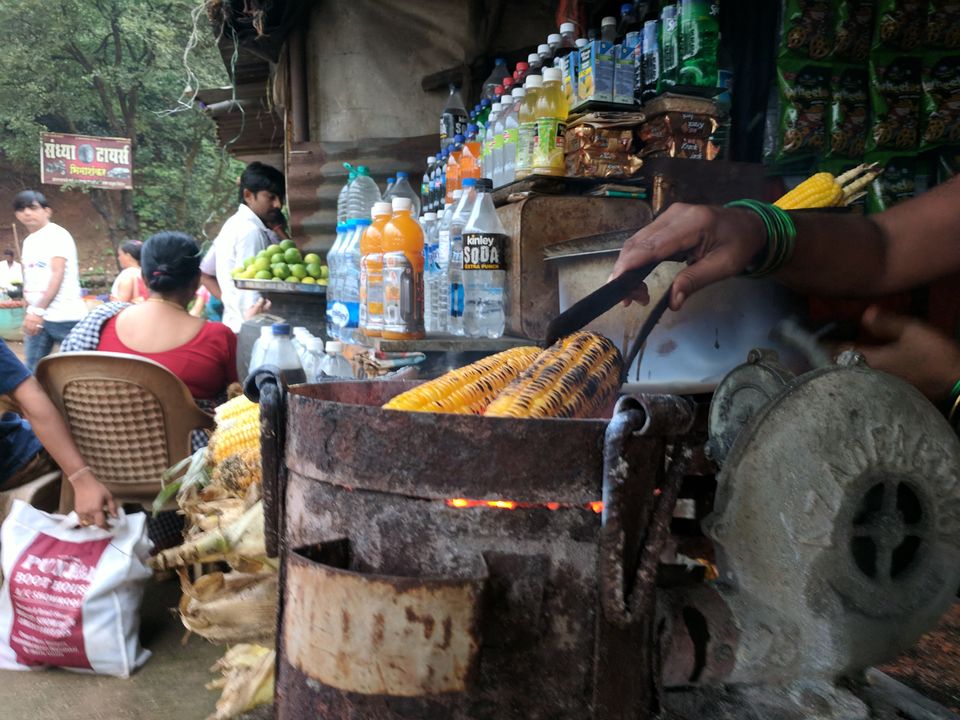 Upon reaching Pune, we met our parted , inconsiderate companions and went back to our home – the hostel, at midnight. As a divine punishment , the deserters had to forfeit their identity cards while we , like street smart boys, managed to befool the authorities.
A pre-ordered Biryani saved the day for me.