When they chose the name Amaravati as the new capital of Andhra Pradesh, they sure set the standards high. Amaravati, if you didn't already know, is the name for the abode of the Gods— Indra lok. Will this city that is in the making live up to it?
It is no mean task to build an entire city and yet, the Chief Minister of Andhra Pradesh (AP), Chandra Babu Naidu, has promised the people of AP that this is going to be an urban Utopian dream of a city. And it is rapidly taking shape with many government buildings and many construction projects that have popped up in the middle of what was previously a barren land of farms and villages.
Where is Amaravati?
Amaravati is being built around the small temple town, Amaravati of Andhra Pradesh, which once served as the capital of the Satavahanas, Mauryas and Ikshvakus. This will be a part of the Guntur district and will be located on the banks of the southern Krishna river. It will be at 40 kilometers South-West of Vijayawada and 32 kilometers north of Guntur city. It is said to be one of the oldest towns ever and the among the many reasons to choose this place, one is its profound history.
Themes and promises around which Amaravati is being built
Amaravati is being built with big hopes, big economy (nearly or more than 33,000 crores) and some big help too –the Singapore based Ascendas Singbridge and Sembcorp development consortium are actively involved in building the infrastructure of the city. It has nine themed cities, each for finance, justice, health, sports, media, government, knowledge, electronics and tourism. All of these have been planned separately but will come together to work as a single unit.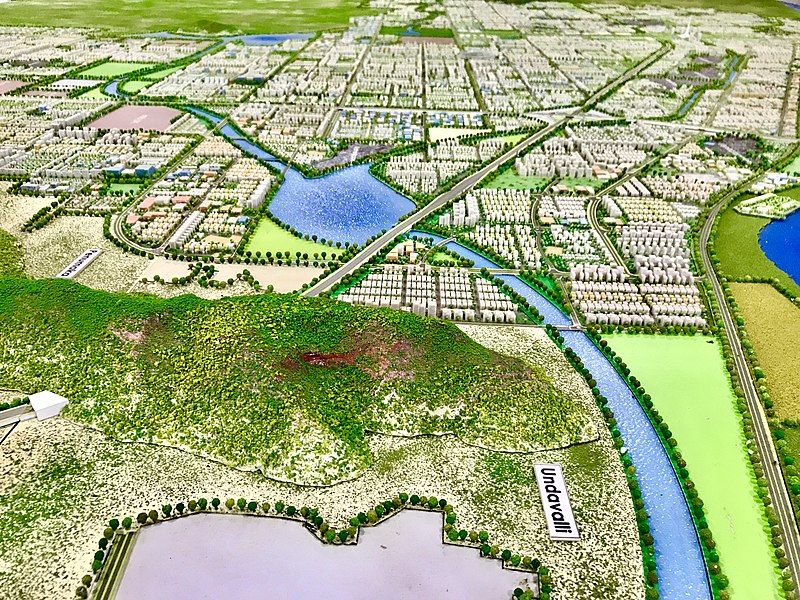 Smart city : As per plan, Amaravati is going to be very tech-forward. There will be a national database with the iris scans and fingerprints of the residents and this means that you can use mobile apps for something as small as paying your bills. How cool is that!
Green/Blue city : Yet another thing that we're looking forward to about Amaravati is that, much like Amsterdam, it will be built on rivers and canals. This means that 10% of it will constitute water bodies and 50% will make up the greenery. This will ensure the weather remains pleasant and air clean.
A happy city: With the basic amenities in place and enough water and fresh air, the government can hope for the citizens to be happy. They want the 'Citizen Happiness Index' to be the highest.
Swanky architecture : There are going to four huge gateways, most comprising of ancient architecture and many squares within the city that will supposedly be the hub for activities. Not just that, all the slums that might pop up anywhere in Amaravati will be destroyed by periodically checking for them using drones.
What has been done so far?
As of today, Amaravati is made up of a few government buildings, few construction projects, with houses popping up, and a few roads as well. There are quite a few educational institutions here as well, some of which have already begun running while some are still being built. There is still, however, a really long road ahead for the Utopian dream to be realised.
By when is Amaravati going to take shape?
As per the plan, the first phase of the city should be completed by 2024, which means the city should start taking shape so that it can be inhabited by people. The last phase, which will be the final stage of construction of the city, should be completed by 2029.
With plenty of delays, however, it looks like it will be a while before Amaravati finally takes shape. We really hope to see the beautiful picture that has been painted in our heads, to come into existence as quickly as possible!
Places to see around Amaravati
If you would like to check out the work in progress in current Amaravati, here are all the places you can visit in this small town apart from the closest cities Guntur and Vijayawada - The Amaralingeswara temple, the Dhyana Budha statue, Amaravati Mahachaitya, Undavalli caves and the Kondaveedu fort.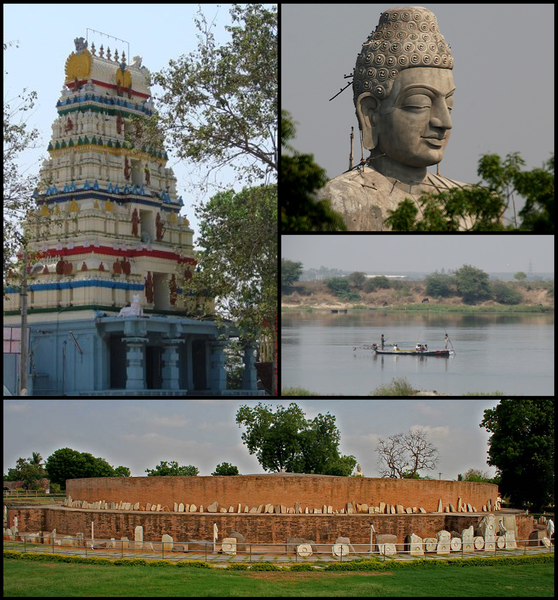 Have you been to the future capital of Andhra Pradesh? What's your take on the plan and the future of Amaravati? Share it with us here.
Get travel inspiration from us daily! Save and send a message at 9599147110 on Whatsapp to start.