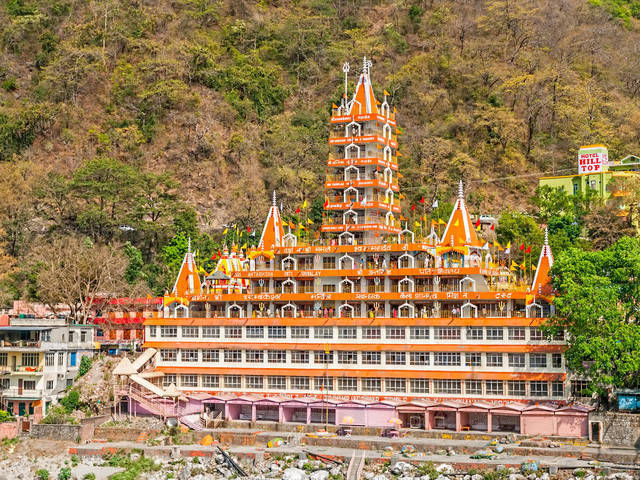 Rishikesh is a holy and divine city of India. Plethora of rituals and pilgrims are planned here by people from different parts of the country. The scenic beauty of landscapes magnetizes huge number of people to attend the Rishikesh Retreat Program in India. The city is also a gateway to many meditation centers, ashrams, and yoga dhams.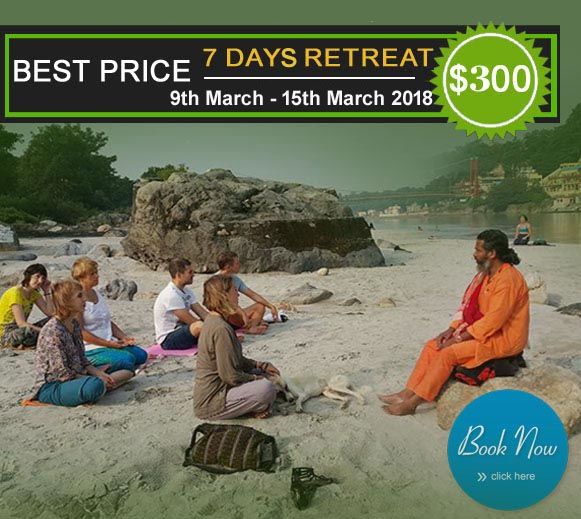 Trip plan: Rishikesh Retreat
7 days retreat plan
Rejoice the spiritual feeling by planning a Rishikesh retreat in India. Most retreats are conducted for minimum 7 to 15 days at a stretch. Well known teachers and gurus gather to conduct sessions with the objective of transforming you completely. Yoga sessions are conducted by planning a 200 hour program that takes care of health and wellness. You can also enroll for customized retreat workshops in Rishikesh. Being a spiritual hub, Rishikesh is the safest place to travel. You have the freedom to meet and greet like minded spiritual people along the journey of the program.
• Rishikesh Retreat date:
9th March to 15th March, 2018
• Trip duration:
7 to 15 days depending on the course enrolled for.
• The trip cost:
300$
How to reach Rishikesh: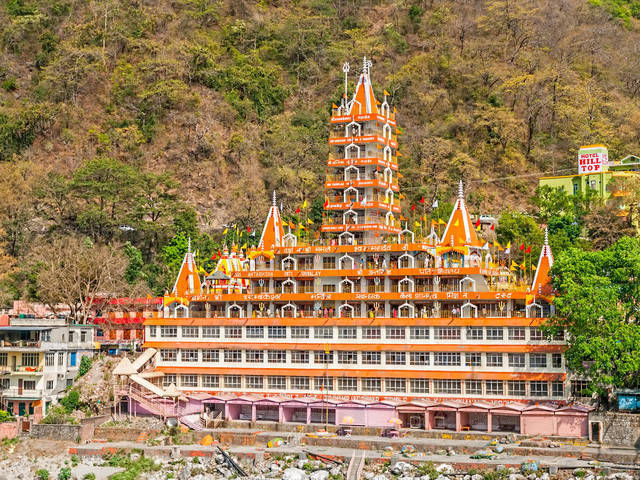 There are several modes of transport to reach Rishikesh. The railway station connects various cities of the country. Regular trains operate from cities like Jammu, Delhi, and Haridwar. You may also take a flight to Jolly Grant airport; it is the closest airport to Rishikesh, based in Dehradun. The distance from the airport to your destination is 18 kms approximately. Once you land at the airport, there are several cabs available at the airport to hire. If you are a traveller and love to enjoy the breathtaking views by driving on your own then take a road route from Delhi. It takes about 4 hours to reach to Rishikesh via car or bus. Bus and car rentals services are also available from major locations like, Dehradun, Pauri, Kotdwar, and Haridwar.
Weather in Rishikesh:
Temperature in summer reaches 20 to 35 degree Celsius. The city experiences heavy rainfall during monsoon season that begins in July and lasts until September. Rishikesh also experiences cool winters.
Best time to visit:
The environment and ambience during October to February is marvelous in the Rishikesh yoga centers. Thus, most tourists plan their trip during these months. Ideally, Rishikesh is an excellent city to travel at any point of the year due to its breathtaking views and peaceful landscapes. It is one of the reasons why some renowned rishis, gurus, and preachers have made their space in this abode.
Best places to visit in Rishikesh:
Don't miss the swinging Rishikesh that is known by Laxman Jhula and Ram Jhula. It is a 450 meters long bridge made of iron and a major tourist attraction. The distance between Rishikesh railway station and Laxman Jhula is only 4 kms.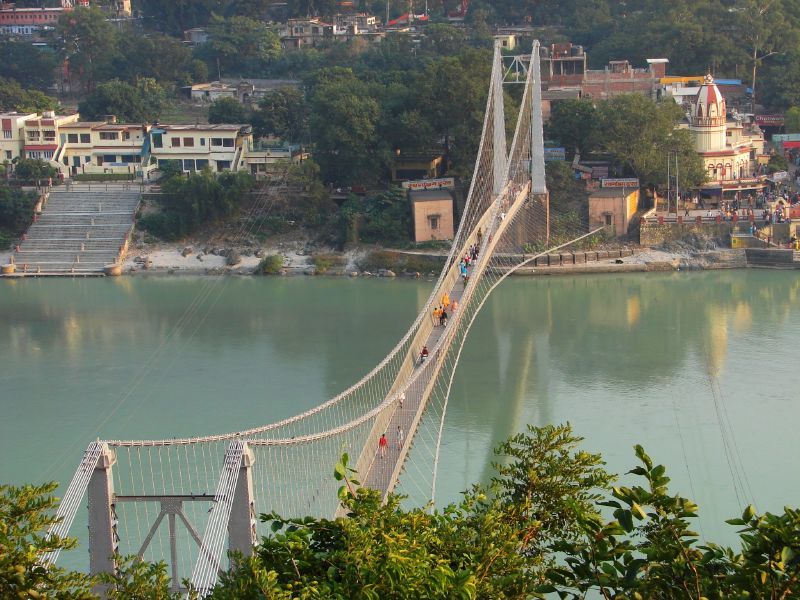 Shivpuri is an ideal location for White Water Rafting, Camping and Volleyball. The town is mystical and magical that gives you pure beauty of heaven. One of the major attractions of Shivpuri are the gorgeous camps located by the banks of the river.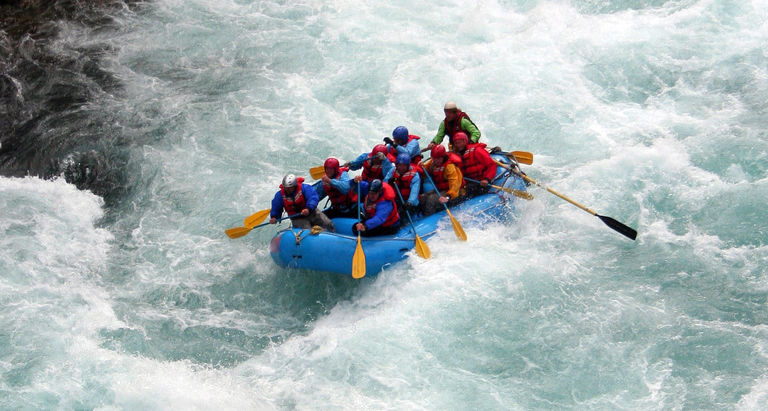 Triveni Ghat is known for its aarti. A huge crowd usually gathers here to seek blessings from the almighty on auspicious occasions. Bathing in river ganges and performing the aarti is the most divine feeling of this world.

Kaudiyala is the ideal place to rejuvenate self. Sport lovers love the idea of river rafting, boating, and camping by the river. Rafting in the white divine waters of Rishikesh is an experience to take.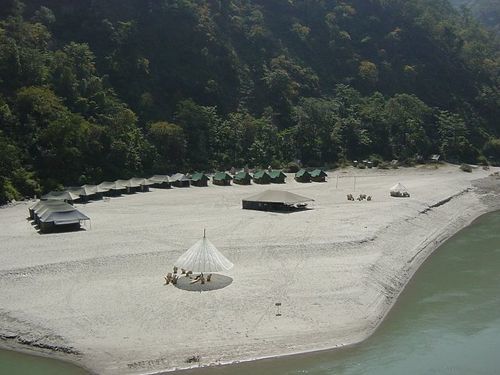 There are plenty of other places to wander and explore while you enroll yourself for the retreat program. It's a meditation in itself.
What to do in Rishikesh:
• Take a jump from Jumpin Heights. The team teaches you adventure stunts like bungee jumping, giant swings, and more. You can't imagine the feeling of adventure and confidence that you get from these stunts.
• Visit the Swarg Ashram to seek some peaceful time with yourself. It is the oldest ashram of India. Located on the river banks, Swarg ashram gives you the real treat of spirituality.
• Dip yourself in the divine hot water springs of Rishi Kund. There is also a temple that exists close to Shani and Triveni Sangam.
• Don't miss the Vashishta Gufa. For tourists, this place is an ideal location to wander. The place holds a perfect definition between calm ambience and serene sceneries.
Why Rishikesh is the best place for retreat:
If your inner-self talks to you about growth in life, Rishikesh is the best place to show yourself. Spend some time with your soul and understand what it craves for. I bet it is seeking a change from the lethargic routine life that you are giving to yourself and your family. Rishikesh retreat helps you to bring the lost peace back in your life and make your life more blissful.
Things to carry:
Carry the essential items of travel as you will be staying there for the entire retreat program. A few names to remember are;
• Woolen clothes (in case you are traveling in winters)
• Sunglasses
• Camera
• Extra pair of socks
• Sneakers
• Sandals
• Trek shows
• Towel (bath, hand, and face)
• Plastic bags
• Cotton clothes (in case you are visiting during summers)
• Antiseptic cream
• Mosquito repellant
Food and culture:
Rishikesh is the best place for cultural events and festivals. Reputed retreat centers like Arshayogadham takes care of your basic needs, including food. Some yoga and retreat centers serve you delicious yogic meals also known as Sattvic bhojan. People are highly cultural and friendly. You will fall in love with the peaceful faces and smiling neighbors of Rishikesh.
Where to stay:
Some major names to note when you plan a trip to Rishikesh are, Rishikul Yogshala, Arshayogadham and more... Most of these places have all the basic amenities that makes it ideal to stay.
Team of the Ashram at one of the most reputed Arsha Yoga Dham:
The team at this center is highly skilled with trained yoga teachers and experienced gurus. They have a set time table for the satsangs, meditation, and asanas. The program consists of three major elements viz, Satsang, Yoga Retreat, and Yoga Teacher Training. The ashram makes a divine gateway to experience yoga in abundance.
The spirit of rejoicing is truly magical. It would be difficult to express in words how one feels after a retreat program. But, I can bet you on one thing, you will return as a completely rejuvenated person altogether. Rishikesh is a hub to all those divine things that you have been missing in life such as unity, freedom of thoughts, soulfulness, and spirituality. I wish you a pleasant journey in Rishikesh and, hope you rejoice the retreat program to the core.