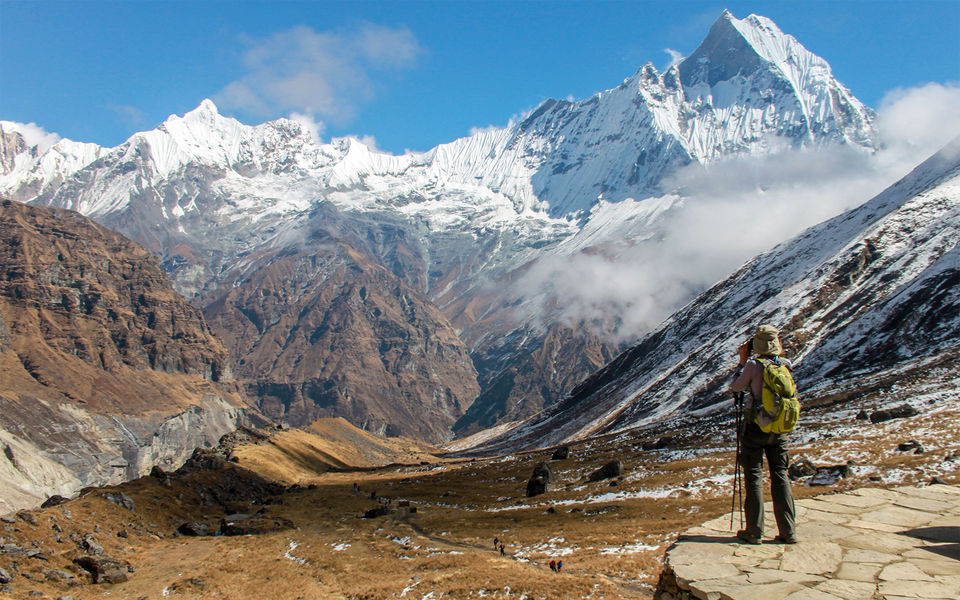 Trip Highlights:
"from the lush green vegetation of low sub tropic to the artic terrain, offering panoramic views of the snow capped peaks, including traditional villages and warm locals and trekking right in the heart of Annapurna range"
Trip Overview:
BUNA'S journey to the Annapurna Sanctuary starts from Pokhara, a scenic spot, this trekking combine's spectacular mountain scenery with incredible and cultural diversity and traverses through rural farms and villages. The trail leads towards the deep gorge between the peaks-Hiunchuli and Machapuchere and through the dense rain and bamboo forest of the narrow Modi Khola (river) valley then to the Sanctuary with immense walls of the mountain fortress. Once into the Sanctuary you will be in the midst of Amphitheater of snow peaks Annapurna (26,545ft-8,091m) Other major peaks overlooking the Sanctuary include the Annapurna south (23,693ft-7,219m), Gangapurna (24,457ft.-7,455m) and Annapurna III (24,787ft-7,555m) This area is also referred to as the Annapurna Base Camp and Machapuchere (Fish-tail) Base Camp. Our return journey, descend through the lush terraced Modi Khola valley and finally concluding the adventure at Pokhara, a popular destination with its famed Phewa Lake, dominated by the towering mountain range of Annapurna, Dhaulagiri, Manaslu range including the majestic peak Machapuchere (Fish-Tail).

Trip Profile:
Mode of Trekking: Tea-House / Lodge
Trip Grade: Moderate to Adventurous
Trekking Duration: 08 nights / 09 Days.
Overall Trip: 14 / 15 Days Kathmandu-Kathmandu.
Outline Itinerary:
Day 01: Arrive in Kathmandu meet our staff and transfer to Hotel.
Day 02: Half day guided sightseeing tour in Kathmandu.
Day 03: Drive to Pokhara 950m 5-6 hours journey 200 k.m.
Day 04: Drive to Kande and trek to Landruk. 1,500m.
Day 05: Trek to Chomrong 1,951m. 6 hours walk.
Day 06: Trek to Dovan 2,130m via Bamboo 2,050m approx. 6 hours walk.
Day 07: Trek to Machapuchere Base Camp 3,720m. 3-4 hrs.
Day 08: Trek to Annapurna Base Camp 4,095m 3-4 hours walk.
Day 09: Trek to Himalaya Hotel.2, 900m. 6 hours walk.
Day 10: Trek to Chomrong. 4-5 hrs.
Day 11: Trek to Ghandrung ( Ghandruk) 5-6 hrs.
Day 12: Trek and drive to Pokhara. 3-4 hrs walk and 2 hours drive.
Day 13: Transfer to Airport for the flight back to Kathmandu.
Day 14: Free day at leisure in Kathmandu.
Day 15: Transfer to Airport for International departure.
Want to experience the breathtaking adventure to the Everest region? Try Everest Base Camp with Gokyo Lakes Trekking.

For the best rate and best services please contact the Best Trekking Company in Nepal.