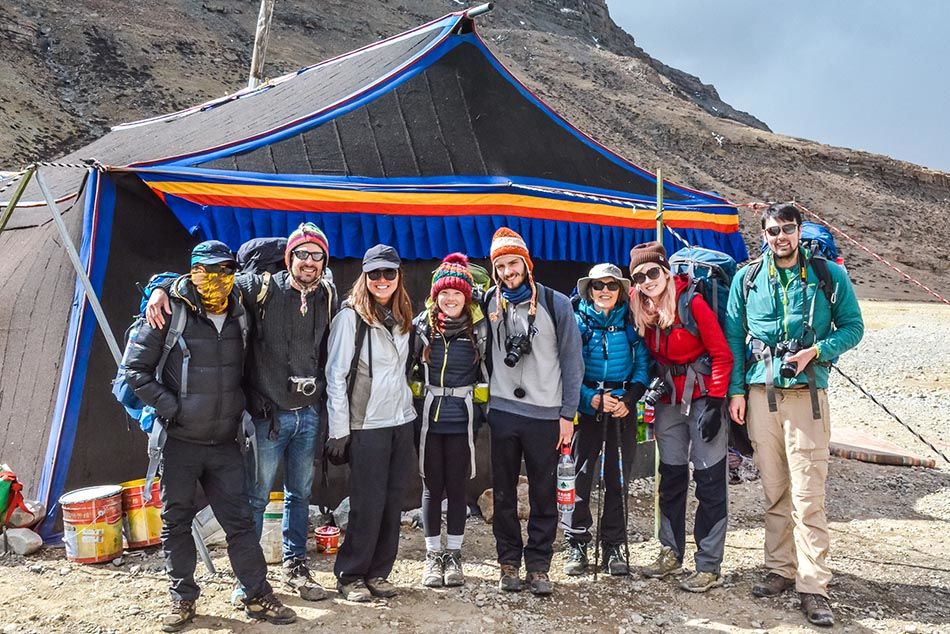 Arranging tour to Tibet. This post is dedicated to tour leaders who are taking the initiative to organise travel groups to visit Tibet. I hope this post will make your tour managing an informed and more straightforward process.
We know it's overwhelming and frustrating on arranging your trip to Tibet for the first time. There are often many informations on the internet realm, which contradict reality and outdated. This post will give you all the necessary you would need to organise your tour to Tibet.
Travelling to Tibet is easy and convenient if you have the proper information and the responsible local travel agency.
Knowing the regulations
The initial phase in arranging a tour to Tibet is to know the basic Travel regulation.
The basics travel regulation is no international travellers is allowed to travel freely in Tibet. All the tour for foreigner must be a guided tour with a local travel agency.
This local travel agency has to make your Tibet travel Permit, arrange your tour guide and hire a private vehicle for the journey.
You can learn more about those travel regulation details at this link.
Tibet travel permit is often wrongly called a Tibet Visa. It is an additional travel document you will need to travel to Tibet after your Passport and Chinese Visa.
This permit is issued only in Lhasa, and it is a separate two paper document. It is not given by the Chinese embassy and not on your passport. Tibet Tourism Bureau is the sole authority on the earth's surface to provide you with this permit.
There is a different permit situation on your travel route. We will discuss it later on, getting to the Tibet section below.
Read more about the permit on this link.
Chinese Visa is the only visa you will get on your passport when you are visiting Tibet. The situation is different between those coming to Tibet from Other parts of China or Nepal.
If you are coming to Tibet from other parts of China, you can get an ordinary Chinese Tourist Visa from the Chinese Embassy in your country. If you already have a valid Chinese Visa, You can come to Tibet with that visa.
Don't tell or Mention Tibet Autonomous Region in your travel destination in China. Other you will end up in a cycle of complicated regulations and
You can read more about how to get a Chinese Visa for Visiting Tibet here.
Suppose you are travelling to Tibet from Nepal. It is mandatory to get a Chinese Visa from the Chinese Embassy in Nepal.
The visa they will issue is called the group Visa. This visa is not the regular visa you will get on the passport.
For this visa, we will have to send the Visa invitation from the Tibet tourism office. It requires a minimum of four people on the visa invitation. You will have to use a Visa agency in Nepal to get it. It takes three business days for the visa process, and you can travel to Tibet only on the fourth business day.
Thought Travelling from Nepal to Tibet is a popular choice. Yet it has a considerable disadvantage. If you are organising a huge group journey to Tibet, this route is not recommended. Instead, I would like to recommend you to start the trip from Chengdu and end in Nepal.
Read More about the Chinese Group Visa on this link.
When to visit Tibet
It is imperative to consider the time to Tibet when you are arranging a tour to Tibet.
The best time to visit Tibet is from Mid April to October. During this time, both the temperature and atmospheric pressure are favourable.
The monsoon season starts in July and ends in September. There will be less visibility on the uphill during the monsoon time, especially if you visit Tibet to see Mount Everest and Kailash. Spring and early autumn provide better visibility.
In the wintertime mount Kailash region remains close, and there is less tourist if you want to avoid the crowd and enjoy the Tibet in its authentic state. Winter is pilgrimage when people on people will come down to the valleys for paying homages to buddhas.
Read more about the best time to visit Tibet.
Booking flight and a train ticket to Tibet
If you book a flight ticket with any flight booking website, they will ask you to submit the Tibet travel permit. But this travel document will be available within a week before you arrive in Tibet.
By the time permit is release, the flight ticket will be at its highest already. Yet, if you try to book the flight within China a months before the date, you will get through without this hindrance of permit.
Therefore, it is recommended to use a China-based flight booking service or your local travel agency to book the flight tickets to Lhasa.
Similar is recommend for the train ticket booking. Since you don't have a Chinese ID card, you can't book a train ticket without using one.
You can ask your friend and family member with a Chinese ID to book your train tickets. Booking opens a month before the departure date.
If you know of one to help you, you can ask your travel agency in Lhasa to book it for you.
Though Tibet is no more a hidden kingdom behind the majestic Himalayas, there are only two gateways to Tibet. You can travel to Tibet either from Nepal or from the other parts of China. The Visa and permit situation of different on both gateways. Hence we will discuss both in a separate paragraph.
As mentioned above, you will have to get a Chinese Group Visa from the Embassy in Nepal on this travel route. It takes a visa agent and three business days to get the visa.
If you already have a valid Chinese Visa, this visa on your passport will get cancelled.
You can either fly to Lhasa or travel overland to Kyirong via the land border. If you fly to Lhasa, you will meet your tour guide with the permit at the airport. You will your guide at the customs office on the border port in Kyirong if you travel overland from Nepal.
Travelling from Nepal to Lhasa is not recommend for a tour leader who is organising a large group.
Read more about travelling to Tibet from Nepal.
This travel group is recommended for budget travellers and a group with many members.
First of all, there is more choice in the mode of transportation to Lhasa. You can choose to fly, train or drive overland to Lhasa.
Secondly, It is less complicated to organise visa and Tibet travel permits for those coming to Tibet from China's parts.
Lastly, since you will be starting in the same country, your travel agency can provide better service.
Yet travelling to Tibet from China come with its limitation. That is, you will need to have the original permit in Hand if you are taking a flight to Lhasa, or you need to have a copy of the permit when you take the train to Tibet.
Read more about travelling to Tibet from other cities in China.
Suppose you are taking a flight to Lhasa from parts of China. Your travel agency in Tibet will either send you a permit to your hotel in any city in China or arrange for someone to deliver the permit to your transit airport.
For the train journey, we will send you a copy of your permit by email, and you will have to print it out to show at the train station. Please make sure your email will work in China.
Read more about Tibet travel permit delivery.
The average high of Tibet is 4500 meters above sea level, and it's very high above.
As you know, the earth's gravity pulls everything with a weight, and the air happens to have its consequence. So if you move higher, they will be a lesser air in the atmosphere.
Most people live at sea level, and their bodies are not adapted to function with less oxygen. Some people body would malfunction faster, yet all take time to get adjusted to that lesser oxygen.
So when you are arranging your trip to Tibet. It is highly recommended to have more days in Lhasa before going up to the itinerary's higher areas.
Most Tibet tour itinerary consists of three days in Lhasa before going up. Yet, that's is not enough for many.
If your time allows you to arrive in Lhasa earlier than your group members, so you can spend that two to three days resting, self-exploring and acclimatising in Lhasa.
Many responsible travel agencies like ours will not mind your free time in Lhasa. We know your health and safety is the priority before anything else.
Read More about acclimatisations to Tibet
Research for the most suitable tour itinerary for your group
Tibet is a vast area. It is the second biggest province of China, covering an area four times larger than France.
There is a massive improvement in the road infrastructure compared to in the early 2000s when I started working in tourism. But, once you reach Lhasa, you will be travelling by road.
The minimum recommended number of days for the tour with Kailash is about fifteen days and eight days for the Mount Everest tour. Please keep more days in Lhasa for acclimatising in Tibet.
You can find the tour itineraries to Tibet here
Money Matter
The most credit card works in Tibet. Almost all the business, including our travel agency, accepts all the card. If you don't remember the pin code, some times card doesn't require a pin. Therefore try it without a pin code before calling your bank.
ATM is available everywhere in Lhasa and other major cities in Tibet. Our tour guides can show you which works best for your international cards.
You can exchange money in the hotel, but most of them give a terrible rate. Bank of China offers the best exchange rate, but you will have to wait for a while. Yet, the most popular choice is exchanging it with Muslim traders.
Have your travel agency or tour guide called the trader to initially ask about the exchange rate and change it later.
Tipping guide and driver
Besides the Tourism industry, Tipping is not usually practised in Tibet. But we often recommend the traveller tip the guide and drivers because they only source income with the limited season for a few summer months per year.
There is no fixed amount for it, yet any amount will be appreciated.
Conclusion on arranging a tour to Tibet
I hope this post brings you all the required information while you are arranging a tour of Tibet. Yet there are many points I am not able to write here. To know these points or on any questions on arranging tours to Tibet, you can write to me at woaber@nomadictibet.com.