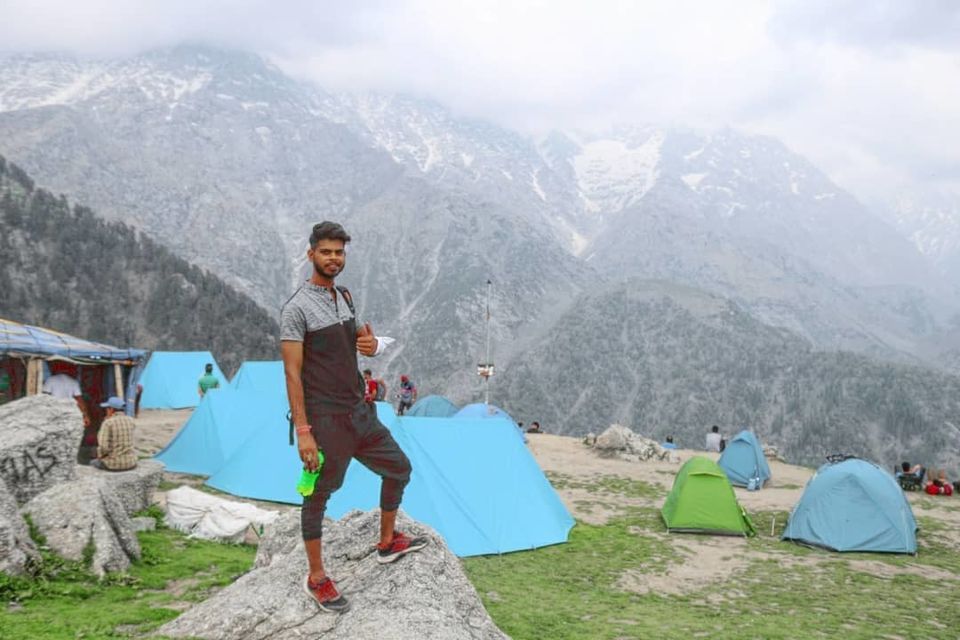 I generally travel on weekends with my one or two friends to places around delhi. My this trip was with my one of college friend to the Mcleodganj (Himachal Pradesh).
The trip began from New Delhi ISBT (Kashmiri Gate).And we both decided to meet at Kashmiri Gate Metro Station.After That we had our quick dinner and took our semi-sleeper bus that cost us approx Rs. 740 per person.At 9:10 Our Bus Started and our Journey too.
Day 1
It was approx 11 Hours Journey via Dharmshala.We reached Mcleodganj around 7 AM and started looking for a good hotel so we can rest a bit after this long journey.After Looking for 3-4 Hotels we finally booked a hotel in Rs. 800 with all basic facilities like Wi-fi,Hot water,Double Bed and clean bathroom with mountain views from our room windows.
After 2 Hour of rest and hot water bath we move out of our hotel with our camera's and our backpack with necessary things. We're Quite hungry so we had double omelets with tea and snacks.We also did some local photography of streets & People of Mcleodganj.Our Destination was Triund Trek so we inquiry about how to reach there.Local People advised to book a personal taxi because Triund Trek was 7K.M away from Mcleodganj Bus Stand.There were a local union of taxi/cab driver which provide cabs to Triund and there charges were 400 Rs per Cab of One Side Trip.So if you can't afford alone then just fine 2-3 guys who are going to triund and just split your cab fare.But since we're two person we just hired for ourself.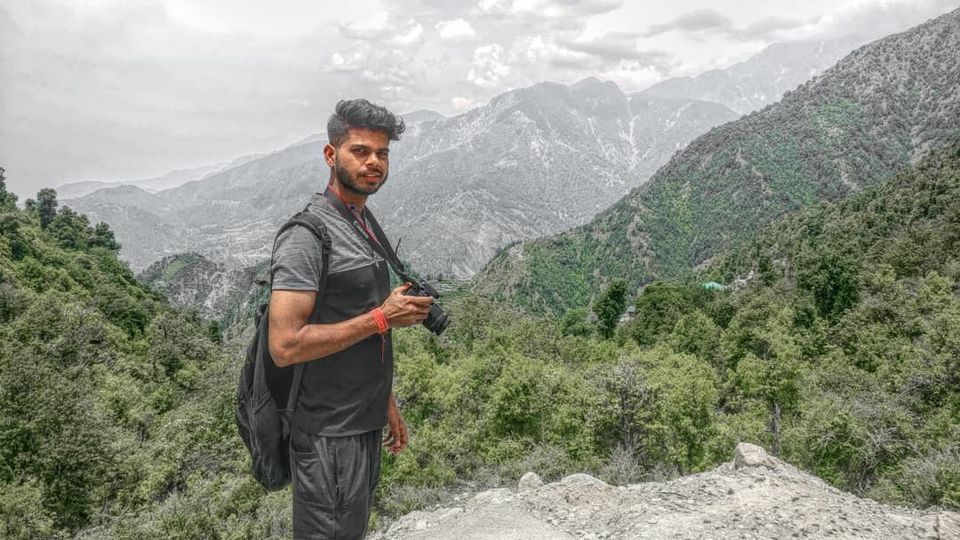 Within 30-35 minutes we reached to the starting point of Triund Trek.At Starting Point of Triund Trek there is a security check desk by local police which insure your identity so must carry your ID and they also not down your ID number and how many persons are with you.You can also carry alcohol but you have to tell police officers about it and they also note down the name of all items you are carrying with you like camera,bottles of alcohol & water ,Food items etc.They also gives you basic instructions about Trekking because its a 4-5 hours of Trekking and Trekking path is not so clear.
One Thing They officers strongly advise you, not to throw waste material like chips packets,empty bottles in the mid way of in mountains.Carry your wastage in your bags or put them in dustbins placed in the way at many rest points.So please its a kind requests to all don't destroy the beauty of nature and keep waste in your begs and don't threw them here and there.
After our names noted down on papers officers give us permission to start our trekking.One thing that is very important that must carry 2-3 bottles of water with you.because its gonna a long way to go and it will take 4-5 hours and more depend on your strength. Though there are many cafes on the way but its good to carry some water and you can also carry some foods and soft drinks.Guides are also available if you wanna hire.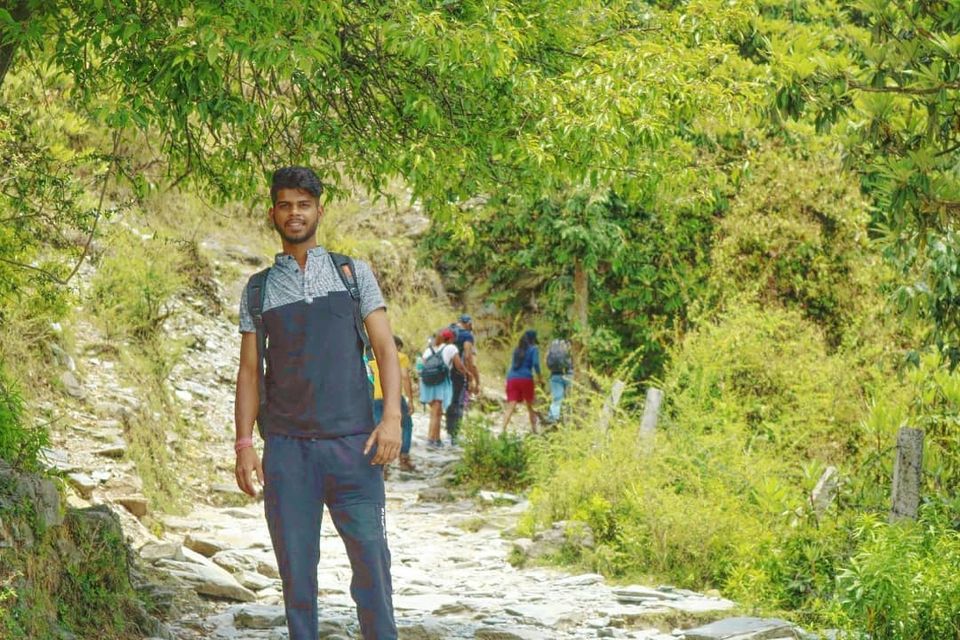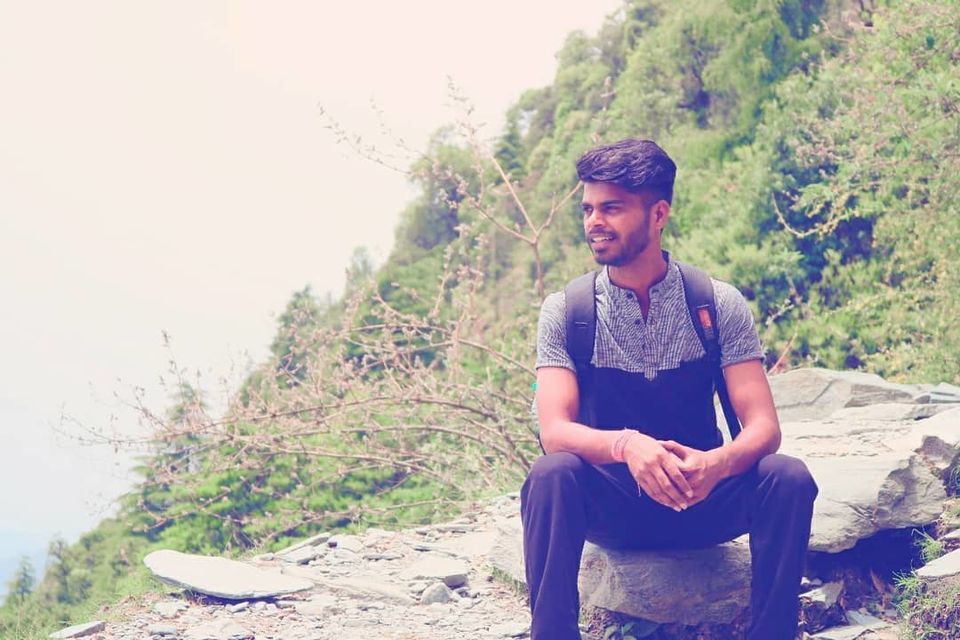 We were very excited because it was our first trekking experience and we're planning for so long.So we happily started and clicked some amazing pictures of natural beauty,Mountains and trees.Path was not so crowded and there were many people who are going with us.Many of them were from delhi.After 1 hour of trekking we completed almost 1 KM of our destination and reached to a cafe.We had our first "mountain wali maggi" there it costs us 50 rs each plate.Don't know why but it was so testing though there was nothing special it but mountains have some special feelings which can make anything special,beautiful & tasty.after a short break we again started to walking.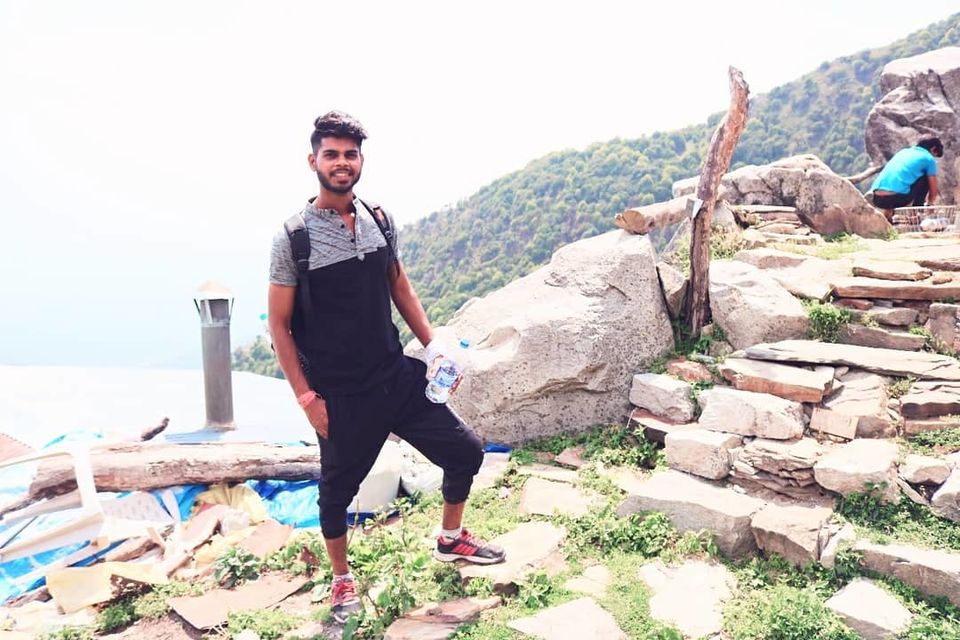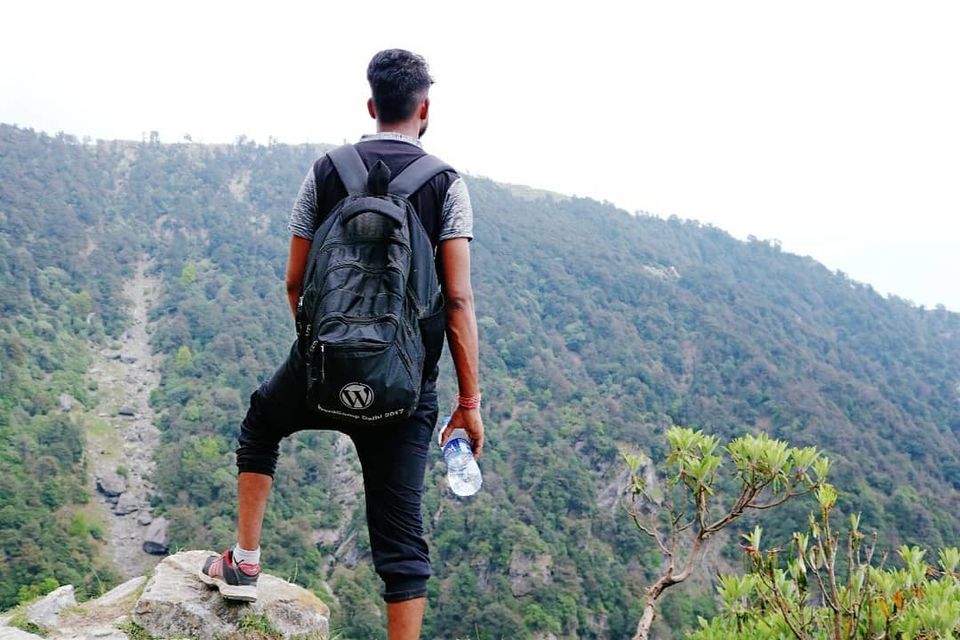 Trekking is full of fun but you must take care of your steps coz path was full of stones and tree branches.So be careful and walk with focus.There were many point where only one person can walk at a time either you can came down or go up.2-3 people slipped in front of our eyes and got hurt on knees so be alert coz you are in mountains not on a flat road.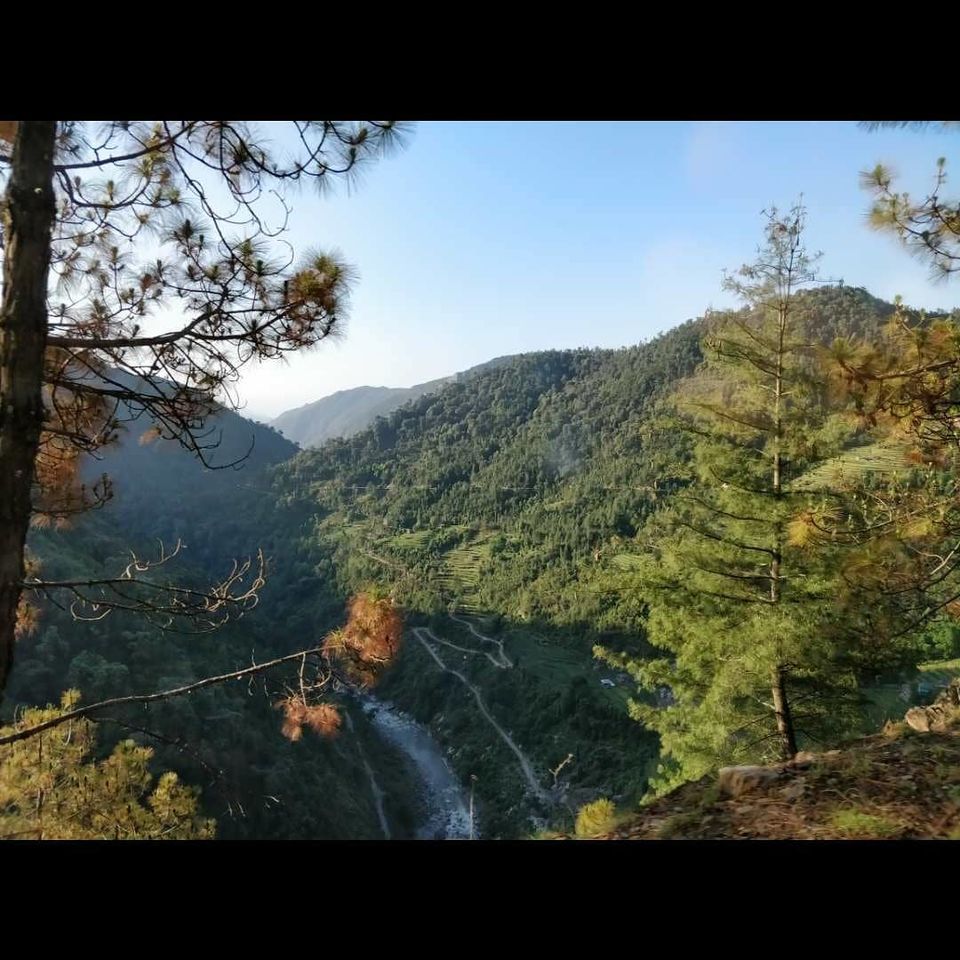 There some jaw dropping views from the middle of ways we can clearly see the downtown area of mcleodganj and nearby villages that was like everything what we've seen in the movies.I either can't explain that beauty and feelings.we took 4-5 break in this journey to Triund Trek and finally after 5 hours we reached to the top and my breath stopped... i mean how nature can be so beautiful.Mountains were full of snow and clouds behind the mountains were moving slowly.It was breathtaking and it was like a painting came alive.Cows and goat were eating grass,People were clicking pictures and smiling,sky was blue and clear.So fresh air that i can feel the smell of nature.No unnecessary noise of vehicles and horns, just pure nature and happy people were there.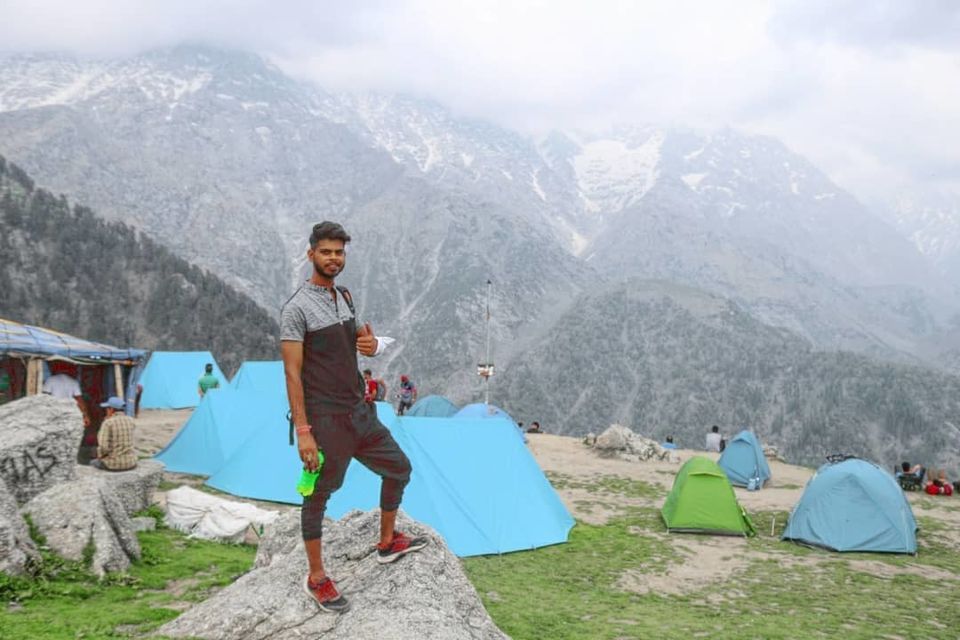 Camping facilities were also there so you can book for night and can spend nights with friends,family and your love once.you can enjoy good food of mountains and bonfire too.The Best thing was, there were "NO Signals".Yes there are no mobile network so people were not busy on phones and they were so far from social media.You can enjoy and take a best break from your regular life.You can watch all beautiful view and trip in below video.
But unfortunately we had short of time so we decided not to stay in the night here and get back to hotel after 3-4 hours of stay here.So we just explored whole View of Triund Trek and clicked lots of picture so we can save it as best memory,we again had maggie because meggie is like first love in mountains.At 5 PM we started to return back it was a hard decision and we really don't wanna leave that place but we have to do it.We slowly started to came back down it was 5:30 approx and sun going down and lights going off slowly slowly.And you know mountains are more dangerous after evening,anything can be happen.You may slip,a stone can hit you etc etc many dangerous things.So we were trying our best to return back as soon as possible.
It was 7 PM and suddenly rain started slowly and we were like oh god !! Now its gonna very hard to return and chance of stone falling increased due to rain so we both were worried.First of all we packed our camera and mobile phones in a plastic bag so they don't get wet.Secondly we started moving very very carefully.Rains also started falling fast and we're all wet but some how till 8:30 we manage to came down.nobody was there at the starting points only 2-3 shopkeepers were there.we find a old temple to stay until rain stops,And it was freezing cold and our clothes were also wet so it was bit uncomfortable,Big thing was there were no cab which we can book to get back to hotel so we had to wait more then 1 hour extra.Then we requested a cab owner and he demanded Rs. 600 instead of 400.And we also knew that we don't have any other way so we just booked him and get back to our hotel till 9:30 PM.Then we had a quick bath and ate our dinner in a nearby hotel and gone to sleep.
It was a adventures,Fearful but beautiful trip we will always remamber.Next day we explored local mcleodganj which i'll tell you in my next blog.Till Then please share it with your friends and comment down your questions if you have any.