Hey all
I am super excited to pen down by "Memories" of my visit to Singapore "The Lion City" !!! I have been to Singapore twice, nearly for three weeks each time. After almost 5 hrs of journey and 'Flying over the Green Meadows and Water Bodies', I finally reached Singapore- Changi Airport and there I was welcomed by my 'Aunt and Uncle'. Singapore often known for Skyscrapers and Ultra-Modern amenities ; but there is unseen side to it.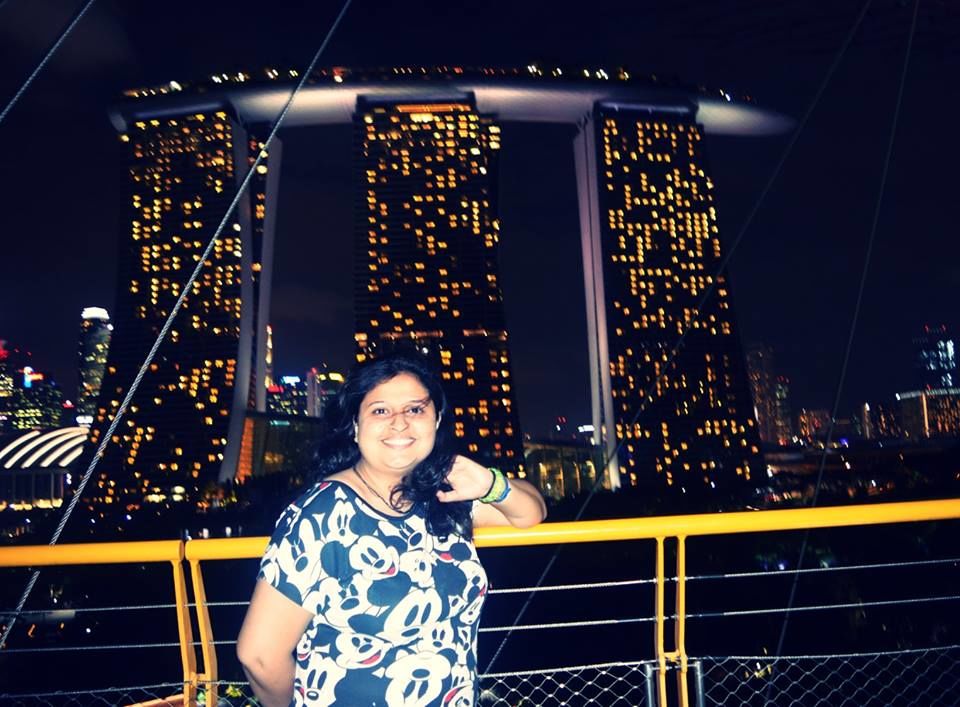 Singapore is an amazing country, truly speaking even a month time will be seemed insufficient to explore this beautiful place. It has so much to offer !!! and the best part it's safest place to travel alone :)
This blog is all about "BEST OF SINGAPORE" attractions-

GARDEN BY THE BAY
Whooo Whooo Whooo!!! It's simply enchanted, seemed I landed in Fantasy-land!!! Presenting to you the unbelievable "Garden by the Bay". It is one of the most popular Tourist Attractions in Singapore. It's located at Marina Bay. Entry to Garden by the Bay can be made either by Marina Bay Sands or from the Helix Bridge towards the Art Science Museum.
The main attraction of Garden is "Supertree Grove with Skywalk", "Flower Dome" and "Cloud Forest". The entry to the Main Garden is Free Free Free!!! My favorite will always be Skywalk(yayyy).We took a combo pack that included Flower Dome and Cloud Forest. Skywalk ticket is separate. We reached around 4 pm and visited the Flower Dome first, followed by Cloud Forest; it took us almost 3 hrs.
The Free evening "Light and Sound Show" is the high point of this pretty garden. It's simply TREAT TO THE EYES!!! The best way to enjoy is to just lay on your back, relax and enjoy this mesmerizing show with "Melodramatic Sounds and Glittering Lights".
Twinkle Twinkle so many stars……truly this was the moment when I simply wished I could hold back the time and just lived that moment for ever !!! hmmmm.
Tips & information-
1.Timings for Free Light and Sound show is 7:45pm and 8:45pm every day for 15 mins.
2.Before making to Garden by the Bay please do visit their site for closure dates.
3.This is a place to be clicked, CAMERA get set and goooooo hahahaha.
Flower Dome- We visited the "Flower Dome" first ie. in afternoon, as flowers best seen in daylight. Flower Dome is filled with beautiful flowers, ample varieties of plants, It's simply beautiful!!!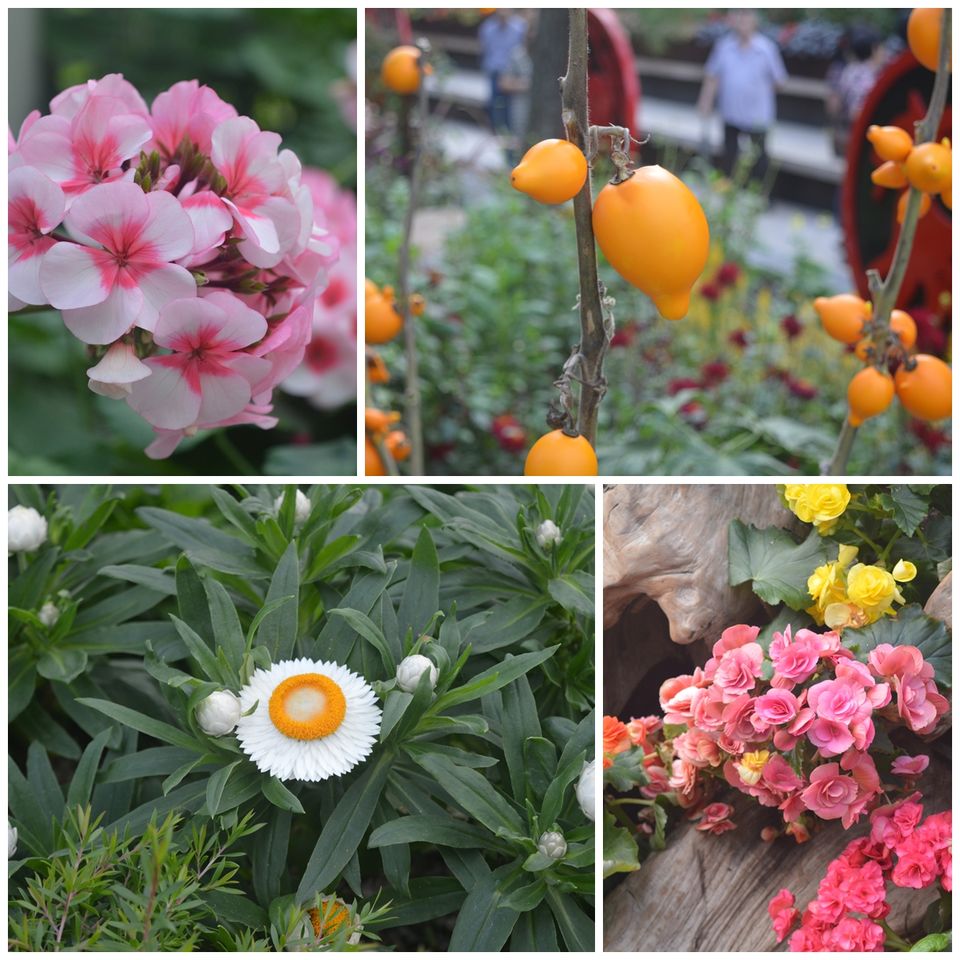 Cloud Forest- "Cloud Forest" was the next, as we entered the Cloud Forest cold breeze hit our faces; beating the outside heat(even the month of Feb could be hot); it was so refreshing, and there stood a "Massive Man made Waterfall" in front of us.
For few minutes I simply gazed the waterfall, as it was breath taking, clicked lots n lots of photos;) . The whole place is climate controlled it's really cool inside. Elevator took us to the top, it's "Five Storey Rain-Forest" and we descend the Cloud Mountain via Circular Walkways.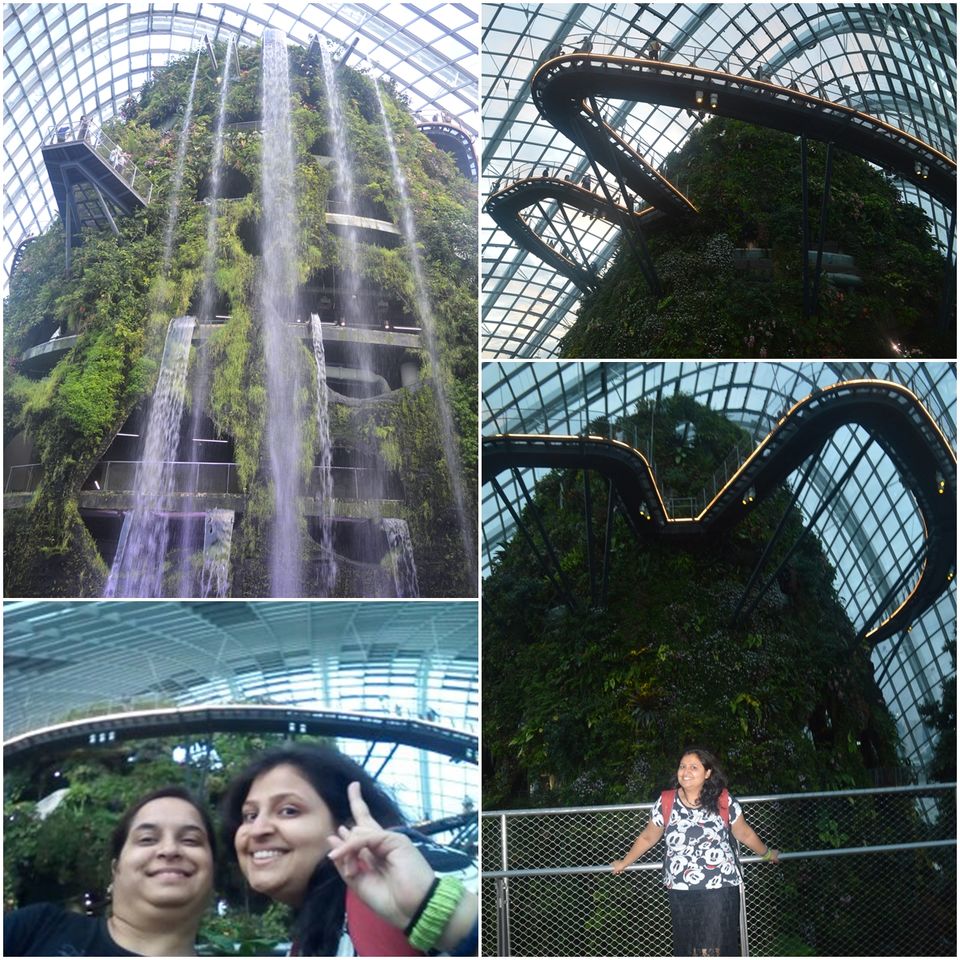 Supertree Grove(Skywalk)- Awesomeeee!!! Just my way to describe it, hehehe. "Supertree Grove" is a tree like "GIANT STRUCTURES". Lift took us to the top of Supertree which was connected to the other Supertree via Skywalk.
We were able to look through the Entire Garden, the Singapore Flyer , the Gigantic Marina Bay Sands. It was truly one in a million experience, Stars Beneath the Stars......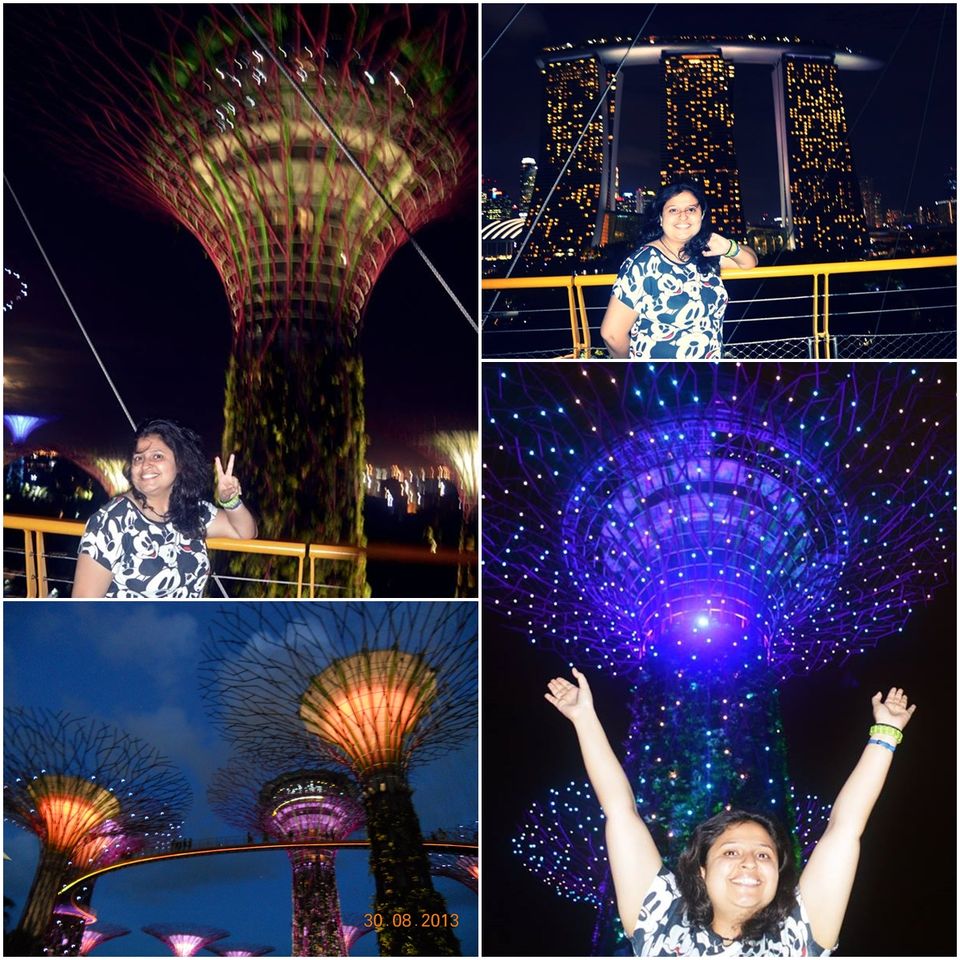 Tips & information-
1.Visit Flower Dome and Forest Cloud in day time, it takes almost 3 hrs.
2.Supertree Skywalk should be visited in late evenings.
3.Combo pack for Flower Dome & Cloud Forest is S$28 and ticket for Skywalk is S$5.
4.Last entry for Skywalk is 8:00 pm.
SINGAPORE FLYER
Yayyyy!!! Now it was time for us to Fly, it's "Singapore Flyer". Singapore Flyer is a "GIANT OBSERVATION WHEEL", it's best way to see the Panoramic view of Singapore in just 30 minutes (one round). It's situated at the heart of Singapore i.e. Marina Bay.
Flyer is very popular among Tourists. It was completely awesome experience. From our 'Air-conditioned Glass Capsule', we were thrilled to look over the entire Garden by the Bay, enormous Marina Bay Sands, Singapore River, Skyscrapers, Merlion Park.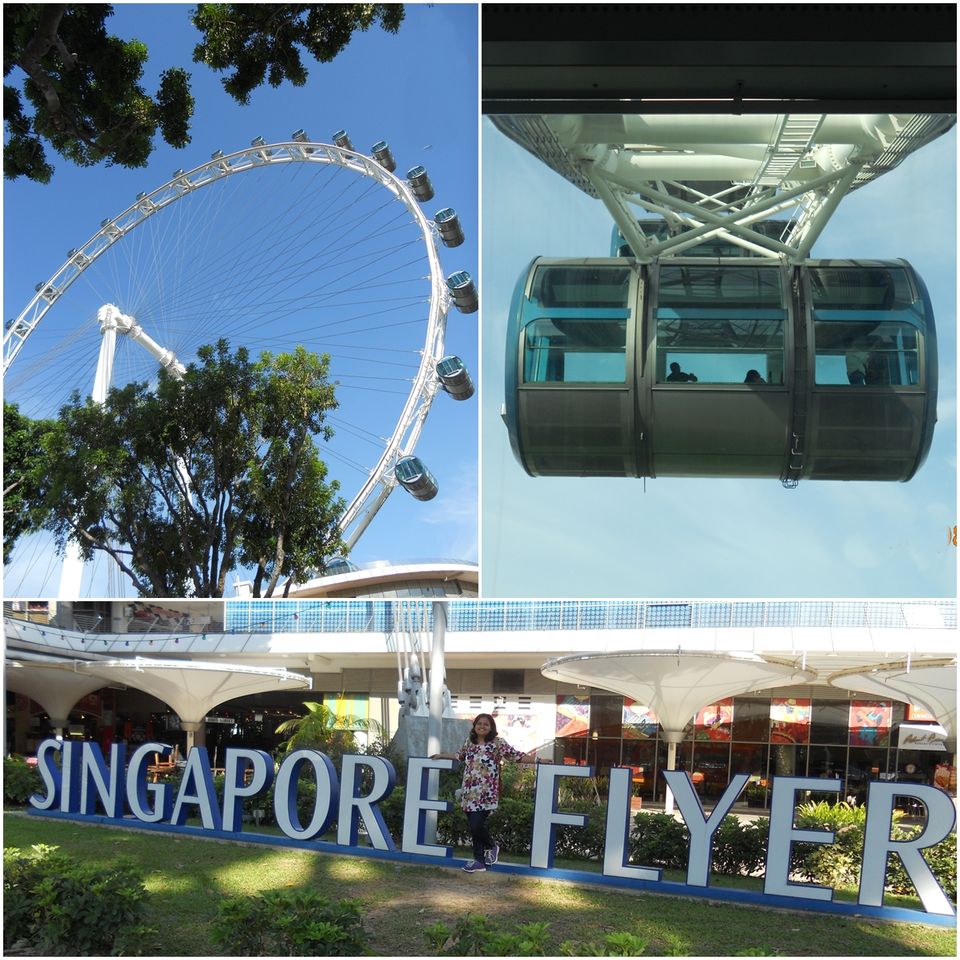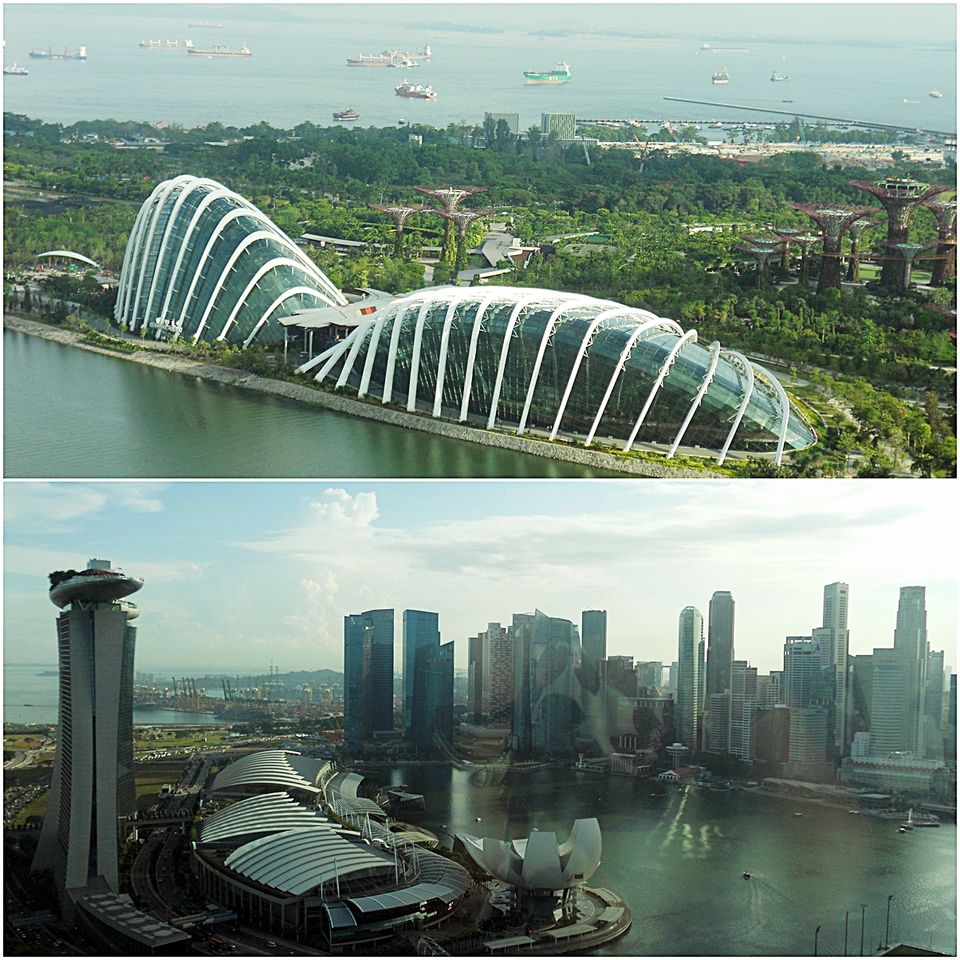 Tips & information-
1.Night is the Best time to visit Flyer.
2.Ticket for Singapore Flyer is S$33.
UNIVERSAL STUDIO
"Universal Studio" situated on Resorts Worlds Sentosa is 15 mins walk from Vivo City-Habour Front MRT. We reached around 10:00 am, so as to enjoy to the fullest. The craziness in me kicked-off even before entering the U.S, everything around was like dream come true; be it 'The Universal Globe', 'Candy Trees', 'Chocolate Special Characters' ................. photos are the must(yayyyy). Everything seemed so perfect that day.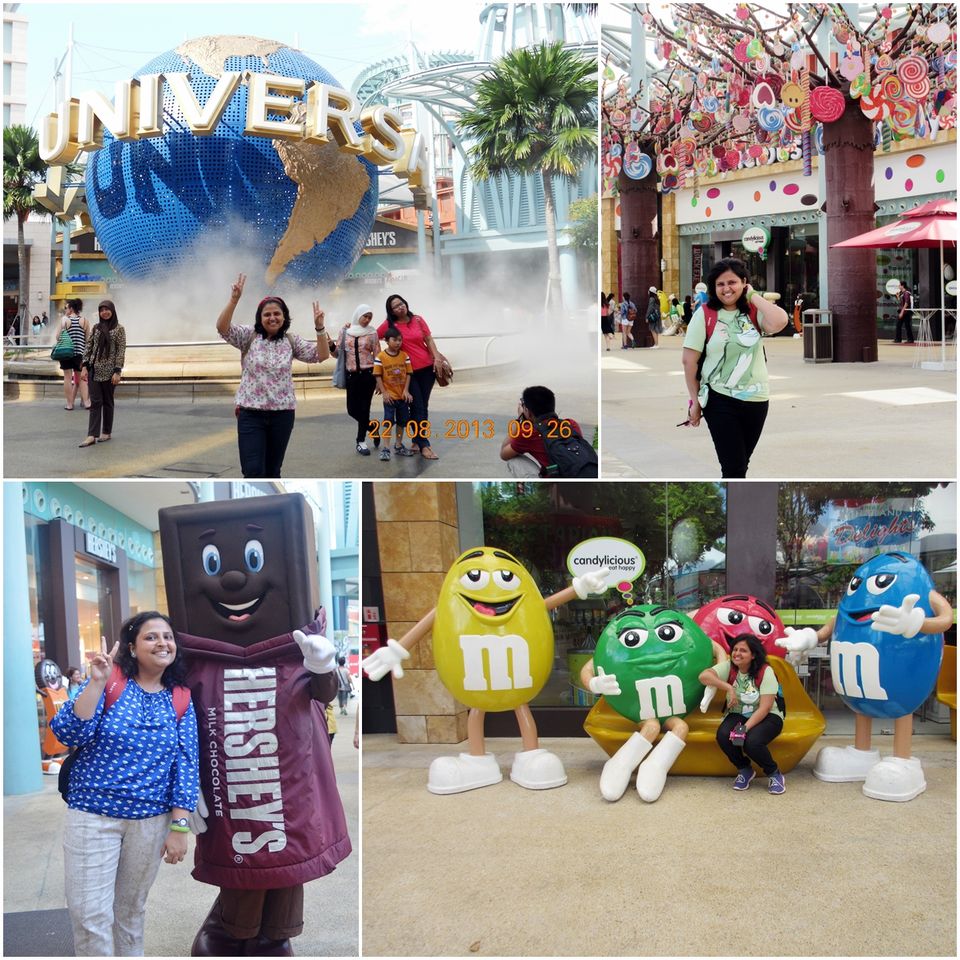 As soon as our tickets got scanned at the entrance , i simply grabbed the map and the schedule; to see the timings for my Special Characters performance "The Minions".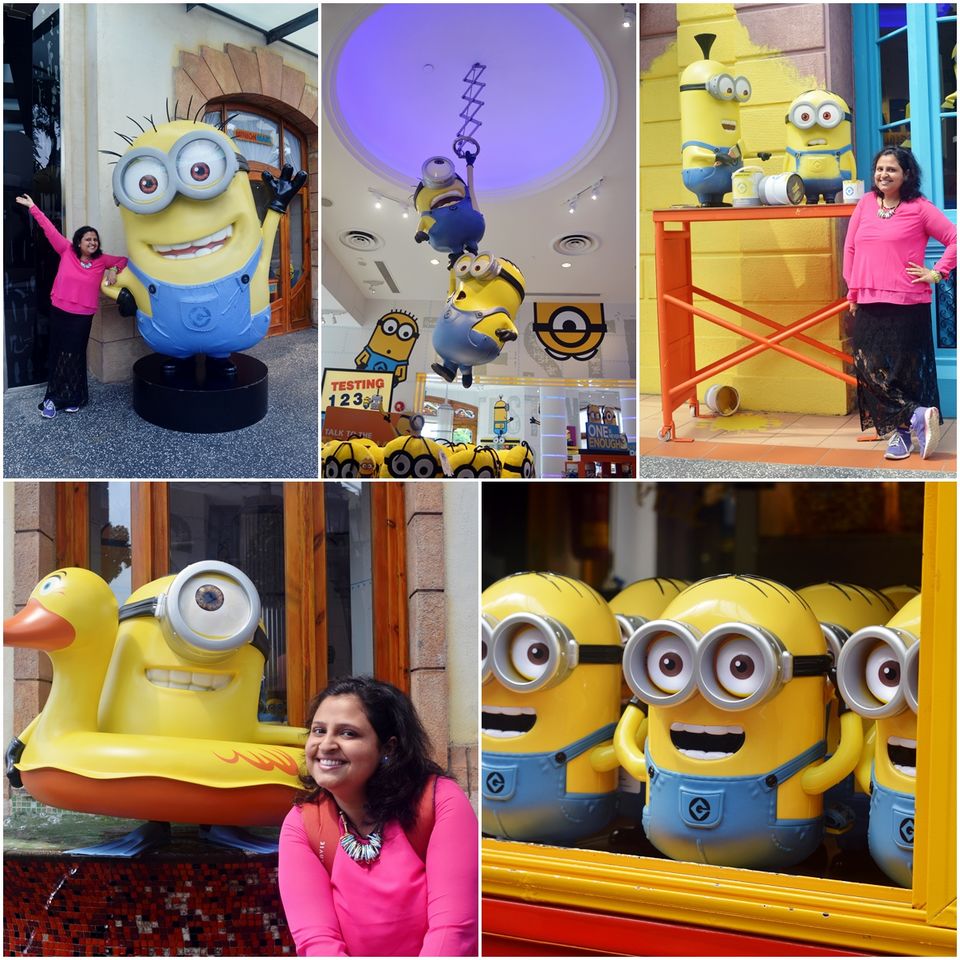 Universal Studio is divided into Seven Zones; each zone designed brilliantly -
Hollywood
The Entrance Street is called the "Hollywood Zone" ; it's all about Merchandise Shops, Cafes, Photo Booths. For me Hollywood Zone was all about my favorite movie character Minionssss and the most famed Minion-Mart; beautifully designed with all Minion Stuffs from Minion Popcorn Box to Minion Pen-Drive to Minion T-shirts to Minion Characters whoaaaaaaaaaaa……….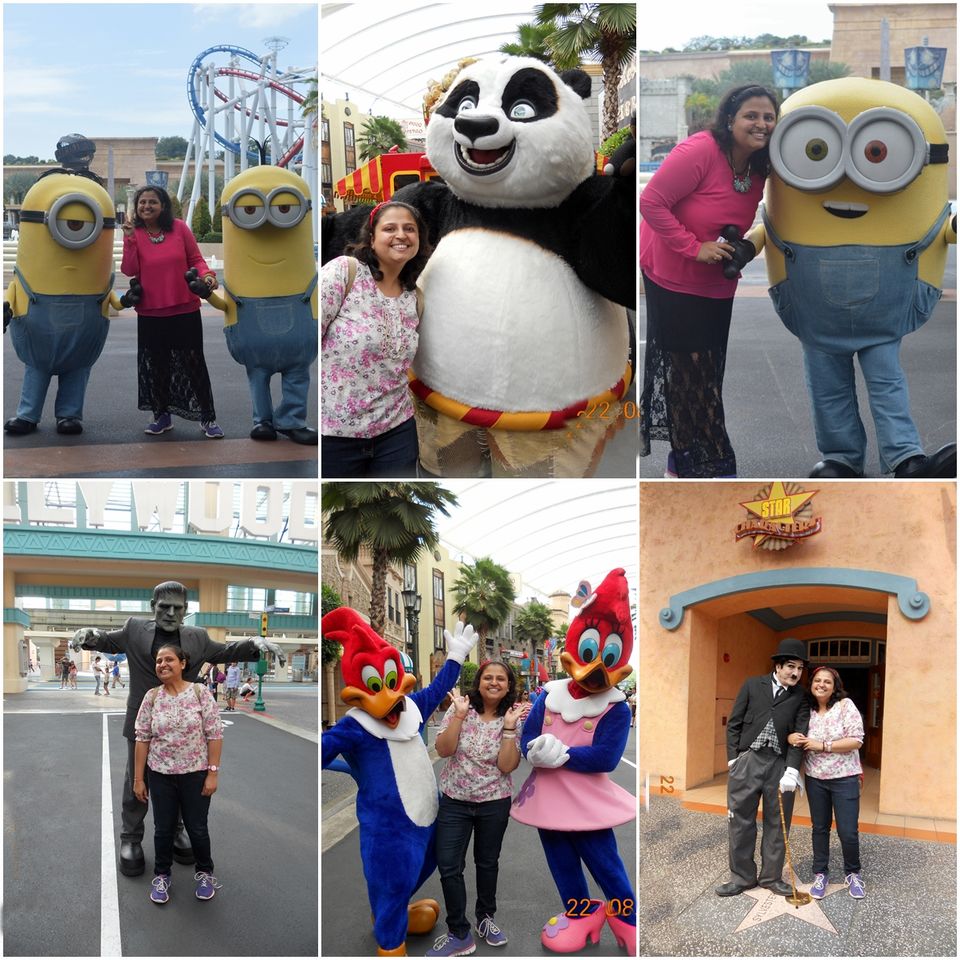 It was truly a heaven on earth for Minion fans like me, it was super duper crazyyyyy!!! can't ask for more.
Other Special Characters that I found were–Panda(Po), Charlie Chaplin, Frankenstein ,Marilyn Monroe….to name few.
Madagascar
I like to move it move it…………hahaha! Song for the day…….
Name says all! It's all about the movie "Madagascar" franchise. Alex, Gloria, Marty and Melman are the special characters of this zone. I really enjoyed the Boat Ride(suitable for all age group) and the 15 mins Character's Performances at Madagascar zone. Alex,Gloria, Marty, Melman , Pengiuns all came together for special performances. The cutest part of this zone was the photo with a group statue(really huge one) of the Madagascar cast.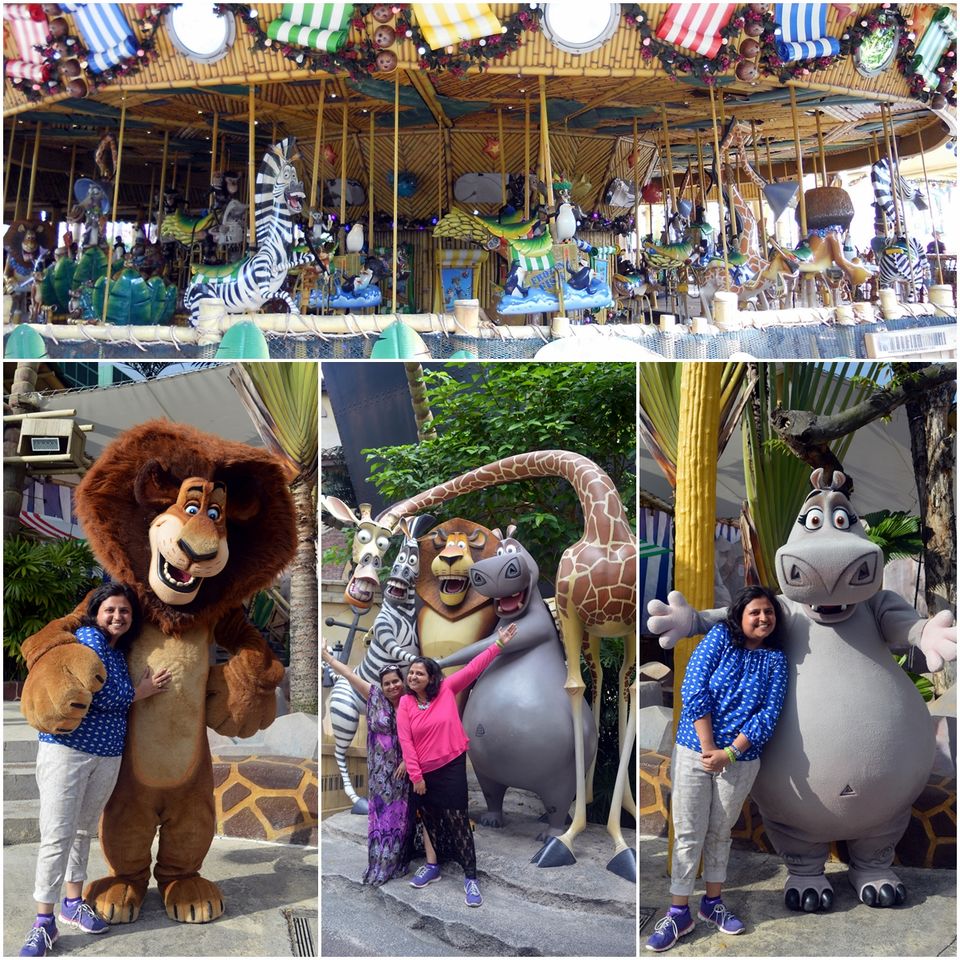 Far Far Away
Exquisite Far Far Away Castle steals the show! It seemed exactly the way i used to see in Fantasy Movies and in Storybooks as a child. Based on movie "Shrek" Franchise. Shrek, Fiona, Donkey, Puss in Boots ............ are the Special Characters of this zone. Shrek 4-D movie was a delight to watch; cute and engaging. But the recently opened Puss in Boots ride -Roller Coaster, was just fantastic ; wanting for more and more(we did many a times).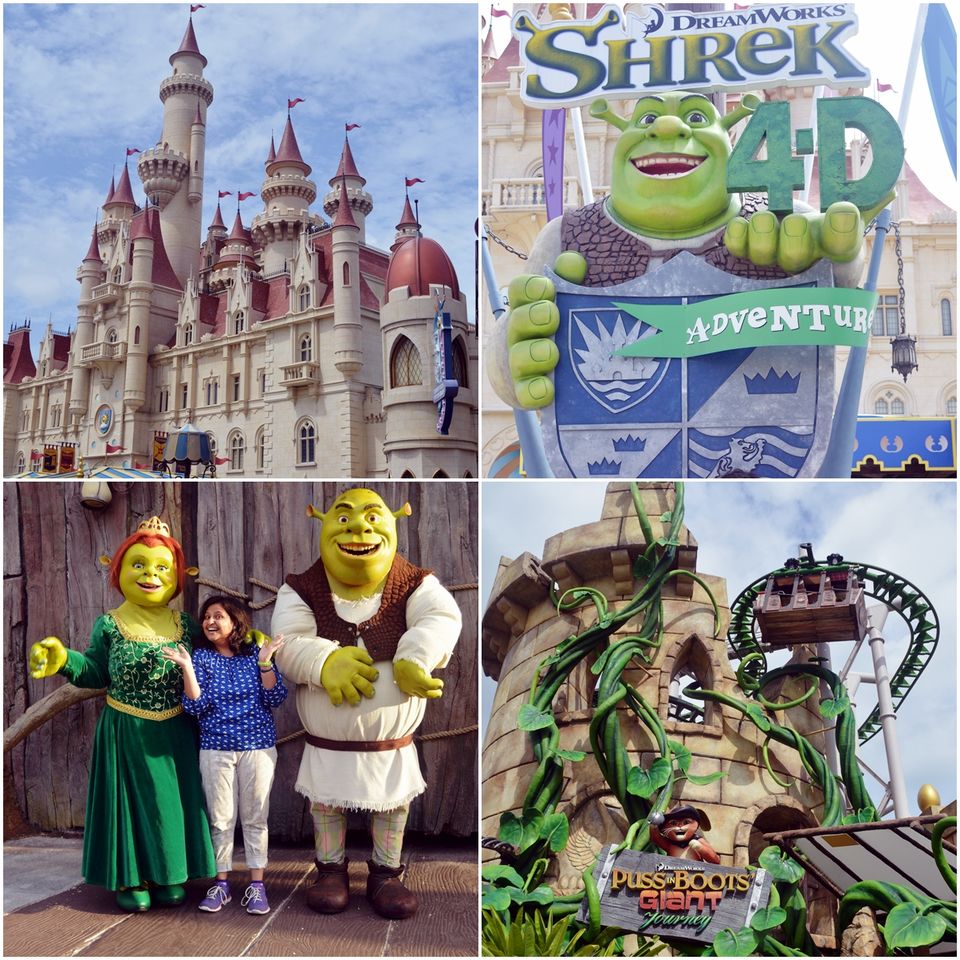 The Lost World
It's based on "Jurassic Park". After waiting in long queue , for almost 1 hr; I finally got on to Jurassic Park Rapids Adventure-Water Ride; it left me amazed! It was simply awesomeeee, do wait for the BIG SURPRISES…… not to be told but to only experienced.
Canopy Flyer –Roller Coaster was quick and fun, Dino-Soarin –Spin Ride was truly a happy ride...............sit back and push the button! FLY HIGH................Don't forget to meet the Star of The Lost World, the Cute Infant Triceratops "DIANE".
"Waterworld" is also a part of The Lost World, its Live Action Performance Show of about 30 mins…..it's simply not to be missed.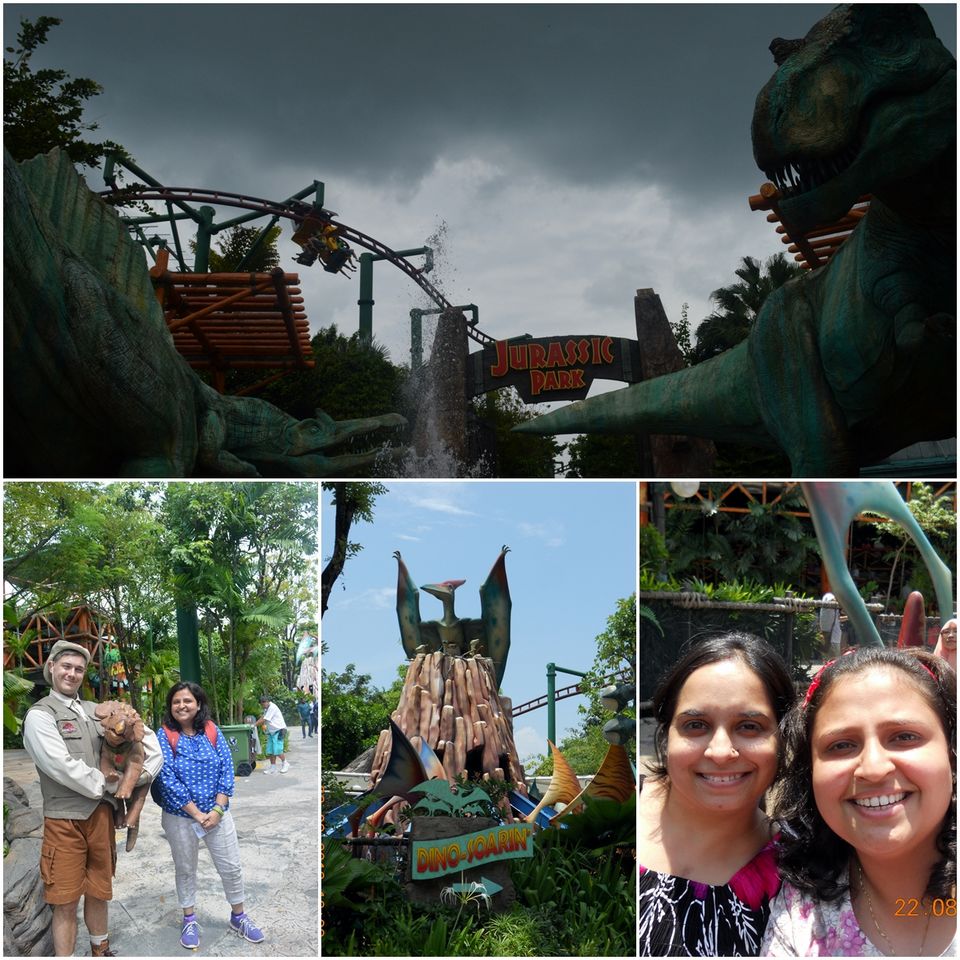 Ancient Egypt
It's based on the movie "The Mummy". The main attraction of this zone was the Roller Coaster-The Revenge of The Mummy, which I skipped! It seemed really scary….......... opps. Treasure Hunters(suitable for all age group) was seriously bore and waste of time. The Egyptian Characters were koolllll to be clicked with.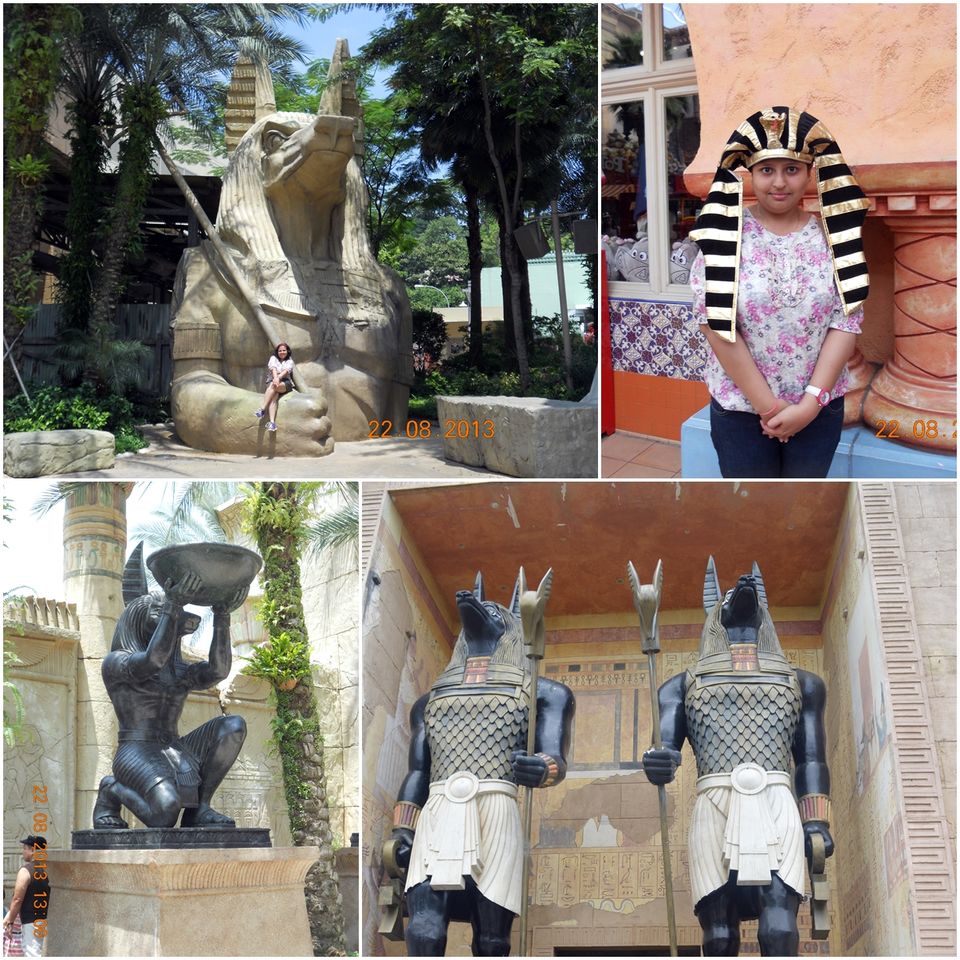 Sci-Fi City
I simply love this zone, here comes the best part, 4-D Transformer Ride! a ride I did number of times and still wanting for more(be ready for longgggggg queue). Battlestar Galactica HUMAN v/s CYLON is a jaw dropping Roller Coaster; ultimate ride or all fearless people out, I not one of them(hehehe). Get clicked with my favorite "Transformer" Franchise Characters-Optimus Prime and Bumblebee.....simply LOVED IT..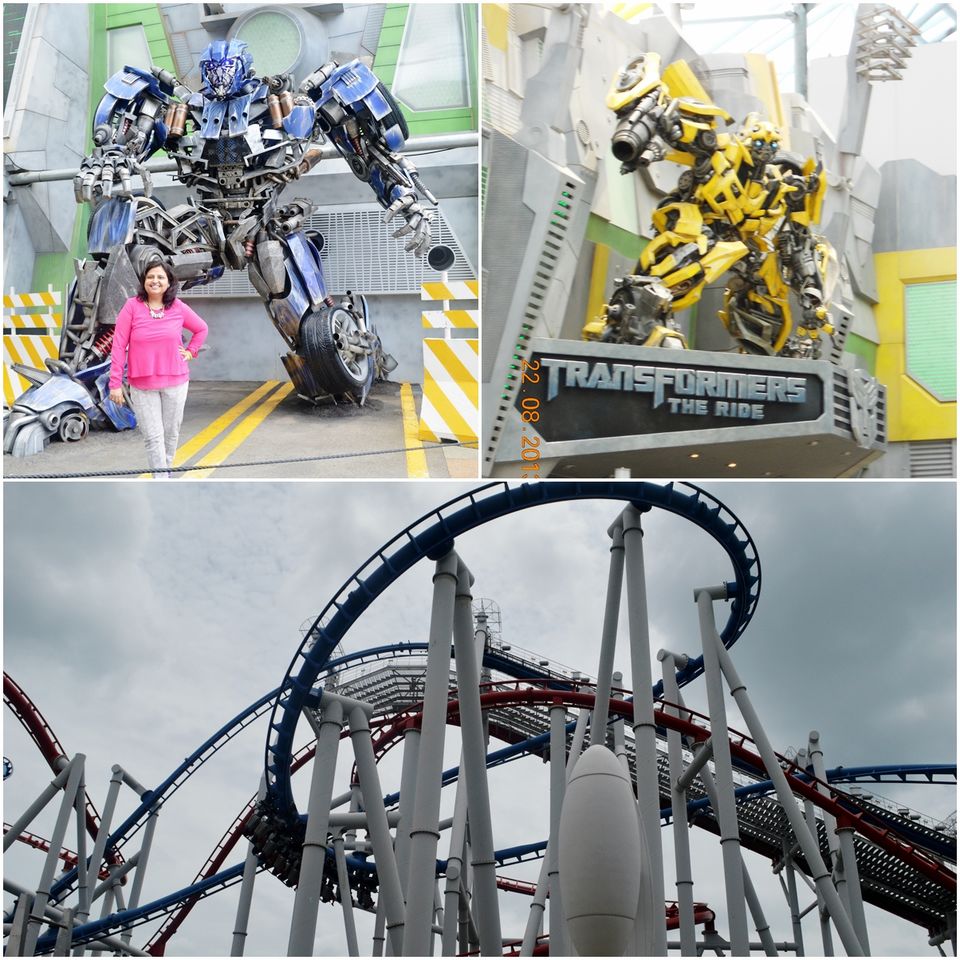 New York
Enjoyed the cutest Space ride-Sesame Street Spaghetti Space Chase(suitable for all age groups) with Elmo and Super Grover from Sesame Streets. Now it was time for some real action Light-Camera-Action-Live Show.Get yourself clicked with statue of Vin Diesel and characters of Sesame Streets.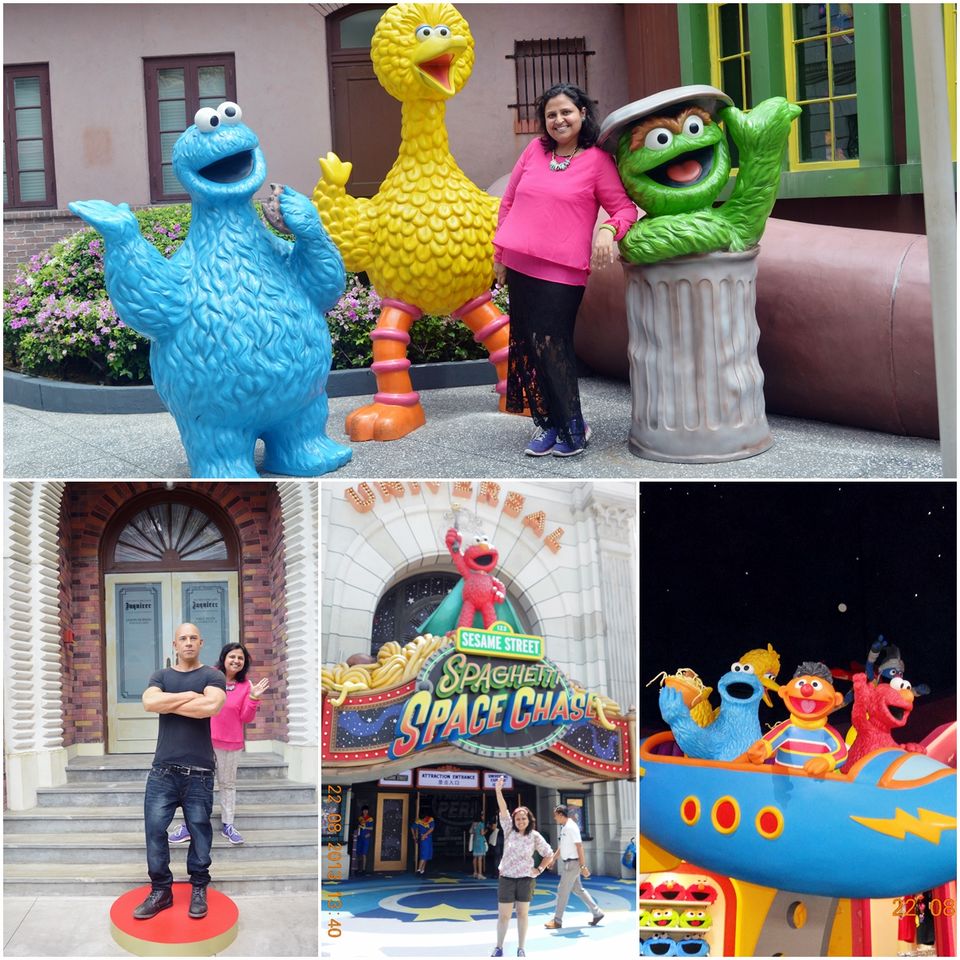 Tips & information-
1.Try to reach early, timings 10:00 am to 6:00 pm, so as to enjoy to the fullest.
2.Ticket for Universal Studio is S$74, that's unlimited ride(yayyyyy).
3.To save money try to avoid weekends, that way you won't need Express Card(VIP pass).
4.Do grab a map and schedule for the day at the entrance(check for language).
5.Before making to Singapore Studio please do visit their site for closure dates.
6.ACTION ACTION ACTION! Don't forget to watch WaterWorld. Breath taking Live show performance-30 mins show.
7.Get ready to get wet-carry extra cloths with you! do wear comfy cloths and shoe; afterall it will be whole day of fun.
8.Carry lots of Snacks.
9.Universal Studio is indeed expensive, so do look around first and then grab your favourite stuff.
SENTOSA ISLAND
Singapore and Sentosa Island go hand in hand, they are inseparable and that's makes Sentosa Island so popular among the Tourists and even with the Locals."Sentosa Island" situated at Habour-Front has sooooo much to offer.
There are numerous packages, while we opted for 5 out of 11 attractions combo. There is something for everyone, just name it; be it 4-D movies, Adventurous Activities, Cycling , Love for birds and animals..............to name few.
Skyline Luge & Skyride is the one ride I will recommend to all……soooo trilling……… I truly enjoyed this ride by all means(yayyy) . Due to unfortunate rain I missed the Gogreen Seway Eco Adventure(Ewww).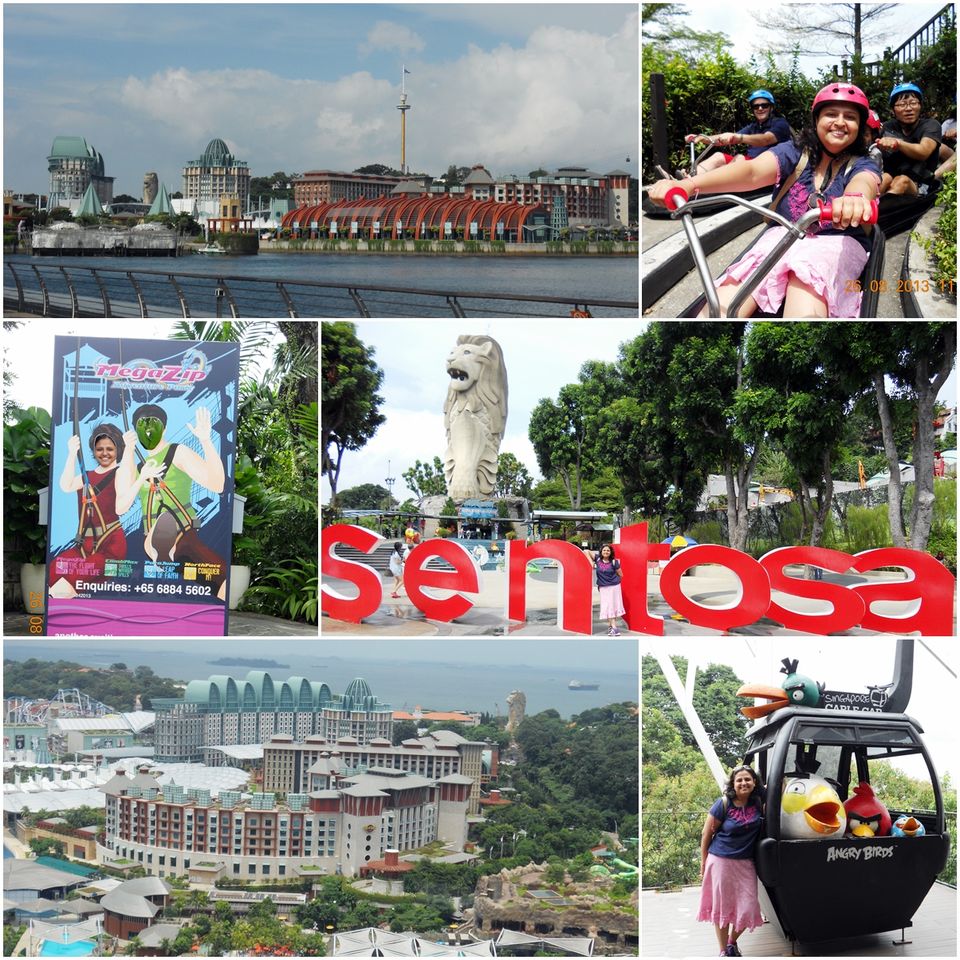 Tips & information-
1.It's a full day tour.
2.One can reach Sentosa Island by Cable Car, Sentosa Express monorail, buses or by simply walking through Sentosa Boardwalk.
3.Entry fee for Sentosa Island is S$1.
ADVENTURE COVE WATERPARK
Let's beat the heat!!! time to get tan."Adventure Cove Waterpark" situated on Sentosa Island is 25 mins walking distance from Vivo City-Habour- Front(MRT). It's perfect place to cool down in summers!! Enjoy the "Trilling Water Rides or simply grab a tube and flow with "Lazy Adventure River". On personal front i enjoyed the Blue Water Bay (Artificial Wave Zone) and the Splashworks.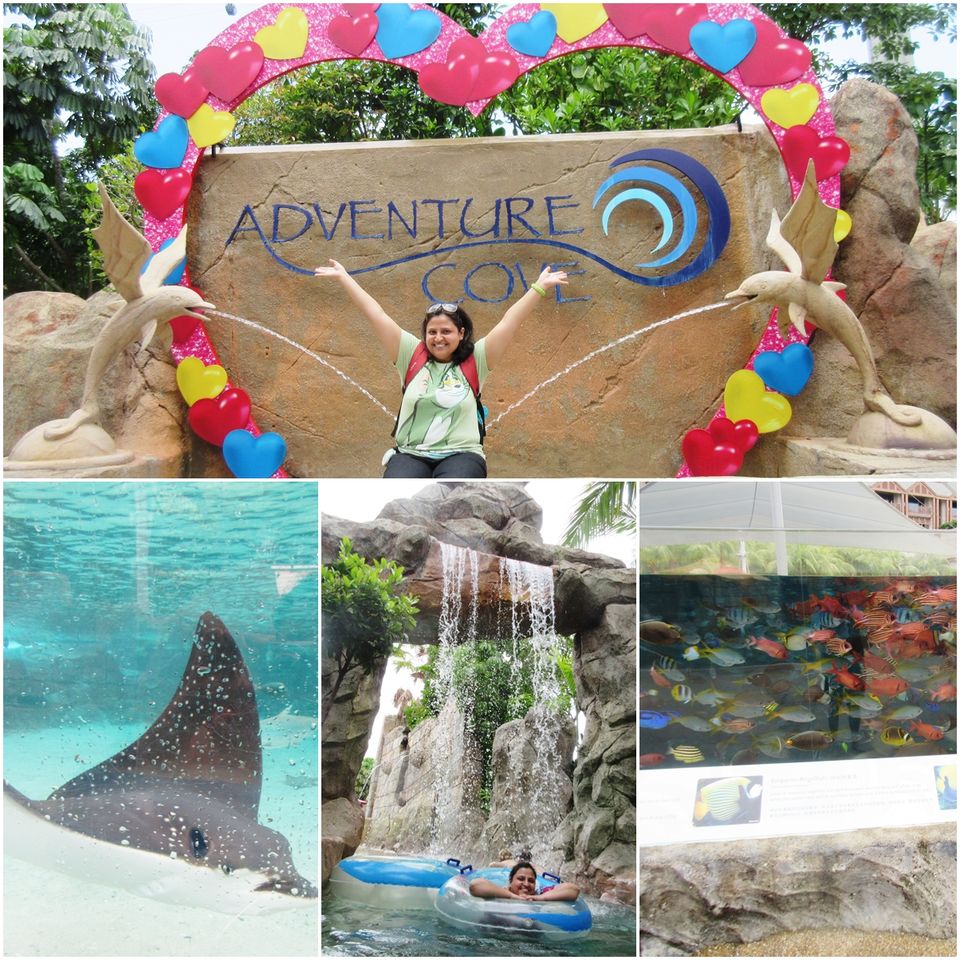 Tips & information-
1.Proper dress code.
2.Entry ticket price is S$ 36; few activities are charged extra such as Rainbow Reef, Ray Bay.
3.Outside food not allowed.
4.Lockers to be taken to keep stuff secured(s$5 and s$10).