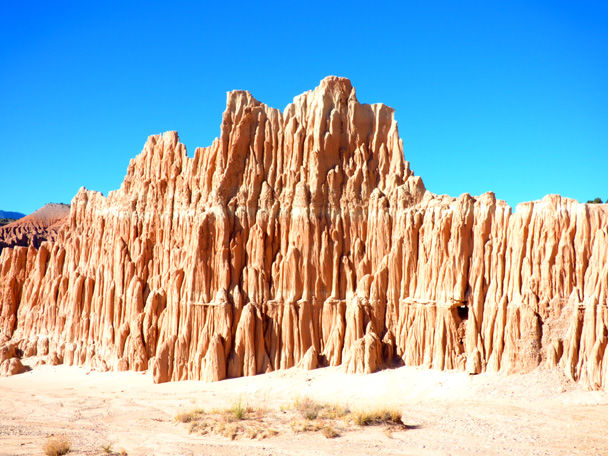 Cathedral Gorge is on U.S. Highway 93, one mile from the tiny town of Panaca, in Lincoln county, Nevada.

Millions of years ago, Meadow Valley, which runs through Lincoln county between Caliente and Panaca, was covered by a lake. The gullies of Cathedral Gorge are the remains of that ancient lake. Erosion exposed the soft pink sediment that once was at the bottom of the lake, and rain and melting snow created gullies in the soft silt stone, creating the dramatic rock formations in the park.
Called "the caves," Cathedral Gorge's geological formations have very narrow slot canyons, which you can explore, and discover secret chambers within the maze.
The state park has 22 campsites with electric hook-ups. The park also has wifi for a small fee. But Lincoln county has bad cell coverage overall. If you choose dry camping, it is $17 a night, or add $10 for electric. There is water within the camping area, and an RV dump station on the road to the park.