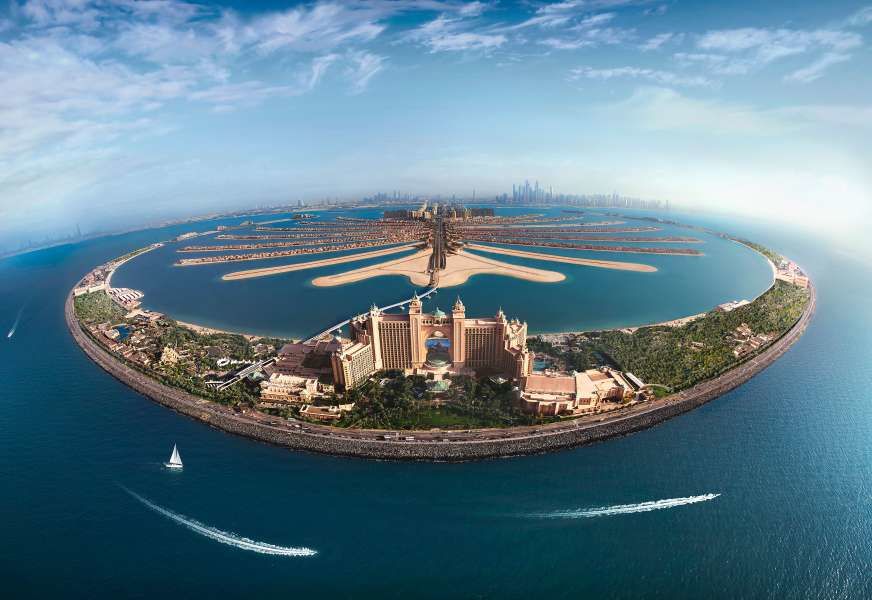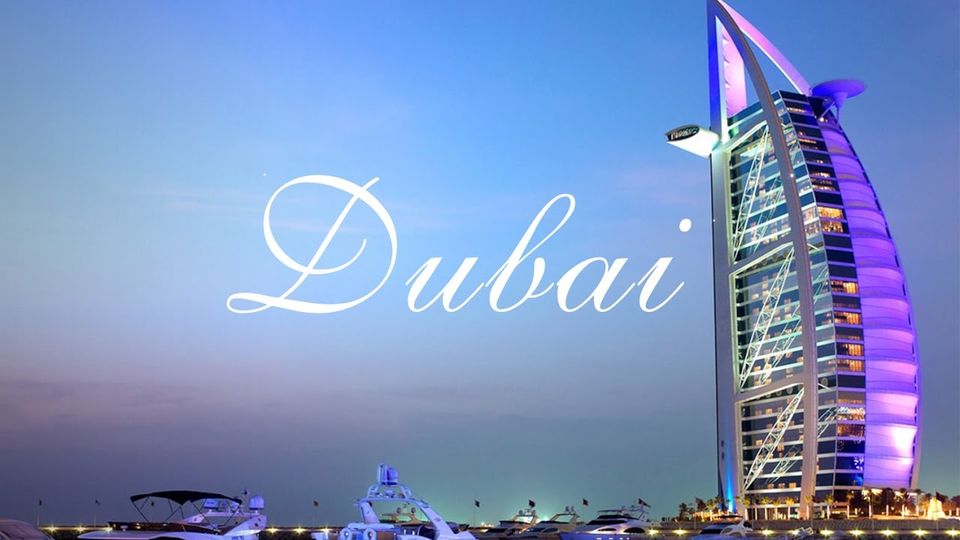 Hey Guys, I hope you all doing well !!!
Soo Many Long Weekends & Festivals are coming and we all are planning to need a break and utilize our Vacations.
This time Head to Dubai, I know you must be thinking questions like Why Dubai ? What's New In Dubai ? Have Already Been there and what not.
Then wait a minute and let me introduce you with ALL NEW ATTRACTIONS IN DUBAI.
HERE'S A BRIEF
IMG Worlds of Adventure: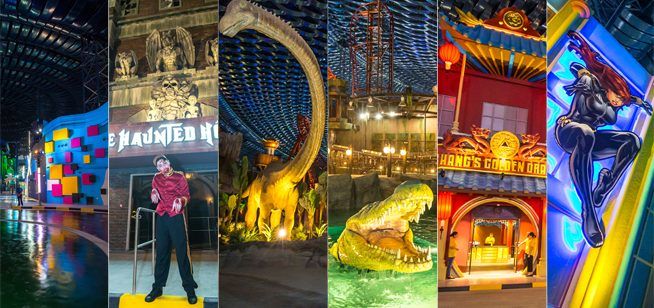 This is the world's largest Indoor Amusement Theme Park located at the 1.5 million square feet in the heart of new Dubai, Opened in 2016. This park contain four zones: Marvel, Cartoon Network, Lost Valley – Dinosaur Adventure, and IMG Boulevard, which will include 28 restaurants, 25 shops and 4,500 parking spaces.
Tickets are priced at AED 245 Per Person
Dubai Parks and Resorts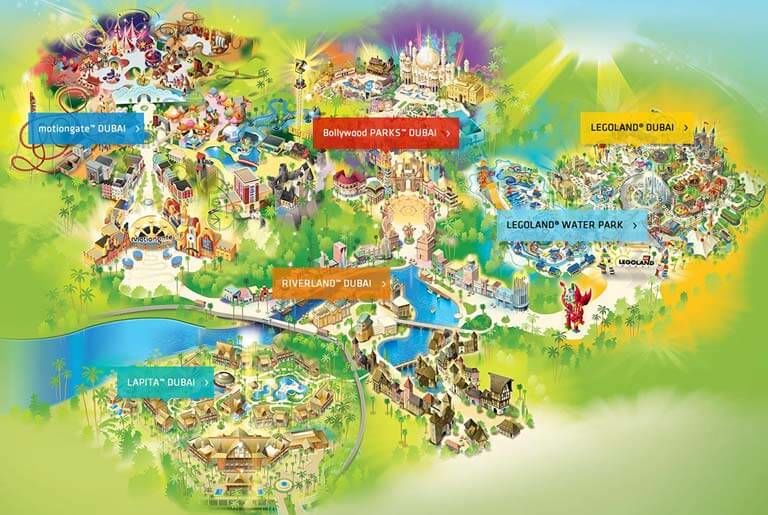 This is very famous these days and must visit if you are in Dubai.
It's is approximately 45 minutes from the Dubai International Airport, 15 minutes from Al Maktoum International Airport, 30 minutes from Dubai and 45 minutes from Abu Dhabi.
Dubai Parks and Resorts, Located on Sheikh Zayed Road and spread over 25 million square feet, Opened in 2016. It consist of 03 Parks as Motiongate , Bollywood Park , Legoland ( Legoland Dubai & Legoland Water Park ). There is also one River called Riverland ( and Lapita Hotel - A Polynesian Themed Hotel ( It's a Marriott Group of Hotel ).
MOTIONGATE - It's a Hollywood-inspired theme park, Attractions are based on DreamWorks Animation, Sony's Columbia Pictures, Lionsgate ( COMING SOON ) and The Smurfs etc.
BOLLYWOOD PARK - As name suggests, its based on our bollywood theme. It has everything from Action, adventure, romance, comedy, to music, dance, flavour and emotion, but everything in our Bollywood style.
They have a theater called Rajmahal , It has seating capacity of approximately 700. Even this place is cater to organize weddings, corporate and other events.
They also have Theme Based Restaurant called '' Rock On '' also experience Mumbai's Local Train Till Delhi India Gate.
LEGOLAND DUBAI AND LEGOLAND WATER PARK - This place is a kids paradise, Experience how LEGO bricks are made and must visit THE BIG SHOP - the largest Lego store in Middle East, Build you own LEGO float around the lazy river with 20 water slides and attractions along with family.
RIVERLAND - Its a fun Themed Dining experience by the river side. You can also take a walk along the river. It has 04 different zones and each gives you different experience like The French Village , Boardwalk , India Gate and The Peninsula.
Please note if you are thinking to cover all these parks in 01 day then it's not possible. Minimum 03 days are required to cover all these parks along with Riverland.
But you have an option if you do not want to cover all these parks then you can club any 02 or 03 parks and complete the same in 02 days Or else 01 Park in 01 day as they are really Massive area wise.
It has one entrance and Shuttle Service ( Free of Cost ) is available inside the park from one park to another. And if you are going with your own vehicle and not to worry about the parking space.
Tickets & Pass - 01 Day , 2 Days , 07 Days & Annual pass available at Dubai Parks and Resorts official Website else go directly at the park and purchase the ticket.
PARK OPENING HOURS
Summer hours: 1st July to 16th September
LEGOLAND® Water Park
10:00 am – 7:00 pm ( Sat - Wed )
10:00 am – 7:00 pm ( Thu - Fri )
LEGOLAND® Dubai
1.00 pm – 8:00 pm ( Sat - Wed )
1:00 pm – 9:00 pm ( Thu - Fri )
MOTIONGATE™ Dubai
3:00 pm – 10:00 pm ( Sat - Wed )
3:00 pm – 11:00 pm ( Thu - Fri )
Bollywood Parks™ Dubai
3:00 pm – 10:00 pm ( Sat - Wed )
3:00 pm – 11:00 pm ( Thu - Fri )
Winter hours: 17th September to 31st March, 2018
LEGOLAND® Water Park
(Closed for 5 weeks for maintenance end January – early February)
10:00 am – 6:00 pm ( Sat - Wed )
10:00 am – 7:00 pm ( Thu - Fri )
LEGOLAND® Dubai
10:00 am – 6:00 pm ( Sat - Wed )
10:00 am – 8:00 pm ( Thu - Fri )
MOTIONGATE™ Dubai
11:00 am – 7:00 pm ( Sat - Wed )
11:00 am – 9:00 pm ( Thu - Fri )
Bollywood Parks™ Dubai
12:00 pm – 8:00 pm ( Sat - Wed )
12:00 pm –10:00 pm ( Thu - Fri )
DUBAI OPERA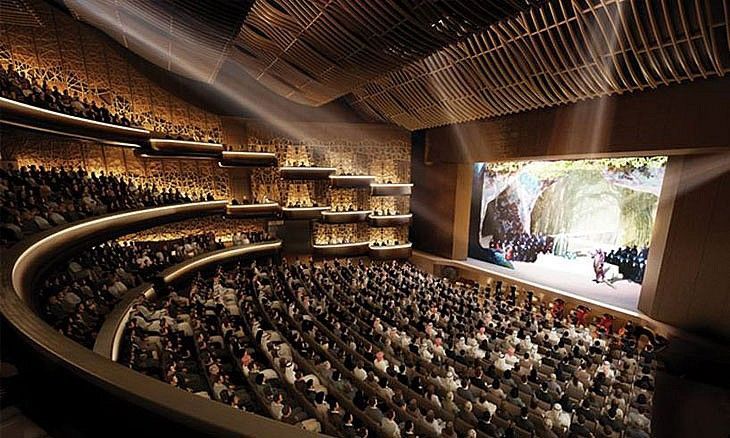 It is a performing art center located at Downtown Dubai, it has seating capacity of 1900 with multi format. It can be converted into a traditional theatre, concert hall, banquet hall or exhibition space. Using hydraulic lifts and seating wagons to relocate 900 of the 2,000 seats, the space can be used for other events while the extra seating is stored in garages beneath the theatre. Be there to enjoy ballet, theater and classic music.
DUBAI WATER CANAL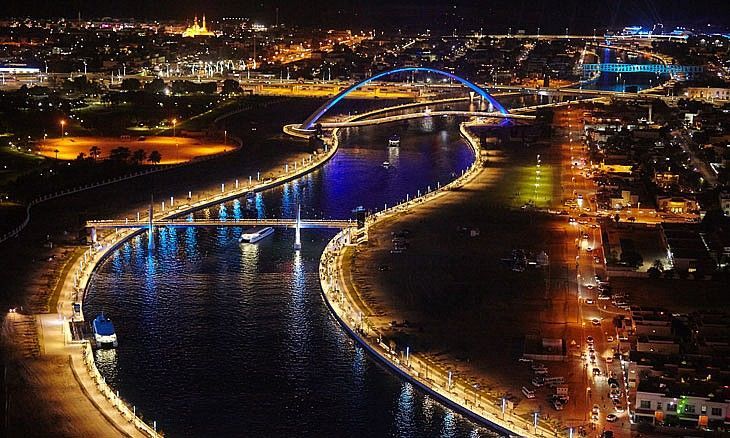 It's an artificial canal. The 3.2km extension ranges 80 to 120m in width and cuts through Dubai's main artery, the Sheikh Zayed Road, across Safa Park and into the residential Jumeirah district, connecting with the Arabian Gulf. This adds 6.4km of waterfront to the emirate and creates 80,000 sqm for public space and facilities, plus a 3km running track and 12km cycling path.
Dubai Cruise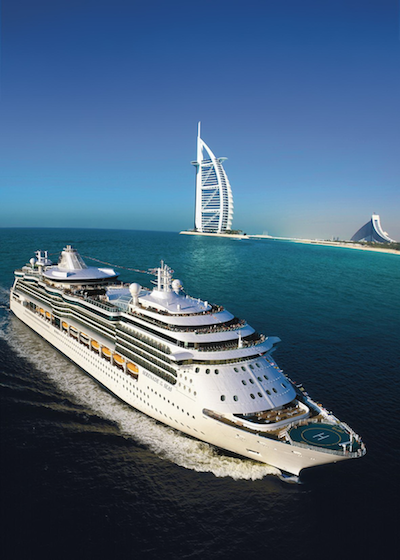 Yes you heard it right, Cruise Experience in Dubai
Enjoy 05 Nights , 07 Nights or even 14 Nights Cruise in Middle East. Experince places including Dubai, Muscat, Yas Island, Abu Dhabi and much more. Many Cruise Companies has started Fixed Departures for Dubai Cruise Experience from October to March. Starting @ INR 35,000 - 45,000 per person.
Not Even This Dubai Tourism is coming up with some most interesting attractions later in 2017 and 2018, Here the list :-
The Dubai Eye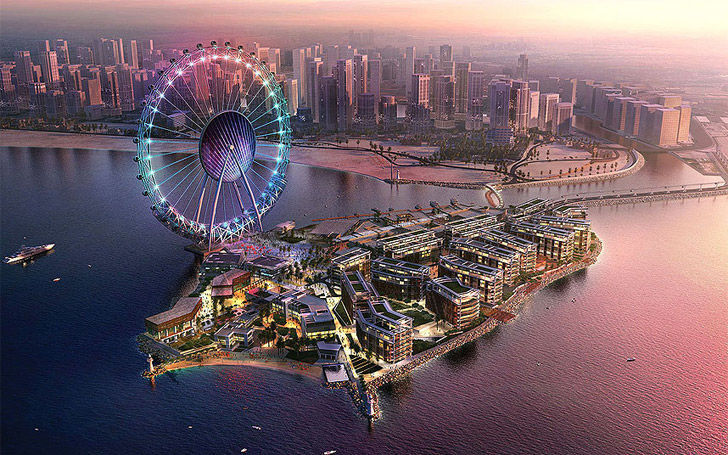 Exactly like London eye but this one would be the world's tallest Ferris wheel. It will be situated on the newly created Bluewaters Island off the coast from JBR. The attraction will provide guests with views of the Palm Jumeirah and the Atlantis Hotel. Standing at an impressive 210m the wheel will carry up to 1,400 passengers in its 48 capsules. There will also be the obligatory shopping and dining outlets.
Dubai Frame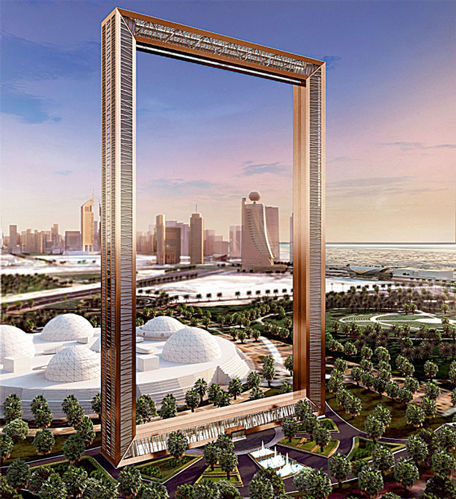 Will Located in Zabeel Park, the frame offers a unique perspective on the busy metropolis from the sky bridge. On one side, Dubai's skyline of high-rise towers will take prominence. While on the other, the hustle and bustle of the older areas of Bur Dubai and Deira will be visible. Depending which way you look, you'll see 'old' or 'new' Dubai.
Museum Of The Future - Take a trip to the year 2035 and learn how technology could evolve to enhance our bodies and minds and explore what role it may play in our social and family lives. Located in the Emirates Towers area of Sheikh Zayed Road, the Dh500 million building will utilise three-dimensional printing construction techniques in a striking oval shaped design.
Aladdin City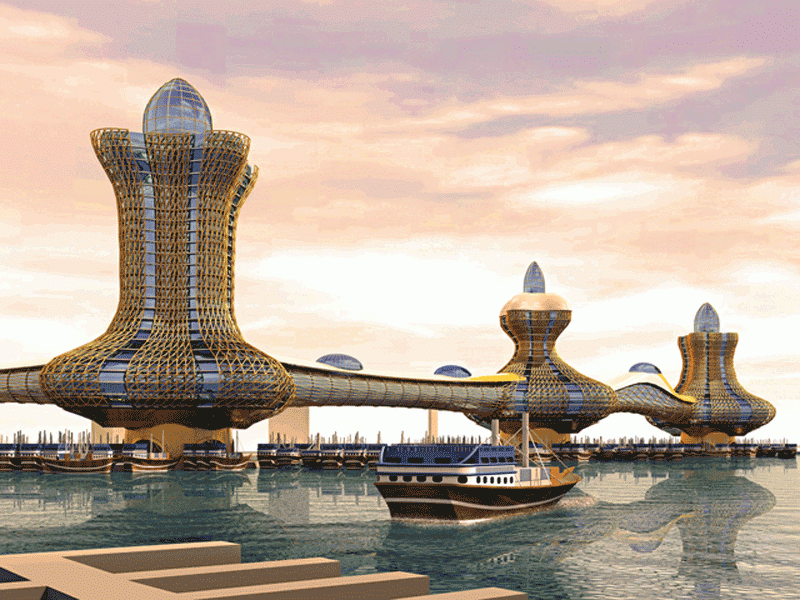 The development takes the idea of Arabian nights and runs with it! Inspired by the ancient legends of Aladdin and Sinbad, the project is made up of three golden lamps. These 'lamp towers' will be home to a hotel and luxury apartments and are all connected via air-conditioned walkways.
Hope you guys like it and found it helpful....