Glitzy Dubai is the holiday hotspot of United Arab Emirates. High-rise buildings, shopping malls and outrageous attractions has transformed this desert outpost to the most revered destination for tourists from around the world. You can explore Dubai attractions solo, with your partner, with friends and even with your family. It has something for everyone who visits it. Sunshine, seas, deserts, shopping and a whole lot of fun has positioned Dubai as the destination du-jour. Home to the world's tallest buildings, biggest shopping malls and largest man-made islands, Dubai is one destination that you can visit time and again.
With flights as cheap as Rs. 12,000 for a round trip from Delhi, Dubai is not a distant dream anymore. You can literally hop on a plane any time you wish and even use this glittering UAE jewel as a quick weekend getaway. And many of us have. Maybe that's why Dubai keeps coming up with more and more attractions every year, to keep the stream of tourists excited and entice the ones who have visited the city a few times, to come back.
So, if you are one of those who feel like you've seen the top sights of Dubai, and even the offbeat ones, read on to know why you need to visit this interesting city again. Breakfast with falcons, riding a bike under water, dining inside vintage cars or a visit to the indoor theme park, Dubai is lit with the latest attractions and you just can't miss it!
Unmissable Dubai Attractions
Opened in January 2017, Etihad Museum is a world-class museum that is a tribute to the region's history. Strategically located next to Union House, where the treaty establishing UAE was signed in 1971, the museum's design has seven columns built to signify the seven pens used to sign the original treaty. Every area of the 2,69,100 square feet of space narrates the story of UAE's foundation, development and progress through displays, interactive videos and stunning exhibitions.
Address: 1 Jumeirah St, Dubai
Entry Fee: Adults (25 years and over) – 25AED/ Rs. 440; Students (5 to 24 years) – 10AED/ Rs. 175; Groups (10 persons and above, to be booked in advance) – 20AED/ Rs. 350 per person. Free for children below 5 years and for individuals with disabilities.
Opening Hours: Daily from 10am to 8pm

A masterpiece of the contemporary design, a stylish tribute to Dubai's maritime history and the ability to transform into three modes makes Dubai Opera a grand exhibition of the futuristic designs that Dubai is capable of. Able to host a wide variety of performances, from theatre, opera, ballet, orchestras to events such as fashion shows, live entertainment, art exhibitions and even conferences, the iconic dhow-shaped building is a glittering addition to the Dubai skyline. To know what shows and exhibitions are on, visit the official website of Dubai Opera.
Address: The Opera District, Sheikh Mohammed Bin Rashid Boulevard, Downtown Dubai
Entry Fee: The price of the tickets depend on the attraction, performance you go for. The ticket for a stage performance starts at 350 AED/ Rs. 6,100.
Opening Hours: The opera house is open to visit from 10am to 9pm, daily.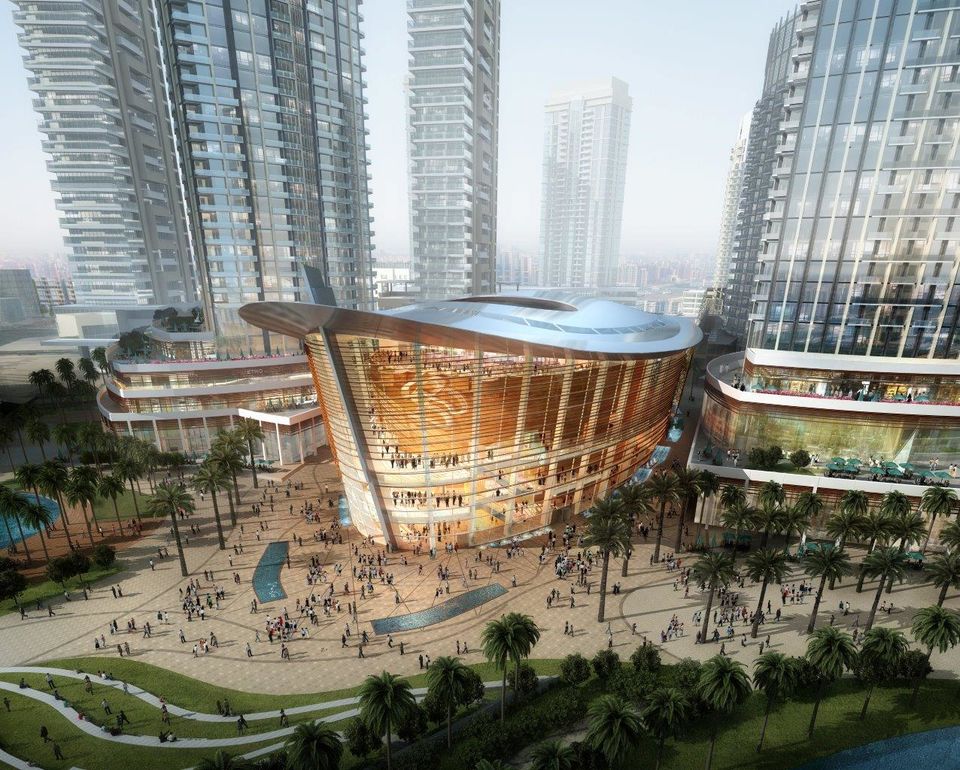 Dubai Garden Glow is an entertainment destination in the city that has not one, but two theme parks on its premises. The first is the biggest Dinosaur Park in the world, and the other is the largest Glow Garden, also in the world. Inspired by wonders across the globe, the Glow Garden will take you from Masai Mara Wild Beat Migration to the tulip gardens in Netherlands. The Dinosaur Park features 30+ life-sized dinosaurs that help teach kids (and maybe some adults too!) about the fascinating history of the world before man ruled it. Besides these two parks, there are multiple dining options and interactive exhibitions laid out all around the park.
Address: Zabeel Park Gate 6 & 7, Zabeel Area, Dubai
Entry Fee: 60AED/ Rs. 1,050; Free for children under three years of age and handicapped individuals.
Opening Hours: 4pm to 12am; the park opens in October 2017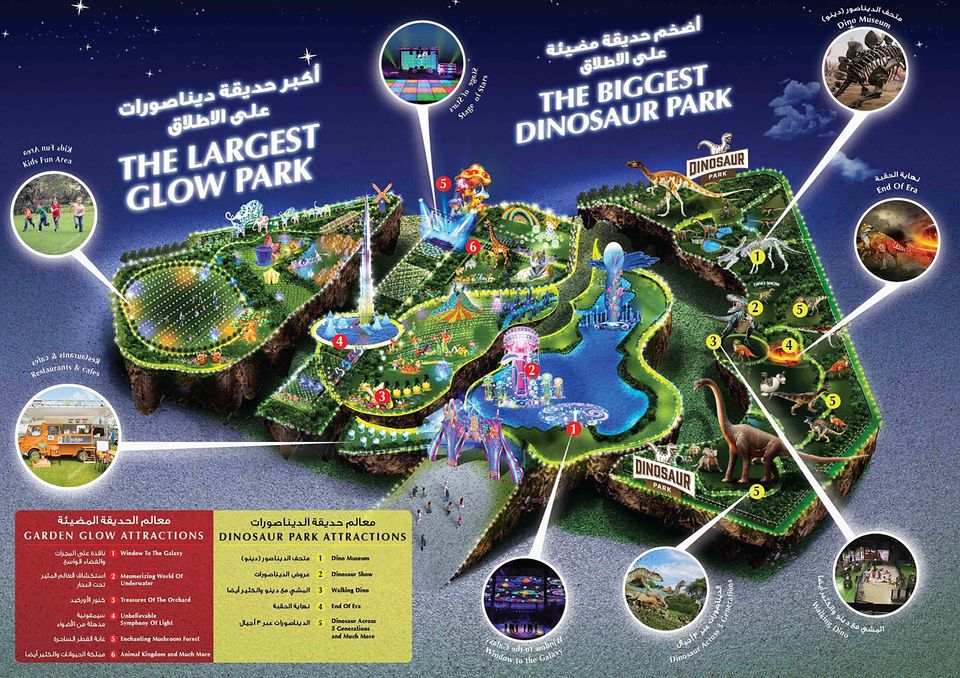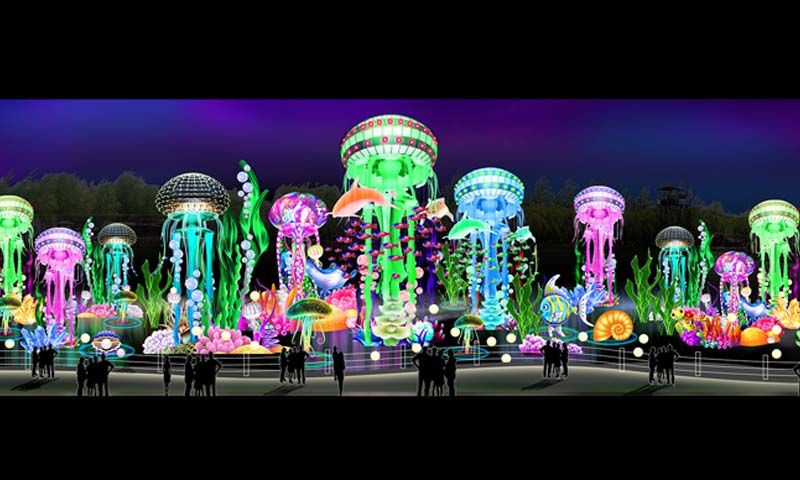 Another superlative for Dubai, IMG is the world's largest indoor theme park that offers about 1.5 million square feet of exhilarating fun and adrenaline, divided into four "epic zones". Marvel park has rides based on your favourite superheroes, from the Hulk to Spiderman. Lost Valley is a prehistoric lost world of dinosaurs roaring back to life with a bang. Hair-raising dinosaur rides and thrilling Dubai attractions take you back to a time that existed millions of years ago. Cartoon Network is for those who wish to surround themselves with a healthy dose of nostalgia. Rides are based on the Amazing World of Gumball, Adventure Time, the Powerpuff Girls, Ben 10 and LazyTown. From interactive attractions, to vast retail outlets and a wide selection of dining options – the central zone of the park is aptly named IMG Boulevard and promises hours of endless excitement.
Address: E311, Sheikh Mohammed Bin Zayed Road, City of Arabia, Dubai Land, Dubai
Entry Fees: Adults – AED245/ Rs. 4,275; Under 1.2m in height (junior) – AED225/ Rs. 3,925; Children (under 1.05m in height) – Free; Senior citizens (over age of 60) – AED150/ Rs. 2,620; Guests with disabilities – Free
Opening Hours: Sunday to Wednesday – 11am to 9pm; Thursday to Saturday – 11am to 10pm.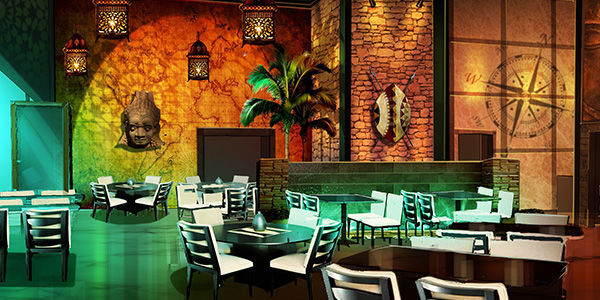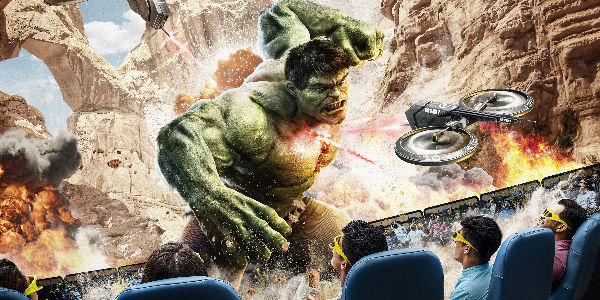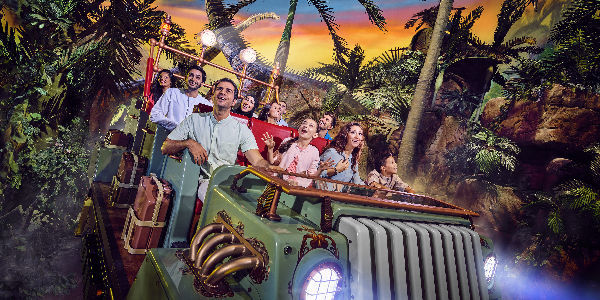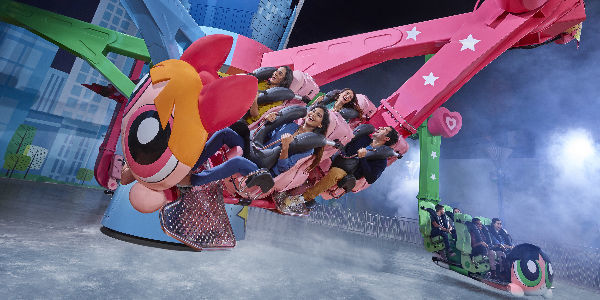 Dubai Parks And Resorts
The region's largest integrated theme park, Dubai Parks and Resorts has three different amusement parks, one water park, and one exciting street, all in one complex. Hollywood-inspired Motiongate Park, Legoland Dubai and Legoland Water Park, Bollywood Park and Riverland come together to create a zone that is a one-stop destination for any adventure enthusiast.
Address: Dubai Parks and Resort, Sheikh Zayed Road, Opposite Palm Jebel Ali , United Arab Emirates
Entry Fees to all parks for two days: 495 AED/ Rs. 8,640
Individual entry tickets to each park are mentioned below with opening hours for each as well.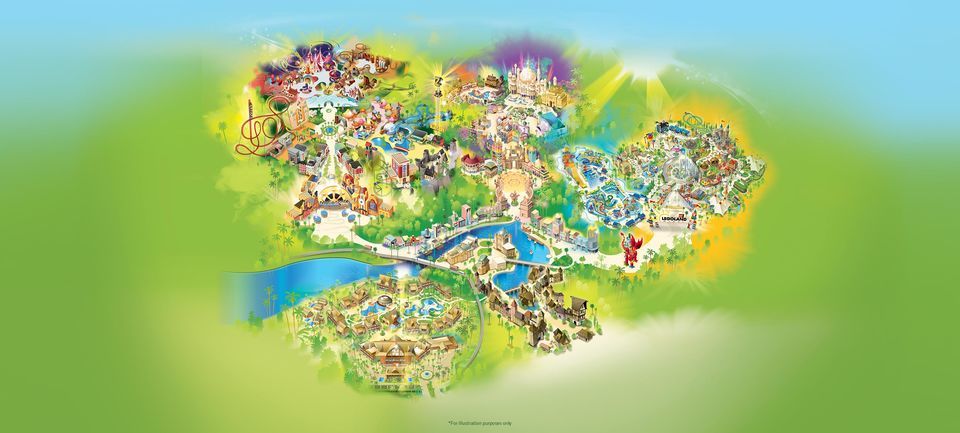 Riverland Dubai is the gateway to Dubai Resorts and Parks. A fun dining and retail destination, you can access this even without a ticket. Take a walk along the river and enjoy four different zones reflecting some of the greatest eras of the past. Boardwalk is to relive the thrill of the early Americas in the 1950s. Enjoy a royal Asian welcome and enjoy mesmerising artistic sculptures as you embark on a journey through India via India Gate. The French Village will help you get a feel of the historic architecture of Europe in the late 1600s. And Peninsula, the heart of Riverland, is where you can sit by the river, enjoy numerous shows or just hang out.
Entry Fees: Free
Opening Hours: 10am to 10pm, all days.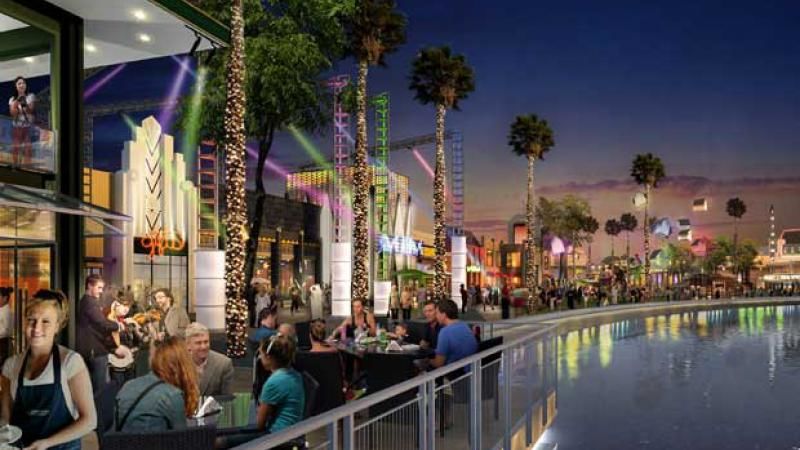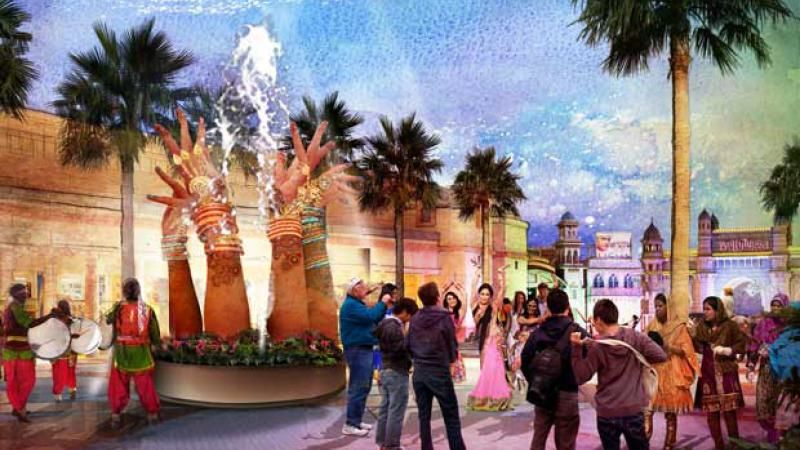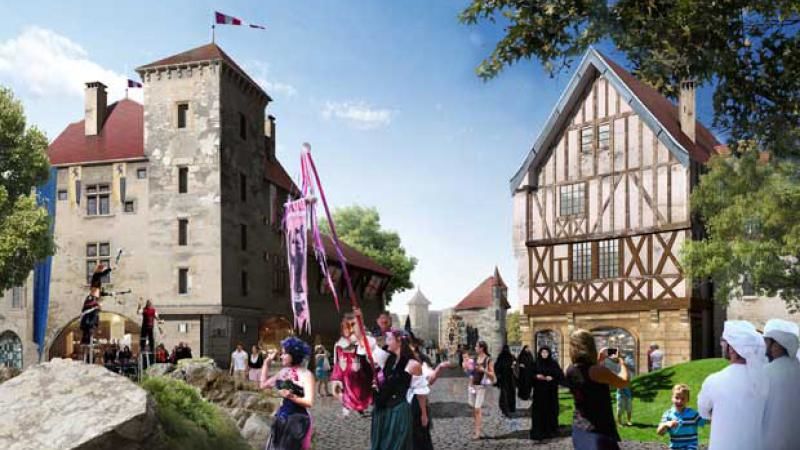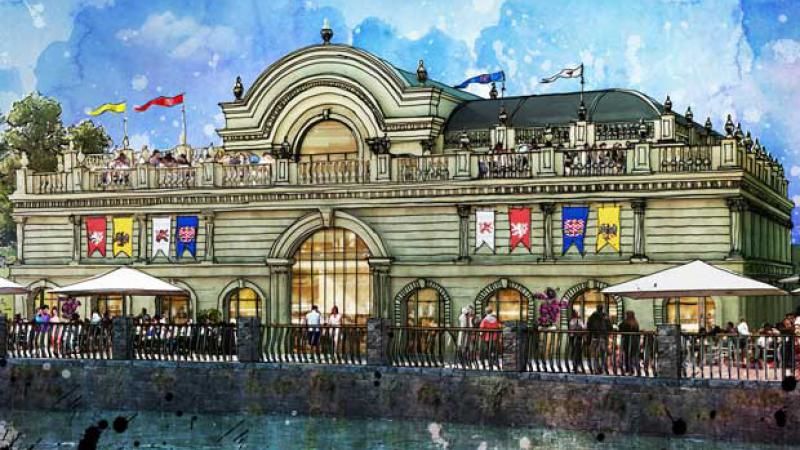 The first park of its kind in the world, Bollywood Parks has five fascinating zones where one can enjoy different rides and shows inspired by great Bollywood blockbusters. Lagaan, Sholay, Dabangg, Ra.One, Krrish, Don and Zindagi Na Milegi Dobara are films that have attractions and shows based on them here. Apart from these the five zones are named Bollywood Boulevard, Mumbai Chowk, Rustic Ravine, Royal Plaza and Bollywood Film Studios. This place is a dream destination for all Bollywood buffs. There are various Bollywood inspired dining and shopping options as well.
Entry Fees: 175 AED/ Rs. 3,050
Opening Hours
Summer Timings (1st July to 16th September)
Saturday – Wednesday: 3pm - 10opm
Thursday - Friday: 3pm - 11pm
Winter Timings (17th September 2017 - 30th April, 2018)
Saturday - Wednesday: 4pm - 12am
Thursday - Friday: 4pm- 12am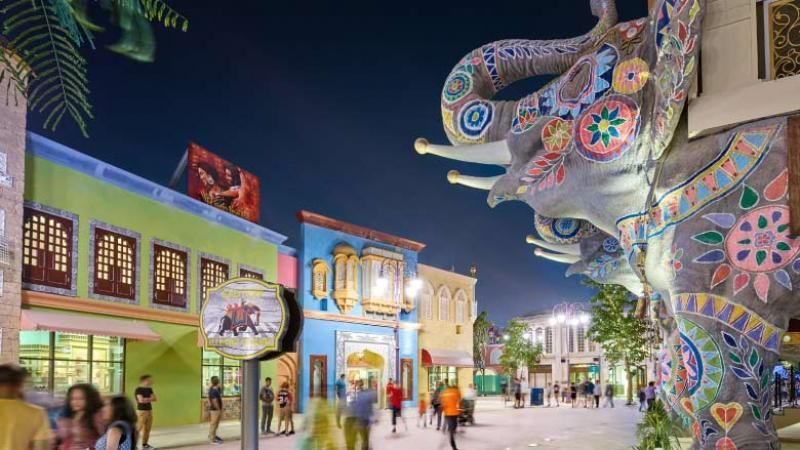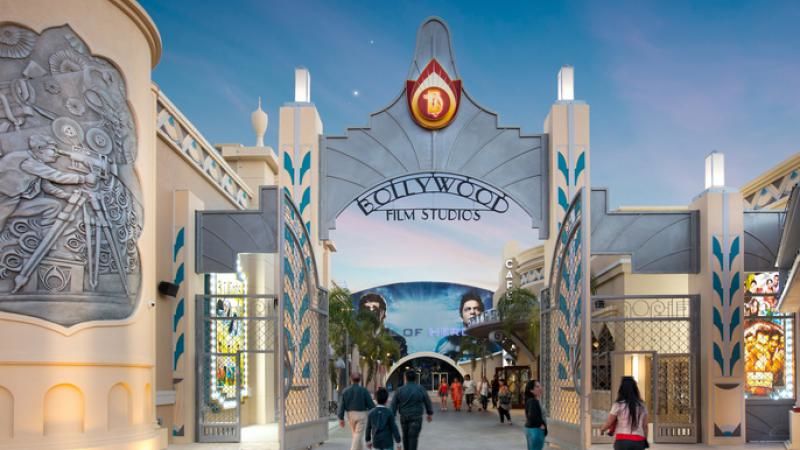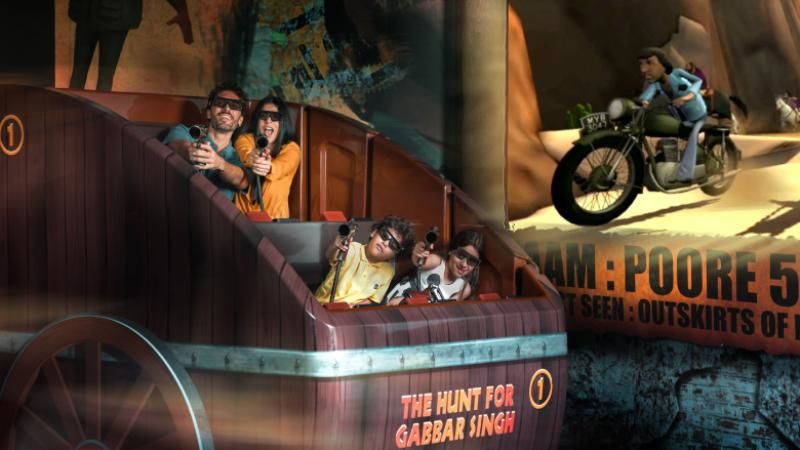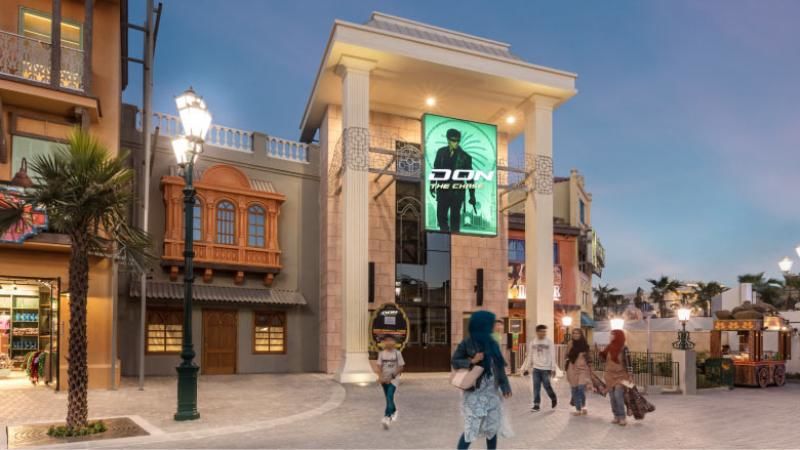 Built on the three most successful studios in Hollywood – Dreamworks Animations, Lionsgate and Columbia Pictures – Motiongate is a huge park that has the best of branded entertainment. Divided into five zones – Studio Central, Lionsgate, Dreamworks, Smurfs Village and Columbia Pictures, this is the perfect place to relive all of your favourite Hollywood fantasies. The attractions and shows are inspired by numerous films such as Hotel Transylvania, Shrek, Kung Fu Panda, Hunger Games and many more. Restaurants such as Smurfy Cafe and Dragon's Grill are perfect to have a themed meal. There are many shops around where you can buy merchandise from as well.
Entry Fees: 235AED/ Rs. 4,100
Opening Hours
Summer Timings (1st July to 16th September)
Saturday - Wednesday: 3pm - 10pm
Thursday - Friday: 3pm - 11pm
Winter Timings (17th September 2017 - 30th April, 2018)
Saturday - Wednesday: 11am - 10pm
Thursday - Friday: 11am - 10pm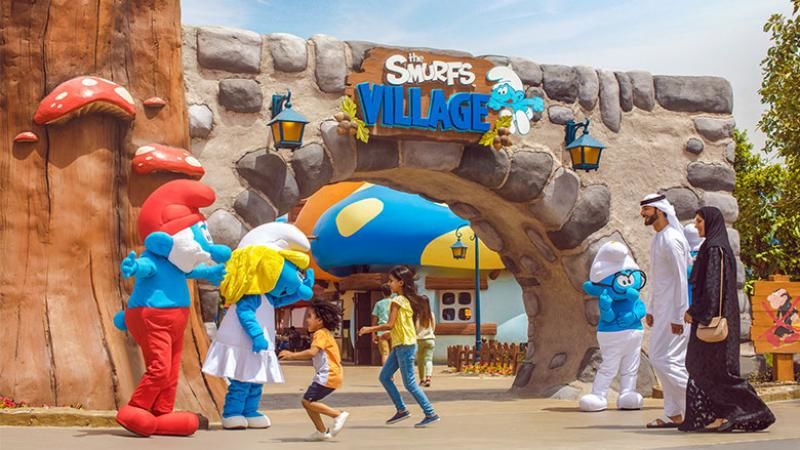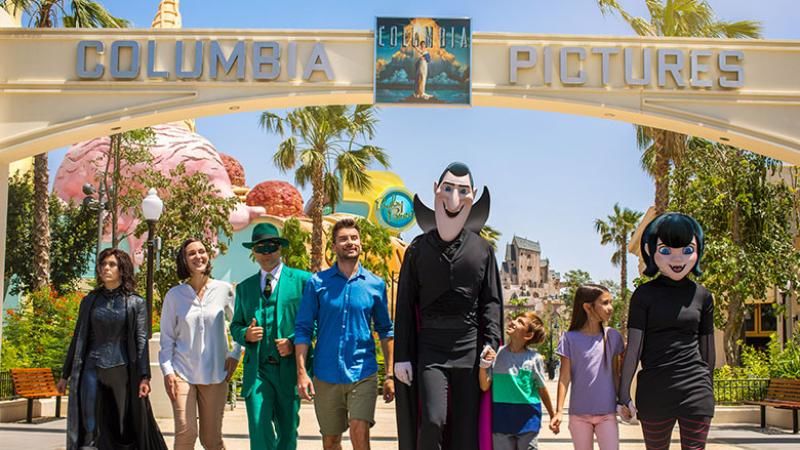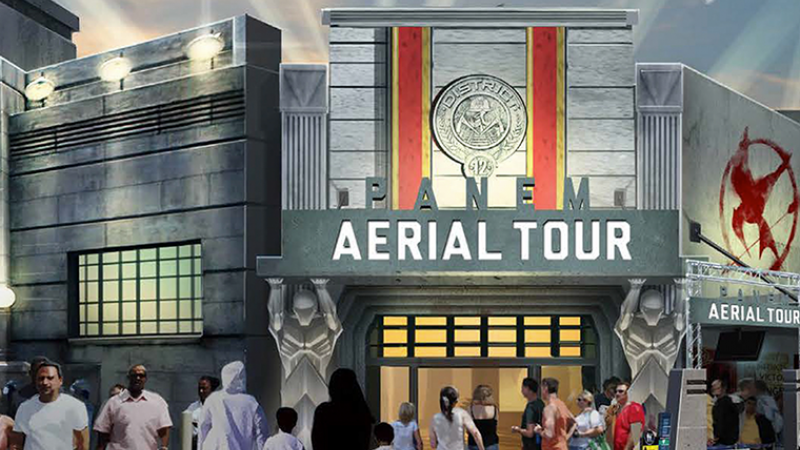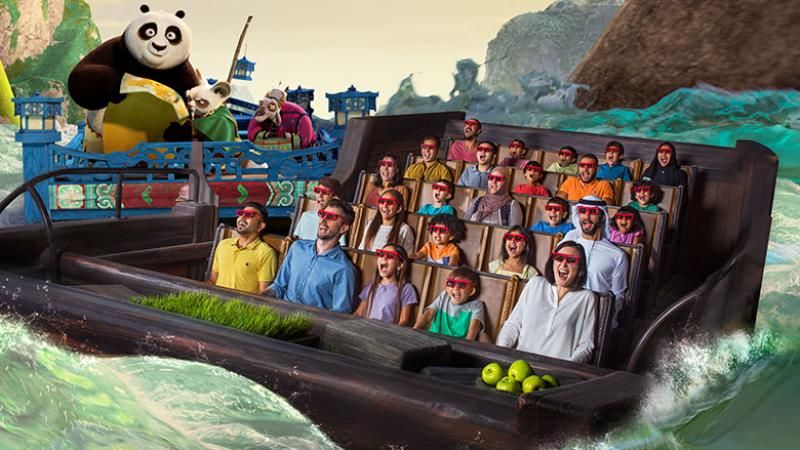 Legoland is for non-stop interactive fun. More suited for families with younger children, it has over 40 lego-themed rides, attractions and interactive blocks. Divided into six zones – Factory, Lego City, Imagination, Medieval Kingdoms, Adventure Zone and Miniland, this place will keep the younger ones occupied and entertained throughout the day. Even the restaurants and shops are lego-themed and a simple meal will quickly turn into fun times.
Entry Fees: 235AED/ Rs. 4,100
Opening Hours
Summer Timings (1st July to 16th September)
Saturday - Wednesday: 1om - 8pm
Thursday - Friday: 1pm - 9pm
Winter Timings (17th September 2017 - 30th April, 2018)
Saturday - Wednesday: 10am - 6pm
Thursday - Friday: 10am - 8pm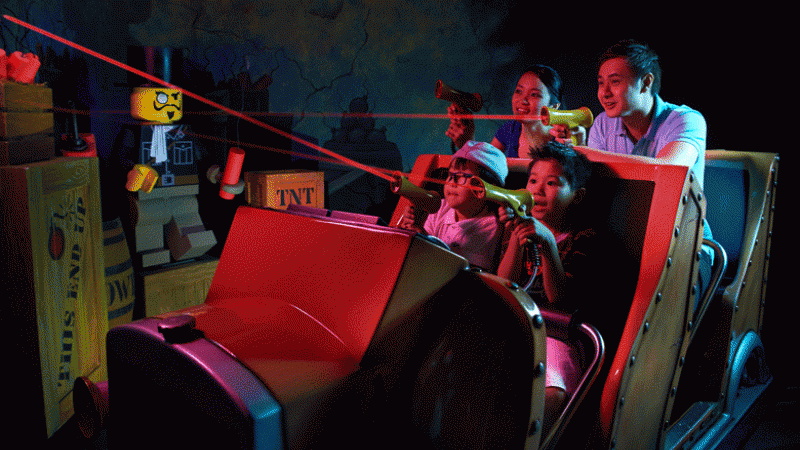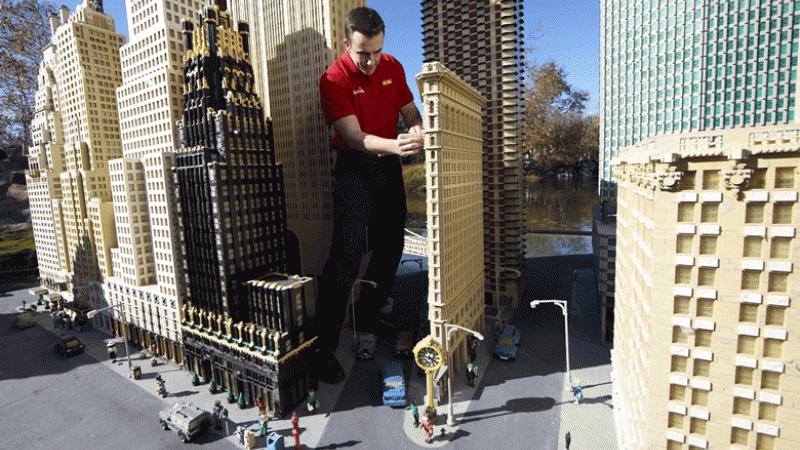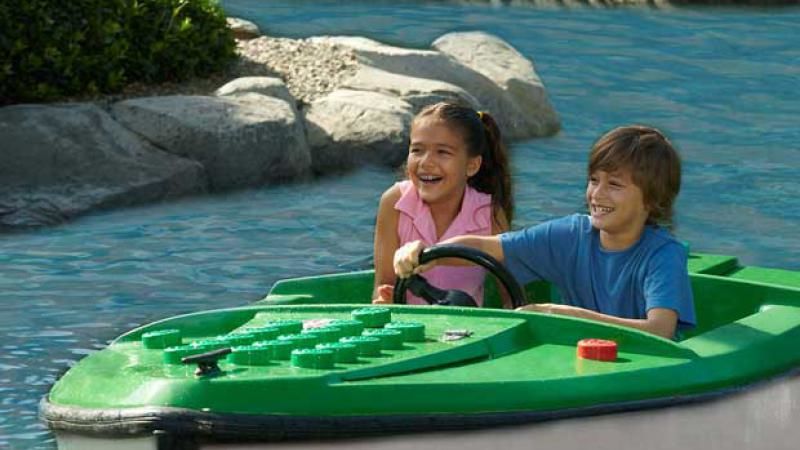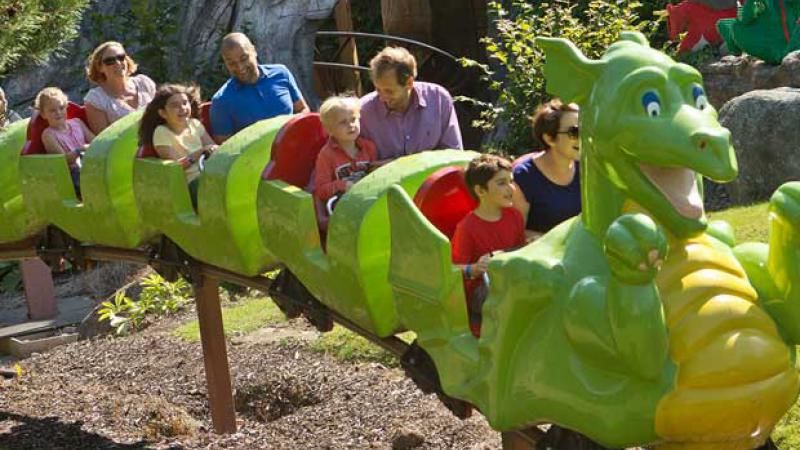 Last but not the least is the Legoland Water Park, a lego-themed water park. Designed specifically for kids aged 2-12, this park has over 20 water slides and attractions. This one-of-a-kind, kids only waterpark is a great place for birthday parties, celebrating special occasions and having an overall great time with your kids.
Entry Fees: 235AED/ Rs. 4,100; if you buy for both, Legoland and Legoland Waterpark, in one day, the ticket will cost 285 AED/ Rs. 5,000.
Opening Hours
Summer Timings (1st July to 16th September)
Sunday - Saturday: 10am - 7pm
Winter Timings (17th September 2017 - 30th April, 2018)
Saturday - Wednesday: 10am - 6pm
Thursday - Friday: 10am - 6pm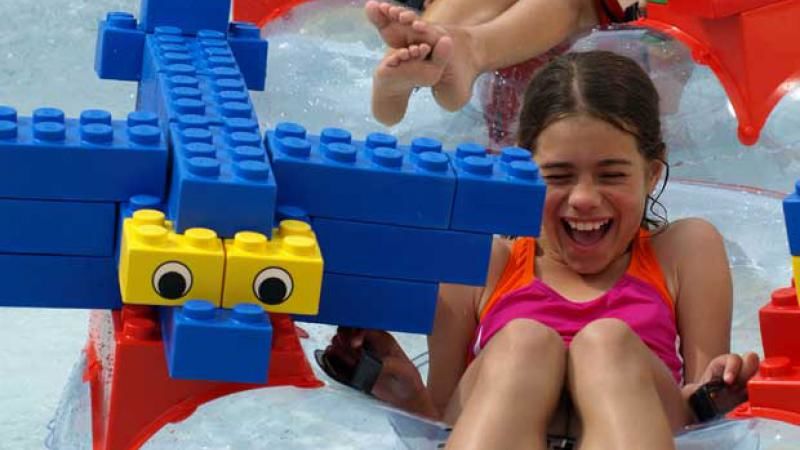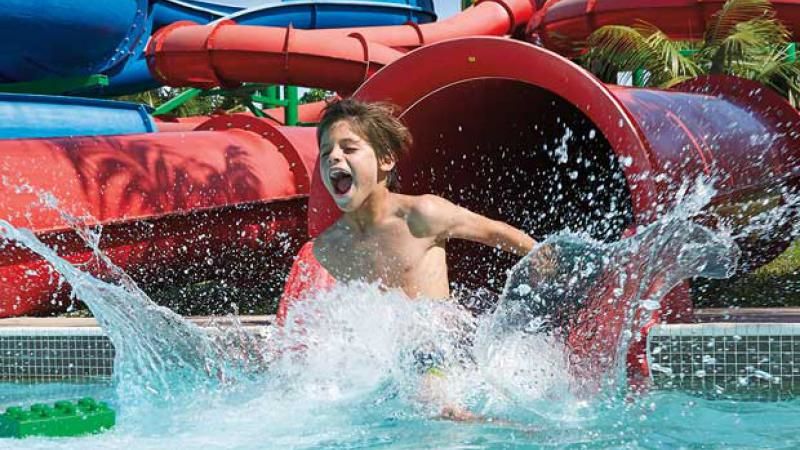 The Outlet Village on Jebel Ali is right next to the Dubai Parks And Resorts and the most ideal place for any shopaholic. Why? Well, this is where you buy luxury brands at reduced prices – what more could a fashion lover want? Set in a beautiful Tuscan-inspired setting and complimentary luxury coach transfers from popular hotels, the Outlet Village is home to 125 brands including Fendi, Valentino, Givenchy, Tom Ford, Jimmy Choo, Tory Burch, Dolce & Gabbana, Hugo Boss, Michael Kors, Carolina Herrera and Roberto Cavalli.
Adress: Jebel Ali, Near Dubai Parks and Resorts
Opening Hours
Sunday – Wednesday: 10am – 10pm
Thursday – Saturday: 10am – 12am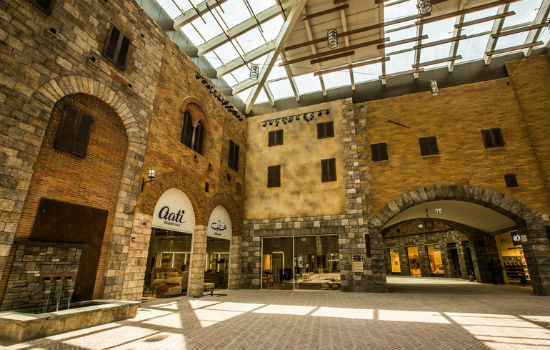 Perfect ending to a shopping excursion at the Outlet Village is the Last Exit Truck Park. Located right next to the shopping boulevard, this is the place where the most popular and famous mobile eateries and food trucks are. From freshly-brewed coffee to pancakes, made-to-order burgers, and luscious lobster rolls, the menu here is delicious and diverse.
Adress: Jebel Ali, Sheikh Zayed Road (just after interchange 11)
Opening Hours: Open 24x7.