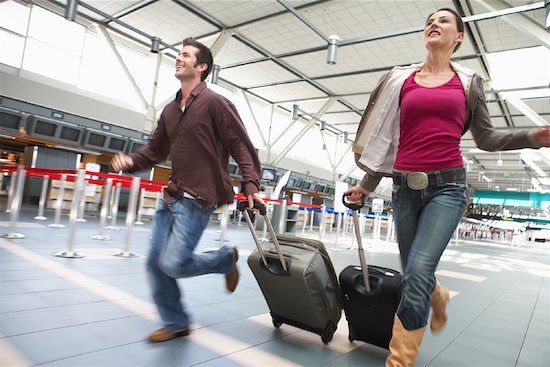 Essential tips when running late to the airport
Since the early ages, there were those who had the free time to travel to the airport 3 to 4 hours before the flight and shopped the life out of duty free, and there are those of us who don't have that luxury. All of us from the business traveler who jumps on the taxi as he finishes the last meeting to the family stuck in rush hour traffic thinking about all the things they left behind might be faced with this situation. This would definitely not be fun if the end of the story reaches the closed gate and an airplane on the runway.
Personally I have had way more than my share of being late for my flight and throughout the cross continent flights and airport lounges, I have learned a few tricks to help when I am cutting close. Always try to be on time but if the unexpected happens, here is what I recommend:
1.       Check in online
In most international airports we now have self-check in kiosks and baggage drop-off belts. This would allow you to check yourself in avoiding the long lineup and simply proceed to drop off your baggage hopefully with less delay.
If you are running late, it is better to do your check in online so you could proceed directly to baggage drop off when you get to the terminal. This is much easier now with many airlines having their own smartphone application. Just download the application for your airline from the app store and complete our checking while in the taxi. Many of these apps also offer reminders, seat reservation capability as well as storing your boarding pass so it is highly recommended for our target audience.
2.       Travel Light
If you have a habit of running late then travelling light is a must. To elaborate further, you should avoid getting close to the weight limit for your luggage and/or packing any prohibited items (which even includes a 100 ml perfume on board a plane) because they could add considerable check in delay which you cannot afford. Also, you should avoid wearing lots of jewelry or metallic items to help you get through security with no problems.
In my experience, lots of leather shows also beep through the metal detector so I suggest leaving those behind as well.
3.       Ask for Assistance
Remember that most airlines have strict check in deadline of 1 hour and you should be on board 15 minutes before takeoff time or you will be left behind. Few years back taking out your luggage was a lengthy process but nowadays it could be done as fast as 5-10 minutes so if you are cutting close remember this.
In emergency cases you could usually ask security to let you bypass the lines at passport control or security check points and if you are lucky enough to see one of those golf cars moving elderly passengers, they could also get you to your gate much quicker if you show them your boarding pass.
4.       Be Prepared
One could always have an excuse for being late, but not being prepared for this whole process will cause you lots of discomfort. Keep your passport and wallet in safe place and make sure you have prepared for your travel authorizations before you book your trip.
When traveling to US from visa waiver program states and you have not yet applied for your ESTA visa , you can easily process your approval ESTA visa online and it is usually approved within hours (before you land).
Last but not least, have a good airport limo. Personally, wherever I travel I have prearranged limo service which comes very handy for the trip back. These tips will help you shave the extra couple of minutes when you need it most. Bon Voyage!