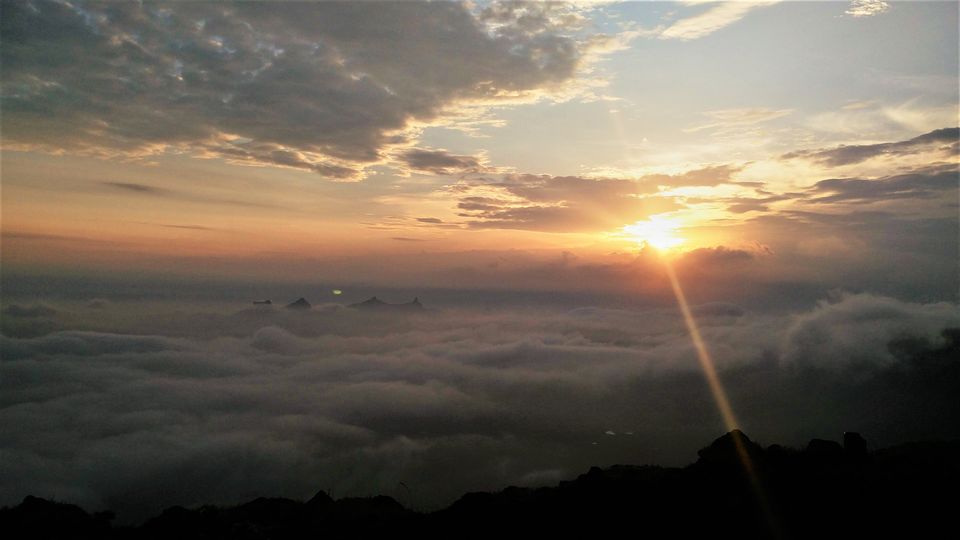 Let's begin with the facts, Salher fort is the highest fort in Sahyadri mountains and the second highest peak at 1567 meters (5141 ft) in Maharashtra. Also it is said that Lord Parushuram did his Tapas at this fort.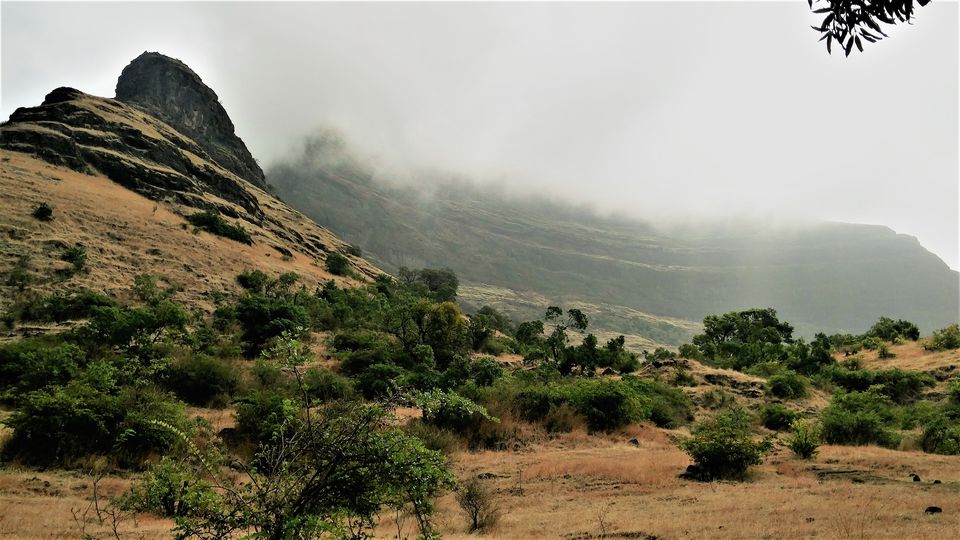 This was more or less an instant plan to explore the fort with a group of friends and a couple of new people. We were to start from hyderabad and reach Manmad but being a last minute plan we didn't get reserved tickets nor tatkal tickets favoured us, yet determined to explore, we reached early to railway station, took general tickets from Hyderabad to Aurangabad and boarded the train. Thanks to our timing we could grab one whole compartment and we knew that at least we will be happily seated till next morning.
We got down at Aurangabad at 8:30 am which was late as the train got delayed by 90 mins. we had our breakfast, rather I would say it was a brunch as we planned to make it till the base village, Salher wadi, without any food breaks by 3 pm and start the trek.
We got into the bus at 11:00 am till Malegaon and as per the bus driver we could have reached there by 1:30 but again there was a delay and we only managed to reach Malegaon by 3 pm. Traveling in bus we weren't sure on when would we reach the base village so we decided to take the shared taxi till Satana and continue to base village from there. Thanks to our taxi driver, he agreed to drop us till Salher wadi at very nominal cost. Finally we reached the base village by 6 pm.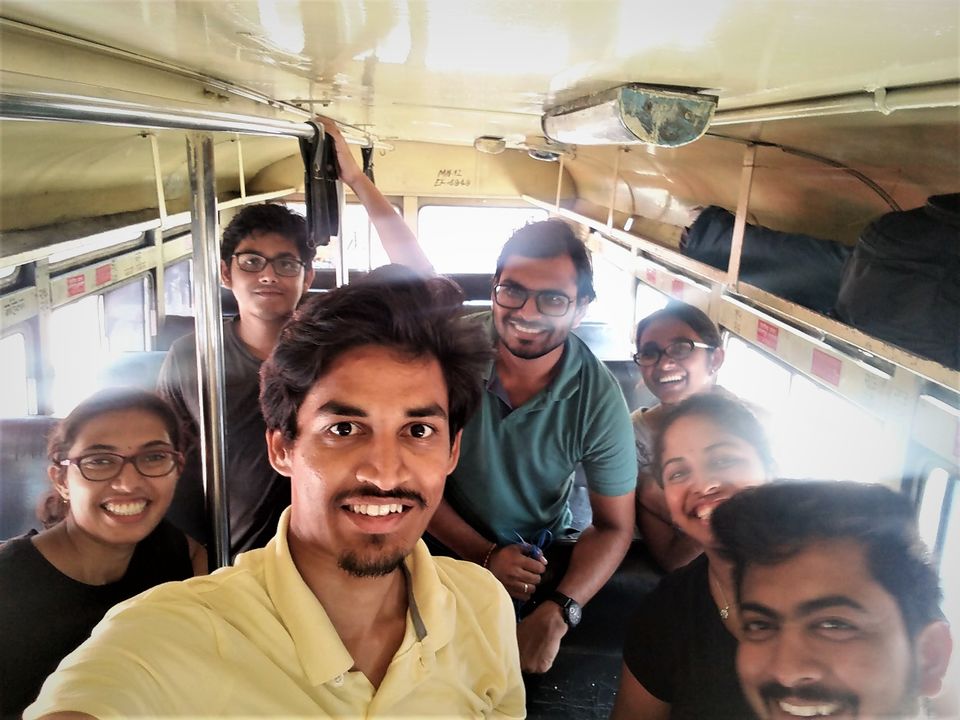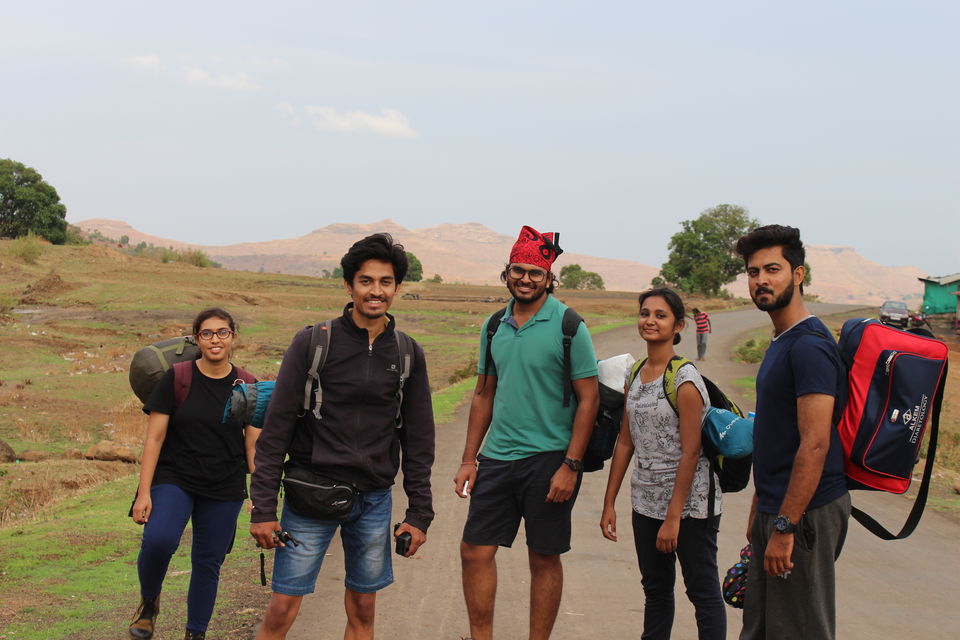 There was a tough task ahead as we had to figure out our way to the peak before it would get dark, post which it would become difficult to find the route. We interacted with the locals there and managed to get the route map. We had two options with us, either to take the regular path which predominantly have stairs or the more tougher path which didn't have a proper trail and we had to hop through a lot of rocks, which is basically a water way which starts between the two sister peaks (Salher and Salota). Being adventure junkies the craziness in us made us choose the tougher route, especially when it was evident that it would lead to a night trek to an unexplored route. We started within next 10 minutes but kept losing our way most of the time. We were trying to figure out the route but there were so many diversions that we always made our way only towards the dead end. Determined to figure out the route the search never stopped. It was 7:30 pm and the visibility kept on decreasing leaving us in middle of nowhere. We were lost in the dark, but we didn't lose our hope and continued further. Out of nowhere we came across a local guy, a blessing in disguise, we spoke to him and asked if he can show us the route, without thinking much agreed to take us till the caves.
We started following our local hero, as per him it would take us 3 hours to reach till the caves where we could halt for the night. It was all rocky path through out and we were just hopping over the rocks. We were all exhausted as we didn't take any breaks till then, but our enthusiasm never died and we kept on following our local Hero. After a while his big brother joined us in midway and they both helped us to reach till the caves. It was 11 pm when we reached, all exhausted i took a deep breath and had a sense of relief. We thanked both of them and gave them some money as a token of gratitude and they left the place. The cave which we stayed in was a small one where we managed to place our 3 tents and within no time we slept off.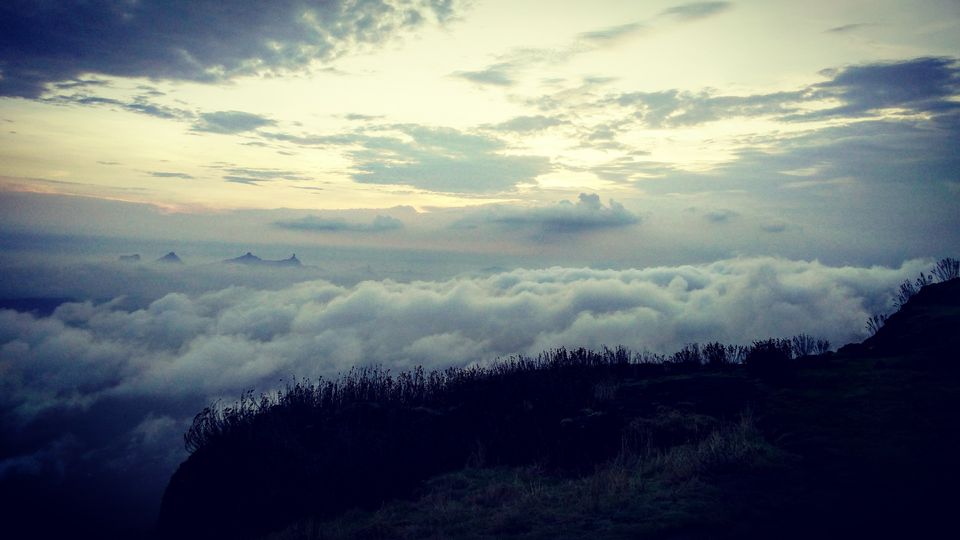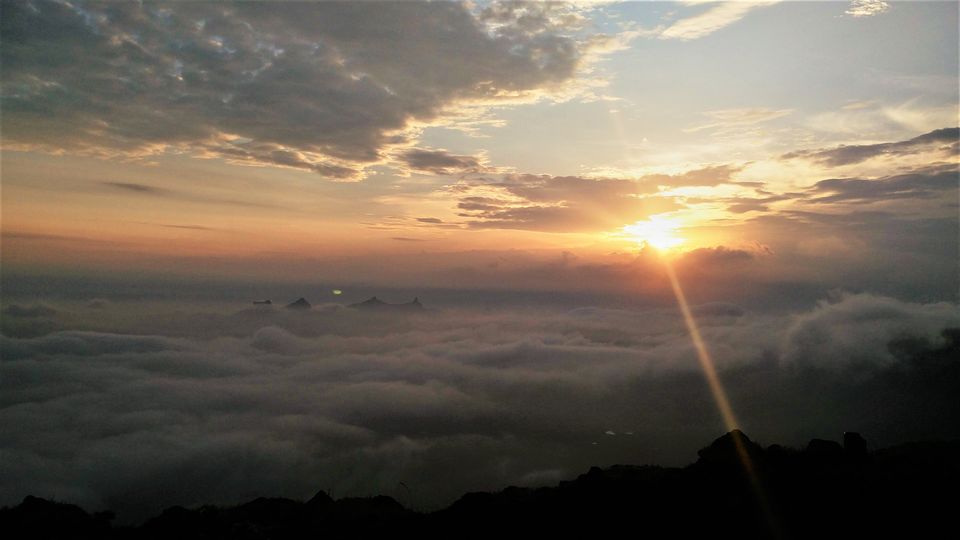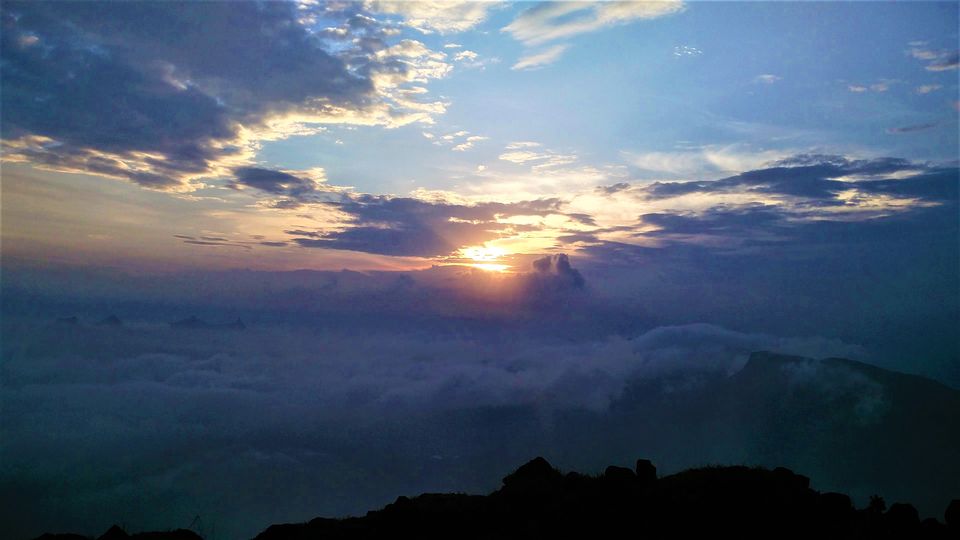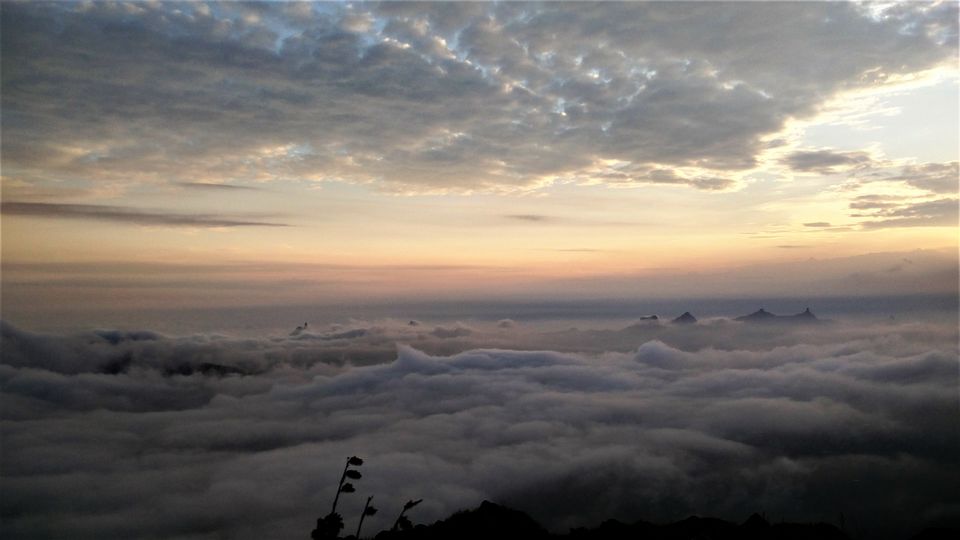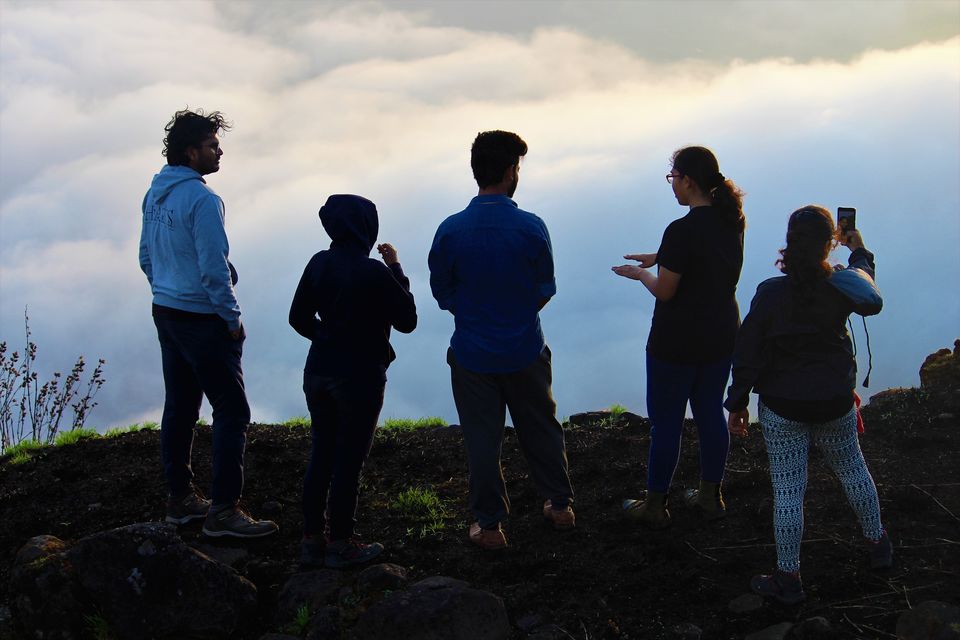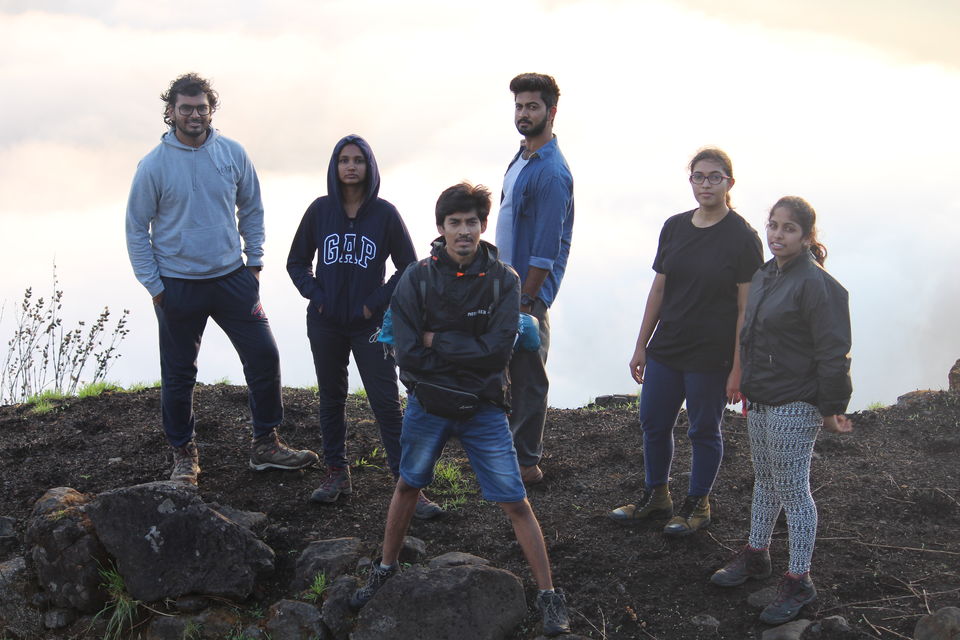 I woke up early morning by 5:30 and the view in front of me left me awestruck. I left everything as it is and went towards the edge of the steps and was lost in the clouds in front of me. I kept looking at the clouds, they were moving so fast that it felt like a natural time lapse with other peaks playing hide and seek and i was enjoying all of this. I stood there for close to 30 mins and then we had to move so as to reach base village by 10:30 am or else we would miss our train.
We started walking towards the peak, in between made a halt for the sunrise, sat down for a while and clicked some pics. The changes in colours of the sky during this time were mesmerizing and a bliss to my eyes. We decided to take the stairs route but there was so much of fog all around us that nothing was visible hence we were not able to figure out the start point to descend. Without wasting much of our time we decided to take help of the people whom we came across while on the way to peak in the morning. We just needed a start point from where we could start our descend. A guy helped us in showing the start point from where we had to get down. It was a bit scary view and couple of our friends had fear of heights but they slowly but steadily managed the descend.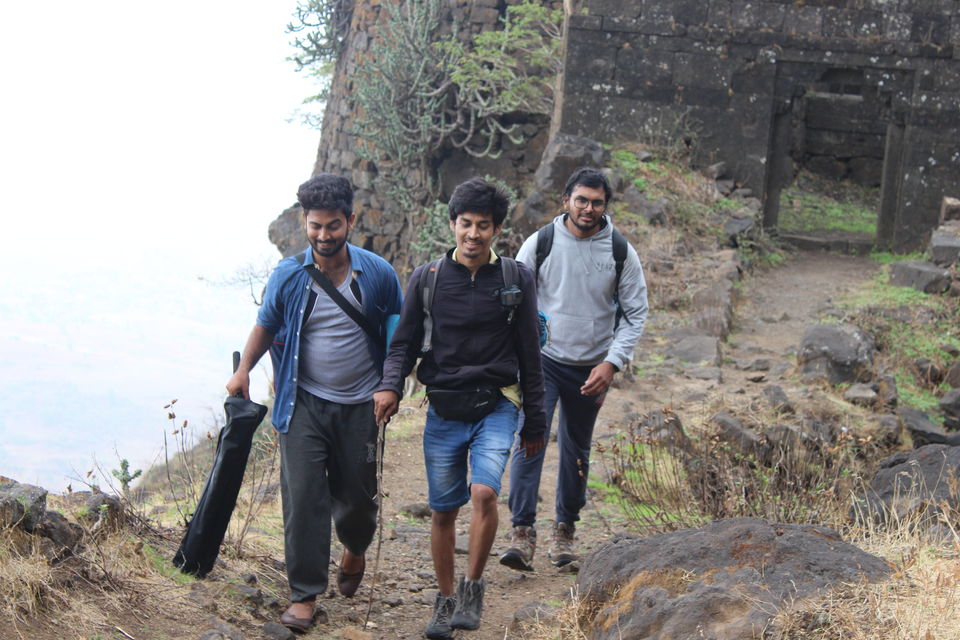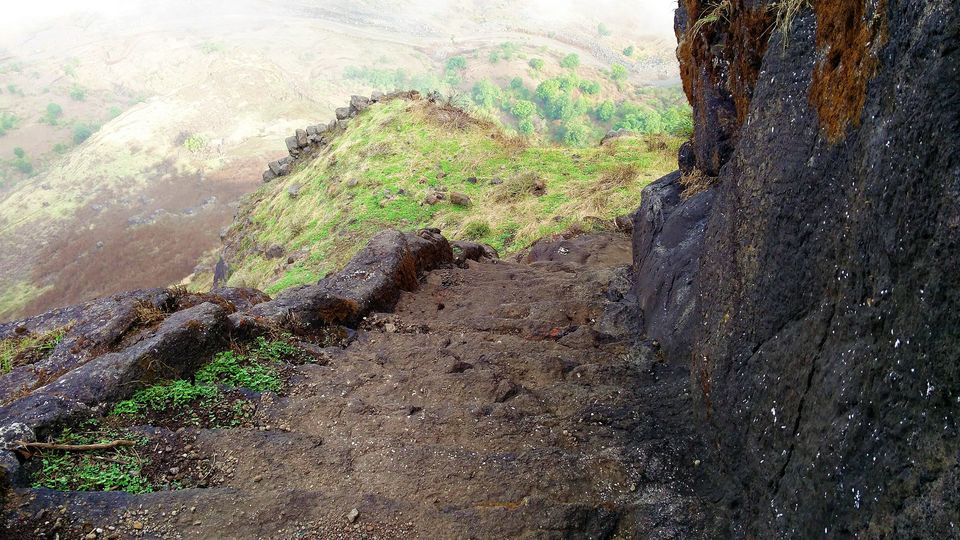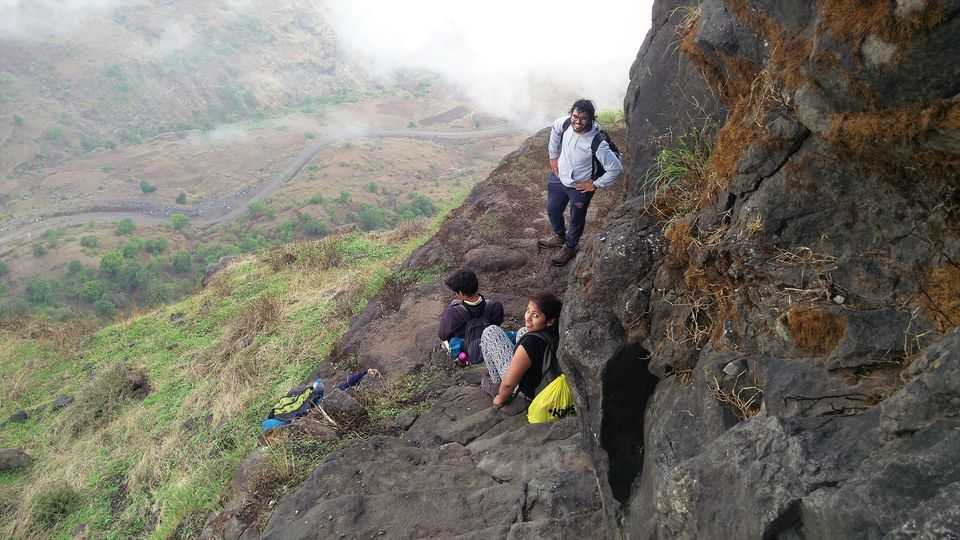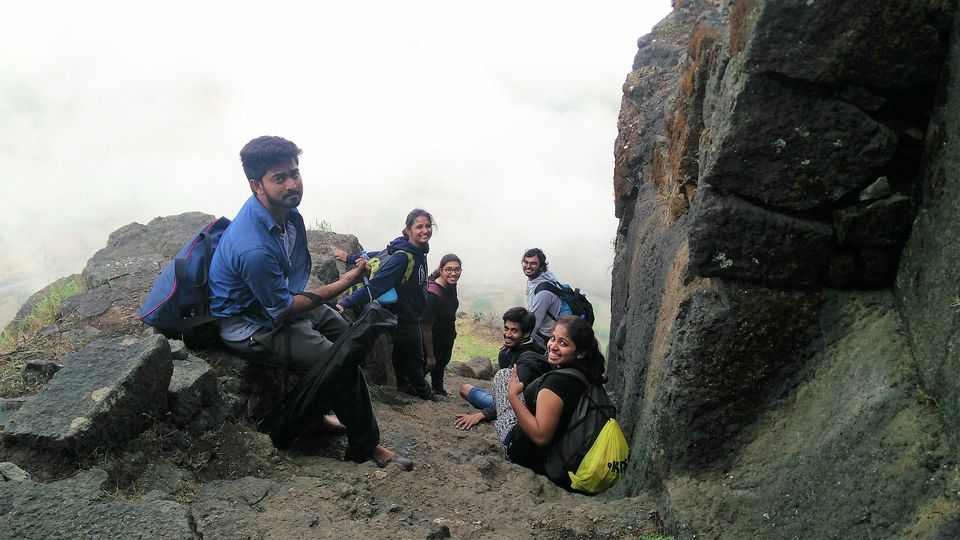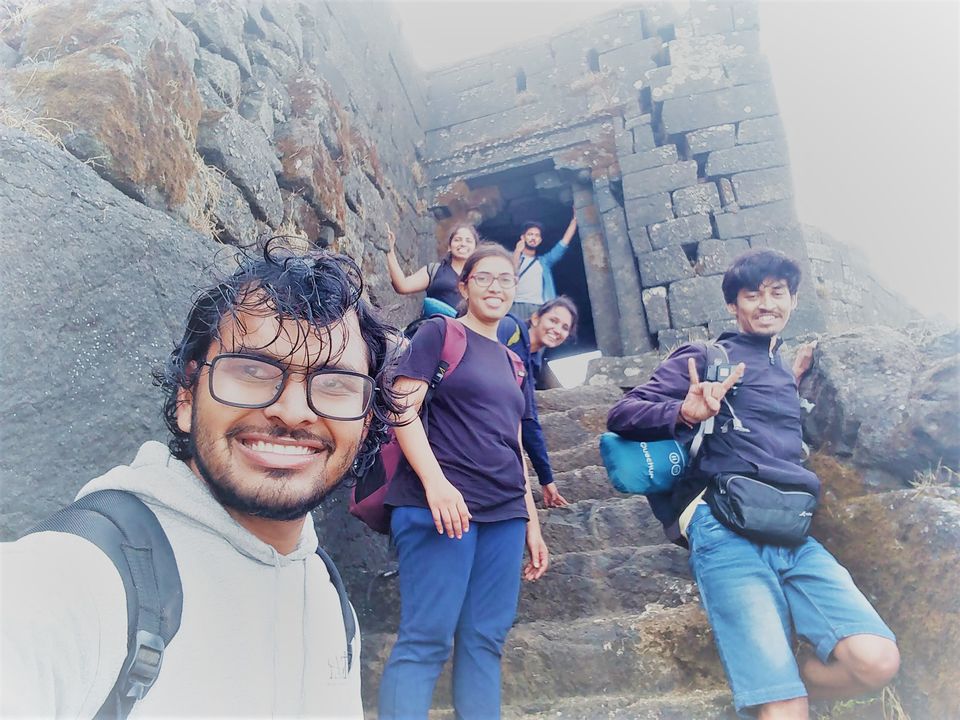 We took the number of the taxi driver who dropped us the previous day and called him as soon as we got minimal signals. We followed the trail and reached the base at 10:30 am by that time taxi driver had also arrived. We started off rather than taking rest as we had to reach Manmad by 3 pm. We took a short break at Satana for having our lunch. We ate misal pav, can't miss it whenever you are traveling in Maharashtra. We reached railway station on time and boarded the train. We sat down, looked at each other with pleasant smile, all were filled with joy as we had pulled off an adventure, in the same time there was tiredness on our faces sleeping most of the time during our train journey. We had to catch another train at Nanded by 11:30 pm. Our train was running late, we were having a close look at the watch and hoped to reach on time. The train we were travelling in reached Nanded and 11:20 pm. We got down ran like crazy from 1st platform to 6th platform and got into the next train. Finally we knew we were definitely reaching back Hyderabad. We called it a day and slept off.
Morning we reached Hyderabad and headed back home. It was a great feeling to have experienced such a trek. I have done many explorations previously but this one was a bit scary but enjoyable.
Frequent searches leading to this page:-
tourist places near maharashtra, tourist places in maharashtra in summer, monsoon tourist places in maharashtra, maharashtra tourist places list, maharashtra tours and travels, telangana tour package with friends