Today is our day 5 in Ladakh and we thought to cover few monasteries in Leh which are
Shey Monastery
Thiksey monastery
Stakna monastery
Hemis monastery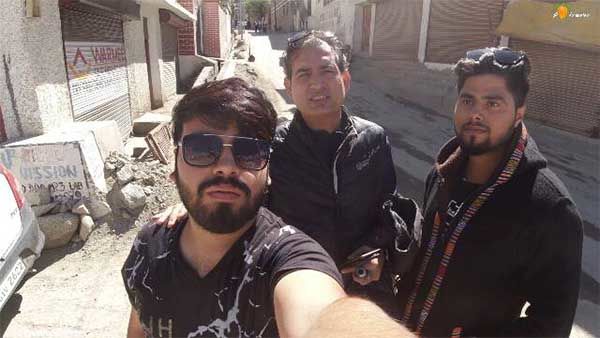 Our first destination was Shey monastery which is just 15 km from the main city. The monastery and palace is made on a hillock. In past it was the summer capital of Ladakh. One need to climb a little to reach here which made all of us out of breath. The stairs were difficult and it was our very first experience in ladakh where we felt we need to do lot of exercise, the moment we reach back to Agra.
The current structure you see in Shey was built in 1650 in memory of Sengge Namgyal who was known as Lion king of Ladakh. He himself also made lots of Monasteries in Ladakh and was a Buddhist.
The monastery is noted for its giant statue of Seated Shakhya muni Buddha and said to be the second largest statue in Ladakh. You need to pay Rs. 50/- to enter the temple.
We trek a little to the top of monastery where lying the old ruined structures of Shey and got amazed to see the beautiful panoramic of its surroundings.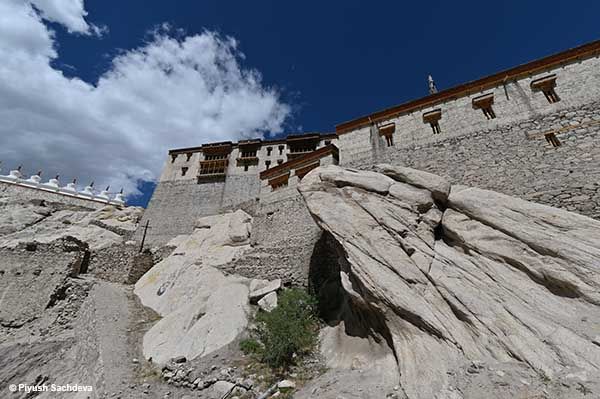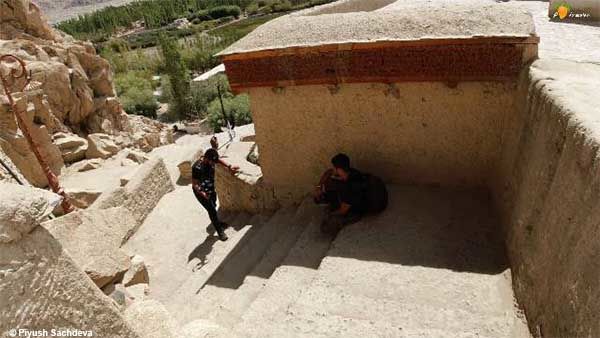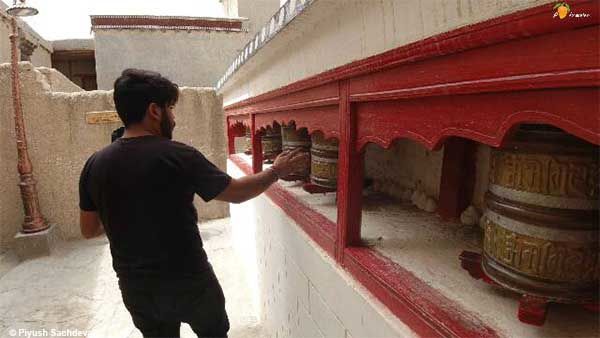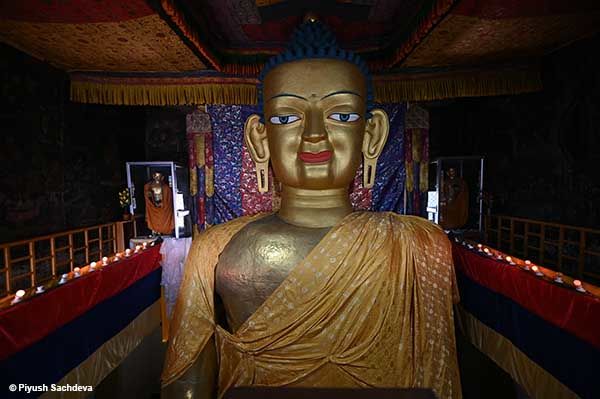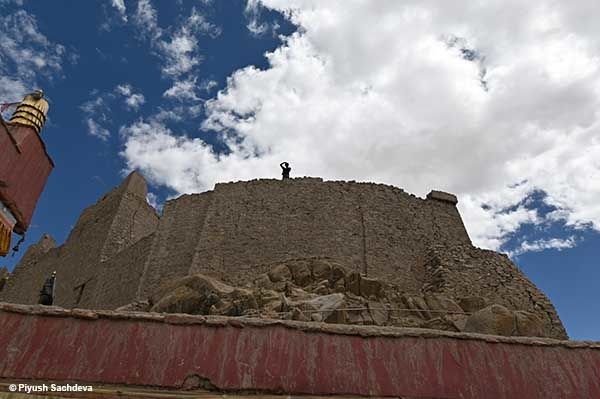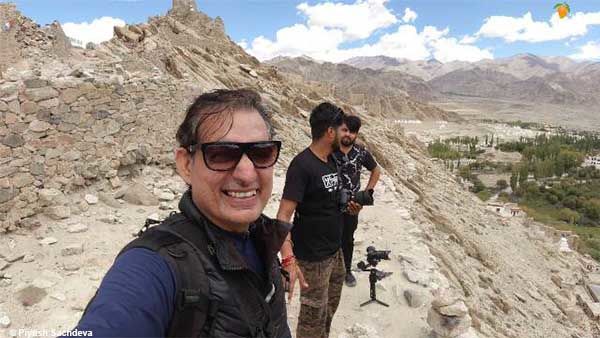 The next we went to Thiksey Monastery. It is just 4 km from Shey monastery and affiliated with Tibetan Buddhism. It is 12 story complex and its architecture resembles to the Potala palace Lahasa, Tibet.It is also the the largest Gompa / Temple in central Ladakh and to enter here one need to pay Rs. 50/- per person.
The monastery is very big and and I was almost covering everything there and reached to Assemble hall where prayers were going on. I sat for few moment and frankly it took me to some another world. The vibes were so positive. The center of the assemble hall ahs a seat of Dalai Lama and bend the prayer halls there is amall inner scantum of Gautam Buddha.
Just beside the assemble hall, there is a protector temple, having guarding deity shrine.
One of the main point of interest here is the maitreya temple. It contains a 15 meter high statue of Maitreya Buddha covering two stories of the building.
We went to the roof top of monastery and yet discovered another out of world view. One side is so green and lively and the other side is just barren brown yet magnetic mountains and both are separated by a road. Everything seems so mystical.
After lunch that is roughly around 2 pm we again saw a prayer - a kind of ritual which is done by Lama and monks on daily basis which was again an incredible thing to see.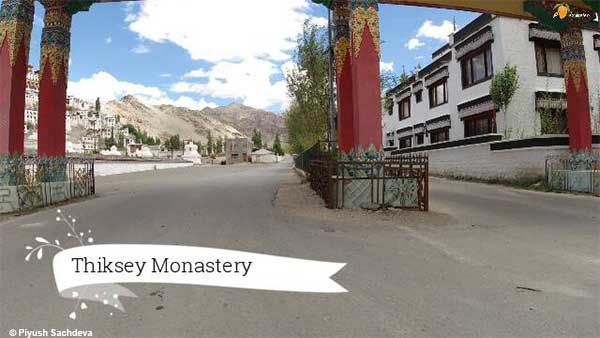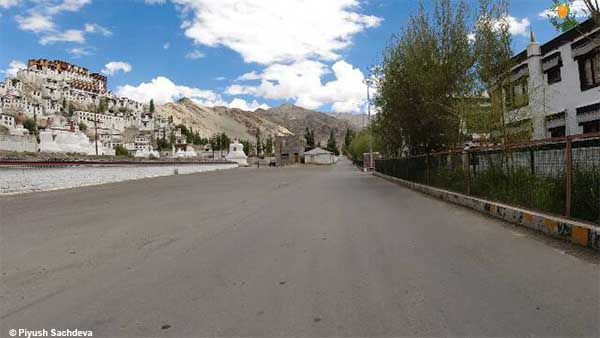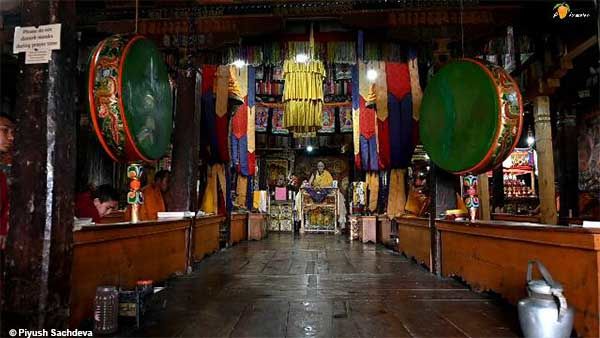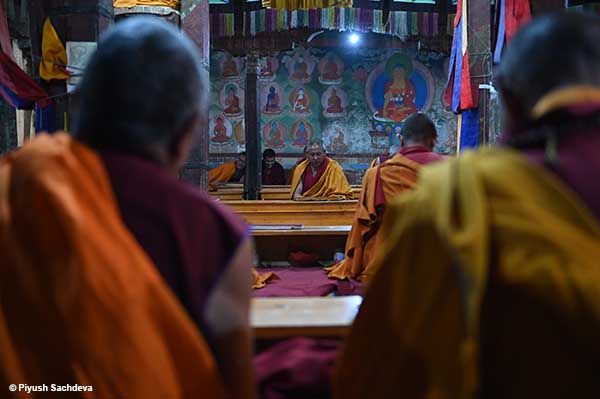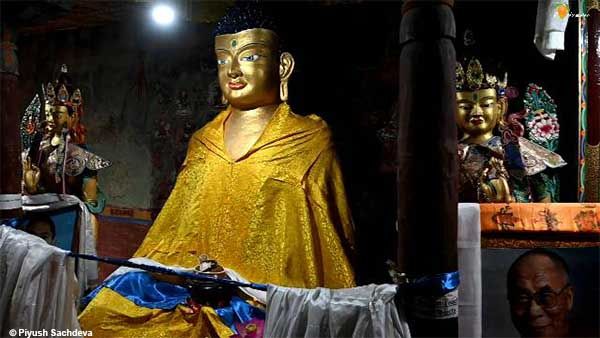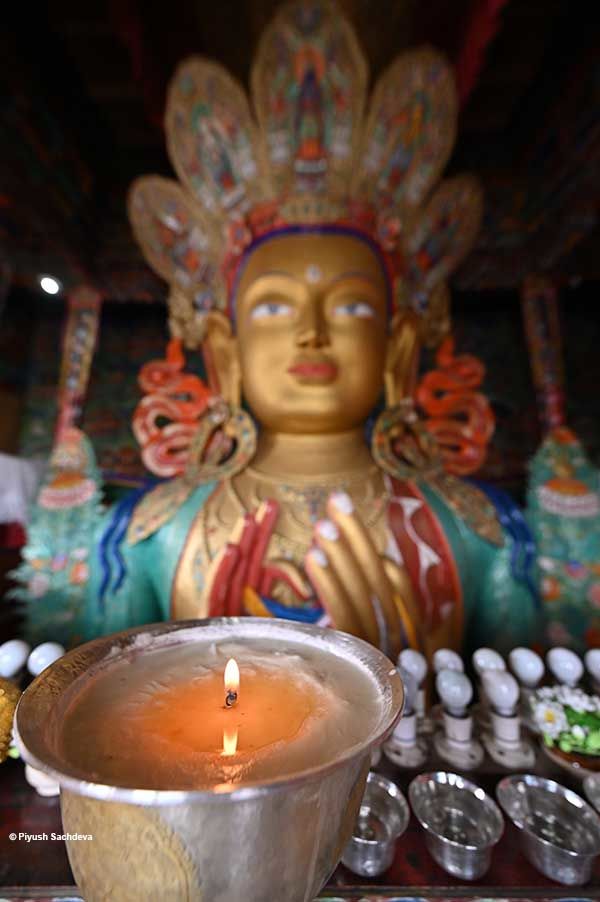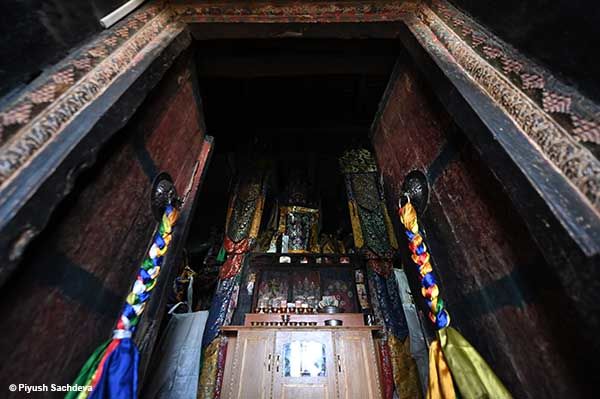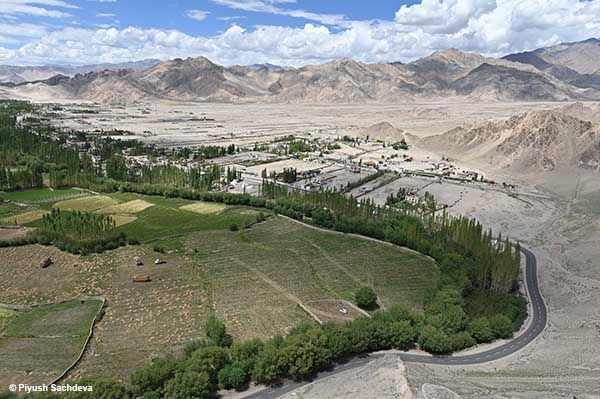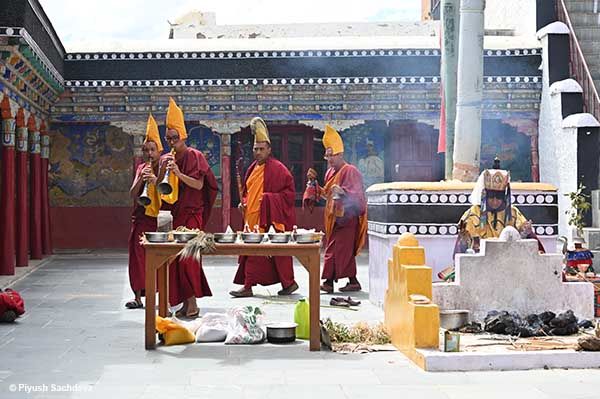 After this we went to see Stakna monastery which is about 25 km from the main city and it is also known as Tiger nose monastery. The name given because it is built on a hill which shape like tiger's nose. One can see Thiksey monastery from here and the view from here is once again simply fantastic.
It was founded in late 16th century by Bhutanese scholar and saint Chosje Jamyang Palkar. It is the ONLY Bhutanese monastery in Ladakh. It is very beautiful from inside. Beautiful colorful Frescoes are made on the walls but when we reached there it was closed. So we too did not given much time here and left the place.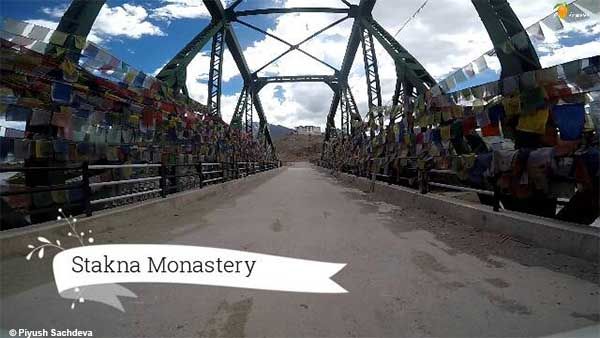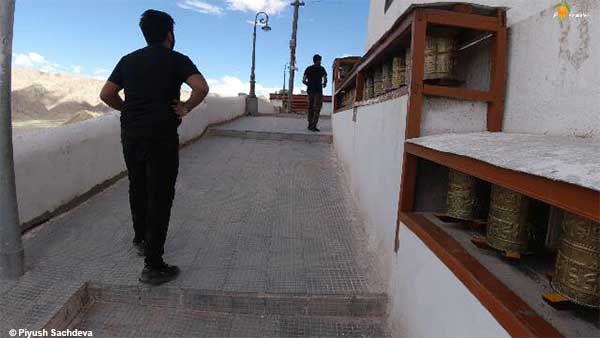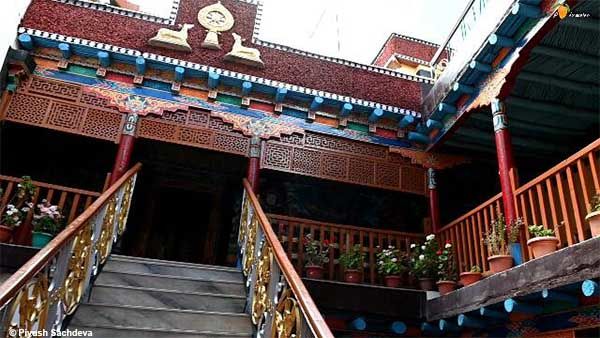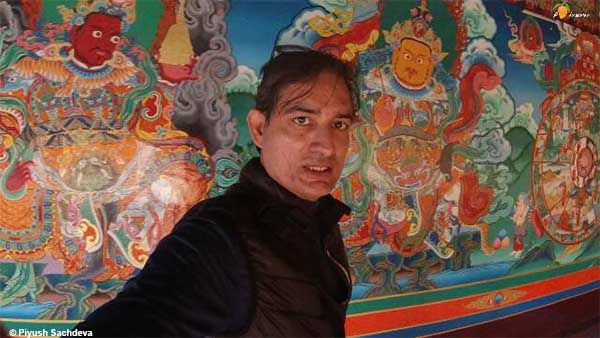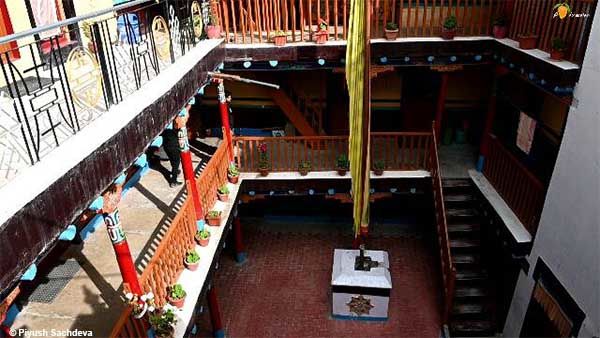 Our final destination was Hemis monastery. So far the monastery we saw in Leh, it is the only one which was not built on a hilltop, rather it is surrounded by mountains. It became alive during Hemis festival celebrated here in early June in remembrance of birth of Lord Padmasambhav. Hopefully I will come here to witness it in near future.
This monastery was also kind of close when we reach. But gathered few important information. Like prayers in prayer hall start at 6 am in morning and here photography is not allowed inside the hall. There is a Hemis museum which have wonderful collection of paintings and sculpture way back from 5-6th century.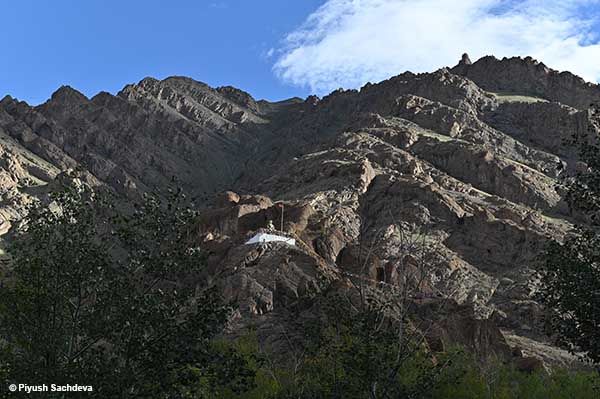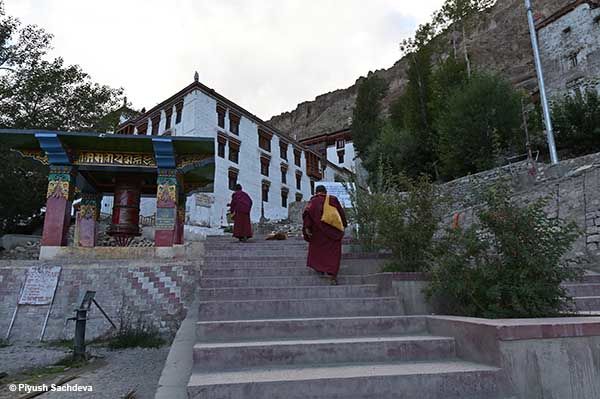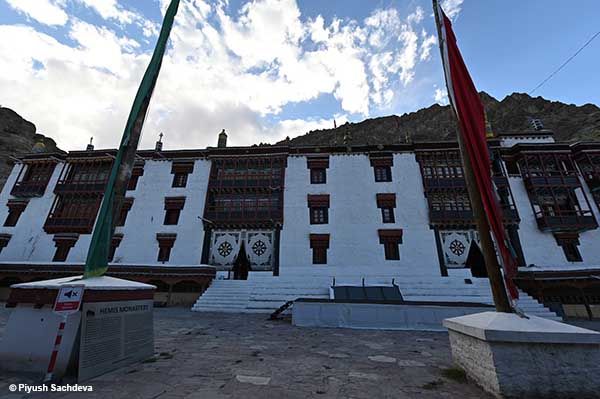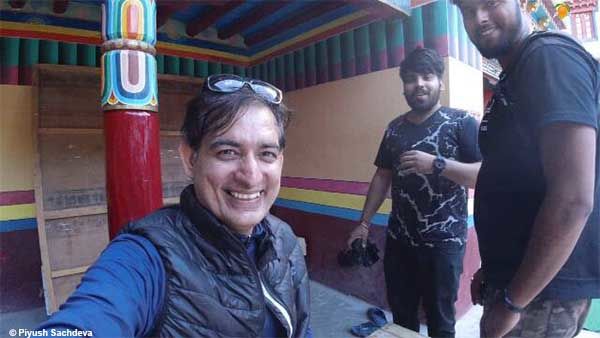 After visiting Hemis monastery we came back to Thiksey monastery where surprisingly young boys were playing Volley ball, where I was having kind of difficulty to catch my breaths and here they were and Kuldip also joined them. We booked a homstay there for us as the sky was very clear and I was hoping to get some star trails photos.
There was an incident happened of this milky way which I was not able to tell in video so let me share it here -
Kuldip - Bhaiya, look above, is it Milky way...??? (at thiksey monastery, Leh)
Me - ahhh, its a patch of clouds... Let's finalize the deal first...
I was in a hurry to book the homestay for us for that night...
Later after 5 minutes when booking was NOT finalized... and we all looked up again in that night sky which was having some 999999999999999999999999 stars... and I said: "why this f****g patch of cloud not moving..."
Is it REALLY !!!!
and YES it was... Kuldip sample shot confirmed it.... :O
I was witnessing our own Milky way for the very first time in my life... and same was the case with the 2 young guns from Agra...
Puneet on the other hand - Bhaiya how the time interval works in Canon? and in return... we made him to stand for next 1 and half hour :D
Funny time we had...
We did lot of Photography that night. Clicked our milky way at Thiksey and still when we not satisfied, we went to Stakna monastery and clicked milky way from there. It was amazing experience to see our galaxy by naked eyes...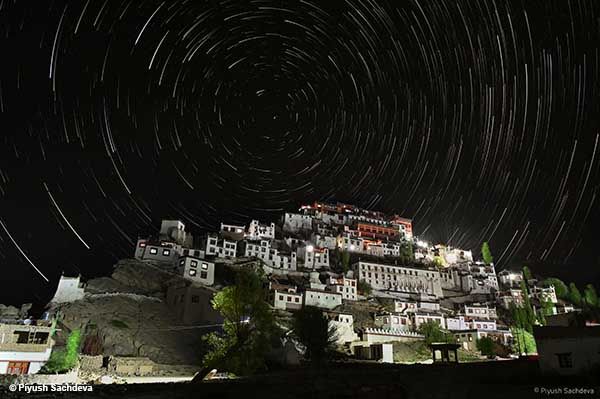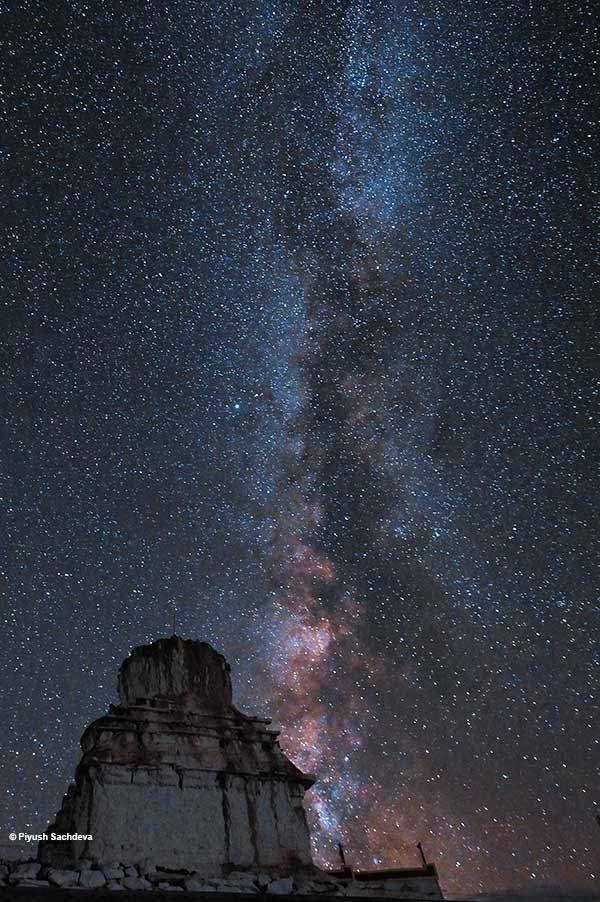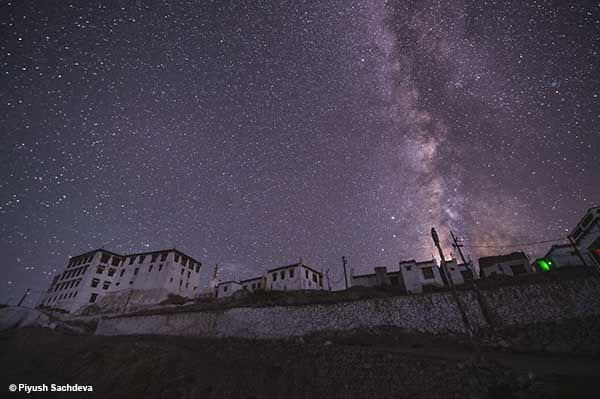 So this is all about of our Day 5. I hope you liked the video and content of this blog. If you still need any information, just msg. me at Insta or Fb. I'll be glad to help you. And plz do subscribe my youtube channel. In next chapter will take you all to Lamayuru. Until then, have a wonderful time.
Message -
* Please don't litter. The more we keep clean our countries the more we enjoy it.
* Avoid using Plastic bags and bottles. Make awareness to your friend circle as well.
Main Points to note :-
1.) How to reach Leh
a) Leh have its own airport - Kushok Bakula Rimpochee Airport
Regular flights from Delhi are there for Leh
b) Take Private or State buses from Manali or from Delhi
c) Taxi from Delhi
d) Your own Vehicle (Ladakh is famous for its road trip and I will suggest to do a Bike or car ride from your own Vehicle - Where you are from India - Start from there)
Other nationalities people - don't get disheartened - There are Bikes and taxi available in rent at Leh. You can too enjoy it
2.) Best time to Visit
The best time is from June to Mid September. This is the time where you will find all roads are opened.
3.) Places to see in Leh
a) Main Bazaar
b) Leh Palace
c) Shanti Stupa
d) Monasteries in leh
Shey monatery, Thiksey monastery, stakna monastery, Hemis monastery
Frequent Searches Leading To This Page:-
Best Tour Packages for Ladakh, Ladakh Tour Package for Couple, Best Travel Packages for Ladakh, Best Ladakh Trip Packages, Ladakh Holiday Tour Packages, Budget Trip Packages for Group to Ladakh