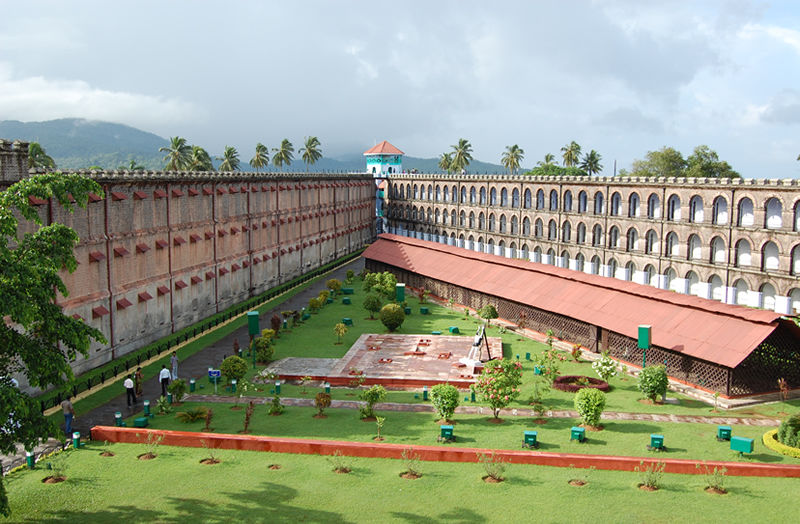 Planning a rendezvous with the azure blue skies pouring its dewy reflection on the translucent love smitten sea? Then come let's make your vivacious reverie come alive by bathing in the info of these 10 famous places to visit in Andamans. You can thank us later first soak the vibe of these utterly magnolias places that you shouldn't miss on your trip to Andaman. Go for romantic walks to the sandy beaches on the turquoise isles kissing the sweet cyan waters, plunge into the crystal clear waters and explore the treasure trove of marine life only in Andaman.
1. Cellular Jail National Memorial:
Visiting a jail without committing a felony doesn't that sounds cool? Indeed it is, so let's make your dreadful dream come true by visiting the Cellular Jail, a British former prison which is now reminiscent of the colonial era. Interestingly the term 'Kaalapani' was referred to this prison. Although several parts of this prison were destroyed by the Japanese during the World War II, the prison still stands in utmost glory hugging its broken pieces, singing glorious tales of our brave forefathers.
Timings: The Cellular Jail can be visited between 9:00am to 5:00 Pm
Light and Sound show timings: 5:30 Pm – 6:30 Pm (Hindi) & 6:45 Pm – 7:45 Pm (English)
Admission cost is Rs.10, and an extra fee of Rs.25 and Rs.100 is applicable for using cameras and video cameras respectively.
Note: The jail remains closed on Monday and during public holidays.
2. Rajeev Gandhi Water Sports Complex:
An ideal place for the water sports junkies to quench their thirst, the Rajeev Gandhi Water Sports Complex offers a plethora of water activities ranging from banana rides, parasailing, jet skiing, rowboat paddling and speed boat rides. Needless to say that even amateurs can visit this place as the service providers offer experts who train and offer safety gears so you can relish your favourite water sport.
Price: The water sports activities ranges from INR 300 and reaches up to INR 5000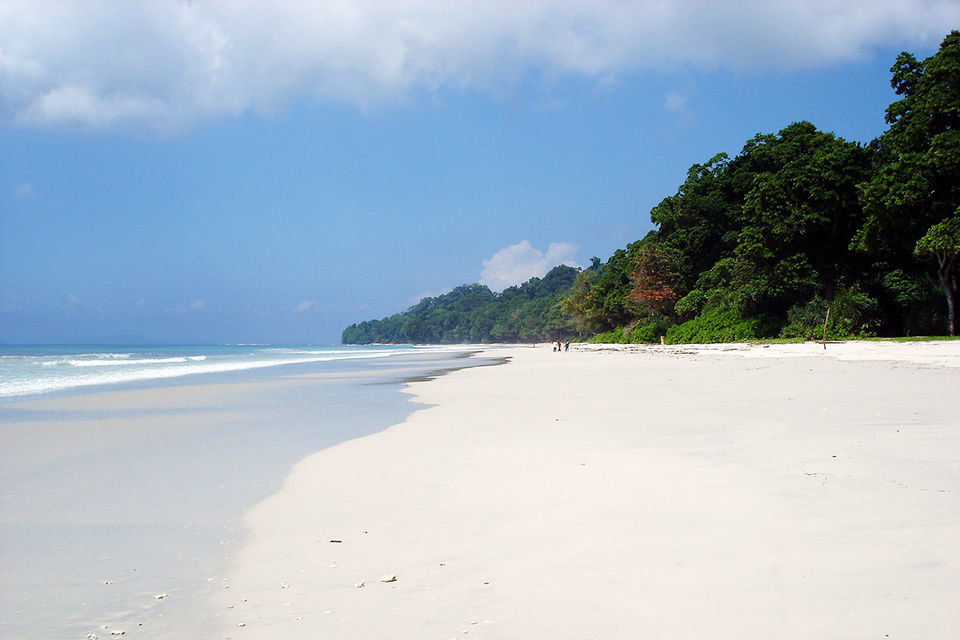 3. Radhanagar Beach:
Bestowed with the title of 'Asia's Best Beach' in 2004 by the iconic TIME magazine, Radhanagar beach is a Havelock's gem snuggled in Andaman. Hailed for its glistening white sand, romantic sunsets and jade blue waters, the Radhanagar beach is one of the must visit places in Andaman.
4. Mount Harriet and Madhuban:
Most people wouldn't have given a second thought about trekking in Andaman as it is known for its sun-kissed beaches but to our surprise, there are some of the best trekking spots in Andaman. About 16 km from Mount Harriet to Madhuban, you'll encounter lush natural beauty guiding you towards the enigmatic flora-fauna of the land of beaches. You can also try the Elephant Safari that is quite popular among the tourists, who wish to explore the wooded heaven of Mount Harriet.
5. Mahatma Gandhi Marine National Park:
An eco-tourism spot consisting of 15 islands altogether covering an area of 281.5 square kilometres, the Mahatma Gandhi Marine National Park is a popular tourist attraction in Andaman. Dotted by mangrove creeks, tropical rainforests and multi-hued supporting 50 types of coral, the Mahatma Gandhi National Park is a place to dive into the sea of madness. The park offers thrilling glass bottom boat rides, scuba diving and snorkelling experience.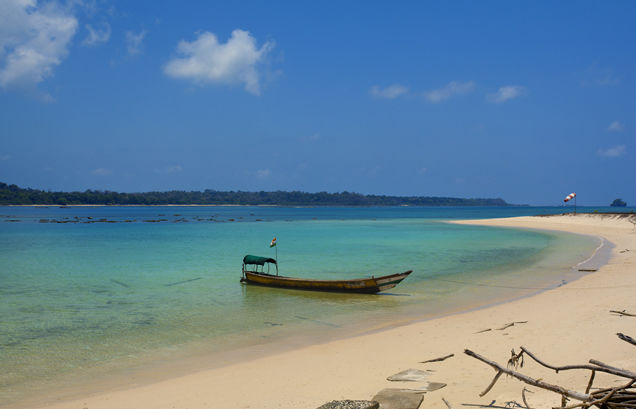 6. Diglipur:
This sleepy town has made waves by cradling Andaman's highest peak, for being a turtle nesting site and for housing the crocodile sanctuaries. This northern-most town in Andaman features several colossal caves and its easy accessibility makes it a famous tourist destination in Andaman. The minion town of Diglipur provides accommodation, ease of access and several sightseeing points that make it a tourist's abbey.
Places to visit: Diglipur Church, Pathi Level Beach, Limestone Caves and Turtle Nesting Point
7. Chidiya Tapu:
Literally suggesting, the 'Island of Birds' Chidiya Tapu is an abode to hundreds of exotic species of birds including Parakeets, Sea Egles, Emerald Doves and many others. This placid bird haven tempts many bird watchers to flee here and capture the beauty of playful birds in their camera. Located about 25 km from the main city of Port Blair, Chidiya Tapu unveils crimson sunsets for the nature lovers.
8. Ross Island:
Formerly known as the 'Paris of the East', Ross Island was once a tropical beauty that was devastated by an earthquake that hit the island in 1941 and later by Japanese invasion. The island now showcases the remnants of the English architecture and machine gun nests.
Best Time to Visit- Between October-April
9. North Bay Beach:
Walk under the sea and explore the plethora of aquatic life thriving in the turquoise blue waters of North Bay beach. Swim with the school of fishes, cross the coral reefs and admire several aquatic species hiding behind weeds. Don't miss on this as North Bay beach is considered to be one of the finest sea walking place in Asia.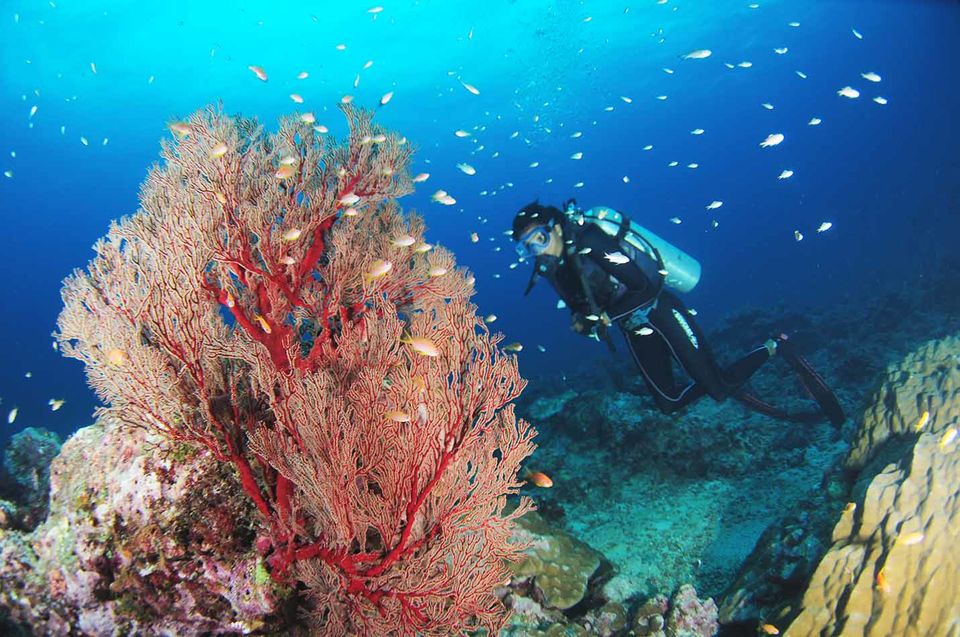 10. Havelock Island:
A dewy paradise harbouring silvery sand beaches fringed by the canopies of rain-fed forests, the Havelock Island is among the most visited tourist places in Andaman. From swimming in the shallow sea, scuba diving to snorkelling you can relish every water activity here. One of the most populated islands in Andaman, the Havelock island is located only 39 km away of north-east of Port Blair.