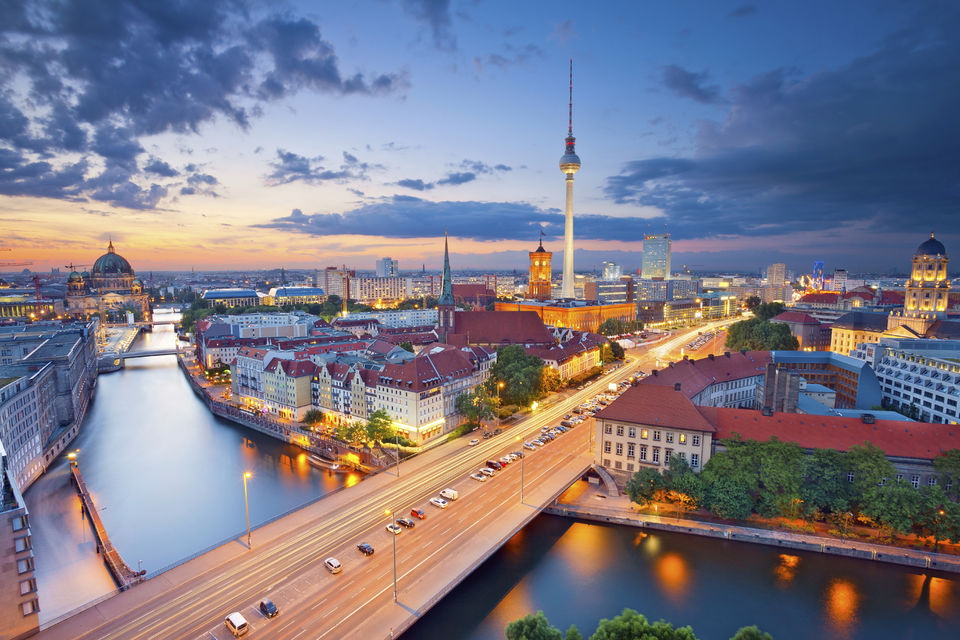 DAY 1
Just when you think you are having a bad day, it gets worse.
That's the story of the day I got to Berlin.
I was travelling to Berlin from Prague by bus. Our bus was 7 hours delayed due to a reason which got lost in translation. We got into another bus, which dropped us at a location far from the actual destination. It was windy and started drizzling when we got to Berlin.
Tired and hungry we reached Berlin at 8pm instead of 1pm. To add to my woes, I realised I had left my jacket in the bus. I waited an hour in line to register a lost and found complain with the bus company. They asked me to try my luck the following day.
Post this, I went straight to my friends house at Mendelssohn Bartholdy.
I was instructed to call her and she would open the main entrance of the building. Turns out that my data connection was not working in Berlin and there was no way to contact her. At this moment I gave up and headed to the nearest restaurant.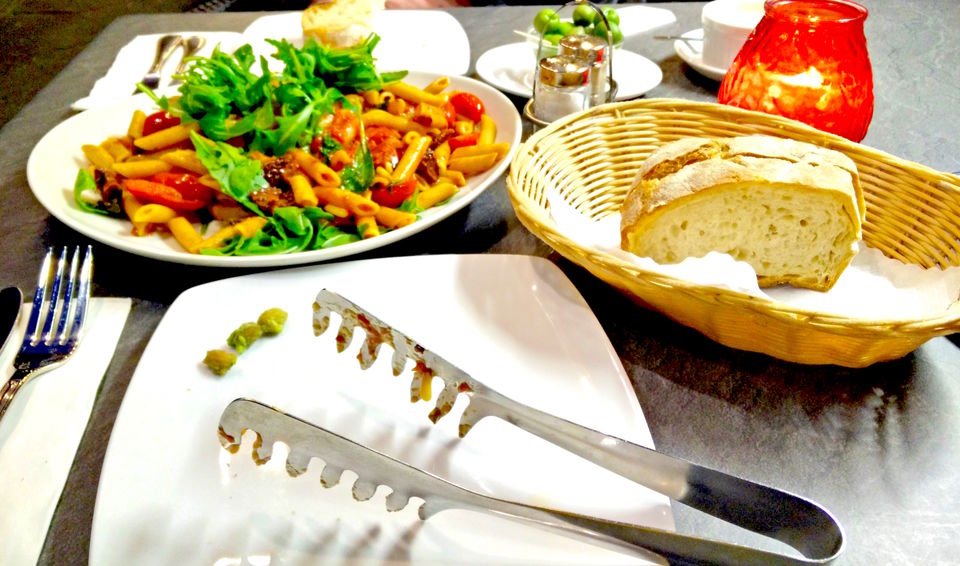 Food can actually make everything better. Even a crappy day like this. I found a fine Italian Restaurant around the corner and dashed straight into it. We were the only hippie looking people in that restaurant with our backpacks and loose clothes. I just took a seat outside and dumped our bags in the corner. A neatly dressed waiter greeted us after completely judging us. He gave us the menu and told us to ask for him whenever we were ready to order. I asked him if there was wifi at the place and he said "Ofcourse, we have Wifi and also the best Pasta. I quickly connected and Whatsapp called my friend. She said she was waiting for us and worried sick since we were to reach Berlin earlier. She gave us instructions to enter her house. We were greeted by the waiter again, this time with Freshly cooked pasta. He was quite amusing and cracked us up with some jokes while he spoke in his strong Italian accent. Never had I tasted such good pasta in my life. All the ingredients were so fresh. Especially the olives they served. I finished an entire bowl of them. It was almost a sign from the universe that I had passed my test and Berlin is going to be kind to me.
After finishing one of the best meals of my life, I went straight to my friends house. She heard our miserable story and knew exactly what to do! She asked us if we were up for a small adventure. We were not sure what she had in mind but it was 10pm and we had plenty of sleep in the bus. So we agreed. She took us on a cycling tour of Berlin.
It had been just 2 mins on the bike and Pranoti suddenly said STOP!
I immediately pulled the brakes with my feet immediately touching the ground. She looks at me with a smile and her eyes wide open.
"Why'd we stop?"
"Because one half of you is in East Berlin & the other in West"
I looked down and I saw a line of paver blocks running across the street.
These paver blocks run throughout Germany and are on the exact place where the wall once stood.
Our next stop was at Potsdamer Platz. It's one of the busiest streets in Europe. It is famous for a couple of Hollywood movies. Also the opening scene of Homeland Season 5 was shot right here! It has beautifully lit tall buildings where all the big MNC's reside.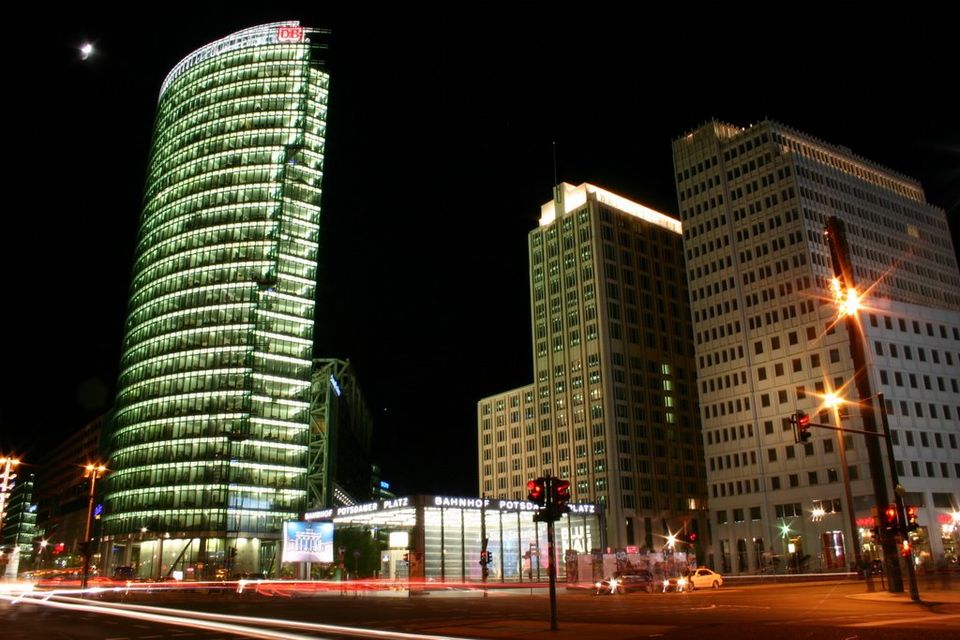 From Potsdamer Platz we headed to one of Berlin's most iconic structures, the Brandenburg Gate.
Brandenburger Tor as it's called in German, is a neoclassical monument built on the site of a former city gate that marked the start of the road from Berlin to the town of Brandenburg an der Havel.
This is usually a busy place and you will find maximum tourists here. Right across is Hotel Adlon, where Michael Jackson had dangled his then-infant son "Blanket" out on one of the hotel's windows during a visit to Berlin in November 2002.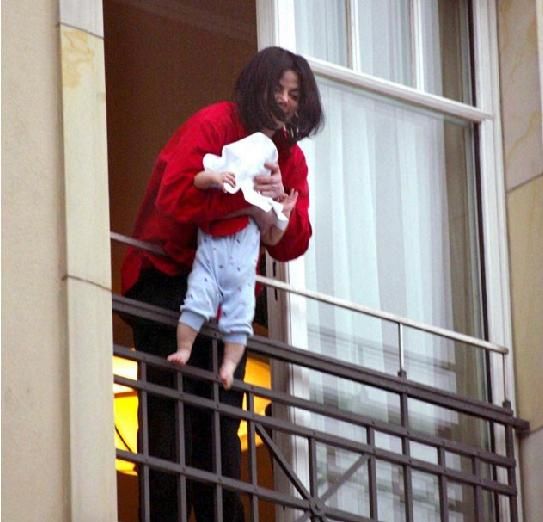 Next stop was a gorgeous cathedral called Berliner Dom or simply Berlin Cathedral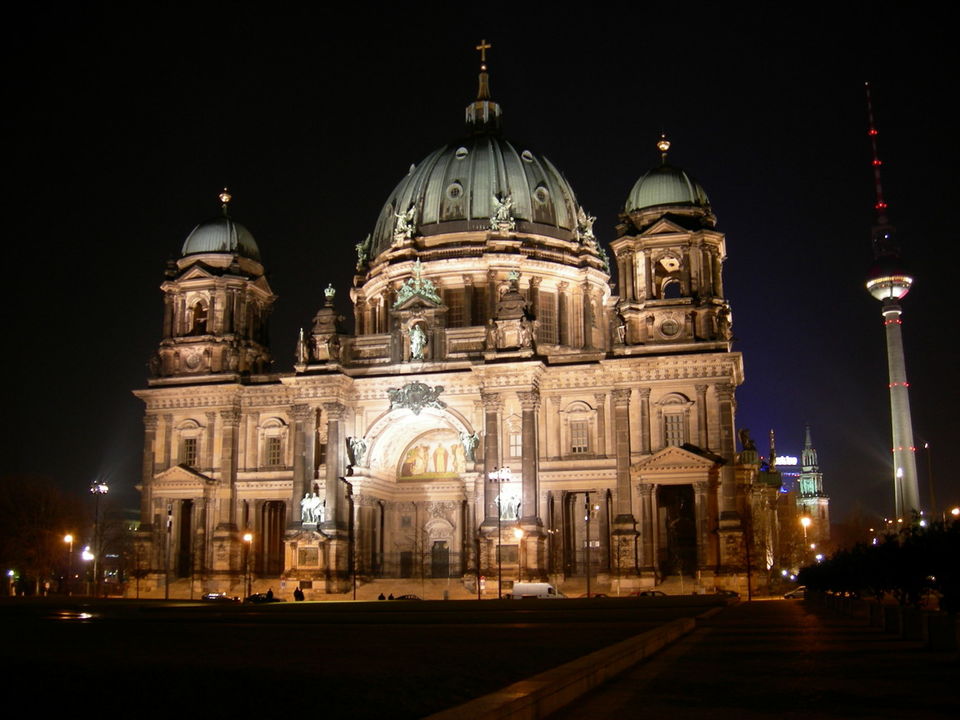 Our last stop was the tallest structure in Berlin, known as Fernsehturm de Berlín. This is a TV tower will a viewing deck on top. It has panoramic view of the city and Berlin looks lovely at night!
After the epic bicycle tour, we went back to my friend's house. We were slightly hungry hence my friend asked us to help ourselves with anything that we could find in the kitchen. After going through her shelf we found GOLD. Maggi Noodles!
Shamelessly we finished all her Maggi and I still feel bad, since we ate up all her breakfast.
Day 2
We signed up for a free walking tour by Sandeman. Our tour guide was Rob Shaw, who is originally English and had moved to Berlin to pursue Journalism. Rob gave us the most amazing tour of the iconic places of Berlin. At each spot he gave us a historic significance and patiently answered our questions. I can proudly say that for someone who had limited knowledge on Hitler and the Nazi era, I became quite an expert.
The walking tour just took a toll on us hence we decided to relax and get some good food. We packed up some lunch and headed to Tiergarten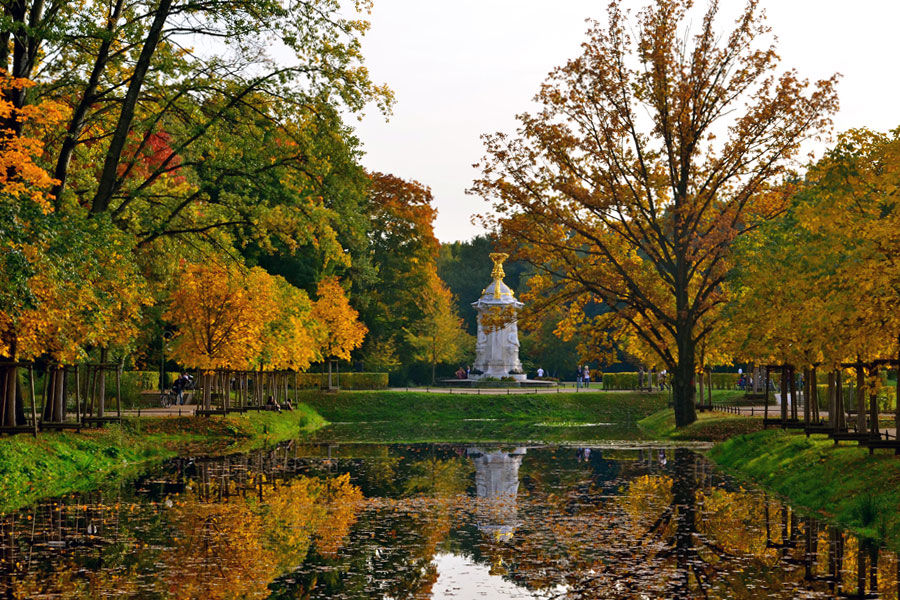 This is the perfect spot for everything you can imagine. Spread across 5.17 square kilometres, Tiergarten is in the heart of Berlin. Lush green trees, running tracks, picnic benches, spacious gardens, you could not ask for anything more. We simply lazed around for 3 hours and took strolls to explore this gift of nature. At one point we lost our way and had to switch on GPS to find our way back home.
The same night we went for a Pub crawl organised by Sandeman.
Worst decision of the trip. Not only did it cost us a lot, it was quite boring since they took us to places which they had some sort of tie-up with.
When we told my friend about this, she laughed and told us about the Schpeti Crawl. It was what the Locals would prefer doing when they wanted to drink. They would hop from one supermarket to another and buy alcohol at each store. They would finish the alcohol they bought before they got to the next one. This would continue till the time everyone was drunk. Then, they would head straight to a Club and party till late a.m.
That sounded like too much fun and we exactly did that that in Amsterdam, our next travel destination!