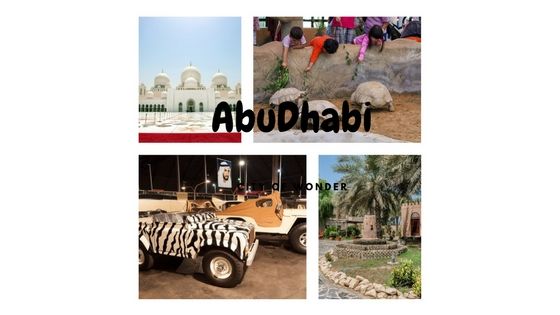 Whenever we have to travel across the countries we look out for a destination which provides the travelers the opportunity to explore their knowledge and at the same time have fun. This is the reason why Abu Dhabi is also becoming a famous destination to visit. Not only there are many commercial centers in Abu Dhabi. It is a land of traditional culture, beautiful beaches, huge malls, great restaurants, resorts etc. The best time to travel in this country is during winter. The temperature remains normal neither high nor low. There are many free things to do in Abu Dhabi.
The Sheikh Zayed Grand Mosque
The Sheikh Zayed Grand Mosque was inaugurated in the year 2007 for the general public. After its construction in two years, it became the second most popular mosque to be visited. The landmark is designed by Syrian architect Yousef Abdelky, the design has been inspired by Persian, Mughal, Egypt and Pakistani culture. The mosque also has a museum inside have books of Islamic, civilization, calligraphy, and coins.
THE HERITAGE VILLAGE
The Heritage Village was started its construction in 1997 was completed and opened for public in the year 2001. The heritage village was reconstructed in the place old traditional oasis village which provides a historic view of Abu Dhabi. It has a huge build up in an area of 16800 sq meters. The Heritage Village represents the cultural aspects which include fishing, boat-making, agriculture, carpentry, weaving, the lifestyle of farmers etc. The monument has also a small museum inside the village.
UAE UNIVERSITY NATURAL HISTORY MUSEUM
UAE University National History Museum also known as Museum of Natural Resource. It is located in Abu Dhabi.The museum was recently opened by the UAE government for general public and students. Its main gallery of museum displays life of Sheikh Zayed and the process of uniting of UAE as one country. There is a library named after Sheikh Zayed where you can learn more about Sheikh Zayed.
THE NATIONAL AUTO MUSEUM
Via car from Abu Dhabi to The National Museum you can reach this destination within an hour drive. The museum is opened from 9 am to 6 pm every day. It is a collection of Sheikh Hamad; his collection includes world largest truck, Mercedes Rainbow Collection, and American cars. This collection makes a number of 200 vehicles preserved in the museum. The National Auto Museum has also been shown in BBC program Top Gear.
RAS AL KHOR BIRD SANCTUARY
About 150 kilometer and one and half hour journey from Abu Dhabi by car Ras Al Khor Bird Sanctuary is amongst the top destination to go for travelers. It is also called Cape of creak which means reserve in Arabic. The biggest highlight of the sanctuary is flamingos. It is also known for migrating birds flock. Winter season in Dubai which is from November and March is the best period to make a visit to the bird sanctuary. The sanctuary is spread over 13 sq kilometer. There is no entry fee for the bird sanctuary.
WOMEN'S CRAFT CENTER
Women's Craft Center is an association run by the government of UAE and women's association to propel the traditional industry of weaving, embroidery, sewing, basketry etc. It was founded in the year 1975. If you are interested in buying or even witnessing how these craft women work to make these traditional items this is the place you need to visit. You can also take pictures but for that, you need to take prior permission as it is an Islamic state. Henna tattoo embedding is also very famous among female visitor coming here.
ABRA RIDE
Water rides are always a nice way to spend time some leisure time not only for travelers but also for the resident. Abra Ride is one of them. In Abu Dhabi you may call it as water taxi. A tour of about 15 minutes in the wooden boat along the coastal regions of Abu Dhabi is a great experience. These boats run between Khor Al Maqta Hotels, Eastern Mangroves, and Yas Island. These are traditional Arab boat with a capacity of 20 people. It is a very beautiful site of the city for the people visiting Abu Dhabi.
PARKS
There are plenty of parks in Abu Dhabi where you can spend some time in the natural green environment. There are plenty of them to go on for a visit. Most of them charge nothing or charge minimal as an entry fee. This is one of the basic attempts on part of the municipality out there. It is to provide the residents the basic amenities. Some of these parks are Um Al Park, Al Nahyan Garden, Capital Garden; Khalidiya Garden is among some popular gardens among the families in Abu Dhabi.
Some other destinations where you do not have to spend money to see are Liwa Forts, Al Jabbanah Fort, Mariah Al Garbiyah, Qutuf Fort, Muzeira'a Fort and Dhafeer Fort. These forts were built in ascent times, to protect water resource which is most rarely found in deserts of UAE.