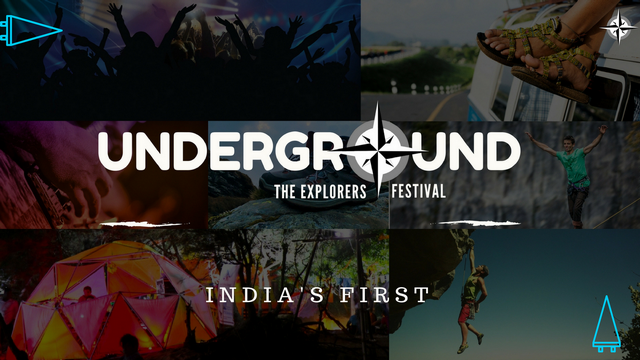 Even though it says 'New Year's Eve', you've surprisingly been doing the same things every year—bar hopping and drunk dancing your way till the first of January. Give yourself a break this year and part from the familiar—for that's how you learn and that's how you grow.
Head out on a trip with your best friends, for a long weekend of shredding, partying and reminiscing of the good ol' days. So what do you do then? No, we are not abstaining the drinks from your blood. But giving you reasons to celebrate just in style.
1.This New Years - JOIN THE TRIBE. Join the most fascinating tribe called - The Explorers – under one roof. Be it a climber, traveler, photographer, biker, cycle tourer, storytellers or anyone who loves to experience anything outside the four walls – Go Underground this New Years.
Surround yourself under a star-studded sky and some watch some amazing journeys of travelers in an open-air screening
A bunch of amazing travelers have their story captured in pictures. Get inspired and listen to their intriguing stories.
Wake up to the tunes of Punjabi music because this place will organize a masala bhangra workout. Or well are you a yoga person, yes they have sorted that out too. Whoa… what a happening way to start your day!
ohh well, did we mention that you have a billion star stay arranged between the woods…. Yes you would be camping with everyone under the same roof.
The weather's fab, you can drive (or rent), you are young and you have a ride-or-die best friend by your side—so why not?
Don't worry to shop for a new outfit this new years, no one really cares. Wear your smile, light up the festive vibes, snuggle in the cosy jackets, right in the middle of mountains. We're all paradox souls. Live it up, now is the time!
So ditch your regular new year parties and sink into the cosy sleeping bags between the woods and let the pleasant weather take care of everything else.
Be a part of the India's first ever Explorers Festival–UNDERGROUND !
Event Information - 
#JoinTheTribe.
Date: 30-31st December
Venue: Chakrata, Uttarakhand
Tickets: underground.rootsvida.com