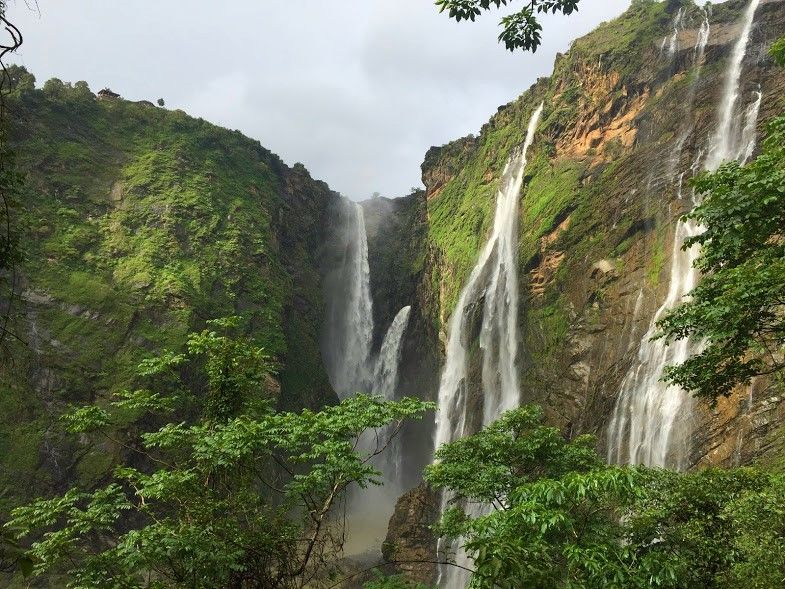 I had made up my mind. I longed to travel far away from the busy Mumbai city life, even if it meant just for a weekend.
I had covered many Sahyadri ranges in Maharashtra and it was time to explore newer pastures. And then I came across Travel Trikon's "Jog Falls, Karnataka" tour.

A night's journey from Chhatrapati Shivaji Terminus (CST) meant that I didn't have to take an extra leave from work. Our train left Mumbai at 2200 hrs IST on a Friday. It was lovely meeting new people and making new friends instantly.
On Saturday, we reached Kumta and moved towards Jog falls which is about 80kms from Kumta station. It's such a pleasant change to land up in a new city and soak in some refreshing air! We checked in, in our beautiful home stay and had a lovely Karnataka special lunch after freshening up. An official round of introduction followed and I got to know more people! It was now time to explore Jog falls.
Our trek leader briefed us on the day ahead as we geared up for the sightseeing. My eyes couldn't believe what they were seeing. We were travelling on a road that had lush greenery on both sides! It almost seemed that Mother Nature had literally photoshopped her surroundings in green! I was instantly transported from a hectic lifestyle to Nirvana!
As we moved towards Jog falls, our excitement was already building up. We were going to finally witness India's second highest untiered waterfall after a refreshing journey. Words fall short to describe the astounding beauty of Jog falls! It's amazing how water doesn't stream on to the rocks, as usually waterfalls do. Isn't it strange that you have so much to see and explore in India alone?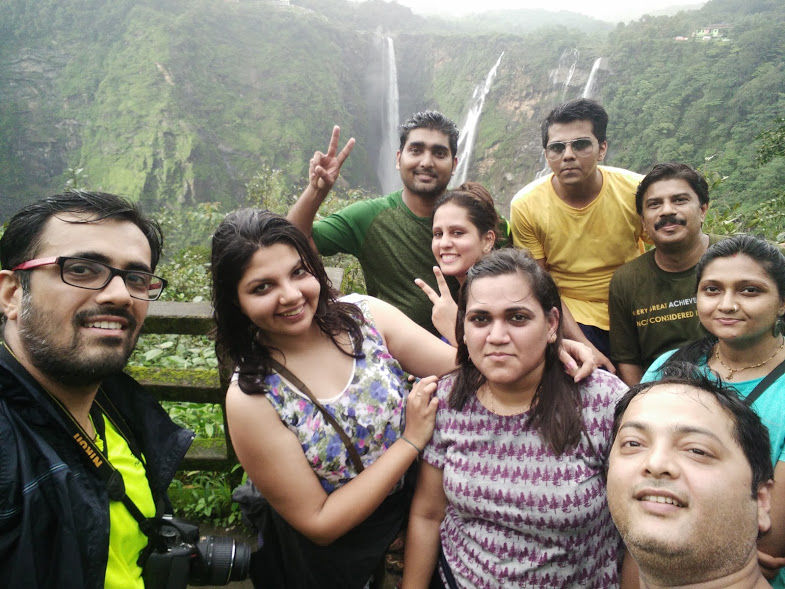 As the evening set, we geared ourselves, over some yummy snacks, for the Light and Sound & Laser shows called "Jaga Maga", arranged by the locals. It was like going back to our childhood days were you could endlessly watch colorful, dancing fountains of all shapes and sizes, in awe. The laser show threw some beautiful light patterns in the air and it was truly a visual delight.

As we moved back to our humble home stay, delicious Karnataka food awaited us. Without waiting, we started digging our fingers in this yummilicious treat. After a full dinner, we gathered up for story-sharing and a fun chit chat session. Some of us had got some breathtaking scenic pictures of the Jog falls and surroundings. We were certainly thrilled!
Our next day's plan was already chalked out by our trek leaders. It was time to behold the magic of the mighty Jog falls from the base of the waterfall. After a hearty South Indian breakfast and a beautiful jungle trek for about 3 hours, we were in for the most majestic sight in front of our eyes.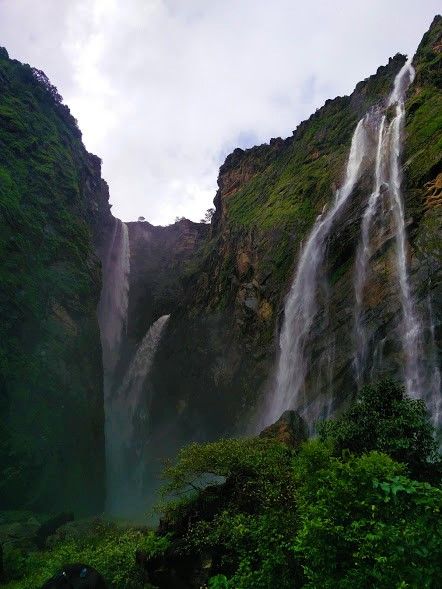 This sight couldn't be more magical. We spent some good amount of time gazing at the waterfall and its peaceful surroundings. It was such a welcome break for me; leaving the city chaos behind and treating myself to this much needed solitude!

After lunch, we still had some time on hand. That's when Travel Trikon leaders suggested that we check out the beautiful Kumta fort! Cherry on the cake? And what a sight it was!

Jog Falls, Karnataka & Kumta fort near Sharavati river are truly a photographer's dream come true!
Our Matsyagandha express (train) from Kumta station was taking us back to Mumbai on Monday early morning.
My Monday blues were gone and I was ready to face the corporate world with a smile on my face!
We all need such quick breaks from our busy schedules. To contemplate, to unwind or to just simply go with the flow.
Do you too wish to get out and take a break? Sign up for Travel Trikon's upcoming trek to Jog falls on 29 July. More details here.

M Sridevi
3 Adventurers