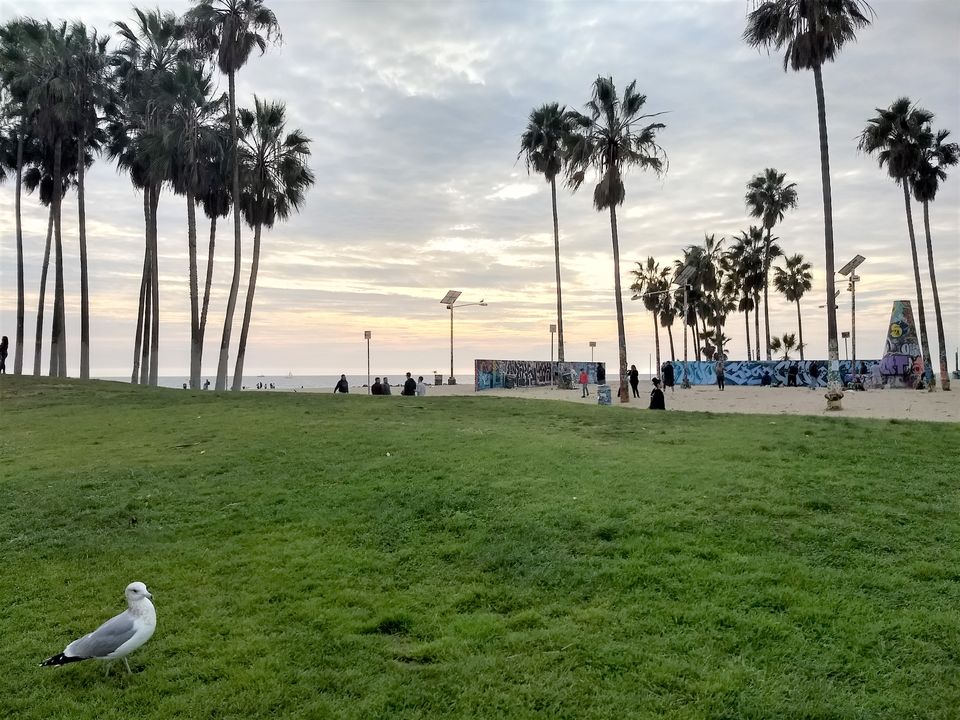 What do you do when you realize that you are just back home from traveling and its peaceful and it's time to conquer inertia? What I would do is write! Been a day since we checked out from 'Hotel California', but you can't really leave it, well that's what Eagles said.
Travelling is an adventure, but when blended with the solitude of mind, it's a candid preceptor; no euphemism, only truth. The extravaganza of ostentatious five-star hotels was not the truth, a tryst of the azure blue ocean with that navy sky by the gold-orange sun at Venice Beach was the candor.
23rd December 2017, Mihir met me at Ramada Houston Intercontinental South; passed a night to catch a flight next morning to San Diego International Airport (SAN). The start of our gripping journey begins! Reached SAN just before the noon and captured our pre-booked yellow Camaro from Enterprise to check into the Sheraton in famed California. Exactly! Even I didn't believe this was happening, but I don't pinch myself. Standing at the reception till we check in the hotel, I couldn't fathom all of this. Swiped the key and rushed towards the balcony of our room, I and Mihir, to embrace a startling view: equidistantly placed palm trees through which one can see incredible marina voluntarily detaining off-white yachts to be continued by deep blue north Pacific Ocean. While I was letting myself being subsumed with this beautiful view, Mihir had to ask, 'could we afford these yachts?' Well, thanks for bringing me back to earth! Later afternoon, after putting food inside us till our throats, we thought what would two automotive engineers with lots of energy do when you have a Camaro in the parking lot? Apparently, we didn't think, we just dropped the gear and disappeared. That's where we belong: driving down the port-city of southern California, where people would stroll around in Bermuda-boxers and T-shirts while enjoying America's Finest City; well that's one of the nicknames. At the Craft Beer Capital of America, we tried none! Well, I can explain: the reason was - time. The city depicts a beautiful amalgam of American-Mexican-Spanish culture which is worth experiencing. This helped a person like me to get a load of such unruffled place while standing at our hotel-room balcony at midnight to infer this:
How I could I be here?
Only if it weren't for that verve
How could I feel here?
Only if it weren't for this place
Why am I here?
Only if I could accord with the hurtling time
Who am I here?
Only closer to the reality, her inklings, and very fine.
Well, next day, after checking out, we drove around the city, took halts, clicked pictures, noshed and repeat. After lunch, our gas guzzler was directed to the city of angels. Despite missing out the beautiful pacific coastal highway, the road journey was, nevertheless, wondrous. It was a beautiful experience to drive down that highway where you feel like being in a roller-coaster ride surrounded by huge greenish carmine-brown hills. It was a feeling of having a joy ride, literally, in the lap of a gorgeous Sierra; and Michael Calfan's tunes were cherries on the cake. We reached our Airbnb apartment in the evening, which was a beautiful house on the foothills of the San Gabriel mountains in the Sunland area, northern LA. Of the three days in the Sunland, we spent two days to complete our checklist in downtown LA: first and most exciting was a visit to the Petersen Automotive Museum. I was, unquestionably, experiencing a time travel. Right from the mettle of Karl Benz's creation to the creative tradition of Ettore Bugatti and family, from the Great Gatsby's Duesenberg to the story of archrivals - Indian & Harley Davidson and from chic McLaren to a fresh Tesla, it had everything! If it was up-to me, I would spend a whole day just in the Ferrari hall! It was like being in a parallel universe. Other stopovers were Madame Tussauds, Griffith Observatory and hence the Hollywood. Despite the wax, Pierce Brosnan's effigy had an absolutely winsome charm, frankly, unlike others with an exception - John Travolta. A full trek to the Hollywood Sign could have been more adventurous, but we were not dressed accordingly and, we were happy to gain a good view of it for flashes.
The first half of the third day was lazy and then it was Santa Monica Pier. The iconic entrance, clearly, resonates with its popularity depicted in Hollywood movies and television shows. It bears a family amusement park known as Pacific Park, several restaurants & eateries and yes, the Bubba-Gump Shrimp Company! However, the pier itself is breathtaking. I just wanted to let my speed slip to reach the end of that pier as late as possible while the cold wind kept passing through us. What a divine ardor! While Mihir was on the phone, I, leisurely, held the support of a nearby wooden fence of the pier with my hands by letting my shoulders take the push to get that little feeling of a climb and went on gazing recurring waves at the shore in that gloom. And,
I feel near to the future
Hence far from behind
why my mind is shillyshallying
for that coming time
I am near to the future
And far from behind
Yet still outlying, I realized
from that purpose unfeigned
Am I near to the future?
Or just far from behind?
So, let's begin the voyage to find
But with your hand in mine
Could never forget this amble and would miss it every moment! Then our sojourn shifted to the Sunrise Hotel, San Pedro. A beautiful and tranquil port community in the southernmost part of LA, which is a sailor's and an ocean lover's destination. It seemed like we landed in the Far East, a lot of Asians, apparently, but fewer people in general. While our stay in San Pedro, our bucket-list was full of beaches. The first place to visit was White Point Park and hence, the White Point Beach. Mihir just googled - 'beaches near me' - and we drove there just like that. As we started getting close to this mountain beach, the road was getting beautiful. While the sunset was on the verge at the right-hand side of our car's lane, we were mesmerized to see the radiance of the Sun falling on the opposite side where gorgeously built houses on different gradients felt illuminated. Supplementing this were teens on bikes riding along the tall and leggy palm trees, making me feel unbelievable. Wow! At the end of this road to the right was the White Point Park and after taking a U to a parallel road with a noteworthy downward inclination, clearly taking you off from an elevated town to the sea level where the white point beach was settled. The better view of this resplendence is from the white point park. A person like me could write a page or two just depicting the beauty of it. What do you need when the beaches have benches? Just a fine view and a bit of seclusion. We talked less sitting on that bench, hence reflected more. Even on the last day in San Pedro, we visited White Point Beach and bid goodbye to this wonderful town.
In between there were Laguna Beach, Hermosa Beach and Venice Beach to cover. Each of them had an unrepeated attitude. Laguna beach is the surfer's paradise in the day and at night shores seem extremely delightful and well-to-do; resemblance of a panache. We simply kept wandering around its streets till we felt lost. Next was Hermosa Beach. We reached there very late in the evening, so we missed prospective scenic day views. However, it had just what I wanted - the pier! I was relishing déjà vu. Hermosa Beach is the kind of like a place to surf, eat, shop and party. Near the start of the pier, the street is filled with sophisticated restaurants and urbane pubs. Hermosa beach was our haunt for the 31 st night because we were on a budget, else it would have been either Markus Schulz at Avalon Hollywood or Maroon5 in LV or Tiesto at Hakkasan, or even Jay Leno's stand-up. Guess what, all of those were cheaper than Jay Leno's show! On the other hand, the Venice Beach was lively, but somehow, we missed to take a glimpse of its Canals. Damn! The shore of the Venice beach was interesting and full of people: Street-ballers in the court, open gym enthusiasts at Muscle Beach Gym, ex-home of none other than Arnold Schwarzenegger, kids having a good time at the Park, and I & Mihir were struggling to walk in that soft sand to reach the shoreline. Yet, I have been lucky to capture some really good pictures here.
It really is the city of angels! Next stop was the Sin City - Las Vegas. The first night we spent at Tuscany Suites. Beautiful place to stay, with an affordable price-range and spacious rooms. We checked in late afternoon and took a long power-nap, confusing eh! We drove to reach Fremont Street and strolled around the area. It was colorful, delightful and sometimes grey. Middle-aged men, trying-to-pretend-as-business-men-but-poorly-failed-at-it, were striving to sell strip-club passes for free. One guy got tired of people saying no and yelled: "Why did you guys come here? Business? Nonsense." and I said, "no, cuz grand-canyon is just two hours from here, that's why you moron!"; and we trotted from there like a whiff in the wind. Maybe he got pissed off, I don't know; if he did, in your face buddy! Candidly, I would say, the bar of exhilaration from our road-trip was really set high in San Diego and Los Angeles, and Las Vegas was giving us this ambivalent feeling which was at-least irritating me and at some points, all those shiny streets were seeming so mock. However, more inclination of excitement was to enter the MGM Grand next morning (sometimes spontaneous decision can be constructive: D). After hitting the gym in the morning at Tuscany to balance our recently infected immune system, we checked out, guzzled at the Chipotle and drove to check-in the MGM Grand for two nights. Everything about it seemed so big, right from the parking lot to the Casino and from the number of rooms to the resident-artists, which were Tiesto and Calvin Harris. We checked-in first, got the keys, drove our car in the parking lot, opened our trunk, rode our suitcases to our allotted room in the West Wing which was like 3 miles away from the parking lot. The lobby of the west-wing had such an elegant and grandiose architecture. Gives you a feeling of joy and satisfaction. MGM Grand was like a town in itself. That evening we spent exploring the hotel and sister hotels of MGM Resorts: The Mirage, New York and Excalibur, from where we took a tram ride to Mandalay Bay, but we missed Bellagio, The Venetian, Circus Circus and Caesars Palace (Yes, the one in the Hangover and not owned by MGM Resorts). Even we missed the Trump hotel, Errr do I need to mention that? Oh, I am confused!
We chose to have a tour of the Grand Canyon on our next day stay in Vegas rather than visiting shows and museums of MGM Resorts. Well, we should have but we were restricted to choose only one and we settled for Arizona. The early morning bus would pick us up at the west wing entrance and will drop off at the same place in the late evening. The bus picked us up and several tourists, nearly, around 6:30 am and dropped at us at a rendezvous point from where we were instructed to step-in a corresponding bus for a specific tour. We hopped in, the omnibus was pretty good, and free breakfast settled our mind. The road journey was extremely beautiful and when those reddish-grey mountains started fading in, one can feel that it was the end of Nevadan flavor and start of the Grand Canyon State. The tour guide was a very nice gentleman and kept updated with whatever the route was passing through with interesting trivia. One of them I remember was that he said: MGM Grand is so big that if a person were to sleep in each and every room, it would take more than 13 years to complete his/her wish. The first tourist attraction was the Hoover dam and the route to it was so calm and beautiful and carved around red dry hills. It is located on the Black Canyon of Colorado River on the border of Nevada and Arizona. A layman, like me, could simply watch, absorb and agree with it being an engineering marvel. We halted for about 30-35 minutes, helped ourselves, clicked photos and just were amazed watching this complex beauty. Next stopover was at a local shop in the city of Kingman where its red sidewall was scripted with the historic Route 66, which connects Chicago to Los Angeles! And there appeared a Cowboy, like a real Cowboy with a Horse. He was in abrupt demand, instantaneously, for selfies. We were just getting a lay of the land and observing. How beautifully does each and every state embrace and nourish a unique indigenous culture?! After a half-hour stopover, our tour guide (Mr. ex-army man), gestured to continue our journey and get on the bus because time's up ladies, enough with the photos! It was then directed to the GC's south rim with just one stopover to fill up the bus's tank.
The beauty of the Grand Canyon is immense, startling and so real. I would suggest visiting, staying and experiencing the presence because I won't be able to elucidate about its unreal grandeur here. However, I penciled-in this;
THE GRAND CANYON
Poke me or prod me
Just let me be here
Don't unsettle me
Only that is my fear
I am connected
With this far-out boulder
Can you help and usher me?
To your secret sphere
And I will cherish you, like none of your peers
Now poke me or prod me
Forever and here
and nothing can sway me
Neither Specter nor Spear.