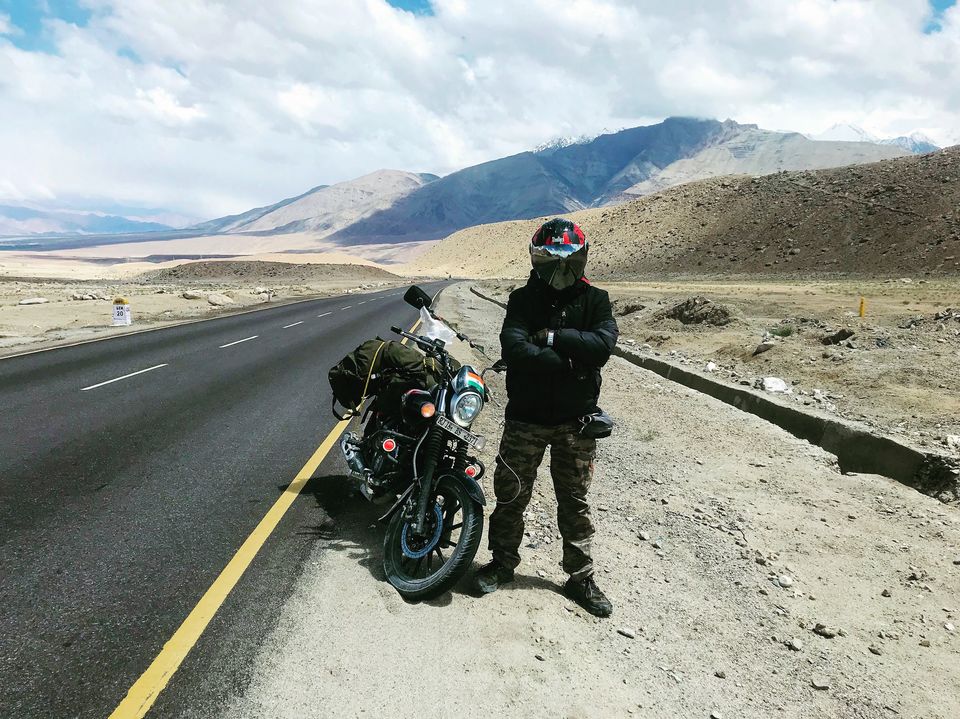 Just after my Collage I wanted to go somewhere peaceful away from everything
And Ladakh was a Dream.
Reached Jammu And stayed at friends place got my free sprit ( Bajaj Avenger 220 street ) Serviced
In just 5 days of exploring Jammu ( mansar lake ) in which i had fever.
I got to know that Jammu is nothing but an ironic place at which the temp was 45c but yes you can see Snow clad mountains !! yes
we reached Leh City
https://www.instagram.com/p/By66JkLpac6/
Two days of rest at the Himalayan Bunker to get acclimatization with the altitude and local Site seeing we covered ourself with amazing local food , soups, we visted Shanti Stupa and spent whole day resting while our permits are getting ready.
We Started at 10 am for Nubra and one of the world's highest motorable road and pass the MIGHTY KHARDUNG LA was waiting for us. The 45kms bad roads, good roads we finally reached to the zero points.
The best experience of my life after that we had moved ahead and had a stop at North Pullu
A Beautiful Sunny Morning we had our breakfast and Left for Durbuk check post bia Shyok Valley.
While we had our tanks filled and took extra fuel at Diskit we moved to the next spot the Deserts ???? of Nubra wow !
Chenani-Nashri Tunnel 9.8kms and probably one of the Asia's longest tunnel ( semi automatic)
A 7 hours of journey in just 10 mins yes now you don't have to travel towards Patni top.
And just after you cross the tunnel wooah valley welcomes you .
So after the entire encounter with valleys, shooting stones , deep curves
and reached Sri Nagar.
3rd highest motorable pass.
We reached back to Kargil and with same route we ended our trip at Jammu with bag full of memories
Additionally - Cost for Entire Trip To and Fro
Total Fuel 5000 Bajaj Avenger 220
Stay at Dal Lake 2 nights - 500 Rs along with breakfast
Stay at Kargil 600 2 nights
Stay at Leh 2 nights 600
Stay at Nubra One Night 300
Permits 700
Food - 2500
total days - 16 days
My early preparation was keeping minimum stuffs a winter coat , a jeans , two lowers a pair of shoes , ridding gloves , helmet , dslr and a Gopro thats it .
Rest everything I couriered it home.
Did so many research what to do what not to do .
I wanted to keep it minimum .
The bonus was
My roommate was from Jammu so here it all Started .
Ladakh And Dreams


Share
when you are alone, you have to carry each experience with you like a secret, something you have to write on your heart, because there's no other way to preserve it." #biker #valley #lehladakh #ladakh #ladakhdiaries #travelgram #rider #travelphotography #traveblogger #travel #bikergramindia #mypixeldiary #indianblogger #nature #naturephotography #kargil #instapassport #igers #wanderlust #wanderer #travellingthroughtheworld #himalayas #highwaysofindia #mypixeldiary #mountains #motorcycle #backpacking #india
I started for Ladakh ' my actual journey and here comes the expenses.'
So Srinagar is 290 kms uphill journey with shooting stones and lil bumpy roads and high winds
Till 80 kms the road was high class straight a lil curvy but being a civil engineer the best thing came in front of me
Yes the house boat is love i still miss that ... #Beautiful #Peaceful
I took rest talked about how is life here . Next day was Eid and I thought it will be great if i would leave early as Zojila was waiting for me
The first ever pass of my life
The night was rainy and I not able to sleep as I was nervous seeing the videos of the terrain already and then this rain.
Oh my dear God , I am scared and I am really scared. But early morning came to be sunny.
Started early morning near about 6:45 am & the first sight of Sonmarg was beautiful. Made some friends on the roads who were also riding towards Leh that day. My next stop was Kargil.
So green and beautiful , So Apart from few Patches of bumpy roads doing Zojila we managed to reach Zero Point , my first ever high pass. After having a cup of coffee at the Zero Point and the yummiest Maggie we Started for Drass - kargil
Riding at a speed of 40 - 45 kmph enjoying the valley we reached Drass The Second world's coldest inhabited place. The lowest temperature recorded in Drass ever was -60°C on January 9, 1995, according to a BRO signboard.
Payed Homage to the Martyr of kargil and reached Kargil. in Kargil we Stayed Cho ko In a Beautiful place with hot water and friendly people.
The next morning we started for leh city. Beautiful roads with two high passes waiting for Namik la Fotu la the day was quite adventurous.
A Refreshing ginger Tea and a maggie and one Paratha we again moved forward for Nubra for the night stay.
The night was full of fun with Bonfire and music and Masti.
We rode from Shyok the valley of death with the high mountains
It was time to get our permits check at Durbuk Check Post and Say Bye ???? to the friends made on Roads .
They Left for Pangong and just 13kms away i took right to Shashikul.
I travelled 4000kms for this to teach monastery students of Shashikul.
Fun 3 days session of Public Speaking at CRS Senior Secondary School made us realise whats real Ladakh.
It was not even a public speaking session but a cultural exchange for me .
It was time to see pangong and I started again for the best experience of my life .
The beautiful Pangong Tso .
This beautiful lake took my heart forever what a scenic ride , after having aloo paratha and ginger tea I came back to the monastery
The next day it was planned to reach Kargil again while doing Changla