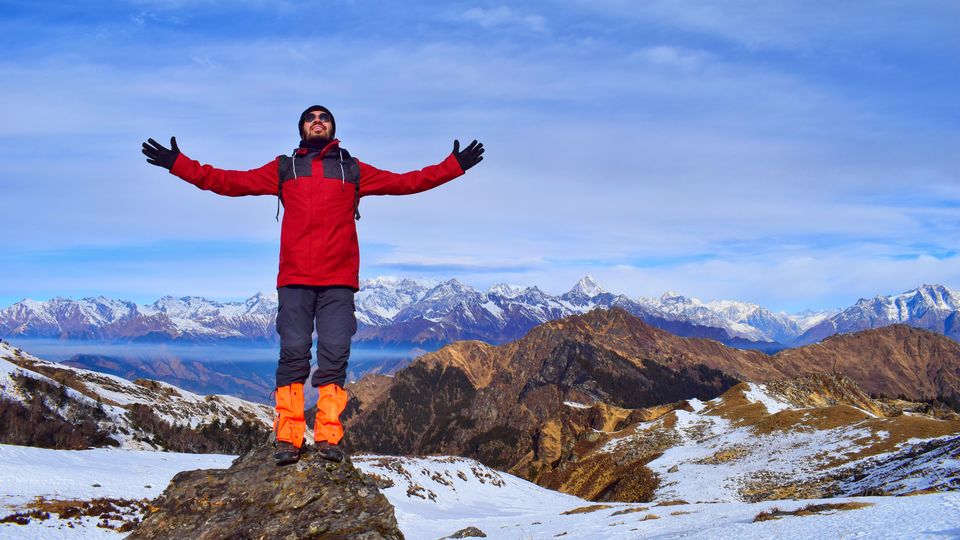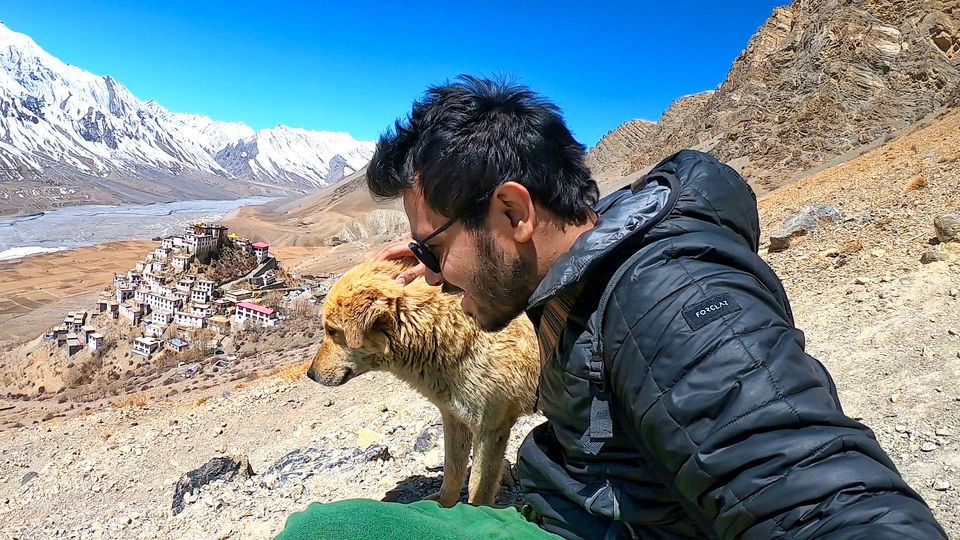 They say, "Once the 'travel bug bites', there is no known antidote. And I know that I shall be happily infected until the end of my life". It's been a long time now i've bitten by this bug extremely hard. 'CANNOT TRAVEL......WHAT???', the worst nightmare of any traveler, isn't it?
We all will remember March'2020. Well, who thought of an invisible thing, a virus, will come into our lives and hit us so hard that it will affect not only a country or a state, or a district, but smack on the individual level. Everyone had their New Year resolutions, things to achieve, places to travel and what not. That year was indeed harsh on all of us.
Talking about myself, a person who just started his YouTube journey, it was extremely heart breaking. The lockdown started with cancelling of my very first International trip (Thailand it was!). Dreamt of beaches in Phuket, Krabi, Scuba, Island rides, making a video series and what not, but the whole year till September went inside the 4 walls :(
But, always thinking the positive side, i utilized that time enhancing all my skills (apart from job), be it my physical health, cooking or my video editing skills. And, yes i did prepared myself to hit on the roads again as a strong person in October'20 with all the COVID Protocols & guidelines. Here're few of my trip, the new way of travel, the challenges i faced & the way i manage these trips, since the lockdown restrictions were removed:
1. Nainital
Travel Dates: 3rd Oct'20
How i managed: This was a family trip planned after sitting the whole 6 months at 1 place i.e., home. It was a weekend trip from my hometown (Meerut, UP) with just 1 day Office Leave (obviously why would the office say no after so long :P ). It was a great family outing after a long time though.
Challenges faces: Mask is the very first thing this time on the roads. Haven't imagined myself exploring the places by wearing a mask. You also needed an e-pass while travelling to the other states, that was something new and never thought of. Social distancing in a country like India, woahhh, that's next to impossible. Holding a camera after 6 months for a YouTube video was one big challenge.
2. Rishikesh
Travel Dates: 16th Oct'20
How i managed: Hey, you already had your 1st Pandemic trip, now who'll stop you :P Another single day planned leave from the office (+weekends) and hit the roads this time on a motorcycle this time to check one of the bucket list, i.e., Bungee, Swing & Rafting in Rishikesh. Full power adventure scenes. Felt like, 'I'm back again!!'.
Challenges faces: E-Pass is now an experience this time. Well, seems like there was no checking this time on borders too. Easy to reach. But wait...A place like Rishikesh flooded with people was so empty, that's bad for a city, but obviously good for us (social distancing :D). Being a budgeted traveller, this time you prefer to stay in a good hotel then a hostel obviously.
3. Kedarnath Yatra
Travel Dates: 22nd Oct'20
How i managed: When office itself says, 'take a day off (23rd Oct) for the mental health', and travel is your best therapy. Back to back weekend trips this time with just 1 leave (22nd Oct), a 4 day trip to 'Kedarnath Dham' with the college friends this time (meeting after so so and so long). The most beautiful trip of my life and a great game changer for my YouTube journey (848K views as per today).
Challenges faces: Convincing college friends, hahaa!!! Yes, that's also a challenge. E-Pass and wearing the masks is now a habit :P Landslide in Uttarakhand is one challenge we faced in this trip. 16kms steep trek/yatra after such a long time is another.
4. Kuari Pass Trek, Uttarakhand
Travel Dates: 19th Dec'20
How i managed: This time, travelling after 1.5 months. The COVID situation was getting better that time and the whole 1.5 months went in friends meetups, wedding season, diwali and what not. This time, it was a 4 days planned leave(21st to 24th Dec + Christmas Holiday, 25th Dec)- that makes a pretty amazing long weekend umm! Being an IT guy, the December month is somewhat a free time for all of us, and guess what, if would have not taken these leaves, the would have collapsed (PS: only a certain amount of leave you can carry forward). Let's hit the road again for one of the dream treks of India. Completed this 5 days trek in just 4, what an amazing group that was! <3 Also, one of the favorite 3 part web series on my YouTube.
Challenges faces: E-pass was not compulsory in December, but the masks were while travelling. COVID fear felt gone at that time, but the fear was somewhere at the back of the head.
5. Chopta Tungnath & Chandrashila
Travel Dates: 23d Dec'20
How i managed: Remember i said in Kuari Pass Trek, "Completed this 5 days trek in just 4, what an amazing group that was! <3", the 5th day we reserved for the Chopta Tungnath and Chandrashila. Chopta was just 100kms from the end point of the Kuari Pass trek (Joshimath) and we made this possible by pushing 0urselves a bit as a team. One of the colorful treks i've every been too. Lucky been to 2 Kedars (Kedarnath and Tungnath) in such a short span. Sunset from the Chandrashila peak was just WOW! One of the cutest videos on my YouTube.
Challenges faces: Completing the 5 days trek in 4 was hectic :P but not much complaint being a traveller.
6. Jaisalmer, Rajasthan
Travel Dates: 23rd Jan'21
How i managed: First trip of 2021. Work from home is not yet over. Let's utilize the 26th Jan Long weekend and hit the desert roads this time on a road trip. A 2 days Planned leave and a 5 days Rajasthan trip to Jaisalmer and Jodhpur. Confident enough on the camera by now, explored the abandoned villages, forts and stayed at the Thar desert, felt Patriotic on the Longewala border, took the feeling of staying in the living fort of India (Jailsalmer Fort) and exploring the Golden city etc. One of the most rememberable trips.
Challenges faces: I feel January was such a month when everyone in India was just in a travelling mode again. Felt like 2021 came with No Covid year. Though the masks and sanitization were a part of the life everywhere, but felt like people didn't took that seriously (PS: i tried my best to avoid crowds and followed the safety measures).
7. Jodhpur, Rajasthan
Travel Dates: 26th Jan'21
How i managed: While coming back from Jaisalmer, 1.5 days in Jodhpur was a random scene for us, well that's what a beauty of a Road trip is. The 'Blue City' did surprised me. The Food, the buzzing streets, forts, touristy places etc., Jodhpur offers you everything. I still remember invited to a local's house and the best view of the Blue city from his terrace (as in my YouTube cover above). A city to be again for sure (3-4 days this time)
Challenges faces: Everyone in India seems chill with COVID in Jan. I was too scared in the Jodhpur where markets are full packed with people with not following the COVID guidelines, not even wearing the maskes. Let me say it again, "i tried my best to avoid crowds and followed the safety measures".
8. MahaKumbh Mela, Haridwar
Travel Dates: 9th March'21
How i managed: After a month break, and seeing a lot of people working from mountains or different places (which i didn't planned bcz of some other big priority trek), i decided to go to Haridwar with my laptop to feel the actual vibes of the Kumbh. It was the ShivRatri (Thrusday, 11th March) long weekend this time and i just took my bike and flew solo. The first 2 days were normal days there staying in the hotel and exploring the Akhadas and the scriptures Govt. made for welcoming the holy people.
Crazy and chaotic are the words that best define the Kumbh Mela. Amidst the intermittent chanting of mantras, the heart rendering dance of the Aghoris and the holy ghats lit up with fiery diyas, you will have no chance but to go with the flow. The Kumbh Mela, will not just lend you with a day's feeling but a mind boggling experience of a lifetime. Such an electrifying environment that was!
The Kumbh video was such a success that it cossed 1M views mark!
Challenges faces: Though the COVID negative RT-PCR report was necessary in the Maha Kumbh as per the COVID guidelines, but there was no one to check on the borders (PS: i took my negative RT-PCR report as a responsible traveller). This made me a little worried too, but yes, i took this risk of my life and went there like 'Go with the flow' attitude this time. I feel attending Kumbh was the biggest risk of life i've ever took.
9. Nag Tibba Trek, Uttarakhand
Travel Dates: 12th March'21
How i managed: 12th was Friday and i thought of returning home after kumbh, then i suddenly realized that i might got affected by COVID and took a decision to return home after 3-4 days rather immediately the same day (it was about the safety of the family). So, i decided to go for the Nag Tibba trek from 12th to 14th March, escaping again to the mountains. Trekking in the night to chaise that Sunrise on that top of the mountain will always be a great memory. The very first Night Trek on my YouTube channel.
Challenges faces: Just a fear of getting covid after attending the mass gathering of Kumbh. But, luckily i didn't showed up any symptoms returning back home after 3 days :)
10. Spiti Valley, Himachal
Travel Dates: 27th March to 3rd April
How i managed: I had a planned trip to "Mt. Everest Base Camp" trek from 1st May to 16th May, but when i rechecked my calendar, it was the 'Holi' and 'Good Friday' Long weekend this time. Well, another travel bug bit me that moment which made me go to this trip to the Cold Desert. Above that, a guy from my Tripoto Videographer's community was going here with a drone and asked in the group if anyone wants to join. I made a quick call to my colleagues and asked them to manage the work for 2 working days. PS: 27th, 28th was Sat-Sun, 29th was Holi & i randomly took 30th 31st as Leaves, 1st was Good Friday followed by another weekend :)
Going for a week long Road trip covering Kinnaur: Sangla (even the famous Holi), Chitkul, Peo, Kalpa etc. and Spiti (Nako, Tabo, Kaza, Hikkim, Langza, Komic etc) was a dream come true. Vlogs coming soon. Trailer out!
Going to Spiti was the wisest decision i've ever made, seeing the COVID situation in the mid-april till now India.
Challenges faces: Covid cases were rising in India for sure, but nobody imagined that a 2nd wave could hit all of us so bad. Another risk taken in the Pandemic thinking that things will be well as before January.
The Overall Experience:
Now, when i think of all these trips i feel there was always 'a risk of me getting covid-19' every time i went out. In the beginning of the Unlocking, the COVID guidelines were followed amazingly well, that's why the covid cases were less in India. But, as the time passed, we all thought that this is the end of the invisible virus. Maybe i too just forgot about that while travelling, or maybe i was taking all the preventive measures or maybe i was too lucky that i didn't faced the virus yet.
This 2nd wave of COVID has affected almost all of us directly or indirectly, and now, this 'travel bug' essence will surely gonna get down after this wave passes. All we can do is just pray together that everything just go back to normal as it was before March 2020. Till then, Stay Safe, Stay home, Stay Happy, Keep Learning and Spread Positivity!