A trip to Dubai was on my mind for a long time and last week I finally got a chance to indulge in its extravagance. As soon as my friends and I made up our mind to explore Dubai, we started planning the itinerary and booked a 5 nights and 6 days Abu Dhabi and Dubai holiday package with Thomas Cook along with some optional activities. Every day in Dubai brings with it a unique surprise which weaves indelible memories. I have always heard from people that Dubai is a lavish city, but now that I been there I can say Dubai is truly sumptuous. The city instills you with its energy, optimism and openness.
Let me elaborate my itinerary from Day 1 to Day 5.
Day – 1
Highlight – Yas Water World (optional tour)
We boarded an Etihad Airways flight from Mumbai at 9:30 am (Indian time) and reached Abu Dhabi Airport at 11 am (Dubai time). On our arrival, we were received and ushered to our vehicle by our tour manager for a 30-minute ride to Hotel Novotel.
As soon as we distressed ourselves in the hot tub of our lavish bathrooms, we got ready for the highlight of the day – Yas Water World. At 4 pm we left for some real adventure in Yas. This amazing water park is a milestone in the Middle East with 43 rides, slides and attractions featuring five one-of-a-kind rides that have never been seen in any other water park in the world. And hence the reason we chose to experience this on the first day.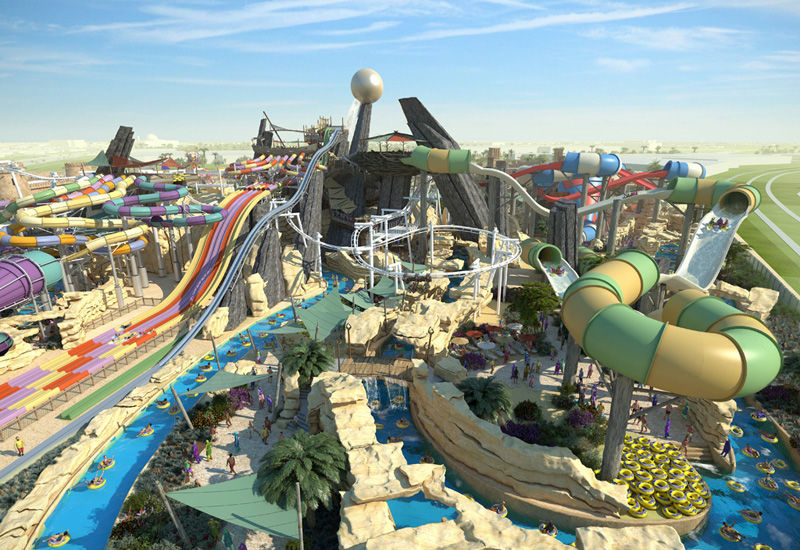 To make the most of adventure thrust, we opted for a gold pass, which gives you an access to all the rides. And, you need not wait in the snaking queues.
Bubbles' Barrel is a must try in Yas Water world. With a 3m-high wave and 1,250-horsepower pumps pushing 7,000 liters of water per second, Bubbles' Barrel packs some serious surf. The difficulty level is high. Don't miss out on Bandit Bomber, Dawamma and Amwaj.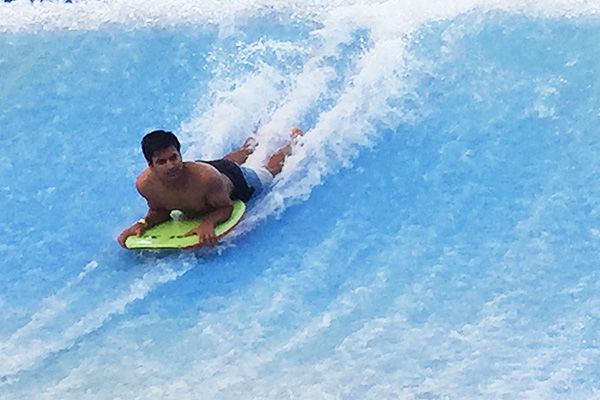 We were completely exhausted by 7 and left for the hotel.
Day 2
Highlight – Ferrari World and Burj Khalifa (optional tour)
I was quite excited for the second day, as our next destination was Ferrari World. Before that we had short trip to Sheikh Zayed Mosque, one of the most beautiful mosques I have ever seen. The graceful white marble facade and the intricate architecture is testimony to the impressive Islamic art. Apart from white marble, elements like gold, semi-precious stones, crystals and ceramics are used to embellish the interiors. If you can make time, do visit this beautiful architecture marvel.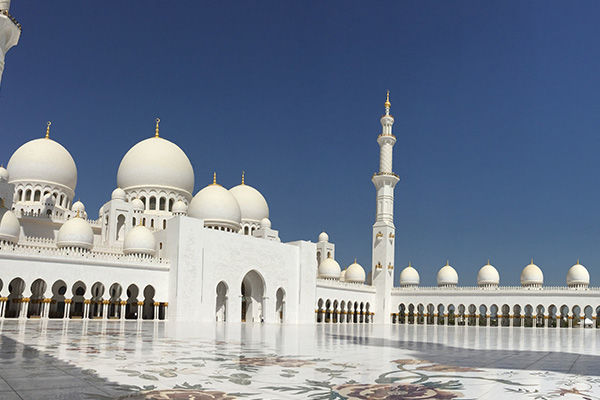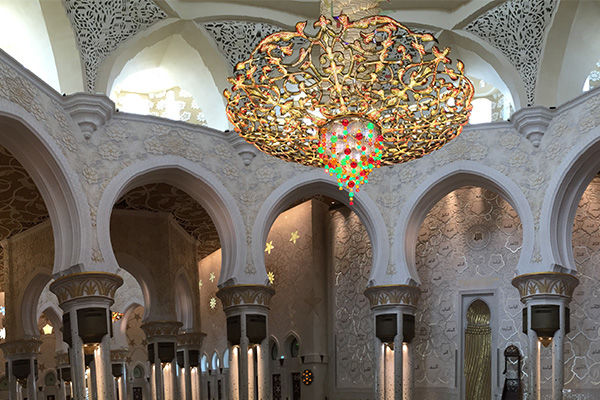 Finally, we reached Ferrari world at 9: 30 in the morning by tour bus. We took a walk through the fascinating Ferrari World Museum. If you love Ferrari, you may not want to come out of the museum.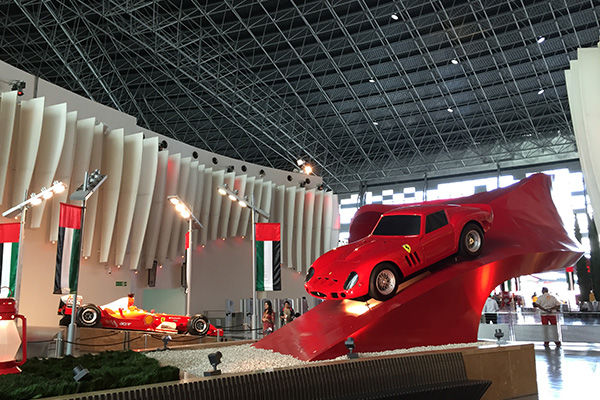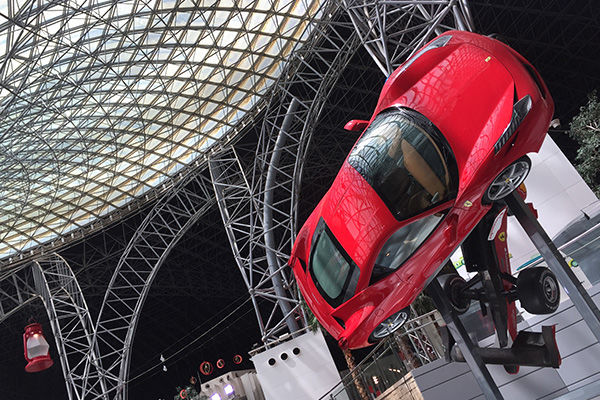 Many rides in Ferrari World are thrilling and trust me they not for the faint heart. We started from the most daring ride - Formula Rossa - which is also the world's fastest roller coaster. It takes you at a heart-racing height of 52 meters runs at a speed of 240 km/hr for just minute. Another heart-racing ride that enjoyed a lot was Flying Aces, which is the world's highest roller coaster loop hitting the speed of up to 120 km/hr. You can also try your hand at Go Karting to test your racing skills.
After grabbing a bite at one of the Indian restaurants in the afternoon, we left for Dubai and checked into Grand Hyatt Regency at 5 pm. Our room was on the 27th floor and offered a great view of Dubai's skyline.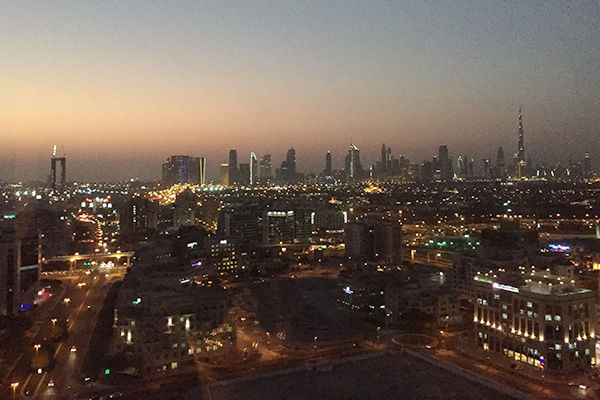 Acquainting ourselves with the larger than life Burj Khalifa
Evening is the best time to visit the tallest building in the world – Burj Khalifa. At 7 pm we reached Burj Khalifa, which is situated in the Dubai Mall. While I was excited for watching the much-touted Dubai skyline from the observation deck, the elevator in the building fascinated me before anything else could. This high-tech elevator takes you from 0 to 124th floor in just about a minute's time in smoothest way possible, which is quite a delightful experience. This was just a glimpse of this engineering marvel. Once we reached at the top, the breathtaking views swept us off our feet. It's truly a sight to behold.
Post dinner we went for clubbing in Madinat Jumeirah Mall.
Day – 3 (Day at leisure)
Highlight - Flyboarding
It was a day at leisure, but I made it a day full of adventure. Bitten by an adventure bug, I am always keen to try my hand at adventure sports. This time Flyboarding was on the cards. Since I did not book a slot well in advance, I had no option but to schedule my day as per the slot given by them. I was scheduled to reach at the destination at 3 pm.
I started my day with a nice long swimming session at the hotel and post breakfast left for the IKEA store, located in the Dubai Festival City. It's a world-famous store for home shopping. From furnishings, kitchens and appliances to sofas, beds and mattresses, you get everything under one roof at a nominal price. After scouring and shopping in the store for 3 hours, I left for Jumeirah Island for my fly board session.
Fly Board Session
It is important to keep in mind that flyboard is an extreme water sport that requires a little bit of strength and lot of confidence. It is definitely not for the faint heart. Before you go for the activity, you will be trained by experienced instructors. A flyboard is like a wakeboard with two pipes linked to a Jet Ski turbine and an 18 meters pipe, allows its user to go up to 10 meters from water. Apart from strength, you need to have a great sense of balance to stay in the air for a while. I could stay afloat in the air for 6-7 seconds. Not bad for the first timer huh.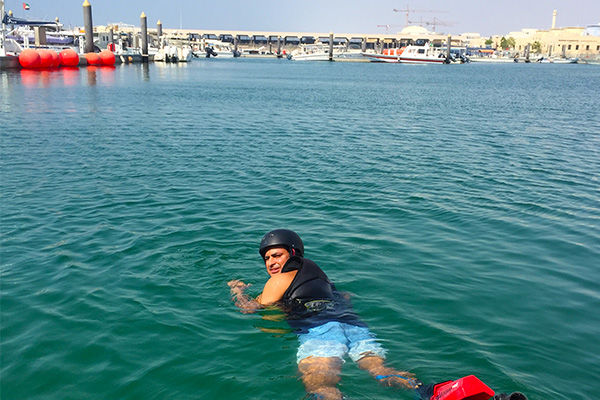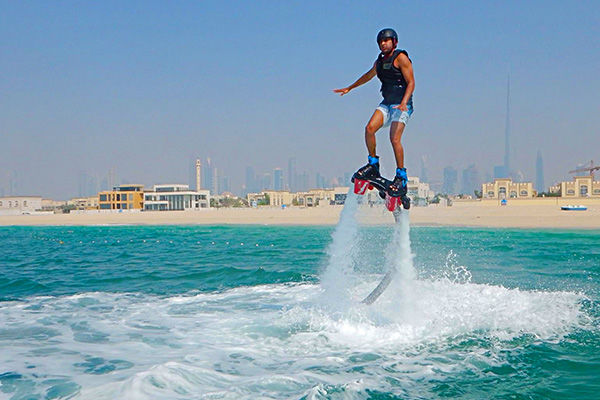 • Mandates – swimming
• Activity time – 20 minutes (if you can survive)
• Humidity can make conditions worse
• Cost – 300 AED ( INR 5,500 approx )
• You will need to drink a lot of water to hydrate yourself post this activity
I reached the hotel at 6 pm and relaxed myself in hot water bathtub with a glass of wine. After having a light dinner at 9 pm, we went out to explore the nightlife at of the pubs in Bur Dubai. And we made our way back to hotel at 1:30 am.
Day 4
Highlight – Limousine ride and Ski Dubai (optional tour)
Next day we were scheduled to take Dubai city tour in a swanky limousine. The luxury ride lasted for an hour and half and covered all major attractions including Dubai Creek, Burj Al Arab, and Palm Jumeirah.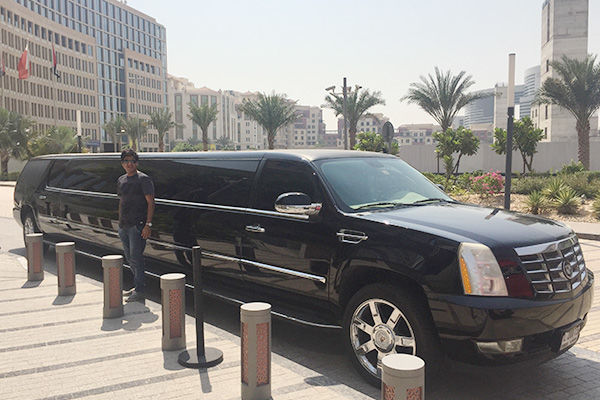 The limousine dropped us at the Mall of Emirates at around 11:30 am, where we started the much-awaited ski excursion at Ski Dubai. This indoor ski resort maintains an average temperature of – 2 to – 4 degree centigrade. Ski and desert safari on one land; only Dubai can make it possible.
Costumes and lockers will be provided, but you will need to purchase gloves and caps. I would suggest carrying it from your home.
Once you are done with ski, you can shop in the mall and make your way back to the hotel.
Day – 5
Highlight – Dubai Marina Bay
Since it was a day at leisure, I decided to make the most of my last day by exploring Dubai Marina. Since it was a journey from one end of the city to another, it took me 25 minutes to reach there. I met a friend who lives close to the Bay area and went out to eat one of the famous restaurants.
Being a Friday, we found most of the places shut in Dubai. We headed to have brunch at a cool joint which specialized in egg-dishes. We hogged, had an Indian tea (I was craving for this since a week).
Within an hour we headed for lunch. Later that day we had to head towards Abu Dhabi airport. It's 1.5 hour drive from Dubai. Hence, I headed back to hotel to complete the check out process. The trip ended on a high note since i was able to meet my old friends.