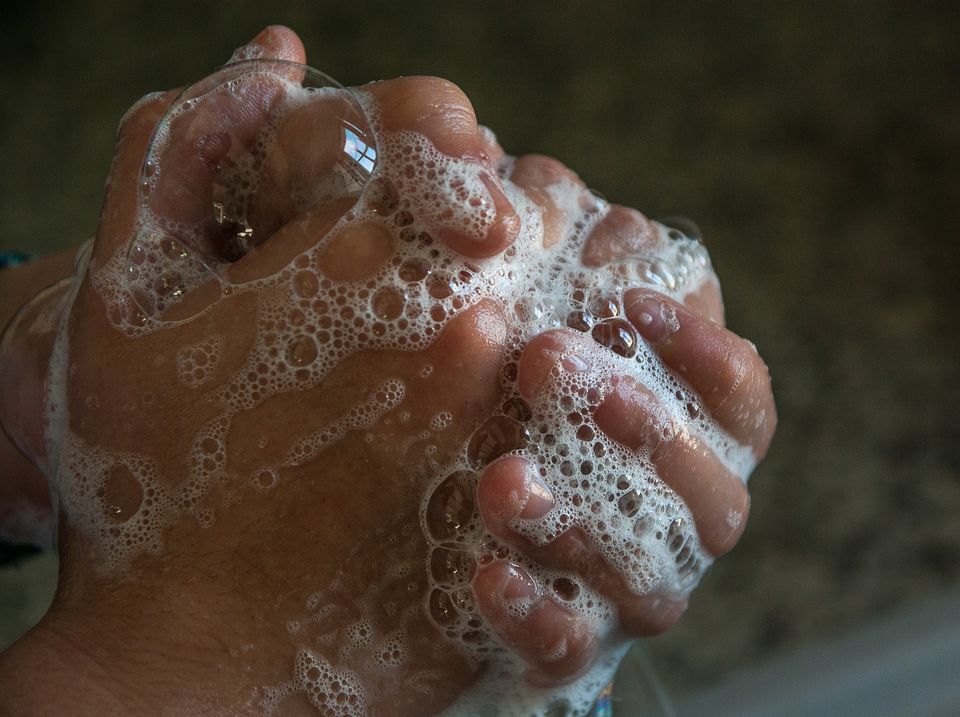 There's a new strain of the influenza virus going round this flu season and it's been described as being particularly nasty. In fact even the NHS is said to be underprepared for this flu season altogether this year. So now more than ever it is really crucial that we all wash our hands when we need to and do so correctly to stop the spread of diseases like the new Australian flu virus lurking about this flu season.
Here then are five reasons including advice, studies and statistics to show how, why and when you should wash your hands properly:
1) The shocking stats
It was found in studies conducted a few years ago in 2013 that 95% of people didn't wash their hands properly, despite the serious risks that not washing your hands properly entails. People are therefore seemingly unaware that they are washing their hands incorrectly so it is imperative that we make the effort to get the necessary information out to the public to inform them on how to wash their hands properly.
2) In fact some people don't wash their hands at all...
In recent studies conducted in 2015 it was found that 62% of men and 40% of women do not wash their hands at all after they've been to the bathroom. This was the largest study conducted to date and it involved a sample of 100,000 people in society. However, in reality there are likely to be even more people who do not wash their hands after going to the toilet as a lot of people in the study do not want to admit that they have unclean habits to the researchers.
3) Reasons why you should wash your hands
If everyone washed their hands the World Health Organisation (WHO) predicts a number of incredible things will happen. For a start, if people did wash their hands on a regular basis then 1 million lives could be saved each year, there would be a 16% reduction in respiratory diseases, and a 50% reduction in diarrhea related diseases. Thus, not washing your hands really does have real world consequence, despite how insignificant and annoying it may seem at the time.
4) When should you wash your hands then?
It is crucial to know when you must wash your hands in order to prevent the spread of infections when you are most at risk. To help you know when you are most at risk from diseases the Centers for Disease Control and Prevention (CDC) has composed a list to show you when the best times to wash your hands and prevent diseases are, and times they include are:
1.Before, during, and after preparing food
2.Before eating food
3.Before and after caring for someone who is sick
4.Before and after treating a cut or wound
5.After using the toilet
6.After changing diapers or cleaning up a child who has used the toilet
7.After blowing your nose, coughing, or sneezing
8.After touching an animal, animal feed, or animal waste
9.After handling pet food or pet treats
10.After touching garbage
How should you wash your hands properly?
To wash your hands the right way it should take at least 20 seconds and it can be done in warm or cold water. Using soap is always a good idea as it kills the germs on your hands instead of just rinsing some of the germs off with water. However, if there is no soap available then an alcohol based handrub is the next most feasible alternative.
More so, it is also equally important to work up a lather by rubbing the palms of your hands together, then you can rub the back of your left hand with the palm of your right while interlacing your fingers. Repeat this process with the other hand. Next rub the palms of your hands together with your fingers interlaced, then remember to clasp your thumb and rotate it around inside you hand and rub your fingernails into the soap in the palm of your hand to get all the germs, even the germs hiding behind your nails. Finally, you can rinse the soap off your hands and then dry your hands with a preferably disposable towel if you really water to rid your hands of germs...