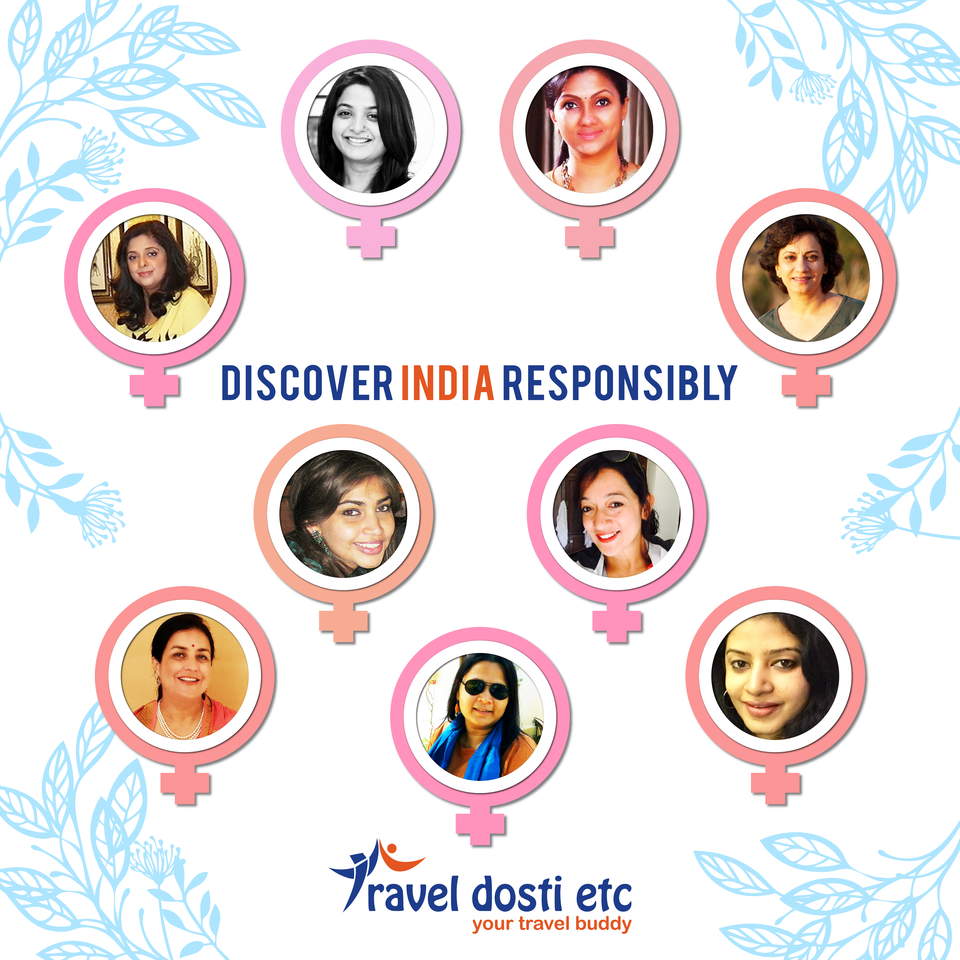 As a part of my research, I visit several boutique resorts across India. During these trips, I have been fortunate to interact with few women who are changing the face of tourism. These women are creating awareness about the perils of irresponsible tourism, promoting the local art and culture to their patrons, providing livelihood to the locals, and are actively participating in protecting flora and fauna of the land. As firm believers of responsible tourism, my team and I found it to be an apt opportunity to approach them for their views on responsible tourism. We invited eight dignitaries to tell us about what responsible tourism means to each of them, and how we as tourists can contribute to it. They were gracious enough to share their views with us. Today, we are going to celebrate these women by sharing their thoughts with you. Enjoy reading!
Ms. Tulika Kedia, Singinawa Jungle Lodge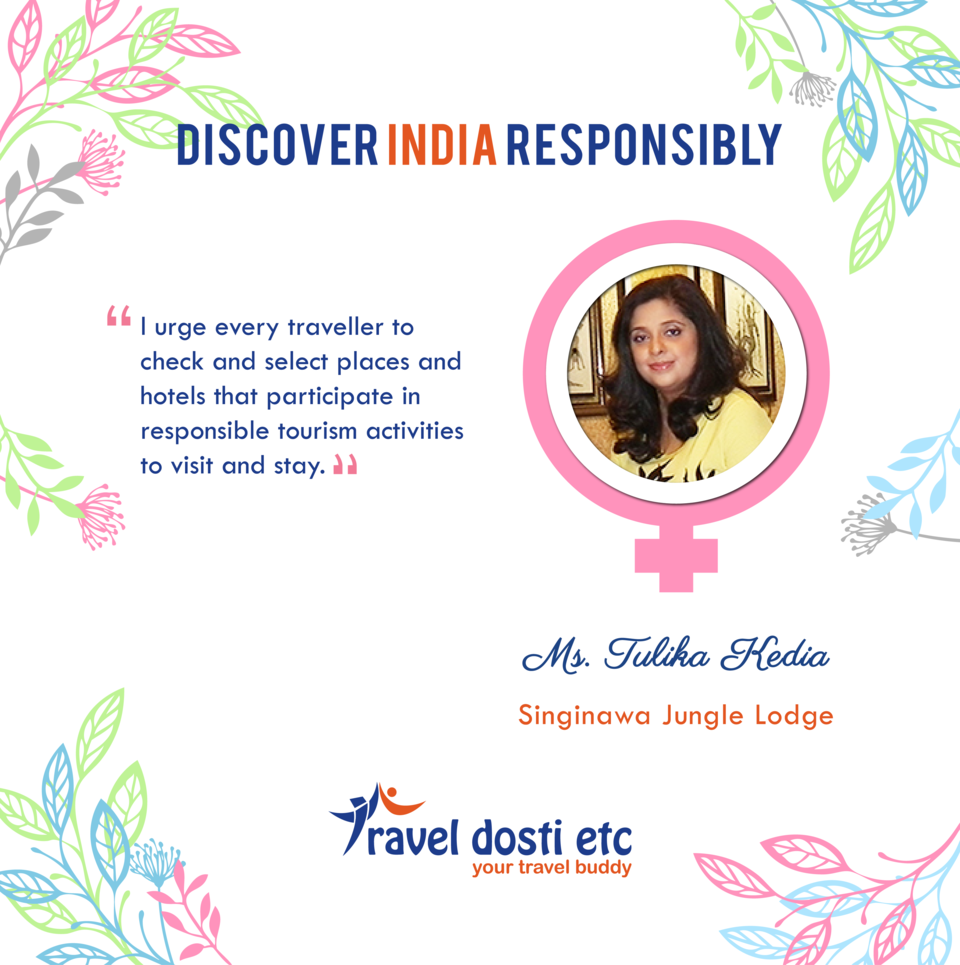 A renowned connoisseur of art, Tulika Kedia defines a responsible tourist as someone who visits a place and leaves without affecting the social or environmental well-being of the place negatively. Tulika is actively involved in promoting the tribal art form of Kanha on a global platform in her Must Art gallery. She promotes artifacts created by the Gond and Baiga tribes and plays an active role in the conservation of wildlife in Kanha in close association with the forest department. She and her team at Singinawa Jungle Lodge also encourage their guests to reduce their carbon footprint by asking them to plant a sapling before leaving the lodge and contributing to the reforestation of the buffer area in the forest. Tulika urges every traveller to check places and hotels that participate in responsible tourism and select them to visit or stay and follow the rules of responsible tourism to create a positive impact in the destination they visit.
Ms. Meeta Prabhu, The Little Earth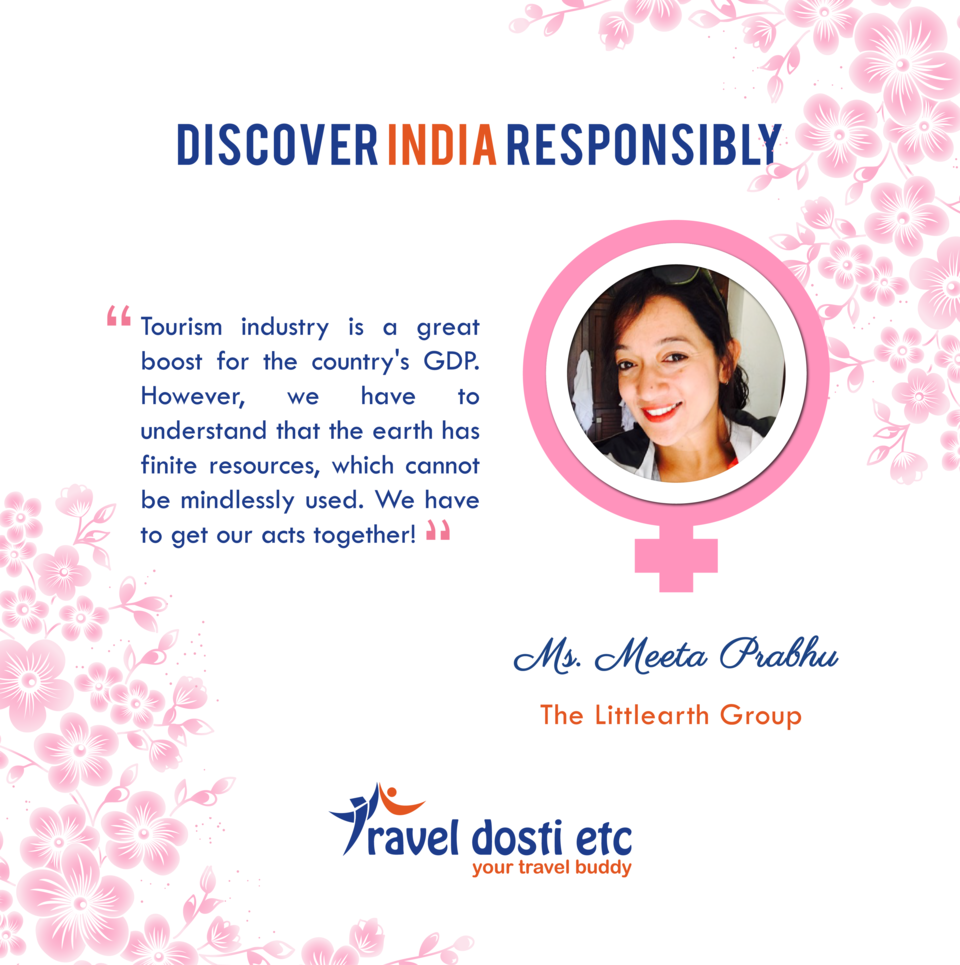 According to Meeta, responsible tourism is a two-way responsibility that should be practiced by the guests as well as the hotels. Citing example of her resorts, Meeta explains how hotels can practice responsible tourism in small ways such as segregating dry waste from wet waste, hiring as many people from the local areas as possible, reducing dependency on plastic by shifting from small, disposable toiletry bottles to fixed dispensers, and promoting local trade by keeping their products in the gift shop. A leading activist in Ooty's cleanliness drive, Meeta says that while tourism plays an integral role in boosting the country's GDP, it is also becoming the largest contributor to damaging the environment. She requests every traveller to respect the finite resources on the planet and consume it mindfully.
Ms. Poonam Dhanwatey, Wander Beyond / Tigress@Ghosri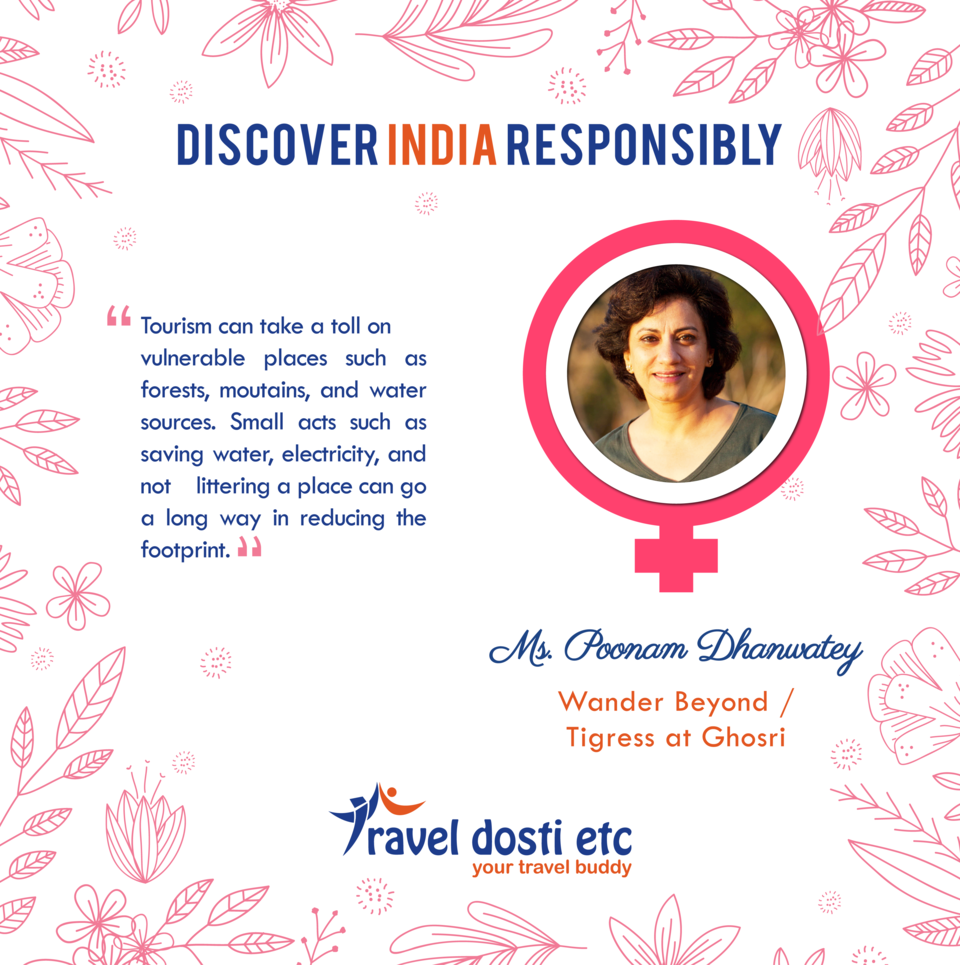 A renowned activist in tiger conservation project, Poonam and her husband Harshwardhan have been working relentlessly in the Tadoba region for more than two decades and have successfully transformed it from an unknown local forest to an internationally known residence of tigers. Poonam, who is also a sheriff of Chandrapur district, says that tourists are willing to participate in responsible tourism and the onus lies on the managers of the resorts to sensitise and educate them on the Dos and Don'ts of responsible tourism. She suggests that small gestures such as saving water and electricity, less dependency on plastic, less noise, no littering, can go a long way in preserving the sanctity of the place.
Ms. Mridula Jose, CGH Earth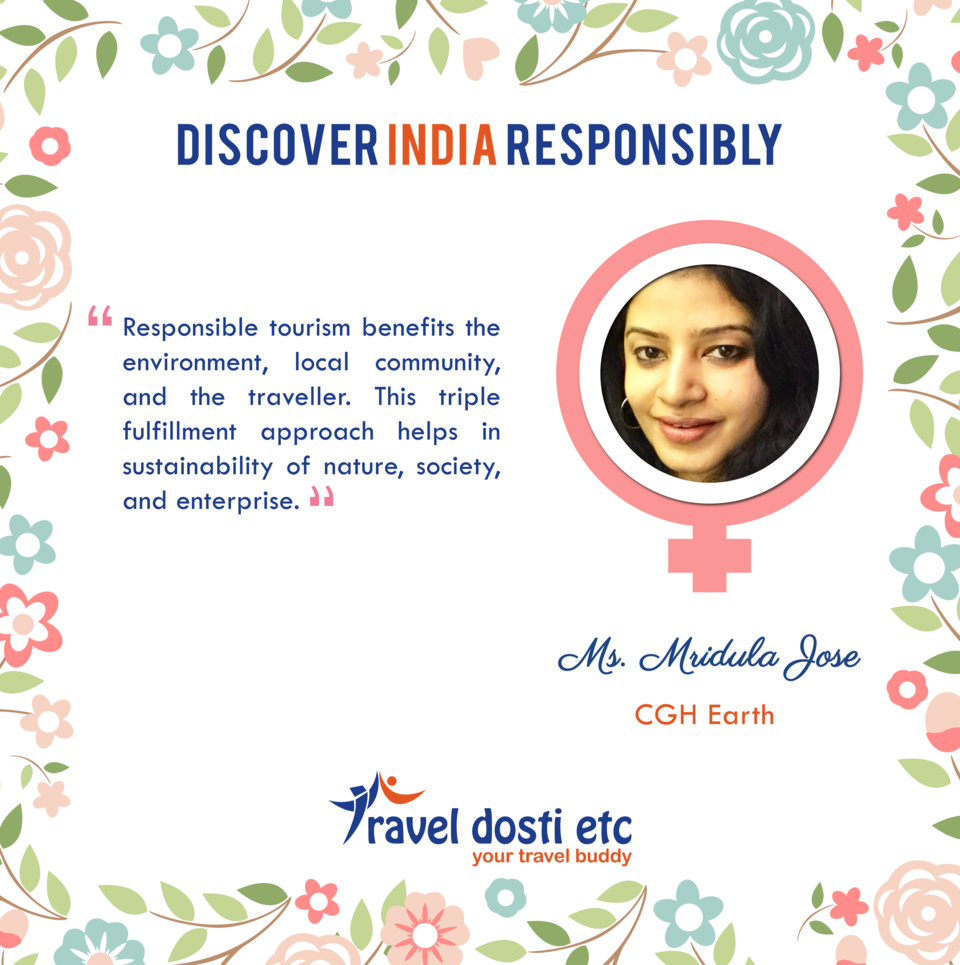 CGH Earth is renowned for its responsible tourism initiatives with every resort letting you explore the nature, community, and culture intimately. It integrates local art and craft, indigenous farming, local cuisine, and works closely and sensitively with the local community to provide unique experiences to the visitors. Mridula Jose says that responsible tourism is possible if businesses adopt environmental sensitivity, inclusion, and benefit to the community as their core values, and visitors make informed choices of holidays and align themselves with the values and culture of the land. She suggests a triple fulfillment approach of benefiting the environment, community, and the traveller to progress towards the goal of sustainability of nature, society, and enterprise.
Ms. Rashmi Singh, House of Rohet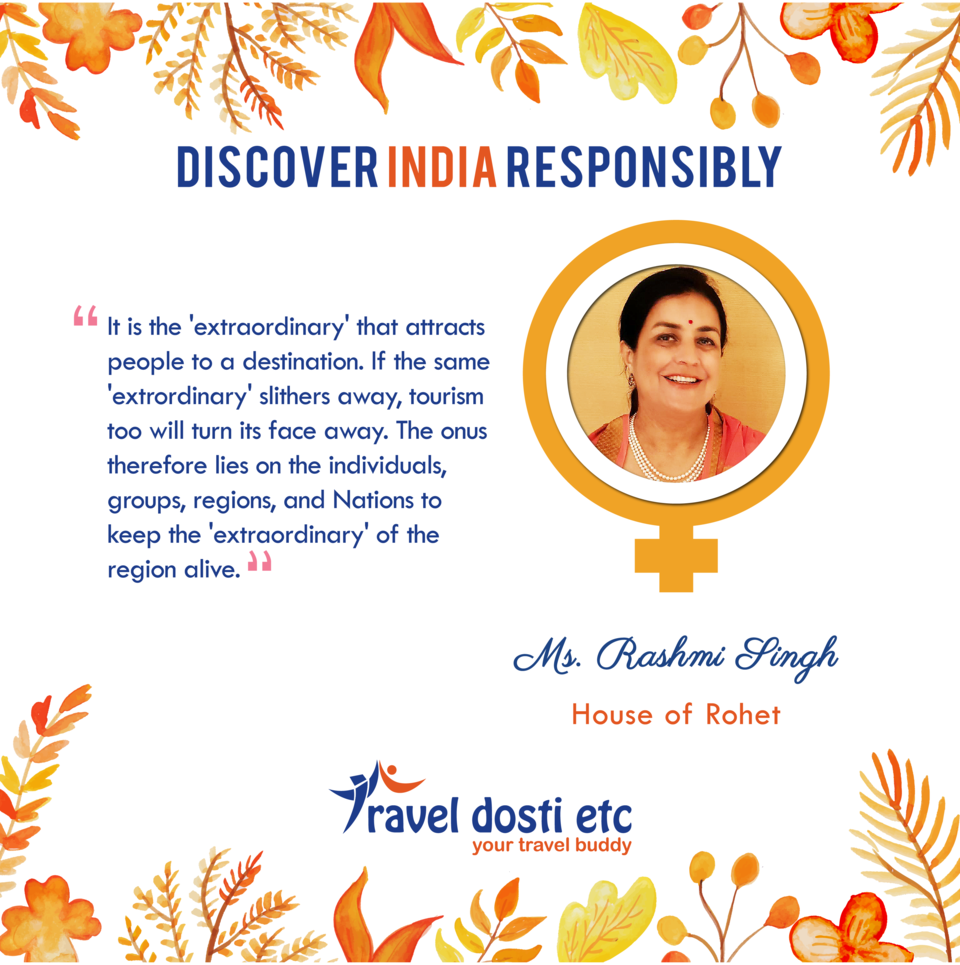 Rashmi and her husband Siddharth Singh are renowned for promoting the forgotten art and culture of Rajasthan in their beautiful heritage resort - the House of Rohet. According to Rashmi, there is something 'extraordinary' about every popular destination that attracts tourist from far and wide. But the moment that 'extraordinary' aspect slithers away into ordinary, tourism also turns away its face. She recommends that individuals, groups, regions, and nations must work together to promote responsible tourism and keep that extraordinary aspect of a place alive. Rashmi further explains that responsible tourism can be divided into three categories - responsibility towards the environment, responsibility towards the community, and responsibility towards heritage. She encourages everybody to follow these three aspects to promote responsible tourism.
Ms. Krithika Subramanian, Svatma Resort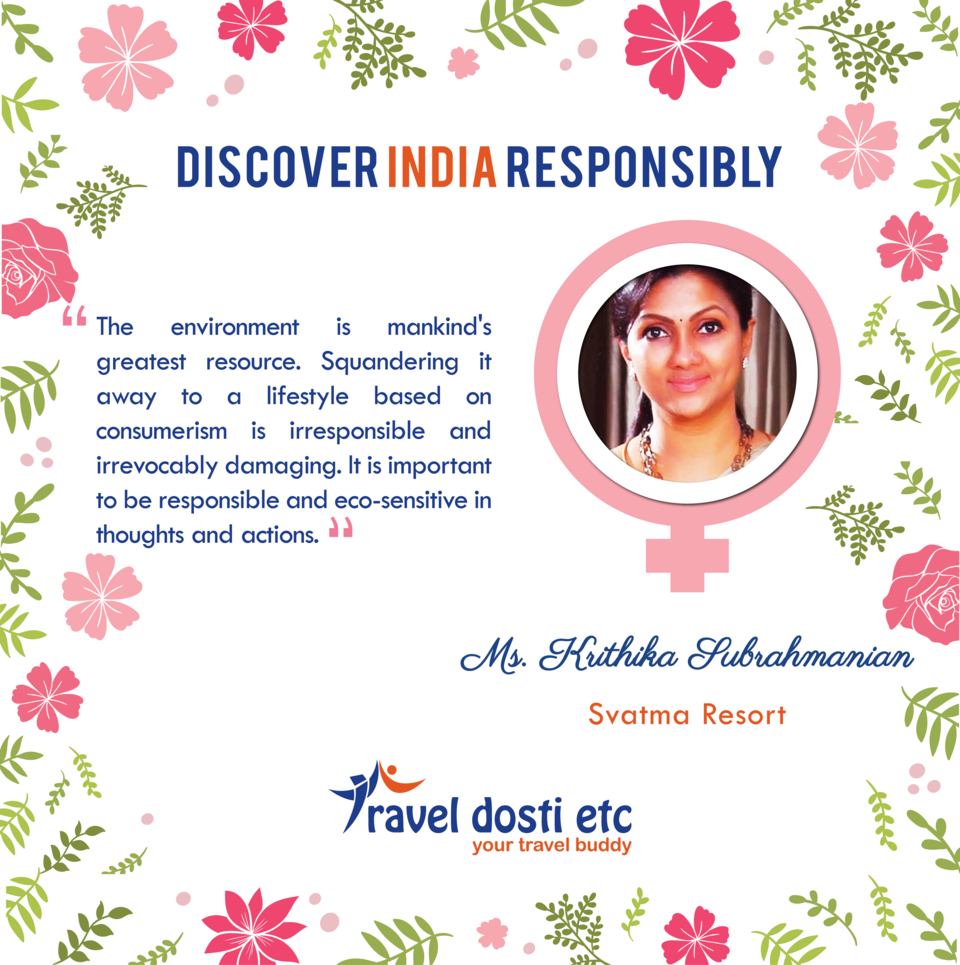 If you visit Svatma resort, chances are you will be an audience to a mesmerising music concert or a dance performance. Krithika is an avid supporter of Indian art and culture and takes the initiative to promote it on a global platform. Krithika believes a tourist can be called responsible only if they are eco-sensitive in their thoughts and actions. She encourages them to tune in to their surroundings by not causing damage to it and by appreciating the local sights, sounds, and flavours of the land when they visit a destination.
Ms Shubha Prasad, Java Rain Resort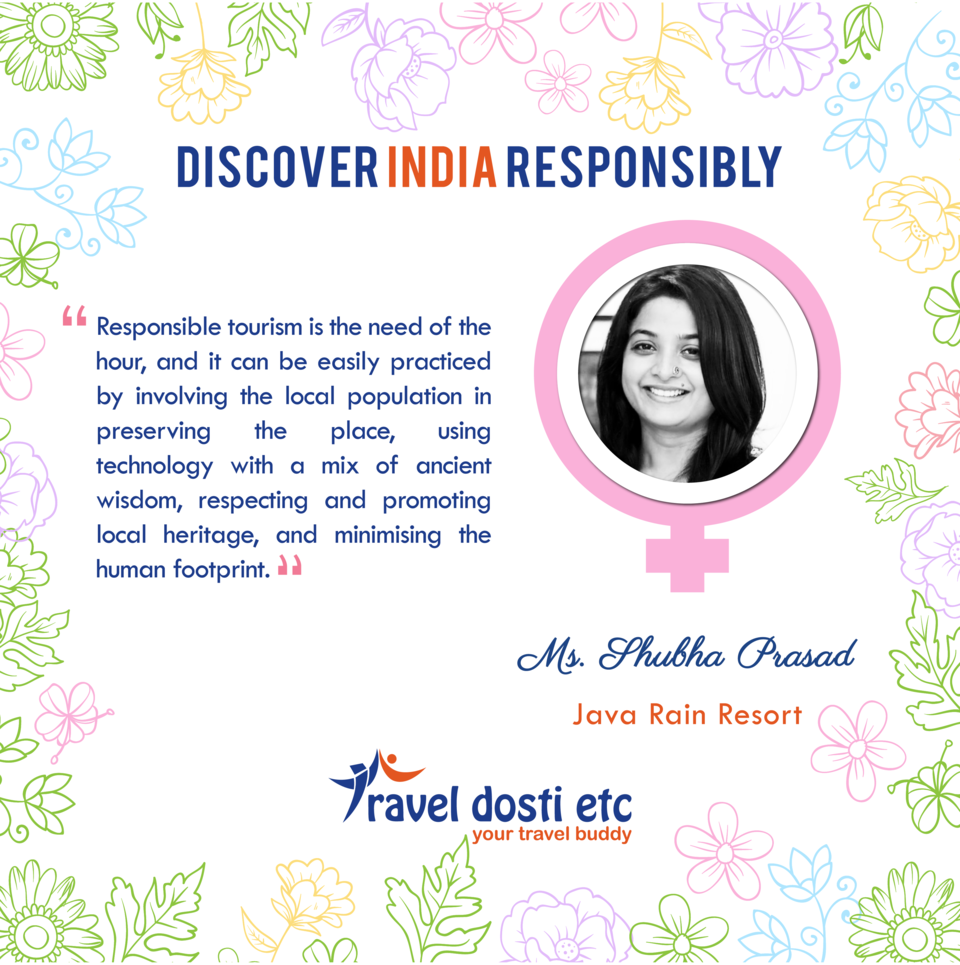 Chikmagalur is gaining popularity as a tourist destination, and a lot of credit goes to Shubha and her team at Java Rain Forest who have been working relentlessly to promote it. A leading anti-plastic crusader in Chikmagalur, Shubha promotes the use of jute bags and glass bottles instead of plastic in her resort. She is of the opinion that minimising the human footprint is the need of the hour. She also gives an example of how Java Rain conserves water through rainwater harvesting and saves energy by using LED bulbs to drive the point that resorts have an equal role to play in responsible tourism.
Ms. Ratika S. Ramachandran, Svasara Resort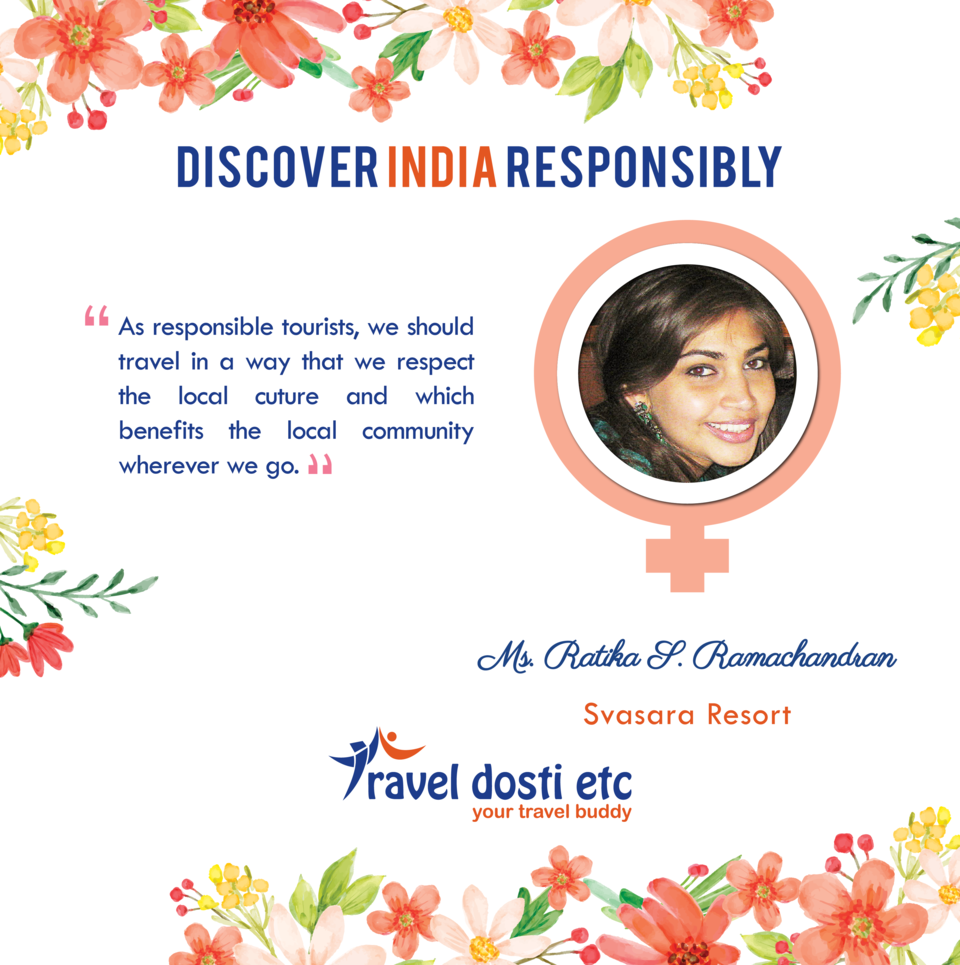 When you visit the Svasara resort, you will be surprised to know that the land where the resort stands today was once upon a time devastated by intensive farming and overgrazing. Today, there are more than thousand jungle trees and plants. According to Ratika, tourists should research about the place before they visit and select homestays or eco-certified accommodation. Ratika recommends that travellers should adopt a holistic approach to responsible tourism to maximise the positive impact on the local economy and society.
My take on Responsible Tourism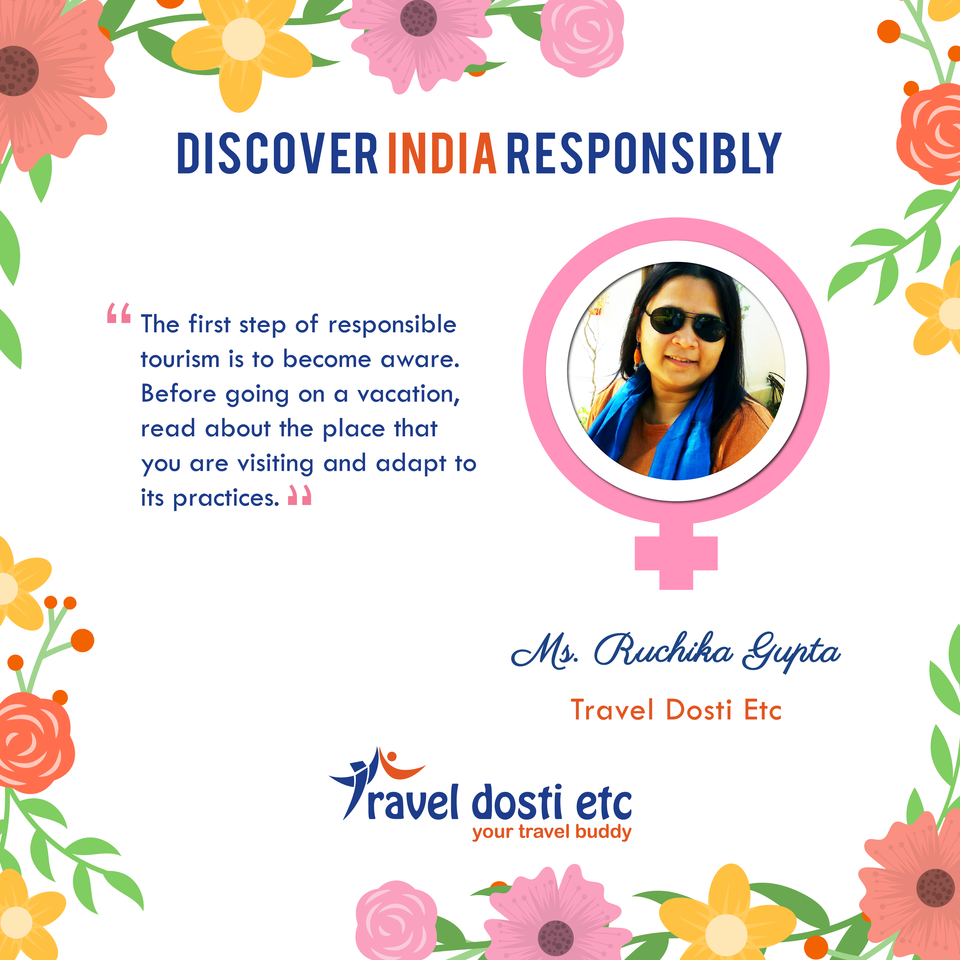 According to me, the first step of responsible tourism is to be aware. I urge each one of you to read about the place that you are visiting. Understand their dos and don'ts, their local culture, about the sensitive areas in that place and its limitations before you explore. Of course, we at TDE, are there to guide you, but there are few golden rules that you must follow wherever you go. To make it simpler, I am including the golden rules here for your reference. Please follow them and do your bit to promote responsible tourism. Golden rules of responsible tourism by TDE 
# 1 - DO NOT EXPECT LUXURY when you go to an offbeat place. Yes, I had to put it in capital letters, but I wanted to drill this thought within all of us. We have to adapt to the ways of the land to maintain it. So, if there are only dry toilets in a place because of water scarcity, you have to accept that fact and adapt to it accordingly. 
#2- Respect the law of the land. Some places have stringent rules because of various reasons ranging from ecological sensitivity to geopolitical reasons. Hence, it is important to know the rules before exploring. In Northeast India, the army counts the number of tourists at certain places so they can keep a tab on how many people are coming back at night. You have to cooperate with them by carrying your ID cards and waiting patiently for your turn. Do not argue with them if it takes time, they are doing this for your safety. 
#3 - Respect the law of nature. Animals and plants mind their business, so should you. Do not invade the privacy of the animals or indulge them. People complain of monkeys trying to snatch away their food. It started with few people who fed it. Now it has associated humans to be their feeders. This has resulted in a menace, which cannot be easily controlled. So, try to stick to your business, which is to observe and admire the nature. 
#4 - Respect the locals. Locals are your best guide and in most case your host too. Do not intrude into their privacy. Respect their culture and adapt to their ways while you stay there. Be friendly with the locals and even take them on trips to make them feel special. For example, when we went to Tadoba , we took along few local kids on a tiger safari. The delight on their face was worth millions! 
#5 - Reduce your carbon footprint wherever possible. We may have to take flights if there are no alternatives. But, if you do find an option, try to opt for it instead of flights. Go on foot to places where you don't require vehicles. These are just small things that you can do as a tourist to reduce your carbon footprints. 
The tourism industry is booming, and some damage has already been done. But, we can still preserve the sanctity of a place with our small acts of responsible tourism. I request all of you to discover India responsibly. 
- Ruchika Gupta