Traveling to India is an amazing experience. However it requires a fair amount of planning and preparation. I hope that this guide will help you in your planning for traveling to India. I wish I had known these things before traveling to the country.
This guide contains:
- General information 
- Good to know before traveling 
- Telephones and mobile broadband 
- What to pack
- How to dress 
- What can a vegan eat in India? 
- Our travel itinerary 
- More information
General information
India is the seventh largest country in the world and second most populated. It has a rich history dating back many thousands of years. The country consists of 29 states and is widely multicultural with it´s many religions and languages. Each region is unique offering different climate, cultures, architecture and so on. Read up on the state/states that you are traveling to for more information regarding customs there. India has developed immensely in the past years however the larger part of the population is very poor and this brings certain problems especially regarding hygiene and garbage.
Good to know before traveling
India requires most nationalities to have a Visa. The application is easiest done on https://indianvisaonline.gov.in where you apply for an e-visa. Make sure to print out your e-visa as you are required to show the papers both before boarding the plane to India and upon arrival.
Certain vaccinations are recommended. Check with your doctor to see what vaccinations you should have when traveling to India.
Do not drink tapwater. Even though most locals drink the tapwater many people who haven't had it before react negatively to it. My dad had it and fell ill with Delhi belly. To be on the safe side drink bottled water.
Eat cooked food. This is for the same reason as the water. Cooked food generally holds fewer bacterias than raw. Also try to stay away from streetfood.
Respect the culture and dress appropriately.
Pack for a varied climate. The climate changes from warm to cold, rainy to dry.
Everything takes longer in India. The pace of life is much slower and you just have to go with it.
Traveling between cities takes time. There are nearly no motorways in the country and local transportation takes time.
There are cows everywhere.
Considering that English is one of the official languages very few are able to use English for communication.
There are no "real" food stores. Small local shops offer a very limited assortment.
Cash is the deal. Very few places accept credit cards.
There is a lot of bureaucracy.
Everything is very mucky and it´s hard to keep things clean.
Fixed prices, hard to bargain.
Cheap country to travel in. Good prices for accommodation, transportation, food and admissions.
As a tourist you are charged for everything.
Many people are very poor and you will see a lot of begging.
Women are not treated the same way as men.
From the summer of 2017 all of the 29 Indian states have the same tax rates.
Telephones and mobile broadband
The most convenient way to get an Indian SIM-card is upon arrival at the airport. In order to get this you need to show your e-visa and a copy of your passport. Some operators will hand out free SIM-cards at the airport. These are usually loaded with a certain amount of money, and you will probably need to top upp the card. Make sure that your telephone is not locked to an operator in your home country.
What to pack
Silk sleeping bag,
Toilet paper, Hand sanitizer, Wet wipes,
Hat, Sunscreen, Umbrella,
Snacks (no food stores),
First aid kit including some medicines against diarrhea, dehydration and painkillers.
Mosquito spray and net
Torch (power cuts are common)
Safety pins
Extinction cable with at lest four sockets.
How to dress
Traveling in India as a woman is already hard, and wearing the wrong clothes can make the experience even tougher. Women in India do not have the same rights as men, and being from the western world you will get a lot of uncomfortable stares from men when traveling. Wearing your normal summer clothes, i.e. shorts, tank tops and other revealing clothing will not work. I once went out in a skirt above the knee and that was the worst decision ever. The most common piece of clothing for Indian women is a sari, a big piece of material which wraps around the body. Another traditional piece is the salwar kameez which consists of three parts: a tunic, leggings and a scarf.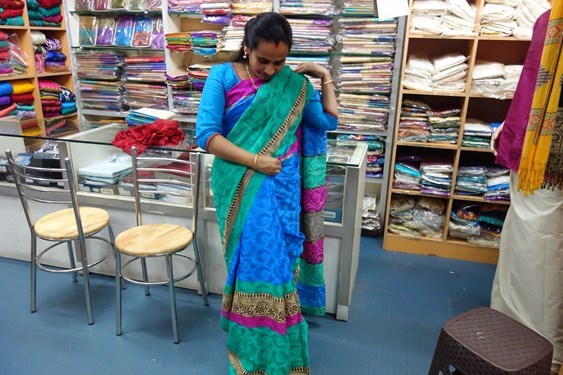 Covering the knees and shoulders are most important! T-shirts, trousers, long skirts and dresses in light weight material are good options. Due to the unbearable heat you are going to sweat. Make sure to use clothes made from cotton and linen in light colours. Read the washing label before to encounter a easy wash when traveling. Another tip would be to purchase an Indian piece of clothing. Dressing as the locals ensures you that you are respecting the culture. You don't have to worry if you do not have theses type of clothing. There are plenty of street vendors selling respectable summer clothes. Another recommendation is to buy a sari. There are no special rules or customs for how men should dress. But indian men are seldom seen in shorts. The long clothes also protect from the mosquitoes and other bugs. When it comes to shoes I would recommend using a pair of shoes you are not afraid to ruin. The streets are usually very dirty and when it rains it getts very muddy.
Indian Food
As you may know many people in India are vegetarians and many dishes are free from animals products. However most of the traditional dishes contain dairy. In general I found that food in the south of India was more vegan than in the north. I always made sure to inform when ordering that I was a vegan and asked the dish to be free from any dairy, or animal products. Make sure to say that the dish should be free from ghee (a milk product often used in indian cooking). Side dishes like plain naan, rice, fried veg rice and boiled vegetables are always offered on the menus. I really enjoyed the customs of Indian dining. The dishes are presented in metal dishes and the food is meant to be shared. Some vegan dishes I enjoyed while traveling were daal, allo gobi, currys and fried tomato.
Our travel itinerary
We had a very cramped schedule and wanted to see as much as possible during a very limited time period. We generally only had one day in each place. Due to the circumstances we hired a driver and car. For us this was the best option. We have never done this before and haven't had the need to. Local transportation has always been the best and cheapest option for us. However the distances between the different cities in India are long and there are limited options for transportation.
1. Delhi
2. Agra
3. Jaipur
4. Jodhpur
5. Udaipur
6. Mumbai
7. Kochi
8. Alappuzha
9. Periyar
10. Munnar
11. Madurai
Delhi
We started our trip in Delhi and stayed in the old part of the city. Some sights worth seeing are the Jama Masjid mosk, the Red Fort, Raj Ghat (The Ghandi memorial), India Gate, the Lotus temple, Humayuns Tomb, Parliament, Presidents Palace and Dlilli Haat market. We found a rooftop restaurant in the old parts of Delhi. It was nice to see the city´s hustle and bustle from above.
Agra
The main attraction in Agra is the Taj Mahal. Mughal Emperor Shah Jahan commisioned the project in 1632 to house the tomb of his favoutite wife Mumtas Mahal. The general admission for foreigners is 1000 rupees, which also includes a bottle of water and shoe covers. Children under 15 are free. You are not allowed to bring pens, makeup or lighters (anything that can damage the monument). The attraction is closed on Fridays which can be good to know when planning a visit. Otherwise it´s open every day from 6 a.m to 7 p.m. There are three entrances and we used the South one which had no queues and worked perfectly.
For me the most magical experience from the Taj Mahal is the view from Methab Bagh Park. It´s located on the other side of the river opposite the Taj Mahal. This is the perfect place to go for sunrise or sunset. Not many people know about this place and there are very few tourists here. The entrence fee is 200 rupies.
The city of Agra is quite run down and there are not a lot of things I would recomend to see other than the Taj Mahal.
Jaipur
Jaipur also known as the pink city is the capital of Rajasthan. In 1876 the city was painted pink to welcome the Prince of Wales. Within the city walls all the buildings are pink, built in a beautiful architectural style with a lot of detail.
Some things worth seeing are the Amber Fort, the City Palace, Palace of the winds and the Jal Mahal Palace,
Jodhpur
If Jaipur is known as the pink city then Jodhpur is known as the blue city. I had very high hopes on finding lots of blue houses all around. Unfortunately there were only a few blue houses like the ones I had imagined. In Jodhpur we stayed at the Jee Ri Haveli Hotel. It´s family run and the owners are very friendly. They also cook amazing food. The rooms were comfortable and spacious with all amenities and AC, offering amazing views over the fort. The rooftop restaurant is the perfect place to end the day with a 360 degree view over the city.
Must see in Jodhpur: Mehrangarh Fort, Jaswant Thada, Blue Houses. For those seeking a bit of an adventure the company Flying Fox offers zip lining by Mehrangarh Fort. Unfortunately it was closed when we visited but seems like an awesome experience.
Udaipur
The drive between Jodhpur and Udaipur is amazing and takes you through lush green forest and mountainous landscape. Udaipur is also known as the city of lakes and is where the James Bond movie "Octopussy" was filmed. Unfortunately we did not have a lot of time in the city so we only saw a few things. However I liked the other northern India cites better as they felt more genuine and had more old remnants. We visited the City Palace where you also have a great view over Lake Pichola, Taj lake palace and Jagmandir.
Mumbai
We took a domestic flight from Udaipur to Mumbai with IndiGo. Really great for domestic travel in India. The city of Mumbai is truly a city of contrasts. Here the poor are very poor living in big slums and the rich are very rich living in luxurious high-rise buildings. My advice would be to stay in the southern areas of the city (Colaba for example). Then you will be close to all of the major attractions. We stayed close to the airport and it took a long time to get down to the Gateway of India and there were few alternatives for local transportation. In the southern areas you will find a lot of colonial buildings. Here follows a summary of things to see in Mumbai: Gateway of India, Grand Taj Palace Hotel, Elephanta Island, Colonial Buildings (Uni, High Court, Flora fountain), Chhatrapati Shivaji Terminus, Prince of Wales Museum, Colaba, Crawford Market, Haji Ali Mosque, Dhobi Ghat, Global Vipassana Pagoda(outside city), Malabar Hill, Chowpatty Beach, Marine Drive.
Kochi
Once again we took a domestic flight and ended up in Kochi. It´s located in the state of Kerala which is a diverse and beautiful state. It offers everything from beaches, tea plantations, mountains, national parks and rich culture. When comparing the different states Kerala seemed cleaner, richer and more tropical. The Portuguese influences are widely imprinted in Fort Cochin and it has a bit of a Mediterranean vibe.
What to see: St Francis Church, Vasco Dagamas tomb, the Chinese fishing nets, the Dutch Palace, Mattanchery Palace, Jewish synagogue and the Jewish quarters which also is great for shopping. Here there are many small shops selling traditional indian goods.
Alappuzha
A trip to Kerala would not be complete without a cruise on the backwaters. Many people choose to stay the night on a houseboat, however this can turn out quite expensive. We chose instead to do a day trip with the company Get your guide. Link to tour: (https://www.getyourguide.com/kochi-l743/7-hours-village-backwater-cruise-in-cochin-t39150/). We paid 140 SEK/p.p with is approximately 15 euros. This was the cheapest backwater experience I came across when planning the trip. If you want to stay the night on a houseboat you have to be prepared to spend a few 100 euros instead. The package included the following:
- Pickup and drop off from your hotel in Kochi.
- 8 h cruzing the backwaters with stops at local islands and small industries to see how the locals live.
- Traditional vegan food served on a banana leaf.
Periyar
The drive from Kochi to Periyar is amazing. We passed waterfalls, tea plantations, fruit plantations, jungle, forests and mountains.
Periyar is most known for it´s national park and specifically for the elephants and tigers living there. Upon arrival there are many options on how you can explore the reserve. You do not need to book anything in advance or on the website. There are tour offices outside the park and only one company managing them. Hikes, boat rides and Jeep tours are some of the options. We only stayed one night in Periyar and arrived late in the afternoon when most of the tours already had gone. However we went on a hike in the reserve accompanied by a guide from the indigenous tribe. We did not see any tigers but we saw monkeys, dear, buffalos and beautiful nature. It was an invigorating experience hiking in a area inhabited with tigers. If you are planning to do the hike make sure to have good shoes as it can get very muddy. I also want to recommend staying at Periyar Woods Hotel. We had a lovely stay and the lovely family who owned the hotel were very helpful and cooked a lovely breakfast. It is also located very close to the national park.
Munnar
Also known as tea country. Located 1470 meters over sea level the climate is much milder than in other parts of Kerala. We even found it a bit chilly especially in the evenings. Due to problems with our car we never got to the town of Munnar. On the way we stopped at a spice and fruit plantation with was really interesting. There are several places like this where you can stop on the may to Munnar. We stayed at the Dream Catcher Plantation Resort. As the name tells you the resort is located in the middle of a big tea plantation picking tea for Tetley´s tea company. We got to wander round freely on the grounds and the staff told us all about the tea making process. They even served complementary tea and we took a ride in a polaris round the whole area. We could not ask for a better experience. But if you however plan on visiting Munnar then many people recommend the tea museum explaining the tea making process after the leaves have been picked. My advice would be to visit a tea plantations (there are loads in the area) and see the picking process in real life.
Madurai
We only visited Madurai because we were flying from there to Sri Lanka. As it´s located in another state our driver had to apply for a certain permit for traveling there with our car. I would recommend to try and fly from Kochi international airport if possible when leaving Kerala. However it was an experience to drive through yet another state of India. Just on the other side of the border many things were different in the state of Tamil Nadu. It was poorer, more desert like climate and more rubbish. The most famous attraction is the Meenakshi Temple, and this was also the only thing we had time to visit.
More information
For more information and inspiration on traveling to India you can read my blogposts from India.
On this link you can find all of the posts: http://nouw.com/graceontour/category/indien
Youtube video: https://youtu.be/r5wPrOaPrx4
If you prefer links to each post they can be found below.
Traveling to Delhi: http://nouw.com/graceontour/crazy-day-30491209
Delhi: http://nouw.com/graceontour/delhi-30497829
Agra: http://nouw.com/graceontour/taj-mahal-30504633
Jaipur: http://nouw.com/graceontour/jaipur-30504231
Jodhpur: http://nouw.com/graceontour/jodhpur-30521936
Udaipur: http://nouw.com/graceontour/udaipur-30537815
Mumbai: http://nouw.com/graceontour/mumbai-30545445
Kochi: http://nouw.com/graceontour/kochi-30560609
Backwaters of Kerala: http://nouw.com/graceontour/cruising-the-backwaters-of-kerala-30567212
Periyar: http://nouw.com/graceontour/heading-inland-30574972
Periyar National Park: http://nouw.com/graceontour/periyar-woods-30575052
Munnar: http://nouw.com/graceontour/stuck-in-munnar-30583945
Madurai: http://nouw.com/graceontour/car-crash-30603872