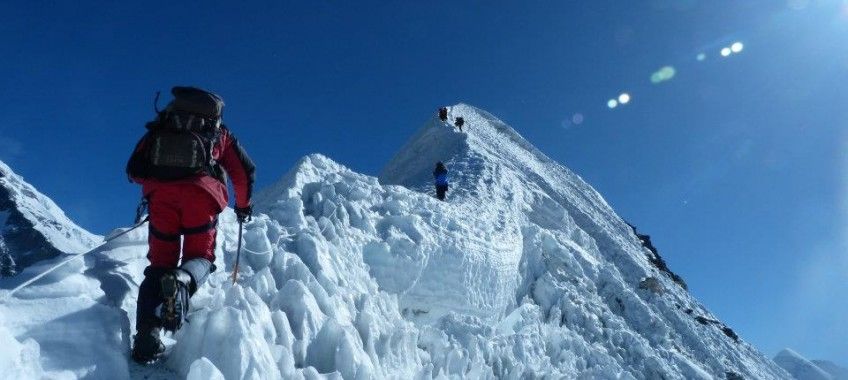 Mount Face Nepal , invites all keen travelers to turmoil highest trek and island peak climbing with Everest Base Camp & Kalapathar, where one can marvel its overwhelming natural beauties in the shade of high giant mountains of Mt. Everest 8,848 m, 4th highest Mt. Lhotse 8,516 m 5th highest Mt. Makalu, 8,463 m and 6th highest Mt. Cho-Oyu at 8,201 m including arrays of other high peaks Ama Dablam, Kangtenga, Kwangde, Thamasarku, Kusum Kanguru and several peaks.
This marvelous adventure starts with a scenic flight from Kathmandu to Lukla town the gateway to Everest area from here trekking through beautiful country encountering various terrains, traditional Sherpa villages, woodlands of rhododendron, pines, birch and oaks tree lines visiting famed villages of Namche, Thyangboche and towards Everest Base Camp 5,364 meters, overlooking tall peaks with Khumbu ice fall and glacier and started to be climb to a very high spot of this trekking at Kalapathar 5,545 meters with Mt. Everest at mere distance encircled by peaks after peaks, then slowly heading to our next main highlight of this trip Island / Imajatse peak climb.
Island / Imajatse peak climb leads to the summit at 6,189 m / 20,305ft, climbing is technically straight forward with some technical effort in some section, for this climb use of ice and crampons with ice axe is necessary on entire climbing, our guide will fix ropes for safety where necessary in technical areas, before the climb we made the itinerary flexible with acclimatization days to make this adventure mosre success,
Island / Imajatse peak climb rated PD + ( Peu Difficile / with some technical difficult and walking on glaciers) the grade as per Swiss / French Alpine System).
From the summit awesome panorama of Imjatse valley with world's highest mountains that surrounds this peak summit, after a high spirit feeling reaching the goal of this adventure return journey to Lukla through the settlement at Dingboche and back inside the same trail to Lukla to conclude this adventurous journey by using a flight back to Kathmandu after an wonderful time up at Island / Imajatse peak climb with Everest Base Camp & Kalapathar high mountains with Mount Face Nepal wonderful provider.
Details Itinerary 
Day 01: Arrival in Kathmandu (1,300m/4,264ft)
Day 02: Kathmandu (1300m/4264ft): trip preparation
Day 03: Fly to Lukla (2,800m/9,184ft) then trek to Phakding (2,652m/8,700ft): 40 min flight, 3-4 hours trek
Day 04: Phakding to Namche Bazaar (3,440m/11,283ft): 5-6 hours
Day 05: Namche Bazaar (3,440 m/11,283 ft): Acclimatization Day
Day 06: Namche Bazaar to Tengboche (3,870m/12,694ft): 5- 6 hours
Day 07: Tengboche to Pheriche (4,200m/13,776ft): 4-5 hours
Day 08: Pheriche to Lobuche (4,930m/16,170ft): 5-6 hours
Day 09: Lobuche to Gorak Shep (5170 m/16,961ft), visit Everest Base Camp (5364m/17,594ft): 6-7 hours
Day 10: Gorak Shep to Kala Patthar (5545m/18,192ft) and back to Lobuche (4940m/16,207ft): 7-8 hours
Day 11: Lobuche to Kongma La (5,535m/18,159ft) to Chhukung (4,730m/15,518ft): 6-7 hours
Day 12: Chhukung to Island Peak base camp (5,200m/17,060ft): 3-4 hours
Day 13: Pre-climb training on Island Peak Base Camp
Day 14: Island Peak base camp to Island Peak summit (6,189m/20,305ft),back to base camp: 10-12 hours
Day 15: Island Peak Base Camp to Pangboche (3,985m/13,074ft) 5-6 hours
Day 16: Pangboche to Namche Bazaar (3,440m/11,286ft): 4-5 hours
Day 17: Namche Bazaar to Lukla (2,800m/9,186ft): 6-7 hours
Day 18: Fly to Kathmandu (1,350m/4,428ft)
Day 19: Final Departure