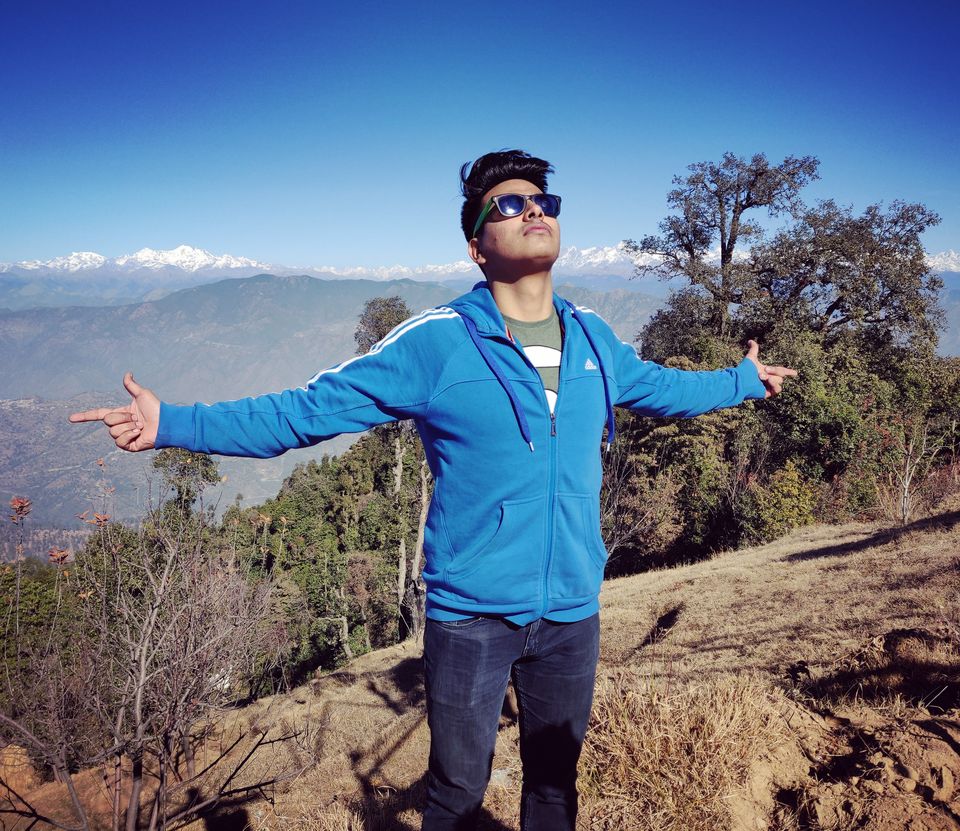 "Ghar se hum chale, bas ek backpack aur ek guitar"
- Are you bored with your monotonous city life?
- Do you feel like taking some time off and just relax, maybe read that book you always wanted to, in peace?

- Do you feel like the mountains are calling you?
If your answer to these questions is a 'HELL YEAH!', then read on, because this blog is just for you.

Work stress, traffic jams, incessant honking from cars and the usual hustle and bustle of city life. Well, welcome to our life. I am sure a lot of you people reading this lead the same kind of life as well.
This lifestyle takes a lot of energy and to refuel ourselves, we decided to spend a weekend away from all this - in the tranquility of the Himalayas. It was a festive time, Christmas was right around the corner, and like every millennial, we had a really tight budget (well, I had. Not sure about my friends). So keeping in mind our budget, our research began, and then we realized we aren't just short of cash, we are short of options as well. But then a brother came to our rescue, suggested a peaceful place and a lovely home-stay for our trip.
And that is how we came to know about Kanatal, which is near the famous tourist destination Mussoorie, but is still a hidden gem.
Kanatal
A small but picturesque village, located around 300 kilometres away from Delhi. It is located above the popular destination Dhanaulti in Uttarakhand. Take the Mussoorie-Chamba road to reach the place.
Ek Car aur Paanch Yaar (One Car and Five Friends)
After much deliberation, after n number of abuse words aimed at each other, after multiple "tum rehne do, tumhare bas ka kuch nahi hai (you guys are good for nothing)", we finally decided to go to Kanatal in Uttarakhand. Bookings were made (we stayed in a really cool place, more on that later in the blog) and off we went in our friend's Maruti Baleno.
We left for Kanatal from Delhi around 7 a.m. The decided upon time was 5:30 but that's how things work in our group. <sigh>
The drive to Kanatal after Dehradun was amazing. Cool breeze, slow songs and beautiful views. We took three stops before reaching Kanatal - first one for breakfast, second for lunch and the third, well, we honestly hadn't planned for the third stop. But when you have a gorgeous view of the Himalayas on one side and an equally amazing view of the Winterline phenomenon on the other, it's hard to resist.
* The winterline is a phenomenon which is visible only in Mussoorie and Switzerland. During sunsets, a bright shade of orange line can be seen across the sky. Read about Winterline.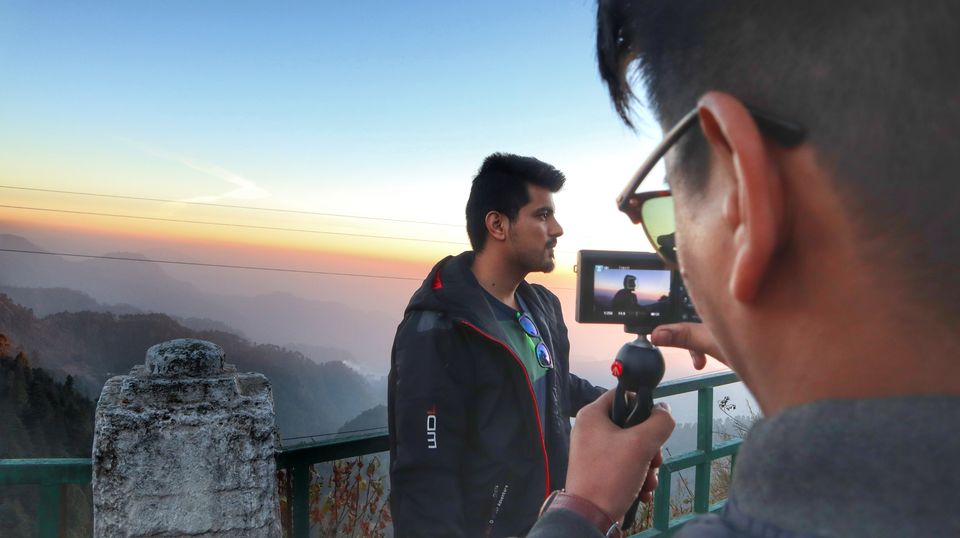 A long drive and many photo sessions later, we finally reached Kanatal. We had booked a room in a very sweet home-stay in Raushalikhal, Kanatal called Nama-Stay ( a word play on Namaste). The home-stay was very pocket-friendly and the meals were included.
* Nama-stay is well-suited for people who are trekking enthusiasts,nature lovers, who have any musical, literary or spiritual inclination. It is a peaceful stay that provides you all kinds of comforts, not luxuries. It provides you gorgeous views, tranquil environment and a homely feeling.
You can read more about Nama-stay and make your bookings by clicking here.
* One important piece of advice - The road to the homestay is not a metal road. It is a dirt road. So you need a good driver. Also the road isn't wide enough to allow two cars to pass. If a car comes from the opposite side, you are stuck. Contact the managers at the homestay and let them know you have reached the dirt road before moving forward on it. They will make sure that the path is clear for your vehicle.
We reached our homestay around 7 in the evening. It isn't that long a drive but we took a lot of stops on our way.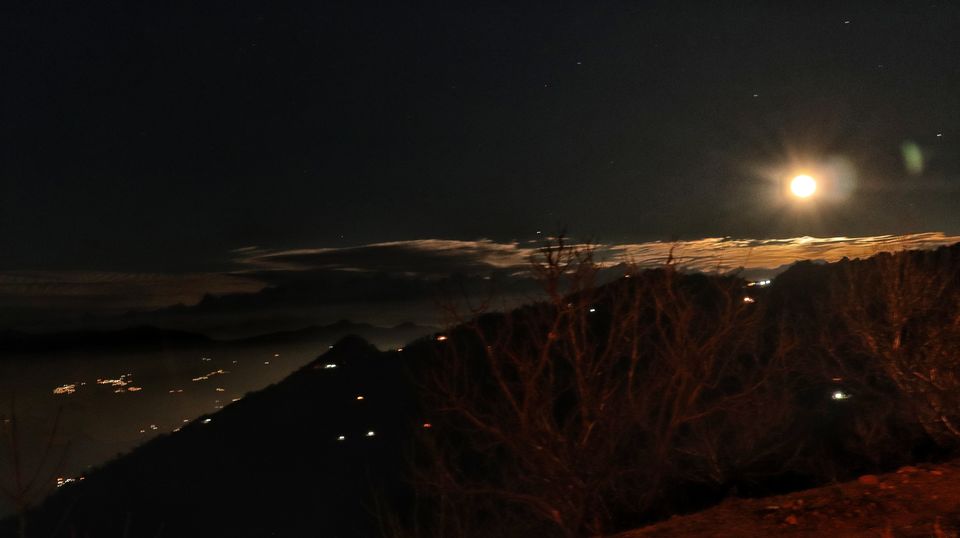 It was very cold and to our absolute pleasure, there was a bonfire. We checked out our room, freshened up and sat around the bonfire. The staff served us some tea, biscuits and sandwiches. Not only this, they also provided us a guitar. Then began a session of Coldplay and Atif Aslam songs on guitar, chats, gossips, jokes and insults. The travel fatigue just vanished.
In the night, we were served delicious freshly prepared meal in the common seating area. All the guests sat together and ate. The whole setting of the seating area had a very bohemian vibe to it with music and trippy lights. After dinner, we again sat around the bonfire. Cold night and bonfire, the feels it provide. Finally, we all retired to our beds to wipeout the fatigue and get recharged for the next day.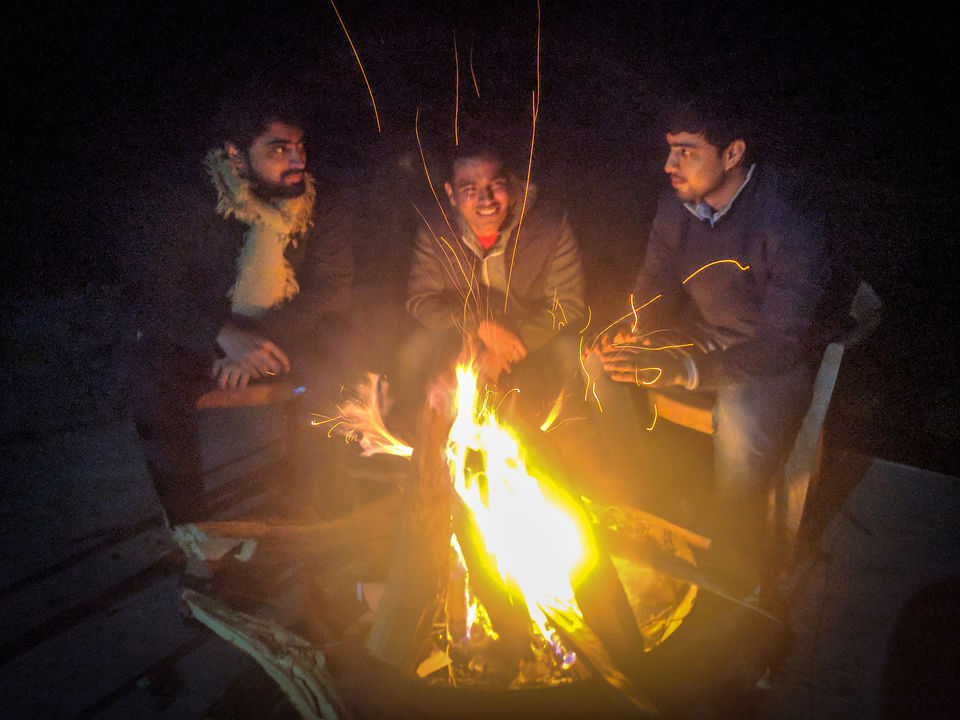 Next Day Exploration
When we had reached our homestay, the sun had set and there wasn't much natural light. So we hadn't really explored the surroundings of the home-stay. We didn't even know what the view from our stay was.
When I woke up the next day(I was the first one to wake up), I went outside to take in the view from the homestay, and was awestruck. The view was great. I also had my first meeting with Hachi, the home-stay's pet dog.
Soon all my friends woke up, freshened up and we all sat on the terrace to enjoy the mountain sun.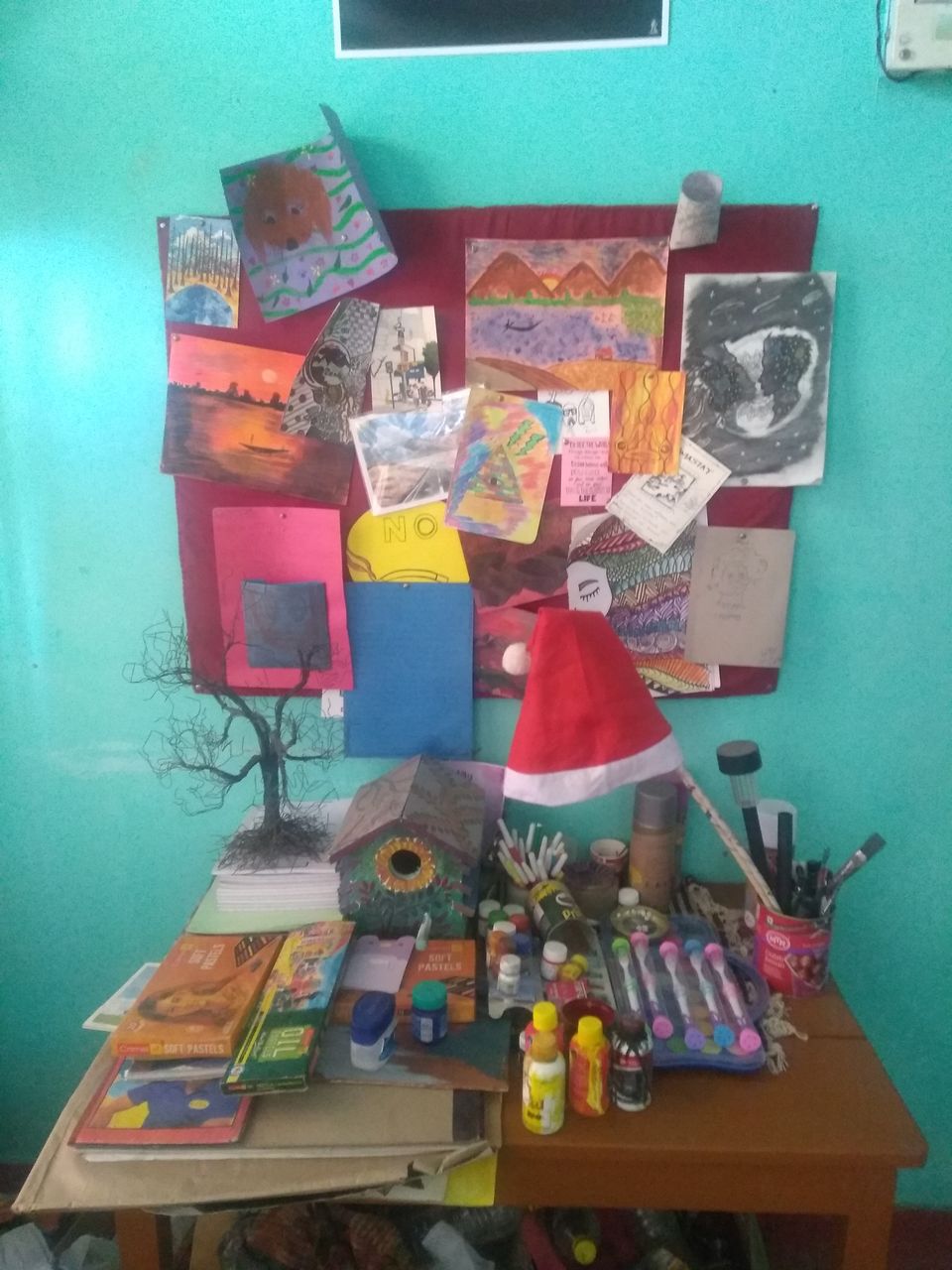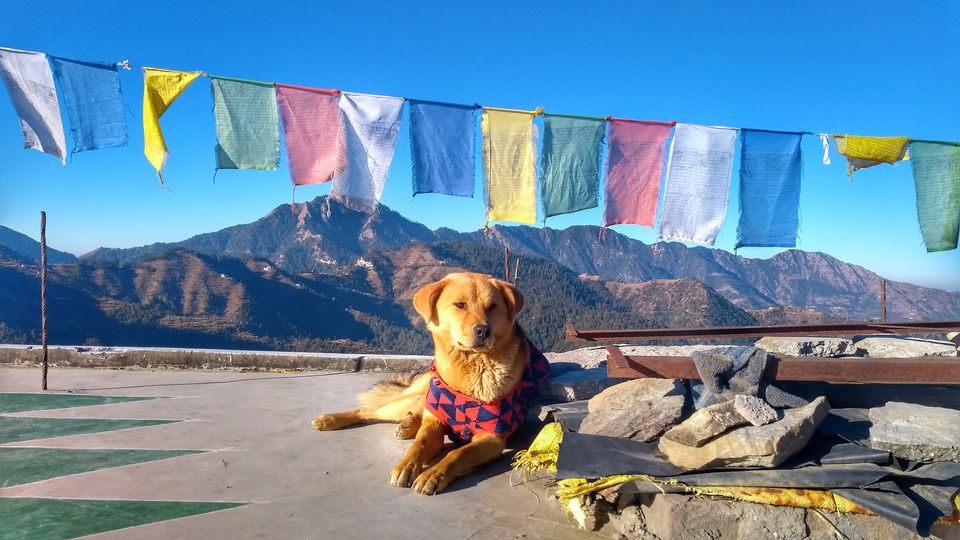 Soon all my friends woke up, freshened up and we all sat on the terrace to enjoy the mountain sun.
We were asked about our breakfast preferences and we decided to have Maggi and sandwiches because what are mountains without maggi, right?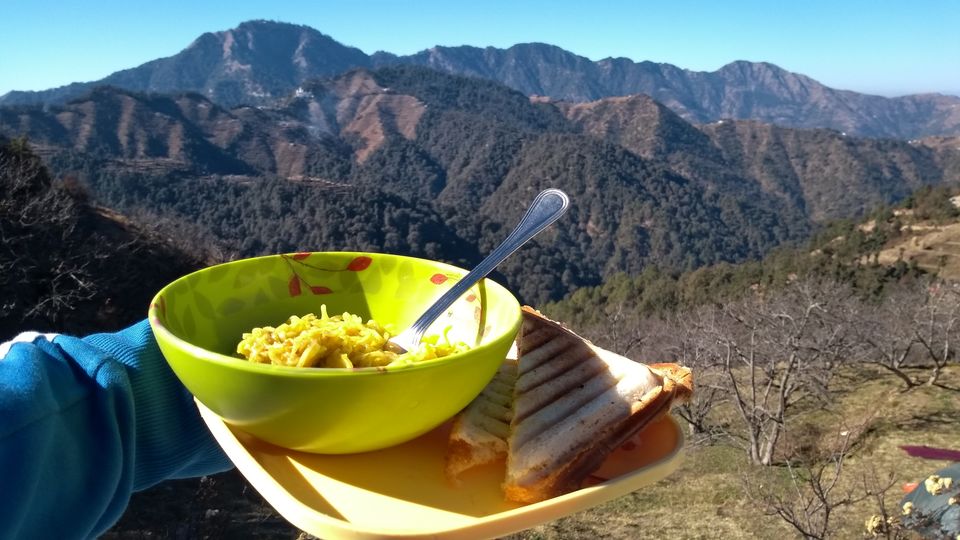 After filling our empty stomachs with the essential fuel, we set out for a very short trek to a nearby tower offering an amazing view of snow-clad mountains. (You can go to any nearby trek if you are interested. Just ask the staff and they will guide you and help with everything. We decided to take this short trek as we had some other plans).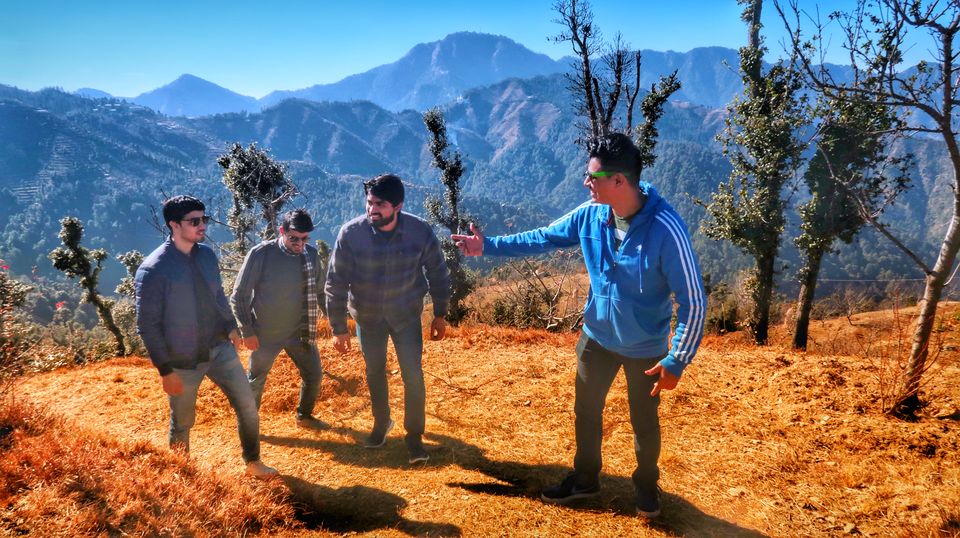 We set for the short trek near the home-stay. A little bit of upward trek and soon we were greeted with this view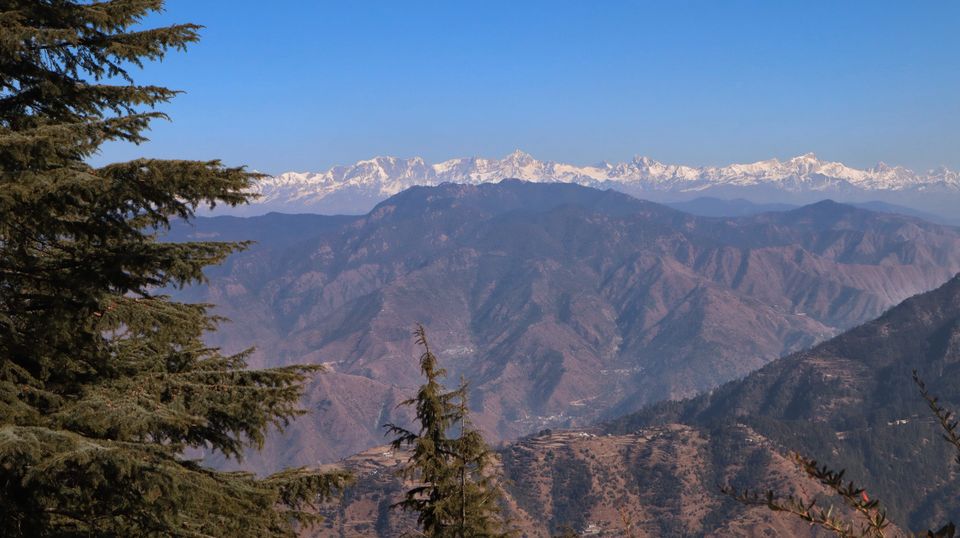 We had a quick photosession -
And then we moved forward to the tower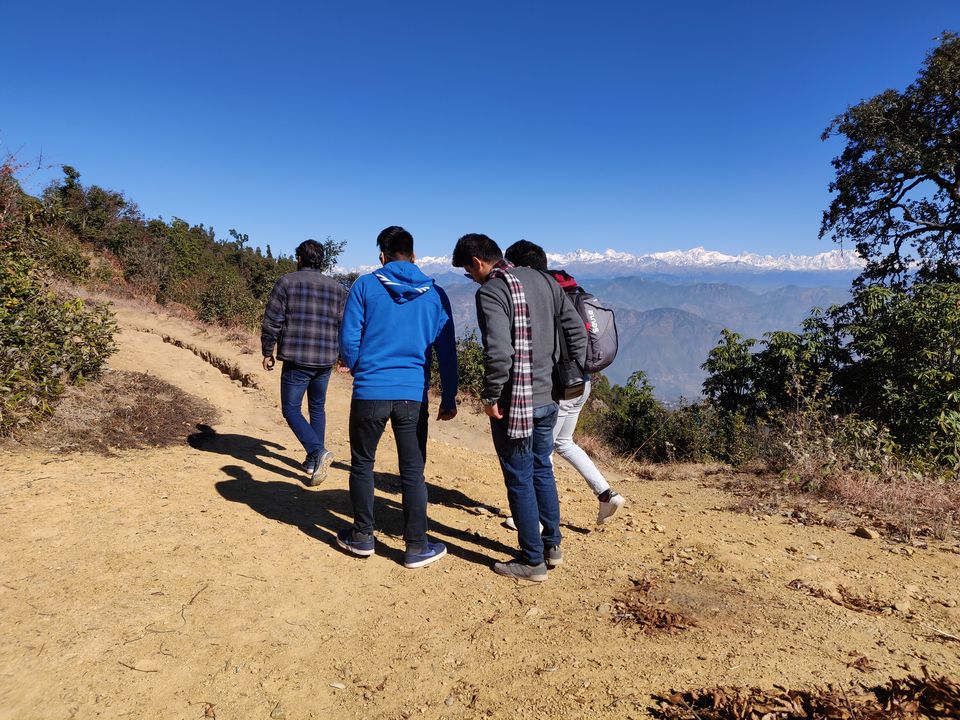 A few more minutes and we reached our destination -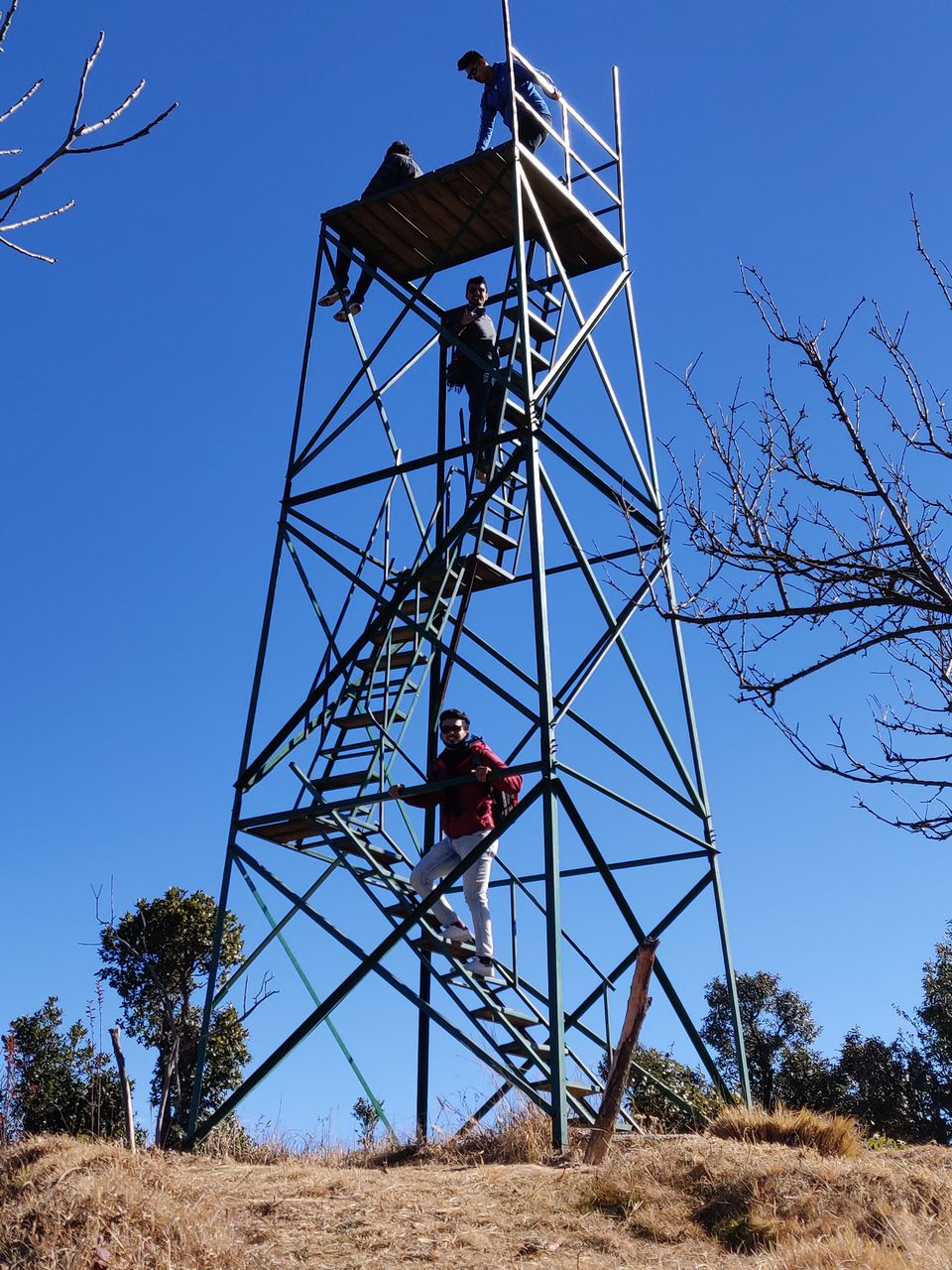 The view from the top of the tower was mesmerizing. Chilly wind and a clear view of the Himalayas - what a feeling!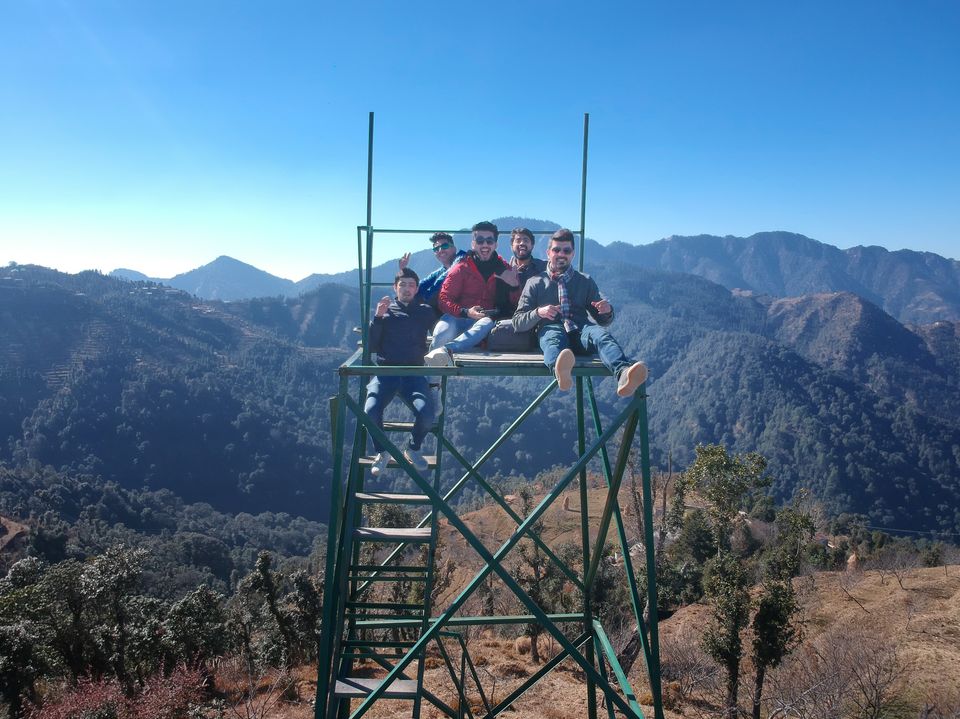 After spending a lot of time at the place, we went forward with our trip. We decided to leave Kanatal and go to Mussoorie to visit my brother who had suggested this place to us, and on the way visit Dhanaulti as well.
But one can easily spend more time at Kanatal, there is a lot to do. If you want to relax and rest, you can do so at the home-stay. Take a book with you and revitalize your soul. For once, just chill.
Vlogs
If you are interested in the vlog of our entire trip (which includes Dhanaulti, Mussoorie and a quick visit to Robber's Cave in Dehradun), you can check them out here.