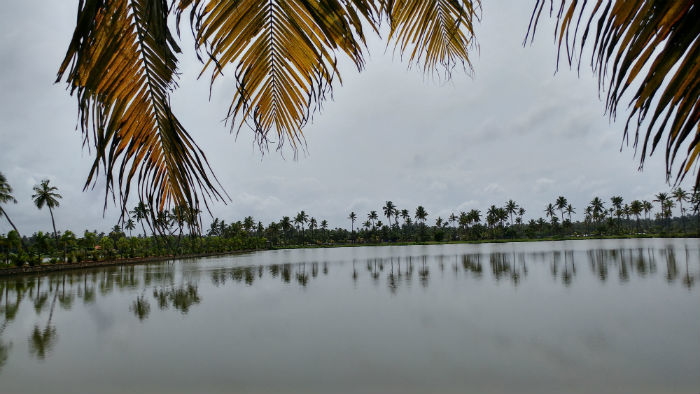 Kumbalangi, the tiny fishing village located on the outskirts of Kochi in Kerala, was once a little known hamlet. Ever since the government of Kerala declared this as a model fishing village, Kumbalangi has been climbing all the way up to the top of tourist destinations in Kerala. Today, the place is well-known among tourist circles as a must-visit destination for experiencing Kerala culture and cuisine in its raw form.
Attractions for tourists
After being elevated to the status of model tourist village, Kumbalangi has transformed itself so as to justify the title.
Fishing and Chinese nets:
Being essentially a fishing village, Kumbalangi offers an insight into the lives of local fishermen. Picture-perfect quaint charm of Chinese fishing nets of the area are beyond words. It is a spectacular sight watching these nets scooping up fish in the traditional way. When in Kumbalangi, tourists can even try a hand at bait fishing. Who knows, luck may land a fish or two in your bait.
Learn traditional livelihood: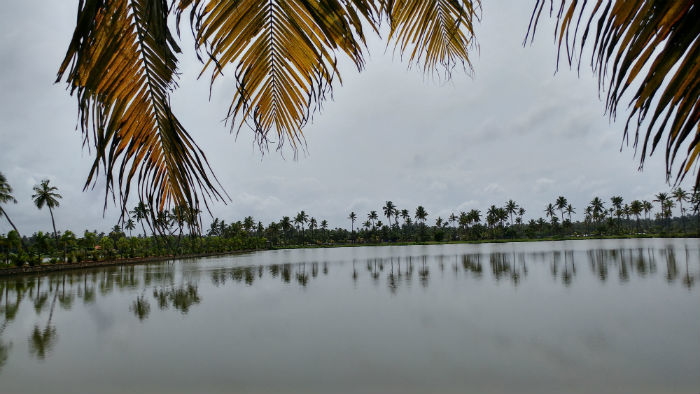 Aimed at providing authentic information about livelihood of local men, the village provides live demonstrations of several tasks like coconut husking, basket making, pottery and rope making. It really amazes one to see the dexterity with which the local women weave coconut leaves used for thatching roofs.
Touch the golden fibre:
Coir or the golden fibre is a mandatory part of Kerala culture. Rope making in the ancient manner starting from soaking of coconut husk to the final stage where coir magically comes out of the loom is really worth learning.
Cruise on country boats: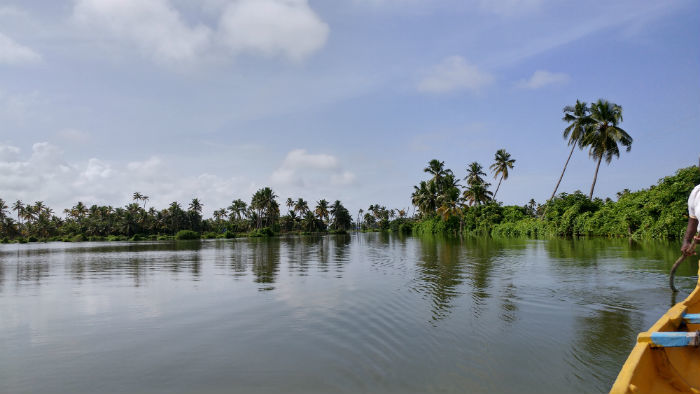 Magnificent backwaters surrounding the island village from all sides provides ample scope for boat rides. The traditional wooden country boats are best to get an old world feel. Sometimes boatmen also double up as fishing guides. With tranquil waters and lazy winds to soothe your mind, you will feel perfectly at home.
Pamper your taste buds:
A delectable Kerala cuisine is an invariable part of the trip to Kumbalangi. Authentic sea foods are arranged for tourists. Do you happen to be wary of overload of spices in Kerala food? In Kumbalangi there is no cause for worry. The dishes have spices toned down so as not to irritate the taste buds of guests. Delicacies made of shrimp and prawn obtained locally have found many admirers. Enjoy a sumptuous meal with a sip of tender coconut, all in the rustic ambience.
Visit Kalagramam: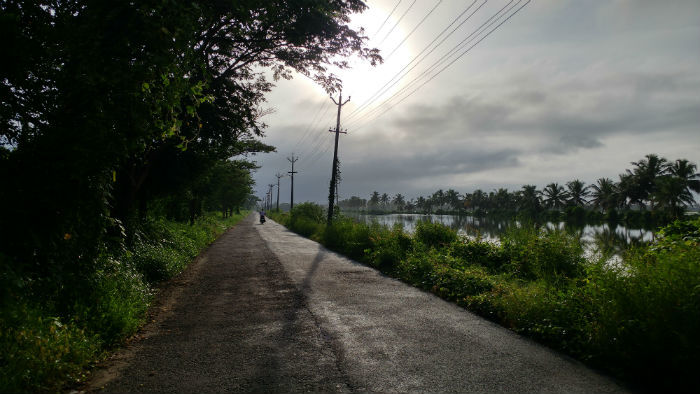 Kalagramam, in other words, village of arts, is another attraction of Kumbalangi. The artists' village showcases fishing equipment and handicrafts made of wood. As Kerala handicraft has claimed attention from tourists all over the globe, Kalagramam is worth a visit.
Nearby places to visit
A trip to Kumbalangi need not be restricted to viewing the homely village alone. There are several attraction in Kochi, which are sure to rejuvenate your senses.
Fort Kochi
Located 12 kms away from Kumbalangi is the ancient trade hub of Fort Kochi. It is that part of Kochi where a vibrant city has peacefully parted ways to allow ancient charm to overtake. Marked by narrow alleys and timeworn houses, Fort Kochi is the pride of Kerala. Tourists who venture into Fort Kochi are greeted by the remnants of British, Portuguese and Dutch eras. The fort built by the Portuguese rulers from which the place got its name has long been destroyed, but the name carries on. St. Francis church in Fort Kochi is one of the earliest European churches in India. Greatly revered by Christians, this church is also the final resting place of Vasco Da Gama, the Portuguese explorer who set foot in India centuries back. There is so much of history in the story of Fort Kochi!
Mattancherry, far from madding crowd
Located close to Kumbalangi is Mattancherry, another place that radiates aura of cultures foreign to Kerala. Though different communities like Guajaratis, Jains and Konkanis have grown roots here, it is the Jewish community that has left a lasting impression.
Jewish synagogue, the worship place for Jews, is one of the oldest and most active synagogues in India. A handful of Jewish community are present here, still fiercely guarding their culture.
Dutch palace of Mattancherry is another attraction for tourists. Although the palace is named Dutch, the architecture is quintessential Kerala style. Worth a visit, if only to stare at the elegance of the structure.
Hill Palace of Thripunithara
Though not very close to Kumbalangi tourist village, one visit to the ancient palace will not go waste. This palace houses the largest archaeological museum of Kerala. Here you find artefacts depicting prosperous era of Kochi royal family, Also on display are several oil paintings, murals, old coins and sculptures. Enter the palace and you are instantly transported to the age of kings and queens.
How to reach Kumbalangi
Kumbalangi, being a stone's throw away from Kochi, the commercial capital of Kerala, is blessed by good connectivity.
By air: Cochin International Airport is 45 kms away from Kumbalangi. As Kochi is well connected by air to all major cities in India and abroad, this would be the best way to travel.
By train: Ernakulam junction, the nearest railway station, is just 12 kms from Kumbalangi. Trains are best for those wishing to capture a slice of common man's life.
By road: From Kochi, hop on to any bus leading to Kumbalangi and you are there in 15 minutes.
Options to stay in Kumbalangi
When in Rome, do as the Romans do. If you are ready to go by this dictum, you will be pleasantly surprised by the innumerable homestay options in Kumbalangi. Live the life of a villager for once. Eat the same simple food as the host and stay in their humble abodes. Laze around the village to your heart's content. But don't be disheartened if you are comfortable with luxurious resorts. There are resorts and hotels also nearby to cater to every kind of tourist.
Kumbalangi is a promising destination just by the fact that it allows tourists to blend with the rustic life. Make this your next destination you will be wondering, why didn't I come here all these years?
This article is written by E. Jey, a travel blogger from India. He is the founder of Jaunt Monkey blog and Jaunt Monkey YouTube channel.
Frequent searches leading to this page:-
Kerala Tourism Packages Honeymoon, Kerala Tourism Packages For Family, Top Kerala Tour Packages With Price, Best Kerala Tour Packages For Couple With Price, Kerala Tour Packages 3 Nights 4 Days Price, Best Kerala Tour Packages With Price From Delhi, Kerala Tourism Best Places To Visit