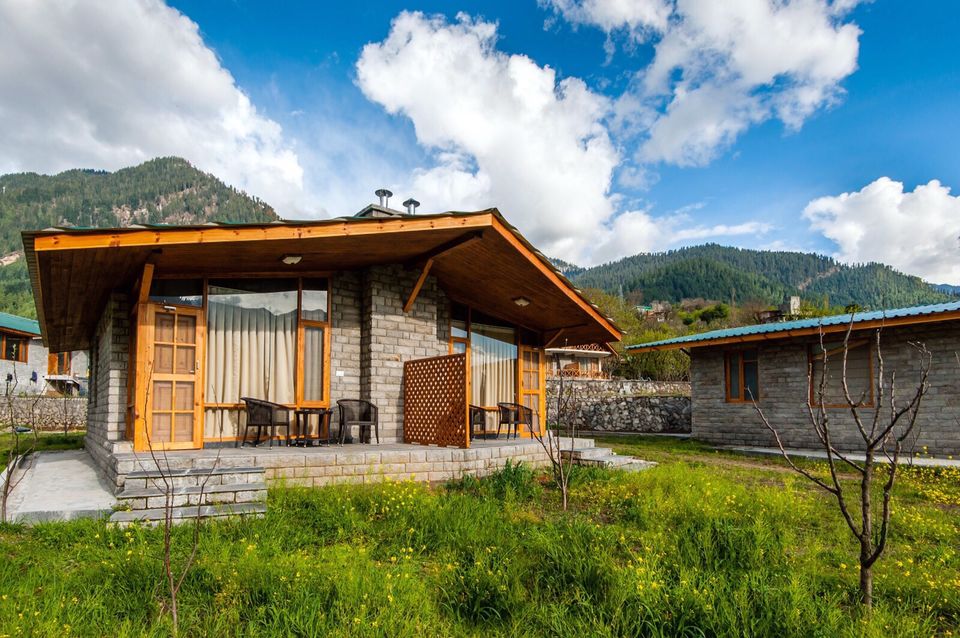 "Life seems but a quick succession of busy nothings" my feelings were one with Jane Austen when she said this, yes I happen to be a part of the herd of the modern
man of 21st century. But then I had an turning point, I wouldn't be exaggerating if I say that my experience in Manali at the La Ri Sa resort soothed, healed and had my senses put in order for the rest of my life. This resort has just the tranquilizing effect that your nerves may ever need .Here nature doesn't hurry, yet everything is accomplished!
Do you ever remember closing your eyes to imagine that perfect place where you would want to just run away and not have a care in the world? Do you remember giving your mind the hope and wish of such a place and promised that if you could ever see it you were sure to be completely relaxed? And as you would imagine the majestic lush hills, orchards and flowers beds, how you longed to experience such a place in real.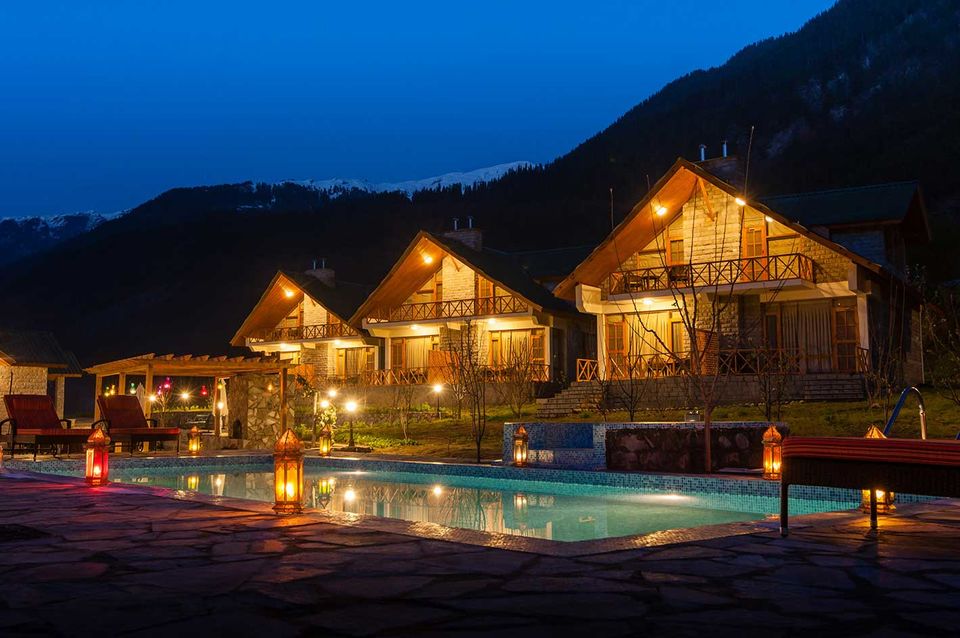 And one doesn't need to look beyond the boundaries of India to have such a surreal experience. The La Ri Sa resort in Manali, is a place that can change our age old perceptions that beautiful holiday destinations could only be in foreign nations. You must have fancied the sublimity of Switzerland, but I suggest give La Ri Sa resort a chance before you would jump to any conclusions about our own country's beauty.
I will take the liberty to rephrase a cliché that this resort is a dream come true and i actually mean it! Because this is just the sort of place where natural beauty is at its zenith and words like mystical and magical can be used in their literal senses.
La Ri Sa Resort is a place where any difference of opinions on a holiday are sure to come to an end, because they amalgamate the luxuries and comforts a five star hotel with the richness and peacefulness of our heavenly nature. They offer us the best of both worlds, with its hilly setting, stone-wood cottages and lush orchards and flowerbeds coupled with their luxurious rooms with their cozy balconies and lavish interiors, you are sure to feel like an emperor!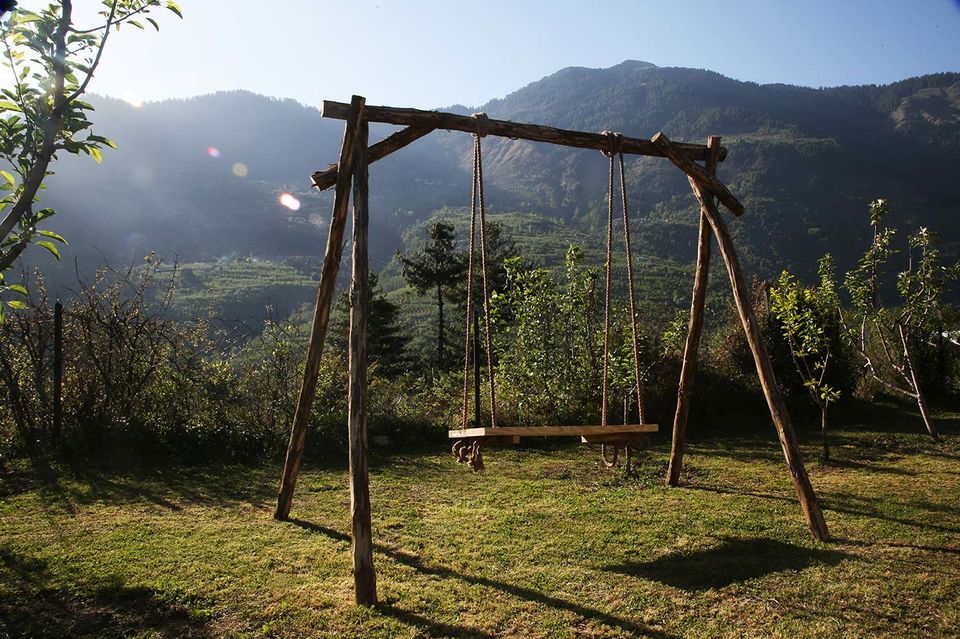 In the local language of Lahul , La –Ri –Sa means "the above- mountains- earth" and from one peep out of the beautiful French windows of the resort you will know how its living up to its name, combining in one view the pleasures of all three.
The boutique resort does not disturb the serenity of natural setting. It feels a part of the nature as if it was meant to be just where it is and has been made by the hands of god. There is a purity attached to the entire landscape which makes us feel as if we were looking at a beautiful canvas, perfect with its hues and careful design. It feels like a painting of a dream, it feels like a dream of a painting!!!
This place is sure to appeal and calm to not one but all five of your senses. The view of the flowers and hills, aroma of the freshness of herbs and the touch of the breezes are sure to awaken the romantic within you. You should brace yourself to see sides of you which you weren't have seen before. You could curl up with a book and ponder with a diary and a pen, the La Ri Sa resort can invoke all the muses to be an inspiration for you.
The La Ri Sa boutique resort has accommodation ranging from the uber luxurious premier luxury suites to the lavish deluxe and classic rooms so that you can sleep in the lap of luxury and nature together. Your mind is not to wander off to your city life when you have your private garden to walk in , a rich library full of books

ready to befriend you and private bonfires and barbecues that can be organized at request. If that doesn't satiate your curiosity enough, they also have a mini theatre where in you could sit back watch your favorite flick with your favorite cuppa. Every now and then, it's for important for everyone to unwind and float. This resort can offer you the best of luxuries if you could in return offer them the luxury of your time. Does not your soul, bones and flesh long for a moment where in you can loosen up and let your time flow? La Ri Sa is just the place that would make you pause your life for a moment to just breathe fresh, straighten your backs and relax your jaws and muscles to bask in contentment and fullness! I treated myself to it because I realized that one works hard to make a life, and it was time I let La Ri Sa make it a living.
Indulging in glutton senses with authentic local kullu cuisine and getting bellies full of their barley, maize and love still can water my mouth! And not to forget their Hot Toddies and Whisky Sours served alongside Cosmopolitans. I suggest you too raise toasts to the beauty of the Himalayas, the delights of Nature and the cathartic embrace of a warming drink on a cold day.
Legend has it that about 300 deities were credited in the creation of Kullu, a veritable showpiece of nature, some even call it the place with a Midas touch. With historic and marvelous temples and monasteries around the area blessing the region , you should witness for yourself a deeper and a higher inner state.
And that's not all people, for all the adventure seekers, this place can pump in just the right amount of adrenaline with its rock climbing, kayaking, paragliding, fishing and trekking activities besides many others.
La Ri Sa caters to all kinds of people, and so the shopaholics also need not fret because to fill you up to the brim they offer a wide range of Pulla slippers and kullu caps besides of course the very famous kaleidoscopic Kullu shawls which are sure to make memorable souvenirs.
The La Ri Sa boutique resort is on the banks of the river Beas, in a little village called Haripur, about 11 km from Manali, and 35 km from the airport at Bhuntar, Kullu. With such proximity when cherried with a temperature between 10-25 degree Celsius, you are sure to regret this chance if you miss it! What i can guarantee is that this holiday wont just limit itself to the term, it's a lot more than a mere getaway, it would be an experience. An experience of a lifetime , one that would want to love nature and thy own country.
Refresh, rejuvenate and live the fairy tales you watched as a kid. Chase butterflies, plant trees, gaze at the sky, create music, ride along the meadows, or hue a canvas up and we won't judge!!! We know you have done the noble art of getting things done, now do the nobler art of leaving things undone!