So, where do I start.. If you would like, you can see this video I made with my GoPro. It certainly would give you an idea how beautiful this country Vietnam is.
So, lets begin. Beware! lot of written material ahead. Hope it helps you in some way for your trip :)
I hope you have done your homework of currency conversion and visa process. I chose https://www.vietnam-visa.com/ for the visa approval letter. I also took the fast-track service they provide. I think you should take it too. No hassle no worries. Read more on this on google or https://www.travelfish.org
By an overnight flight from Mumbai on Feb 9th, I reached Ho Chi Minh city via Bangkok on Feb 10. Thai airways is a good choice.
Feb 10: Day 1: Saigon/Ho Chi Minh City
Complete your visa and immigration formalities at the airport. Dont forget to exchange your currency to Vietnamese Dong before you step out in their land. Around 50 - 100 USD is good to start. You will also find many exchange centers all over Vietnam. Also make sure you have the Visa stamped correctly and keep your passport safe.
Outside of the airport you will see City Bus. Ask anyone (who might speak English) for bus# 152. Mostly it would be there right in front of you waiting for you. This bus takes 5000 VND and will drop you at the hostel zone / Ben Thanh market. From here its your choice how you travel to your hostel / hotel. PS: This is District 1
Also, from the airport you can hire the taxi. It would be no where close to 5000 VND.
I stayed the night at Himalaya Phoenix Hostel. Good place, will give you a quiet sleep. Helpful reception.
Take a city tour on a Xe Om or rent a motorbike. This city! trust me is very beautiful. I didnt expect it to have such good cathedrals, pagodas, palaces and glowing skyscrapers.. If you plan to do it on Xe Om, make sure you decide the hourly price first and also remember the places he mentioned. This is just to avoid any cheating/confusion. Next on your target: Ben Thanh market. Its huge!!! I think you will find everything here and with good bargaining skills you will get what you want. I stayed just 1 night in Saigon. I had no plans of cu chi tunnels or mekong delta. Leave those to the people who plan to stay long and who like touristy places.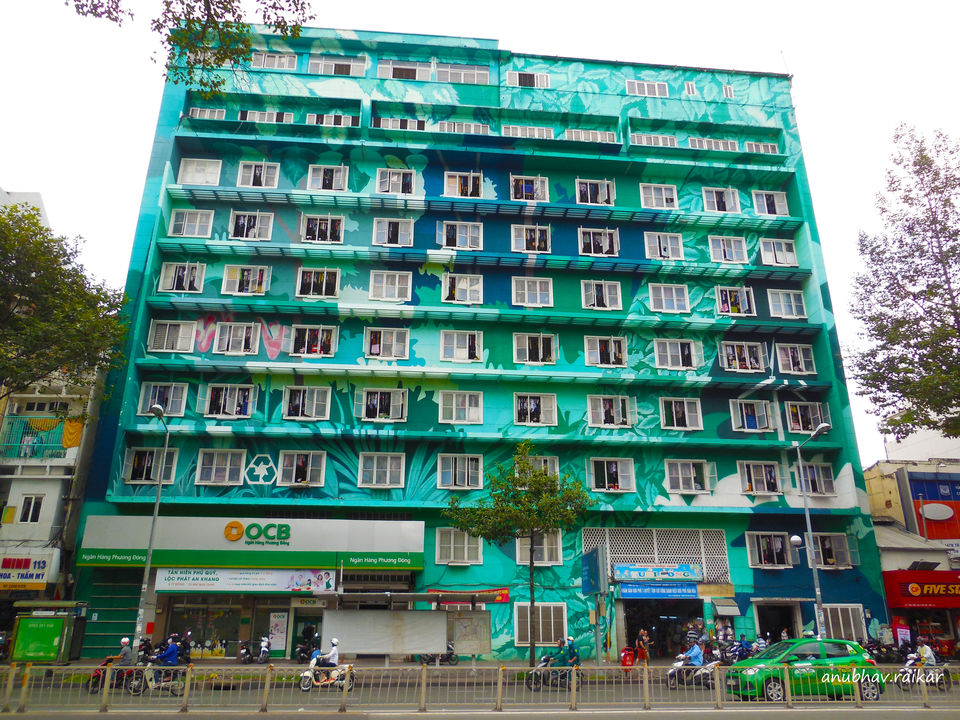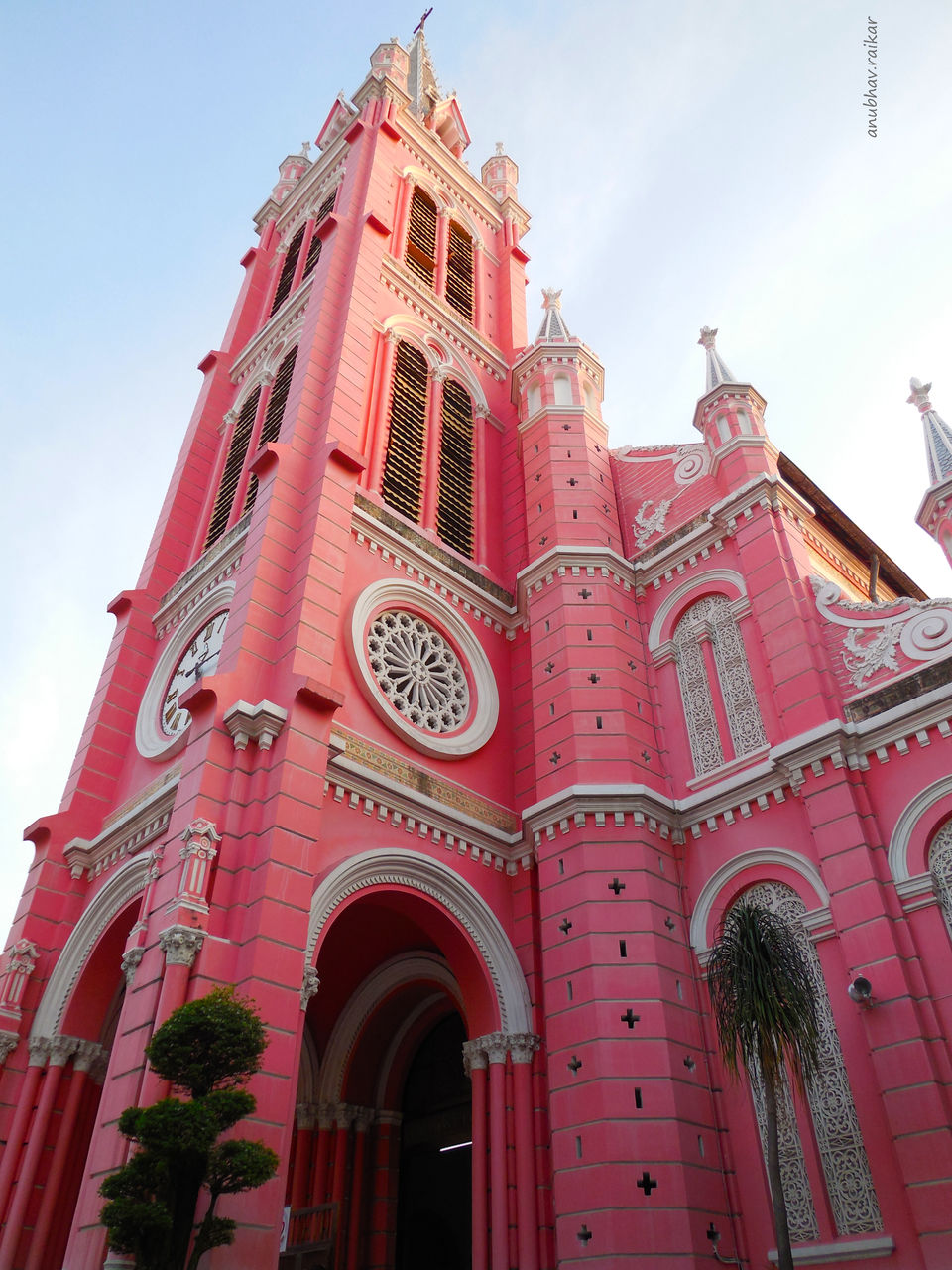 Feb 11: Day 2: Nha Trang
Early morning I got up to catch my train to Nha Trang. I found a Xe Om (motorbike taxi) outside on the main road and bargained with him to go to the railway station for 50,000 VND.
This SE6 train starts at 9.00am and reaches Nha Trang at around 4.30pm. You can see some real good landscapes (as seen in the video) if you book a soft seat. Its also cheaper than soft bed.
Saigon was hot. Nha Trang was cold with drizzles and cloud cover for almost the entire day.
The Nha Trang beach is one of the best I have ever been to. (I've used the word 'been' and not 'seen'). I was in Nha Trang for some 2 days. I went to the beach "6 times". Even once at 5.30am to catch the sunrise. Si Si.. Vietnam has an east coast. No sunsets.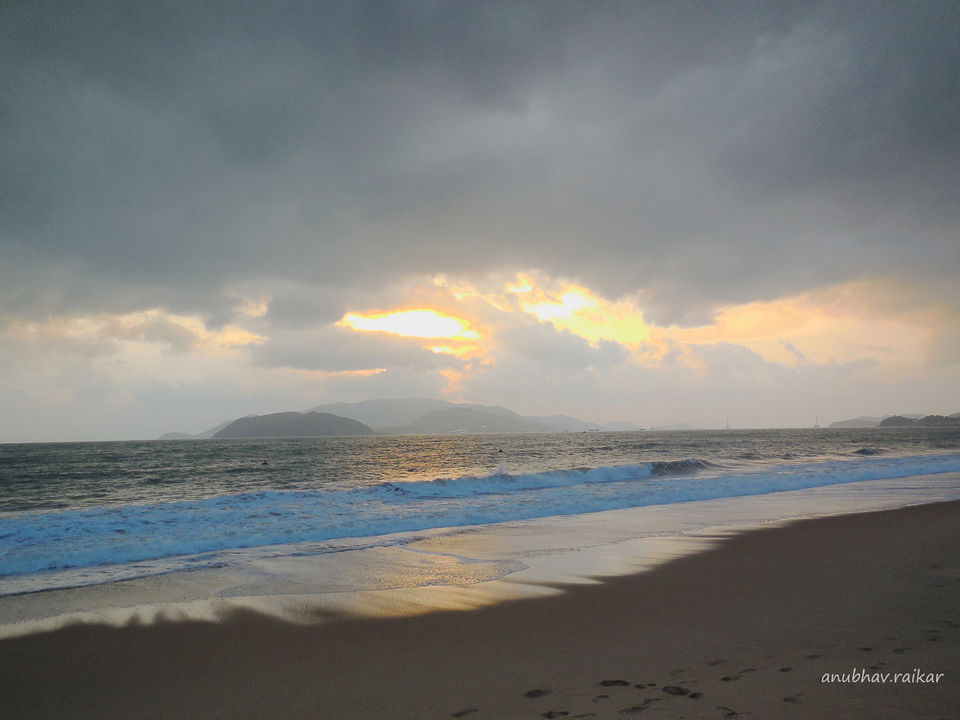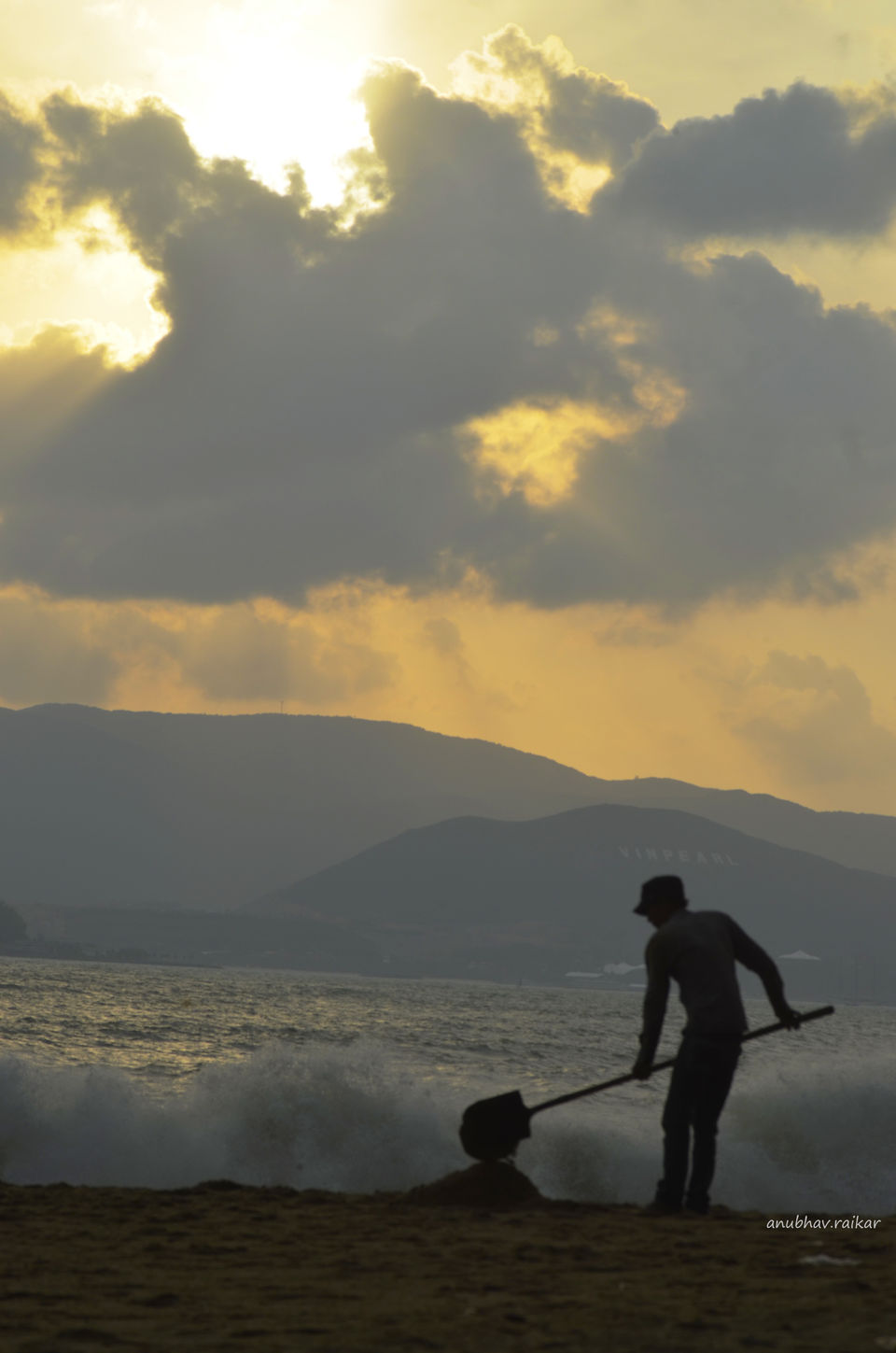 I stayed my 2 nights at Backpacker Abode Hostel. Happening place, this should be your first choice if you choose a hostel. Helpful reception.
Feb 12: Day 3: Nha Trang
In the morning I took manual-trans motorbike on rent, a Honda from my hostel guy. I went to the Binh Tien-Vinh Hy pass. It was spectacular. One must take this bike ride. An automatic scooter would also be fine. The roads are in excellent condition and the slopes are around 10-11% steep. Make sure the rear brakes are good.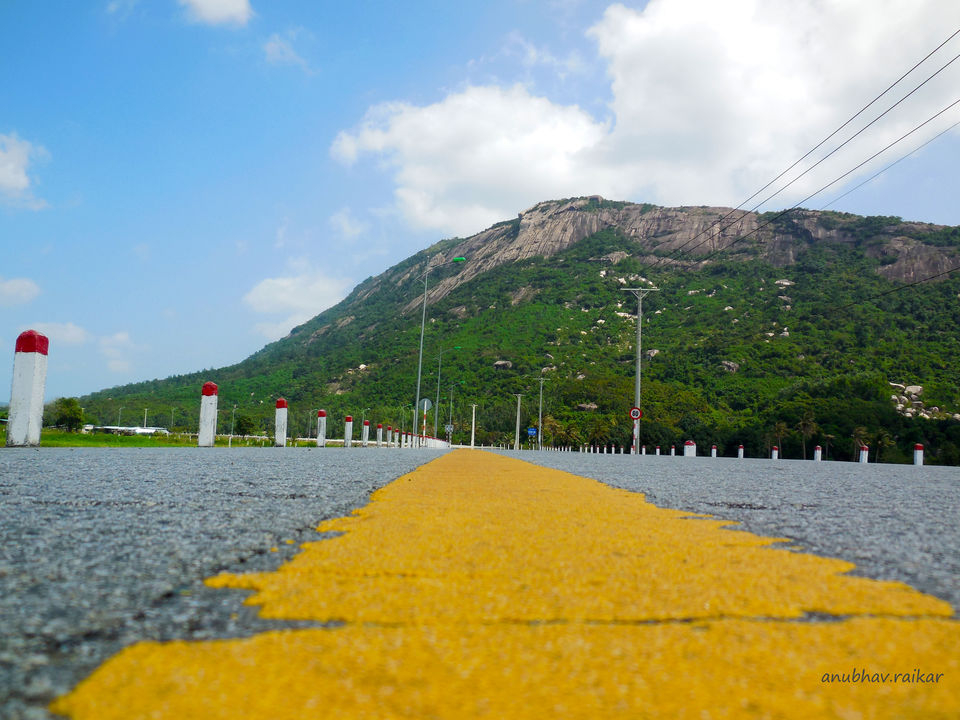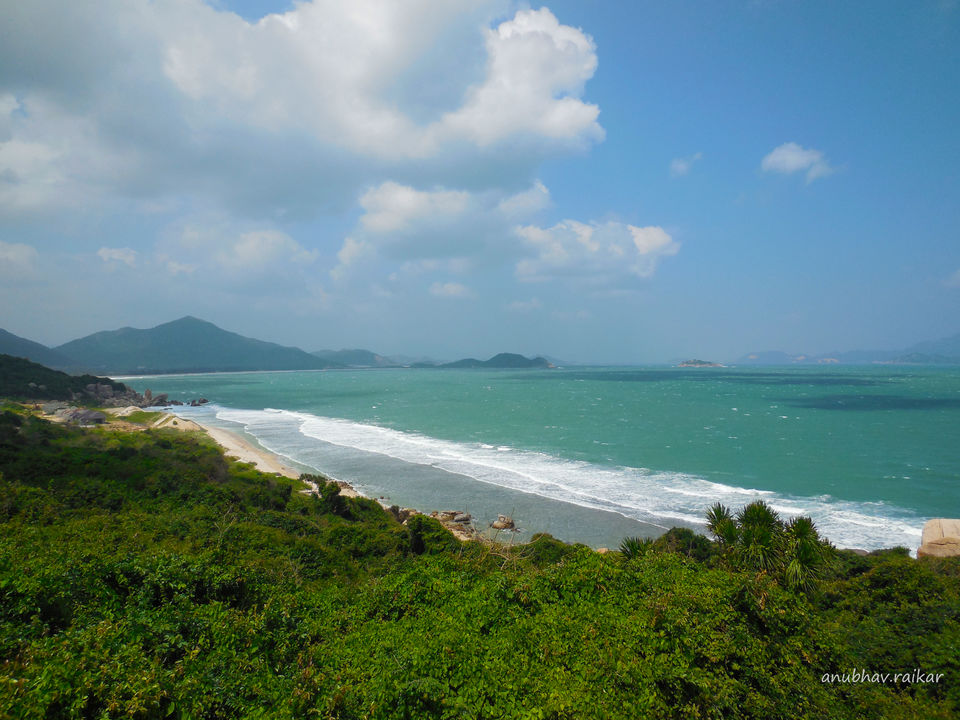 I came back to Nha Trang around 4.00pm after roaming around. Went straightaway to the beach :D At night after my dinner, I thought of things to do, but I went to the beach :D I felt the beach more of an experience or may be inspiration. If I were a poet, I would have written something about it.
I informed my hotel guy that I have a train SE4 to Da Nang at 5.00am. He ensured me that he will get me a taxi at 4.00am. He did.
I made the payments at night and took my passport.
So many restaurants, so much sea food. Indian, Italian everything. There's a Ganesh indian restaurant and Omar's indian restaurant. Both good. Good Morning Vietnam restaurant serves Italian. Fresh pizzas on order. You've got to eat sea food here. Also, dead crocodile, frog, tortoise on display. These will be cooked on order. This is the first place I ever saw a crocodile, skin peeled hanging out, screaming eat me or I eat you. Dont worry, it was dead. Make a shoutout in your hostel, build a gang and eat this god damn croc.
Feb 13: Day 4: Hoi An
In the morning, he came out with me, got me a taxi and waved bye-bye. I reached the station in some 40,000 VND. I slept till 9 in the train. Even this route is scenic. I had booked a soft seat again. (Oh, I had pre-booked my train tickets from https://www.baolau.vn) I reached Da Nang and found a Xe Om guy. He offered me to take to Hoi An for 1,50,000 VND. I had read earlier that 8$ would be a fair rate. So this was a fair rate. Hoi An was quite far than I had expected. Took around 40 min on that bike to reach my homestay.
I had booked Chau Plus Homestay. This is a bit far (1 - 1.5 km) from the ancient town, but no worries. Free bicycles! There are many many other homestays near by. All provide free bicycles. The place is real good.
I roamed Hoi An for more than 4 hours in the evening. The lanterns were everywhere. Its super cool. Many things to try (eat) at night market. You will see a lot.. a lot of Japanese people here.. Probably because of the Japanese bridge and the associated temple.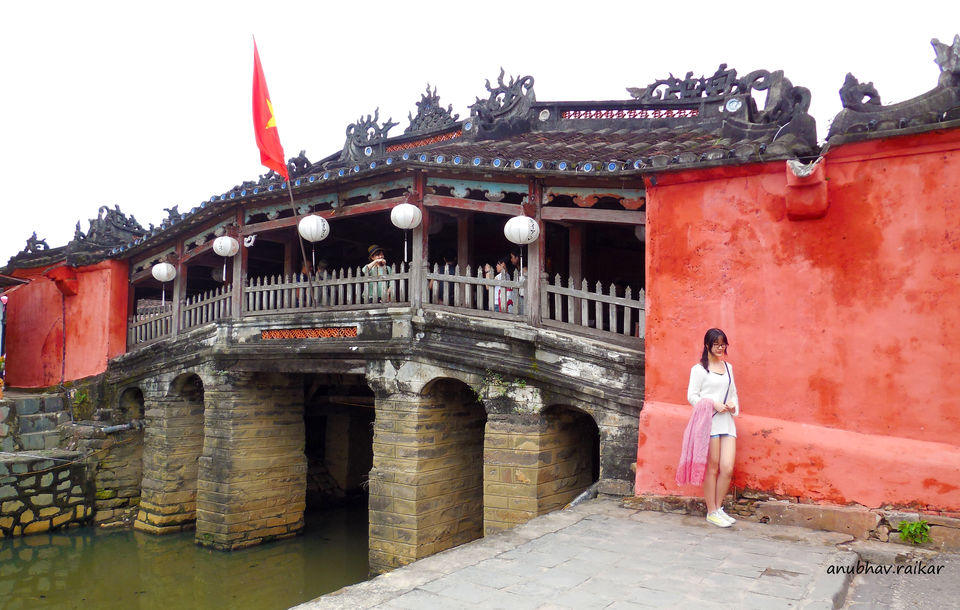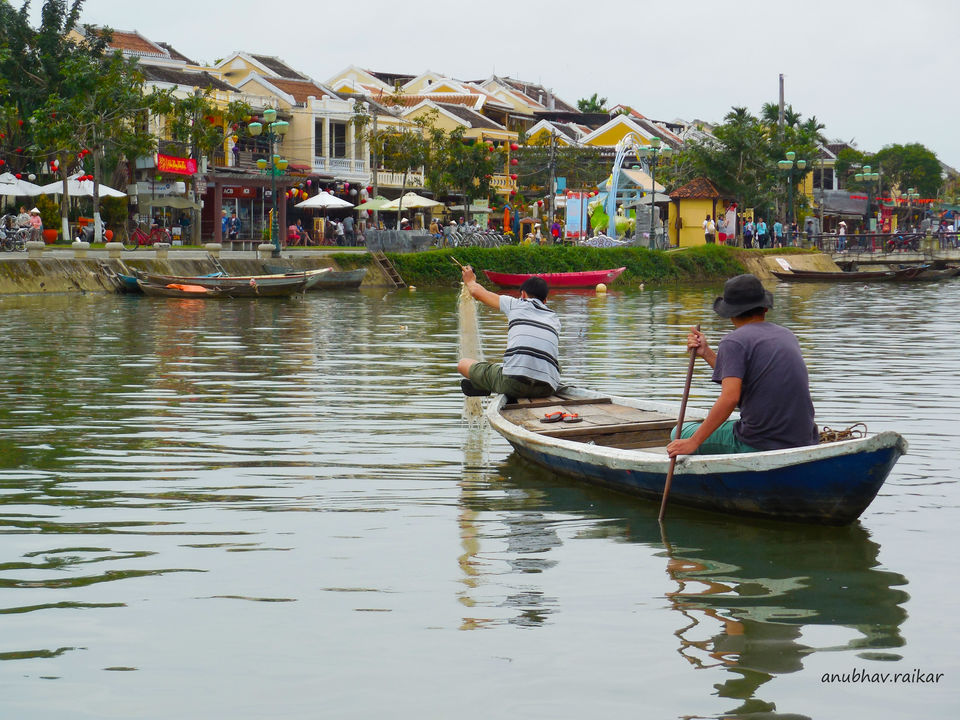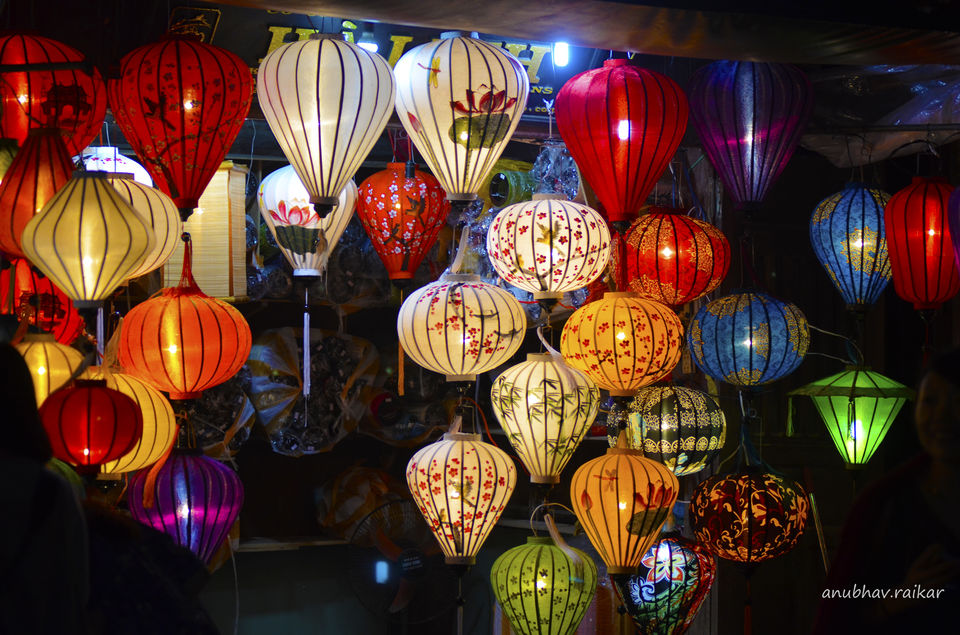 You would need to buy a ticket to visit the Ancient town. It costs 1,60,000 VND. This is the costliest Govt. ticket I payed for. It lasts for 4 days, BUT I wasnt going to stay there that long. I tried to explain her if there's a 2-day ticket or something. She didnt understand, obviously. I might be the only one who needs discounts on Govt. tickets :D
Feb 14: Day 5: Hoi An
I wanted to hire a manual motorbike, but there werent any available. I took a Yamaha scooter. I wanted to go to the famous Hai Van mountain pass. Was a bit worried how the scooter would perform. But no issues, all good. It ran very well for 2 days and was fuel friendly too.
So I set off to Da Nang on my Yamaha. Da Nang seems to be a fast growing well planned city. Anyone with business ideas, Da Nang!
That Dragon bridge is something at night. Be there if possible.
The road to Female Buddha pagoda goes right besides the coast. It rained pretty heavy. What great weather. The female Buddha statue is very tall. I spent quite a time there and then continued ahead.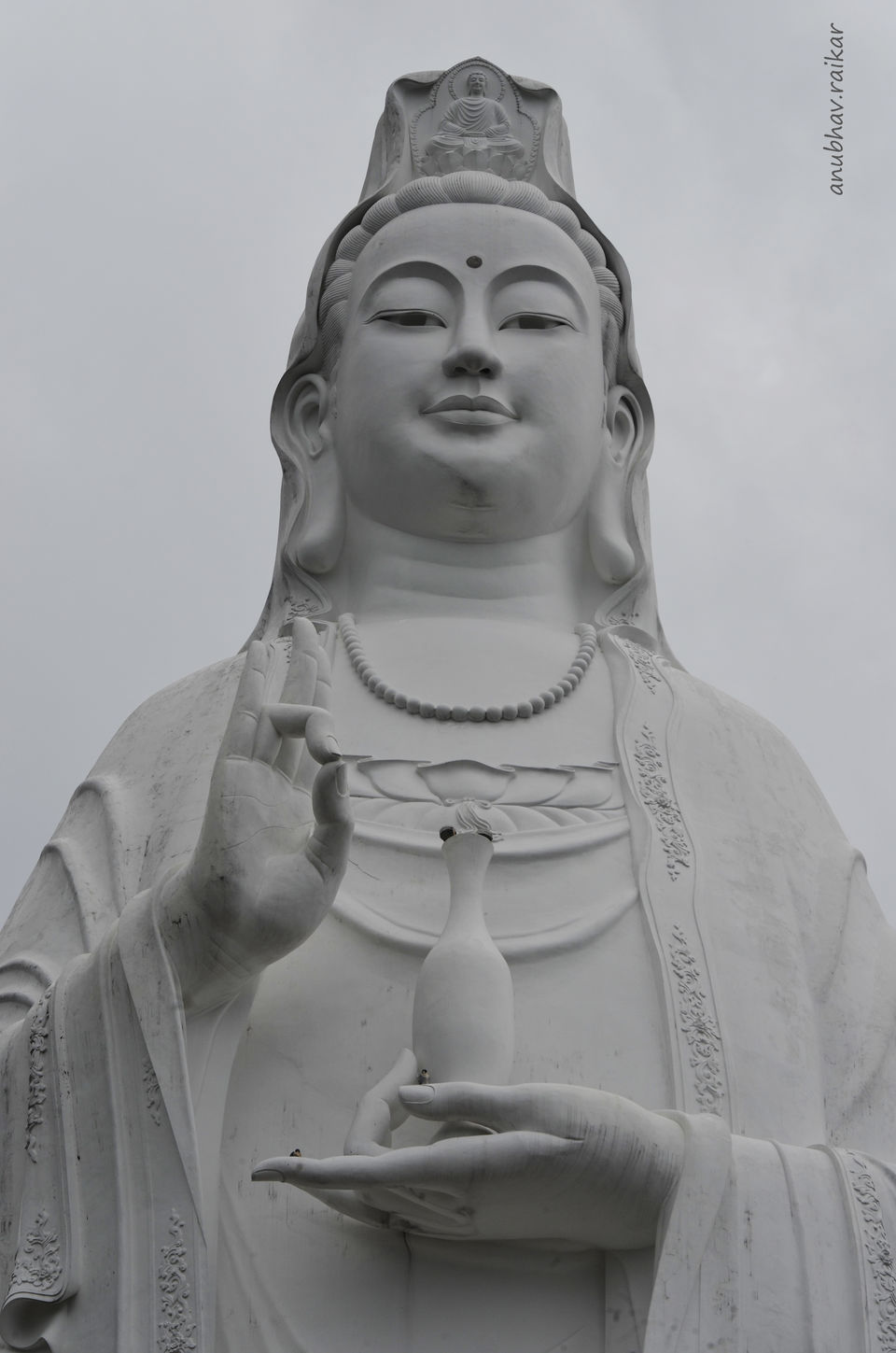 The road ahead was ultra-scenic. Saw many couples here for pre-wedding photoshoot. There is barely any traffic on this road.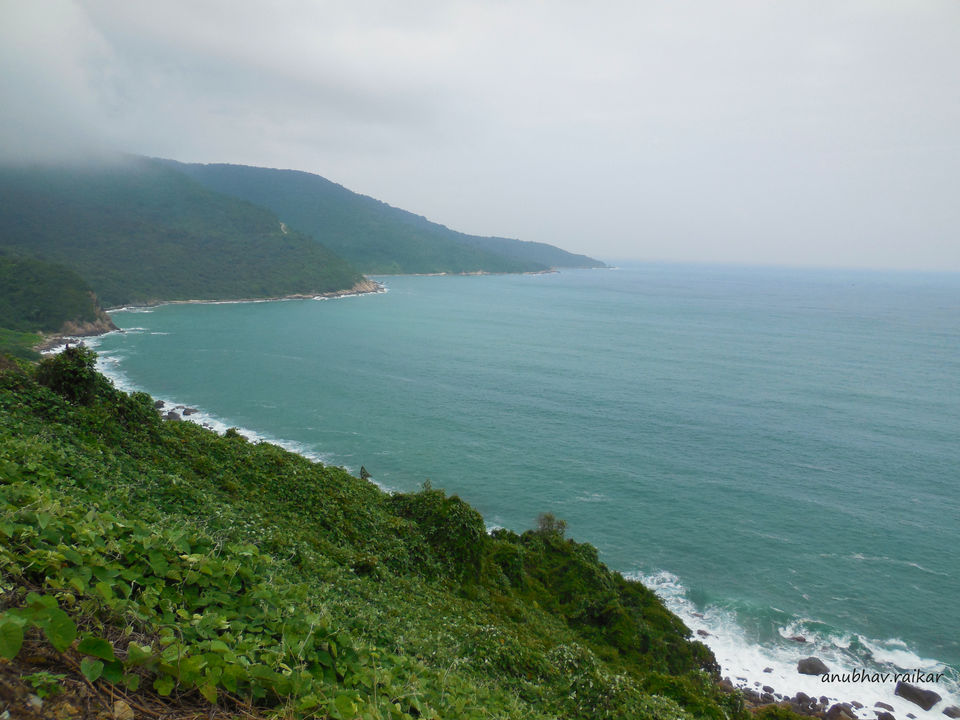 This route: https://goo.gl/maps/qZXBrHTJERC2
Next I continued ahead to Hai Van pass. Oh what lovely highway. I use the word Magnificent rarely. Its stunning. You like to ride bikes? Do all these mountain passes.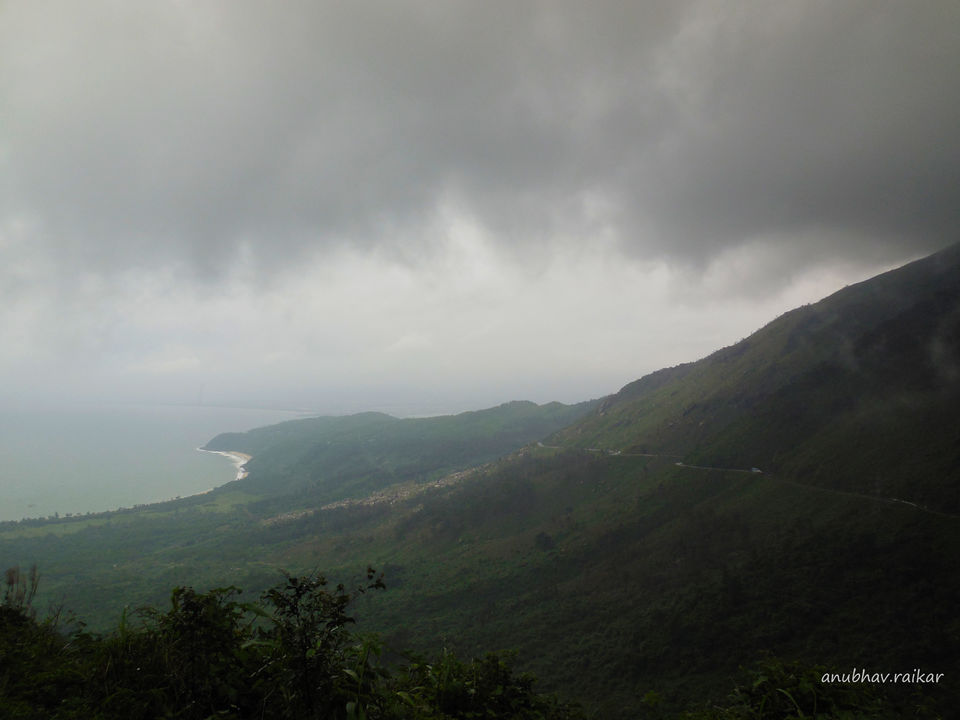 This route: https://goo.gl/maps/Jswd6r3YhT12
While on my way, it started raining. I stopped my bike and was wearing my poncho.. An old woman appeared out of no where and helped me wear that. I thought she might ask for money or something, but she just helped. Dont see such people often. Super human gift.
Feb 15: Day 6: Hoi An
How this day is planned (my worst plan ever) .. Below 2 paras - Not necessary to read..
Check out from homestay in morning.. keep backpack there.. go to Ba Na hills in the morning.. Go to My Son.. roam in Hoi An more.. have dinner in Hoi An.. at late night take a Xe Om and go to railway station to catch 3.00am train to Dong Hoi.
What really happened: Checked out from homestay in morning.. kept backpack there.. went to Ba Na hills in the morning.. didnt go to My Son.. roamed in Hoi An more.. came back to homestay at 5.00pm.. asked them about ways to reach railway station.. they said only taxi.. no Xe Om available.. no bus.. But the taxi was costly.. So next best cheap option, go to Hoi An bus stand by taxi and catch 6.00pm bus from there to Da Nang.. I reached Da Nang railway station at 7.00pm.. Duh!!! I have a train at 3.00am.. What to do these many hours!! An hour later, I packed myself with water, chips, bananas, cake from the railway shop.. I found a charging point.. A cozy place to sit where it wasnt that cold.. and thats it Youtube!! Free railway WiFi.. Spent all the time watching some funny stuff.. I call this: Improvisation and learning!
By the way, BaNa hills was cool.. It had horrible rains.. but lot of fun to ride the Yamaha through it.. very scenic, less traffic.. There is a mud bath castle kind of thing here. No idea what that is.
This route: https://goo.gl/maps/CfzxwnRgK3S2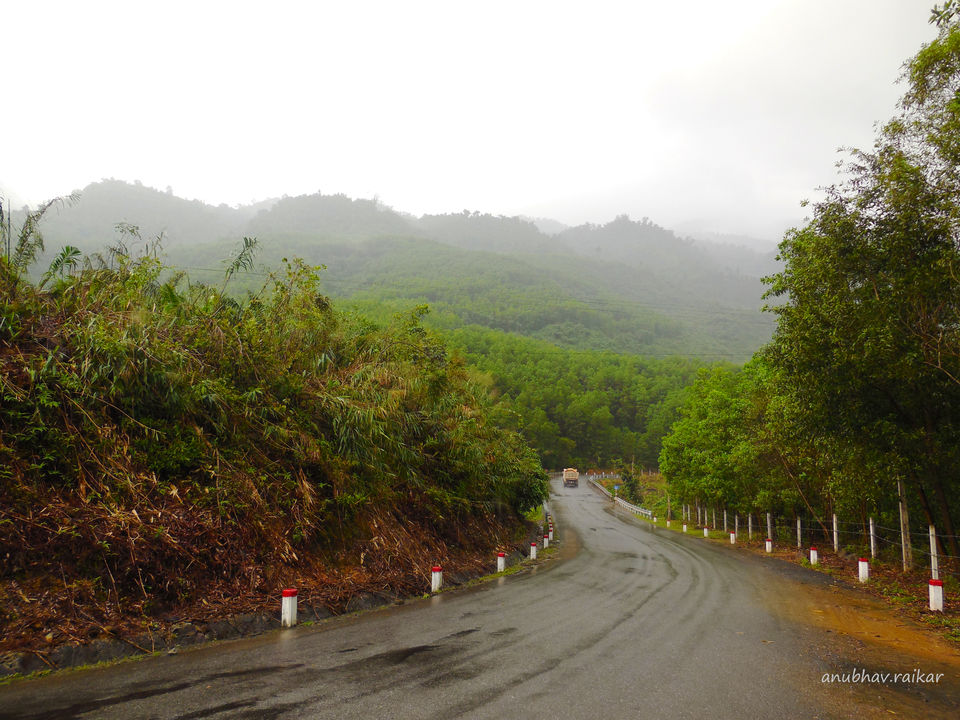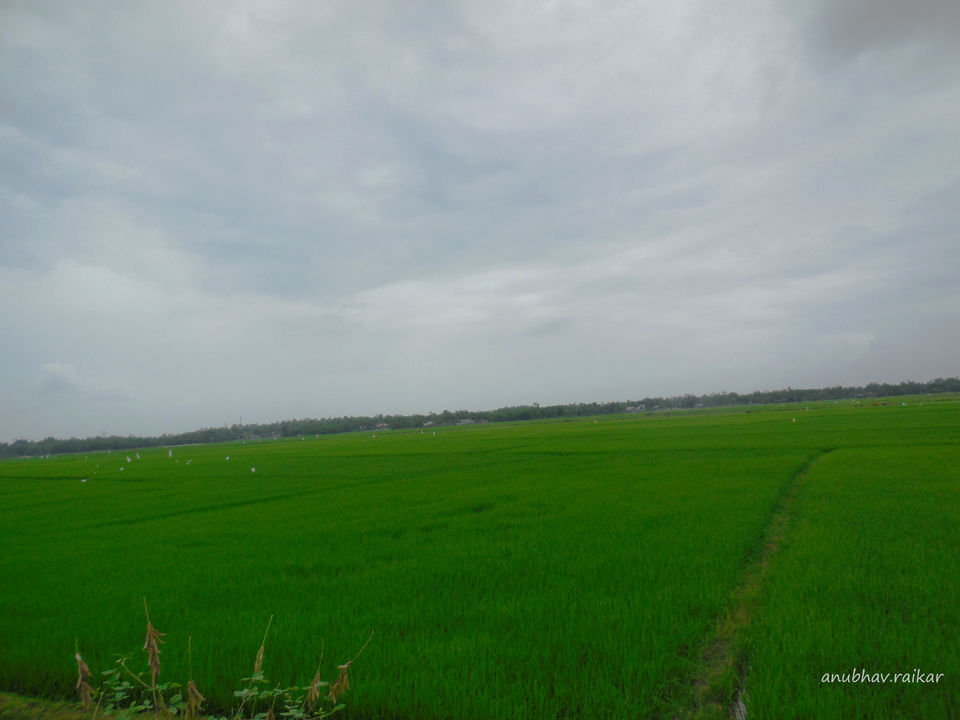 I also spent some time on An Bang beach in Hoi An. I went further south-east to Cua Dai beach. Hoi An has great restaurants. Ganesh Indian restaurant serves good Indian food. Their special rajma dal was lip smacking.
Feb 16: Day 7: Phong Nha
Destination Caves!! Phong Nha is the base place to go to Son Doong, Hang Va and other touristy caves like Dark cave, Paradise cave, Phong Nha cave etc. Son Doong is a 5 day expedition costing 3000 USD. Hang Va is a 2 day expedition costing 300 USD.
In my initial plans to Vietnam, there were no cave expeditions. I remembered NatGeo posting a Vietnam cave pic once.. I searched for it.. Found it to be Son Doong.. But 3000 USD, no way! What other options.. This tour company Oxalis (http://oxalis.com.vn/cave/son-doong-cave/) they arrange these cave tours.. I found something that suits my life on Earth - The 2 day 1 night Hang Va expedition.
This expedition is thrice a week. So, I had to make some changes to my initial plan to adjust reaching Phong Nha and doing this cave thing.
I reached Dong Hoi railway station at 9.00am. These Vietnamese railways and buses are well On-Time.. I didnt have a delay anywhere.
There is a bus B4 that goes to Phong Nha.. However, this bus stop is not near Dong Hoi railway station. So take a Xe Om, tell them or show an image of B4, tell them bus to Phong Nha.. they would understand. They shudnt charge you more than 50,000 VND. These buses start at 6.00am I think.. Once at the bus stop, wait for the bus.. B4 will be mentioned loud enough.. This bus will cost you 33,000 VND.. dirt-cheap.. I got the bus at 9.50am something.. Once in Phong Nha town, take a taxi/Xe Om to your homestay/hostel. I would advice to stay in a homestay in Phong Nha along the Son river. You would thank me later. I stayed in BeHome homestay. Excellent location, beautiful kids, great home cooked food.. Eat with the family/other travelers.. Nha Trang and Phong Nha are the places from where I didnt want to come back home..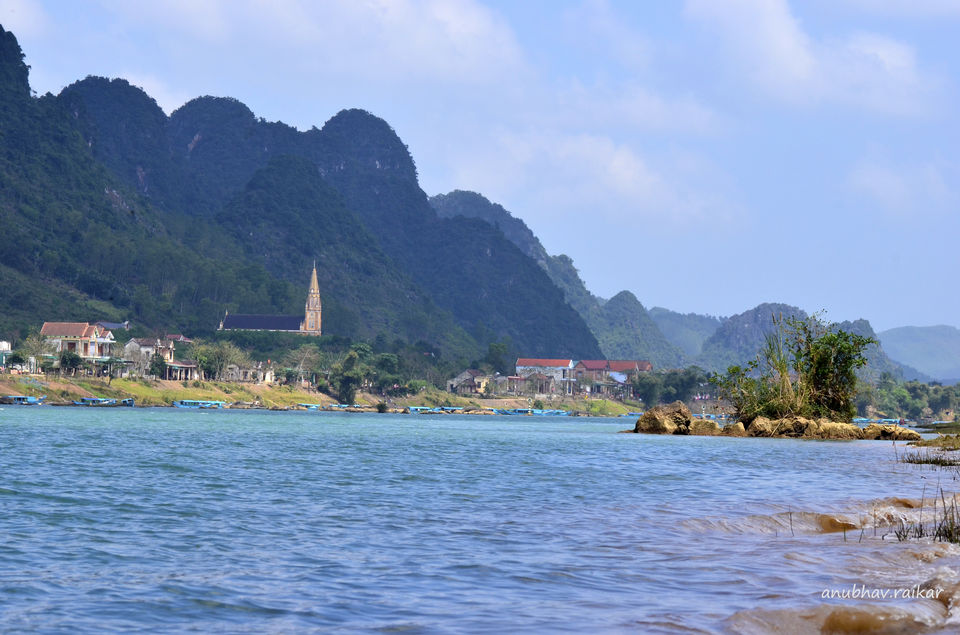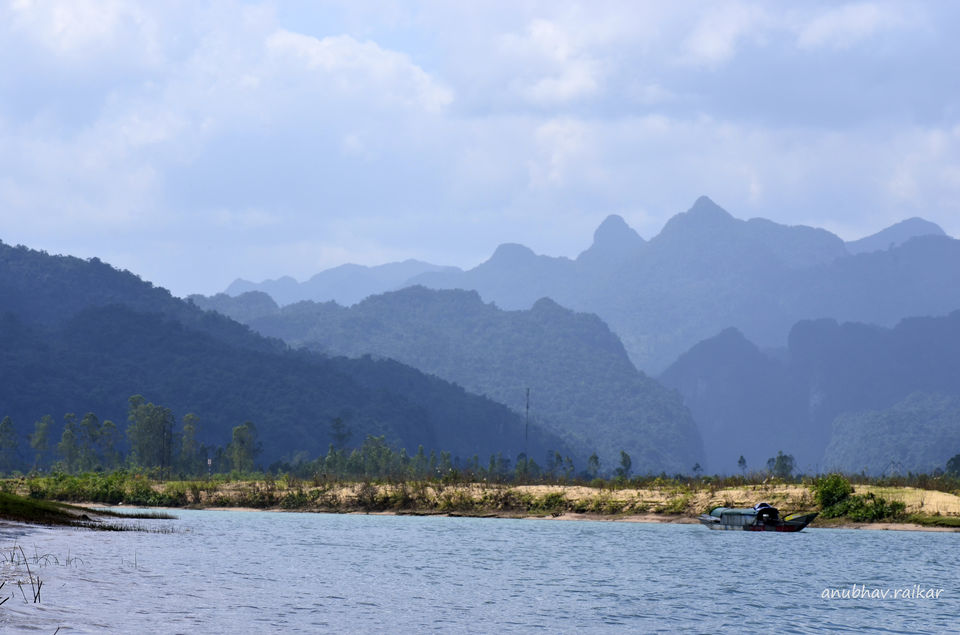 Feb 17: Day 8 - Feb 18: Day 9: Phong Nha
So, we start with our Hang Va expedition.. The Oxalis bus comes to your homestay, picks you up.. briefs on the 2 day 1 night thing you have put yourself into.. I wont go into more details on this.. This is the best experience I have ever had (even better than or equivalent to sky-diving in Mexico).. I would like to mention that the Oxalis team is highly professional, they know what they are doing, they will take great (not just good, great) care of you and make sure you are safe throughout. The trek leaders speak the best English you can come across in Vietnam through self learning.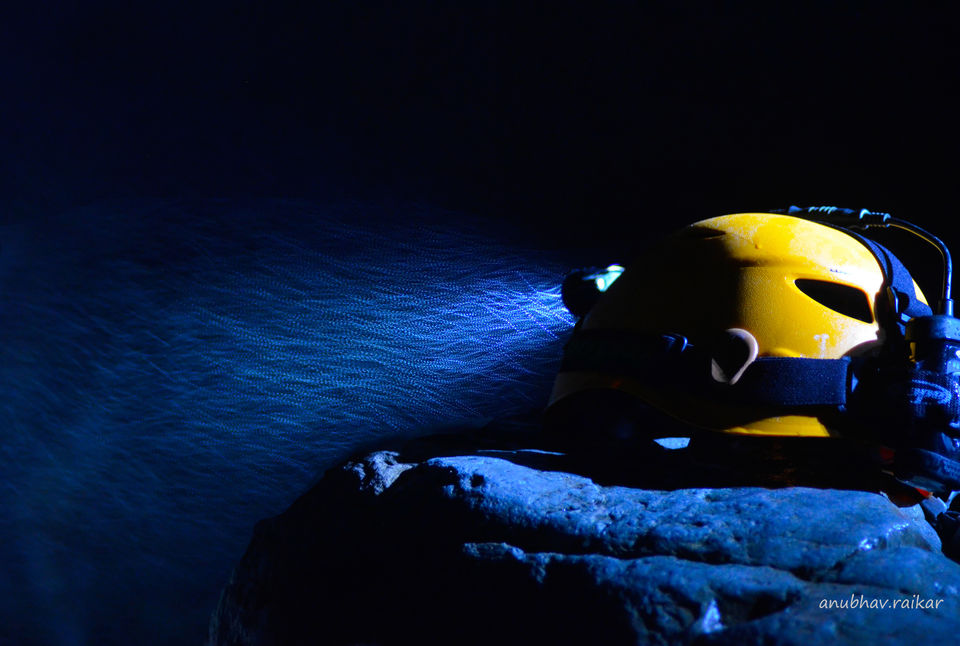 I would like to mention: this expedition is "not" easy. This was the ultimate test of my endurance and strength. Swimming (with life jackets), Sharp limestone rock climbing, descending was worse as it rained and the mud made everything slippery, Rappelling, crossing rivers against the current, leech bites, cooollld water. All this not under a day light sky, but inside a dark dark and hugeeeee cave where your headlight is the only thing that keeps you sane. You also have to pose for photographs :D For the paid 300 USD you have to. Also, this stuff isnt an hour thing, its a good 6 hour stretch per day. If you plan to do this, talk to the Oxalis team before you book. Be assured they are not kidding or just saying something for the sake of it. However, the structures inside the cave will put a big question in your head.. How can nature do all this? The calcium that makes up your bones, makes up stones in a cave.
At night 9.00pm I took the bus to Hanoi. This is a sleeper bus. I was totally exhausted. I slept in moments. I reached Hanoi at 5.30 am, again on time.
Feb 19: Day 10: Hanoi
I had plans to go see the Halong bay. But the cave had taken the most of me. I slept more. I stayed at hotel Hanoi Graceful. 27 USD, last day so spend a little. Then went out for lunch at Namaste Hanoi. Very good Indian food. Next stop: The Train street. Yeah, this is quite famous amongst people travelling to Hanoi. Google about it. The train comes at 3.30pm. I have it in my video.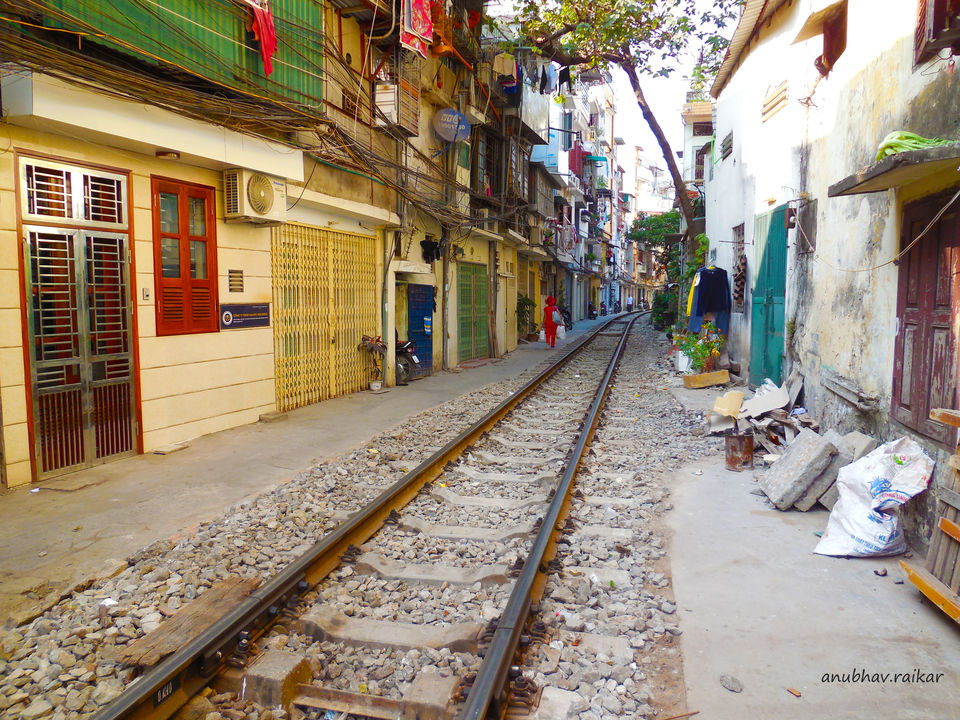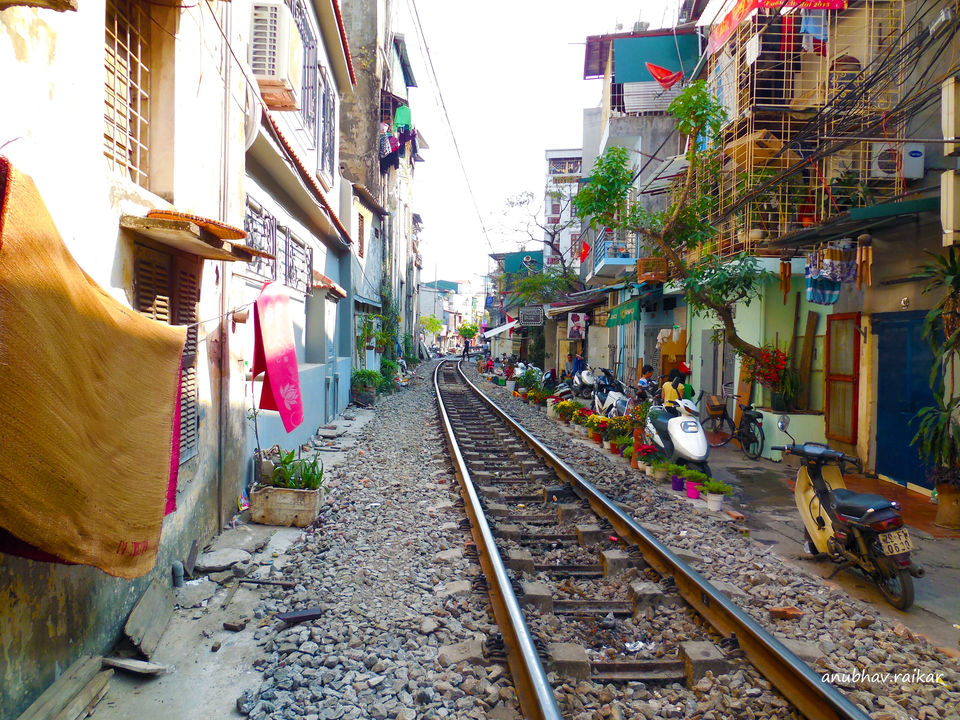 Then went to the lake. Thats some place to be at evening. College and school kids will be playing games, performing arts. Reminded me of Chapultepec en Guadalajara. Get a live pencil drawing of your face from experts on the pavement.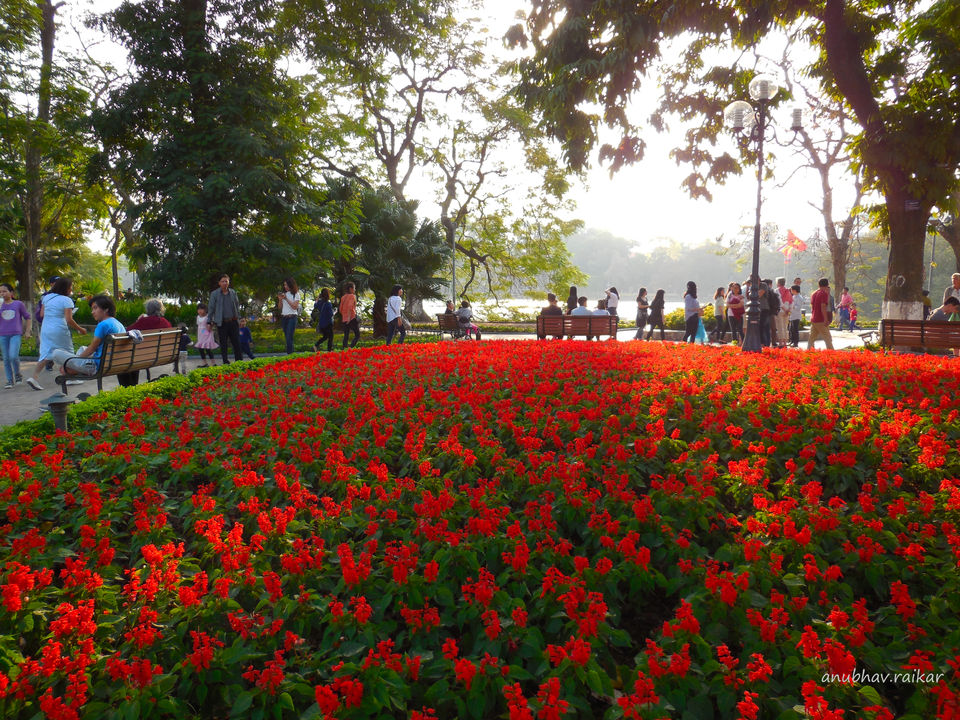 Then at 6.00pm they start with the Hanoi night market. Oh, this is a loooong one. They have everything you need just like in Saigon. This one is an open air street market though. Ben Thanh is a closed structure. I just some souvenirs and a North Face jacket. I roamed the market with whatever energy I had. As this was my last night, I couldnt just go and sleep at the hotel. I roamed Hanoi till 11.30pm.
Feb 20: Day 11: Mumbai
Early morning at 6.00am, the hotel guy had arranged a cab for me.. I reached Noi Bai / Hanoi airport and waited for my plane to pick me up back to home.
Below are some points I believe are very important.
- Never let go of your passport. If your hotel reception people ask for it, give it to them. Apart from this, Always keep it with you. Always!
- Make sure you know the currency conversion well. Install apps on your phone to be sure. The 00000 Zeros might get confusing, you might end up paying a higher denomination note.
- Bargain, get straight to 50% or what you feel is appropriate.
- Know what you are eating. Vegetarian? You will mostly pay more than twice. Chicken Fried Rice: 15,000 VND, Veg Fried Rice: 50,000 VND. Enjoy!
- If you book everything in advance, keep prints with you.
- Like your passport, keep money with you always. You would mostly enter Vietnam with Dollars or Euros. Keep them with you. I barely spent 150 USD in Vietnam (apart from hotels/tours/train/shopping). Food is cheap and really good. Bike rentals are cheap.
- If you like someone's work/service do leave a tip. Dont leave behind 5000-10,000 VND.. thats too less value. Its not mandatory but its a good way to appreciate someone's work.
------------------------------------------
I dont think 10 days is even close to "fine" to travel in Vietnam: South -> North. Even though I went to every important place a person can in 10 days, I think I should stay a day longer everywhere, making this at least a 3 weeks trip.
Apart from this, the country is safe. If you've seen the video, I've ventured into forests and villages all alone. Nothing to worry in this country. The food is great. People are beautiful. Have a great time. If you need any info not mentioned here, drop a comment :)
Insta: @anuron_insta
Frequent Searches Leading To This Page:-
India To Vietnam Flight Cost, Hyd To Vietnam Tour Package, Vietnam Travel Package Deals, Northern Vietnam Tour Package, Cheapest Vietnam Tour Package From India, Vietnam Tour Package From Kerala, Vietnam Tour Package For 3 Days