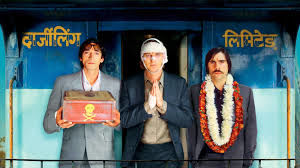 #TripotoTakeMeToHimalayas
India: it can be called the subcontinent as varied as Europe. A Punjabi is as different from a Madrasi as a Scot is from an Italian. N0 two states in India are similar. These movies will show you the nuances of India- the color, culture, vibrancy and sound. Watch them and you'll end up craving for a slice of this land.
1. Monsoon wedding
The grandeur of Indian weddings comes out in this movie. Showcasing the big fat Indian wedding, this movie captures the magnificence, charm and tradition of a wedding ceremony behind the scenes.
2. Barfi
This is a personal favorite. The plot of this movie is based in Darjeeling. The cinematographer of this film Mr. Ravi Varman has done a great job. He effortlessly captures the gorgeousness of Darjeeling's tea plantations, quaint narrow-gauge trains and mist-shrouded hills throughout the entire movie. The movie will take you along with it.
3. The Best Exotic Marigold Hotel
Chaotic and exotic. From the initial culture shock to deeper understanding, the film shows the true experience of falling in love with the Indian culture and traditions. The film shows Jaipur and Udaipur in equal proportions. I guarantee you'll be looking for flights to India by the time the credits start rolling in.
4. Monsoon
Monsoon brings not only water, it brings life to the country. This spectacular travelogue is poetic and tragic at the same time. Follow the filmmaker Sturla Gunnarsson's breathtaking journey across Kochi, Goa, Mumbai and other states. Don't forget to keep your raincoats handy.
5. Water:
Unaltered, mystic and real. The movie is set in the streets of Varanasi or Benaras and captures the indigenous culture of this place.
6. Highway
The film will make your theatre seat feel like the window seat of a truck. A bit of drama coupled with sublime panoramic shots of Himachal Pradesh, the film is enchanting to say the least.
7. Finding Fanny
Goa like never before. The film captures Goa beyond its rave parties and crowded beaches. Unexplored churches, narrow by-lanes and virgin shots is what makes Finding Fanny a must watch.
8. Chennai Express:
I agree film may be a bit over the top. But the film deserves full marks for its cinematography. From the majestic Dudhsagar Falls in Goa to the lush hill town of Munnar in Kerala, each frame of the movie was a sight to behold.
9. Chalo Dilli
Two polar opposites, a journey via a desert, food at a dirty dhaba and a a ticketless train journey; that is Chalo Dilli for you. Join in for a upheaval and bumpy ride that Lara Dutta and Vinay Pathak take.
10. Piku
Dheere chalna hai mushkil to jaldi hi sahi
Aankhon ke kinaaro mein bahaane hi sahi
Delhi-Varanasi-Kolkata. This journey is the journey ofa father-daughter portrayed in the form of a road trip.
11. The Darjeeling Limited
Peter Whitman: I love the way this country smells. I'll never forget it. It's kind of spicy.
12. Bride and Prejudice:
This is again a personal favorite. I spent my entire childhood thinking Mr. Darcy would come and sway me off my feet. The Golden Harmandar Sahib, colorful streets of Punjab, exuberant dandiya and Goan resorts. This film shows India from the eyes of a modern girl caught in a traditional family. Watch it for some foot tapping Bhangra.
13. Eat Pray Love:
Julia Roberts in a saree. Need another reason to see the movie? Well, there are many. Watch it for the hueful Indian wedding and the marvelous spirituality.
14. Jagga Jasoos
This one is a visual delight. I bet this one will make you pack your bags and head to the north east.
This is a non- exhaustive list. You can watch the ever so popular Yeh Jawani Hai Diwani , Jab We Met,Raanjahana umpteen times and still not be bored. Do tell me your favorites in the comments section.