I began my journey towards Nohradhar, Himachal Pradesh, the place from where I started my trek.I took a bus from Chandigarh to Solan, at 1:00 a.m, in the morning I reached Solan at 5:00 am, from old Solan bus stand I took the first bus to Nohradhar at 5:45 am, which reaches Nohradhar at 9:30 am, the amazing view of the Rajgarh hills thrills you throughout the bus journey, the roads are very narrow and the bus drivers are just excellent.
After reaching Nohradhar, I ate food at a local restaurant for Rs.50 (2 aloo parathas), and left for Churdhar peak, at 10:00 am, as I had my tent and my DSLR, tripod and other accessories, my luggage was heavy for a solo traveler.
After trekking for about 1 hour I could see amazing hills.
then after trekking for about 3 more hours, I reached Doosrithe second base camp for Churdhar peak at 2:00 pm, at this moment I realised I couldn't complete the whole trek in a single day, so I decided to move on to the third base camp Teesri and camp in Teesri for the night.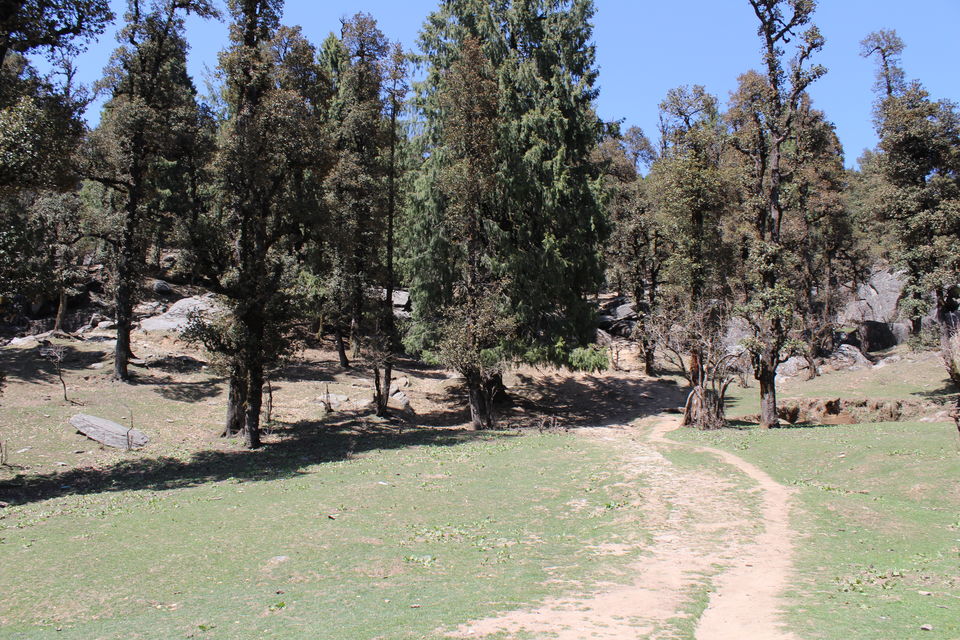 the camp site doosri.
I rested for 10 mins and continued my journey towards Teesri, the third base camp, I reached at 5:00 pm in the evening, and to my luck I was able to find a decent campsite, and started to set up the tent,but it was not that easy, the winds were blowing so rapidly that it was next to impossible for me to set up the tent alone, luckily some guys from Delhi also came there, with the help from them I somehow set up the tent.
after setting up the tent I ate noodles after cooking than in fire, along with the Delhi guys, these guys from Delhi were a blessing.
my tent at night
Well for reducing the size of my luggage I had decided to leave my sleeping bag at Chandigarh,which I regretted the most,It was freezing cold at night,but the sky was just amazingly full of stars, it was a sky I had never seen before, it was freezing cold still I was sitting outside watching stars as I couldn't sleep inside the tent.I somehow lit a fire with the help of diesel that I bought, but it did not help much because it was too windy.I somehow managed to sleep that night wearing every piece of cloth I had.
The morning view from Teesri was just amazing, it was just mesmerizing.
the morning view from teesri.
after packing my tent and having breakfast I left from Teesri, at 10:00 am, I began my journey after trekking for 10 minutes I started to see the glimpse of snow, and the peak was now visible but still far.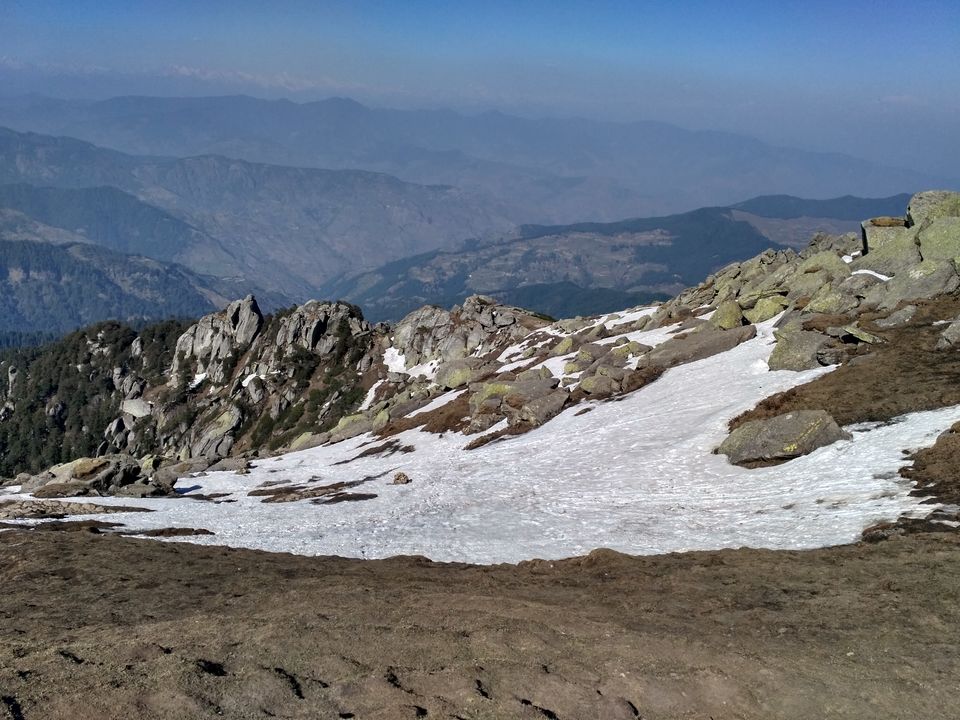 now I could see the visitors coming back from the peak after their stay at the temple, beyond the peak.
now the trek was steep about 60", and it felt like rock climbing jumping from one stone to the other, after trekking for about 4 hours I finally reached the peak, and the view from above was mesmerizing.
after staying at the peak for about 1 hour I decided to climb down from the other side of the mountain, I reached temple after a trek of 1.5 hours at about 2:30 pm, now I couldn't reach Shimla if I began my onward journey then as the last Bus from Sarain to Shimla was at 11:30 am in the morning, so I decided to stay at the temple rest house, the village was just awesome I was provided food and blankets, and finally I slept peacefully over there for the night.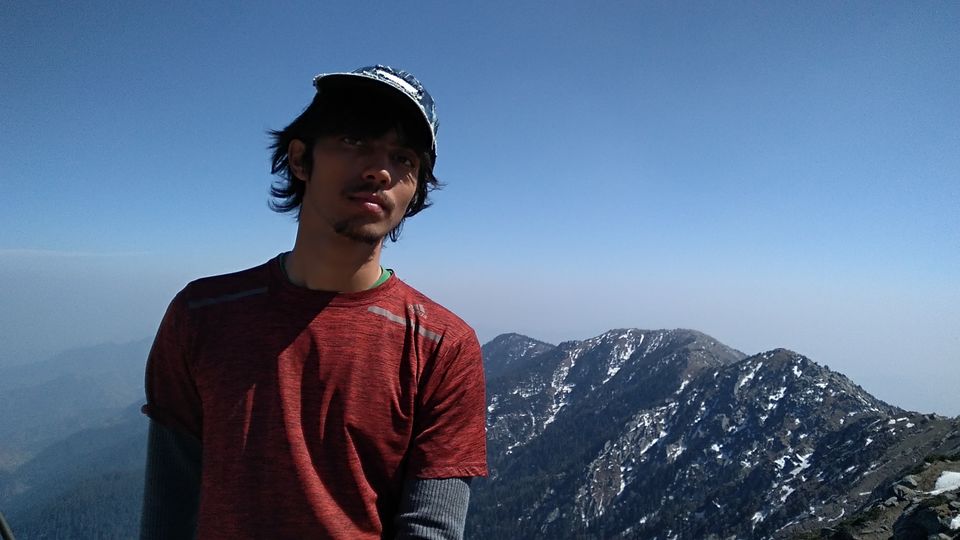 I met a lot of travelers on the way and a lot of them appreciated my bravery of coming solo on this trek I was so happy I cannot express.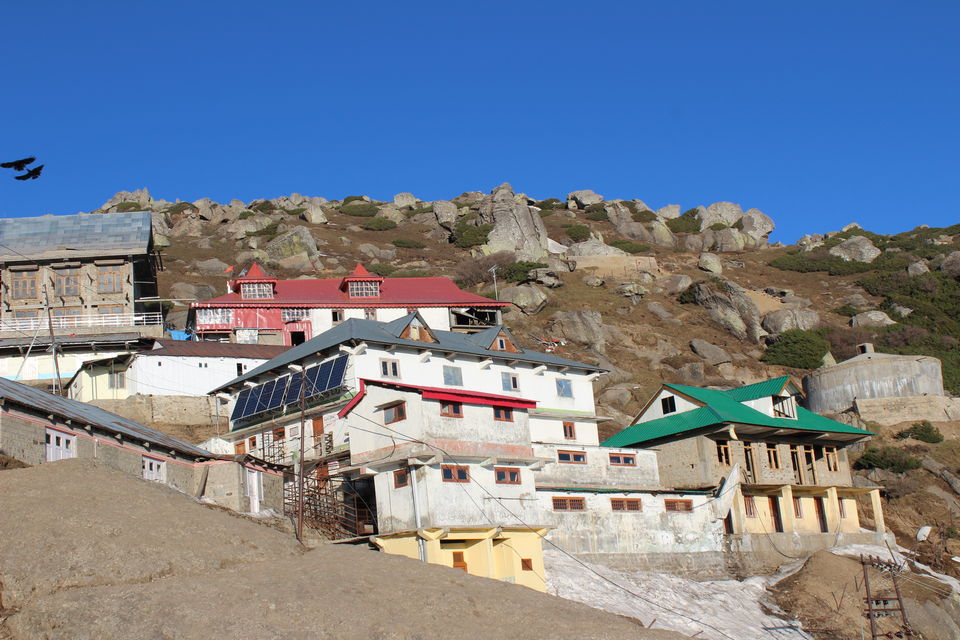 the next day I woke up early at 5:00 am to watch the sunrise and the view was amazing,
sunrise view from temple balcony
After having breakfast I left for Sarain, at 7:00 am after continuous trekking for 2 hours I reached Sarain,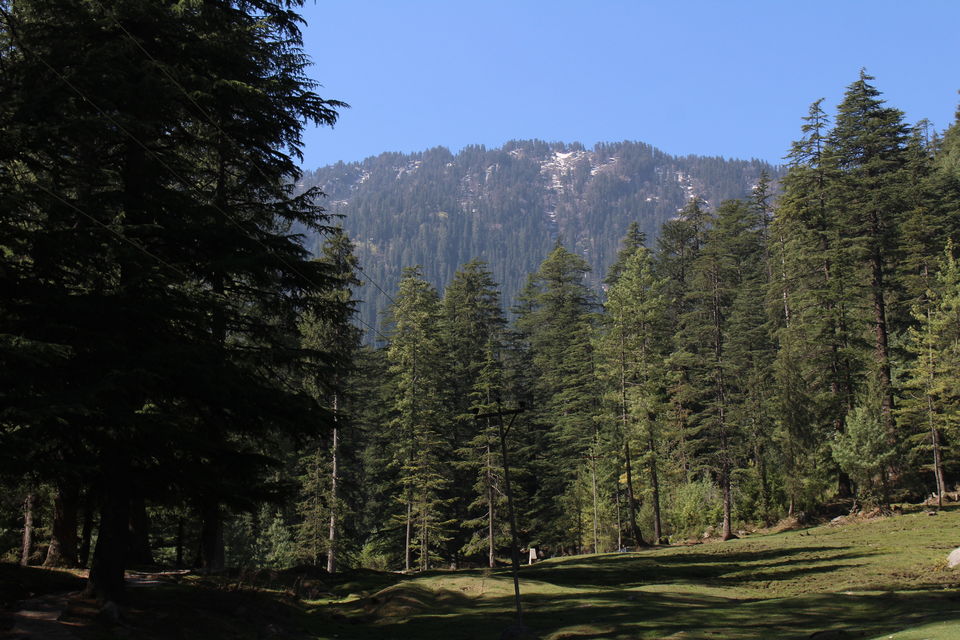 sarain base camp
there was an ancient Mughal empire temple at Sarain, and I decided to visit it because it simply looked amazing, as soon as I entered the temple I could feel that it was a mighty place, it just felt amazing to be in that place.
after leaving temple I reached the bus stand at 10:30 in the morning, so I decided to take a dip in the river along the bus stand I couldn't just control myself, the water was freezing cold, but it was worth it.
after taking a bath I took the bus to Shimla at 11:30 am from Sarain, which left me at Shimla at 6:30 pm, from there I took a bus to Chandigarh, which left me home at 12:00 am.
the trek was just amazing and increased my hunger to travel more and more, and I just made some amazing friends.
now whenever I am free I just leave to travel, my heart says
"The hills are calling, and I must go".