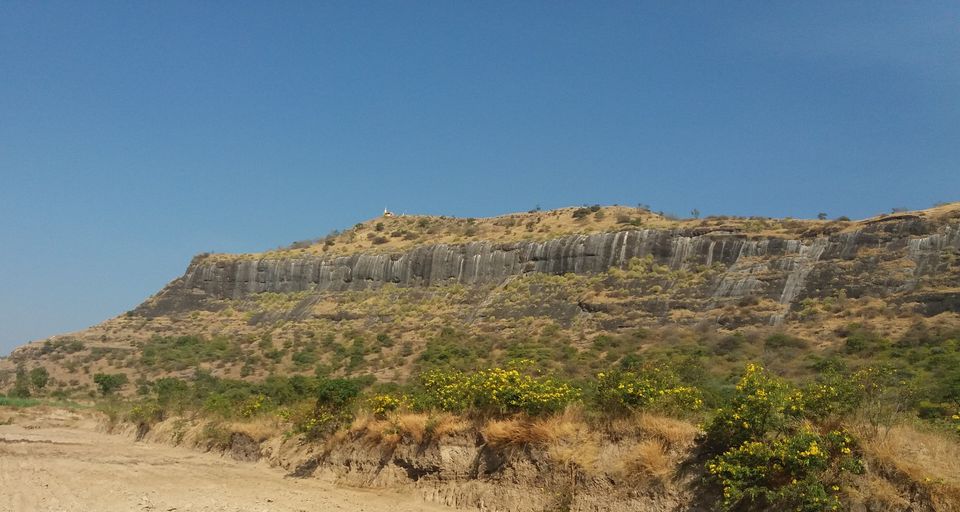 Base Village: Gadachiwadi
Fort State: In ruins
Difficulty level: Easy
Endurance level: Easy
Things to carry: Sports Shoes must, 2 liters of water, some snacks
How to Reach: Do not follow Google maps, I have added the exact route below
Narayangad fort is around 80 km away from Pune on Nashik road. Located 10 km east of Narayangaon on the way to Khodad village. The fort is secluded and not visited much. We inquired for fort directions after reaching Narayangaon and everyone asked us if we wanted to go to Shivneri fort. This fort lies on a distinct hill not belonging to any range. GMRT project has been built just 4 km away from this fort.
Four of us, Amit, Swapnil, Venkatesh and me started our journey on a cold winter morning. We started around 8 AM by Amit's car. The Pune-Nashik highway is not ready yet, we met lot of traffic on the road, even though we started early. It will be annoying to see such traffic who are used to drive on Mumbai or Bangalore highways.
Interestingly, we had crossed six rivers on the way to reach this fort, namely, Pawana, Indrayani, Bhama, Bhima, Ghod and Meena. The Google maps location is wrong and we spent some 10 minutes locating this fort. After searching again, we found the correct location. Below is the route to this fort.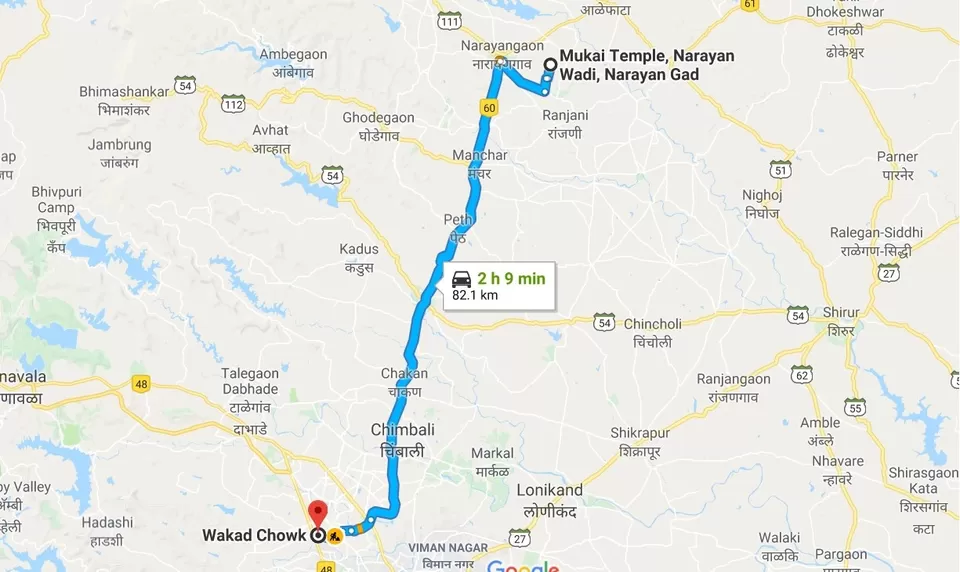 On the way we found numerous farms of fruits, grains and vegetables. We had a good conversation guessing what kind of crop it is and what crops yield at other's native place. We reached the fort around 10:30 AM.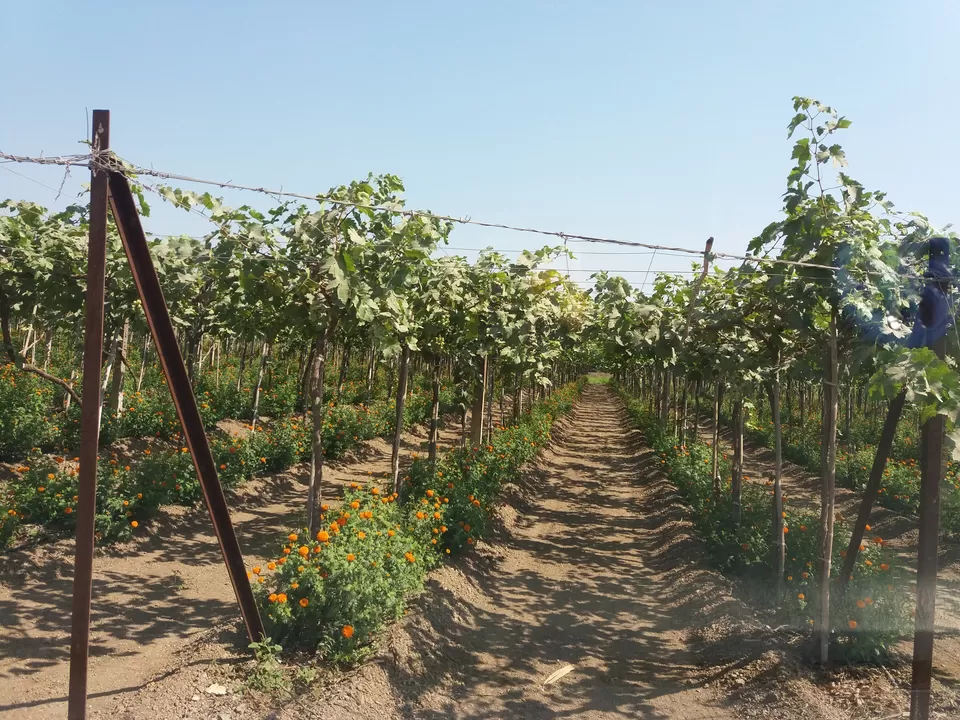 At the base village, Gadachiwadi, there is Goddess Mukai temple. We took the blessings and started climbing up.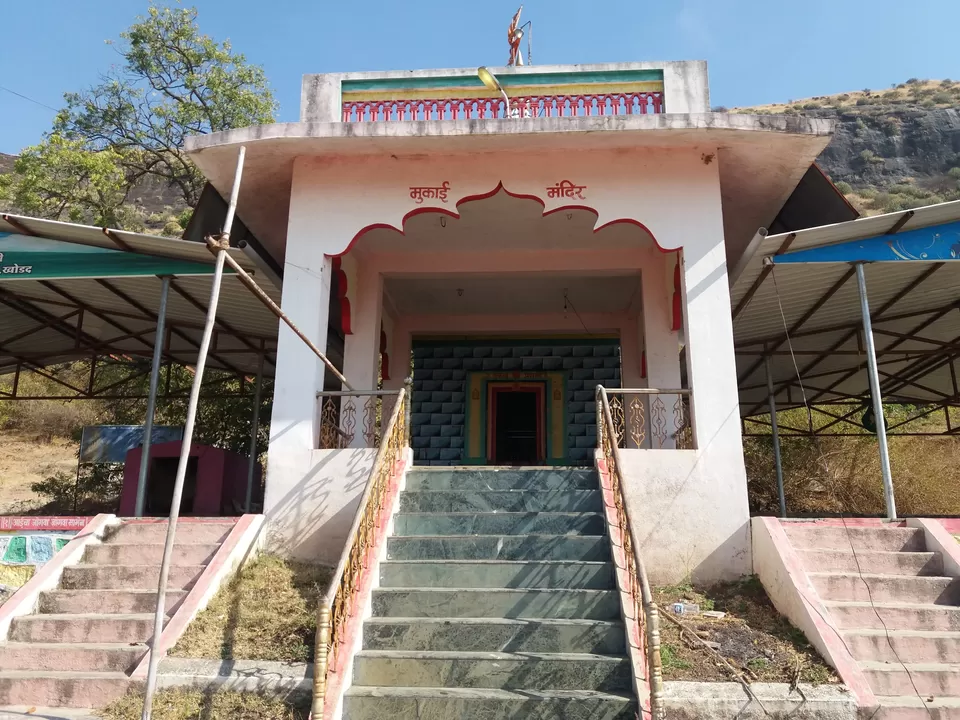 There are proper rock made steps leading to the fort. The hike is easy and can be visited by people of all age groups.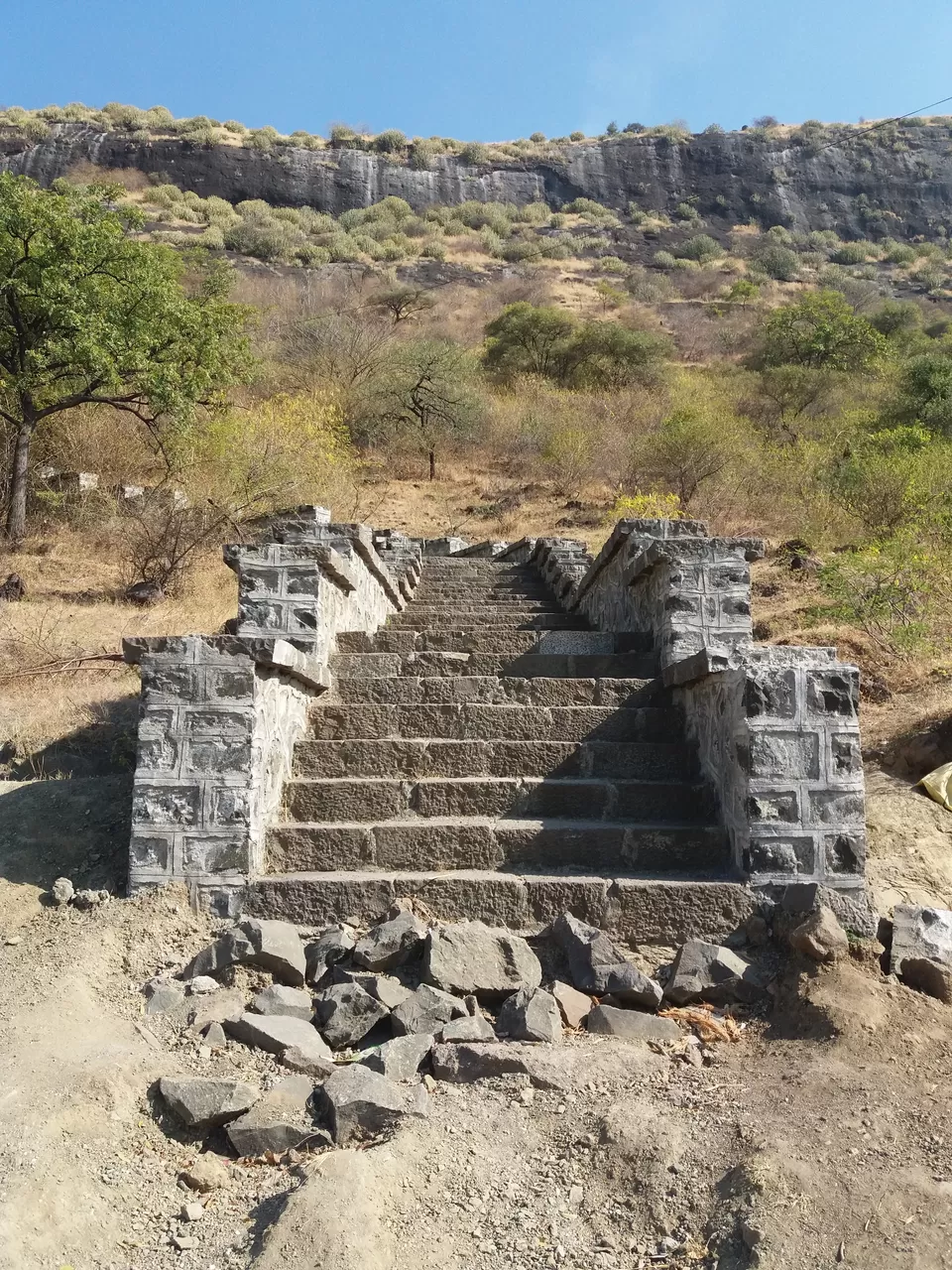 I and Venkatesh also tried rock climbing by skipping some steps.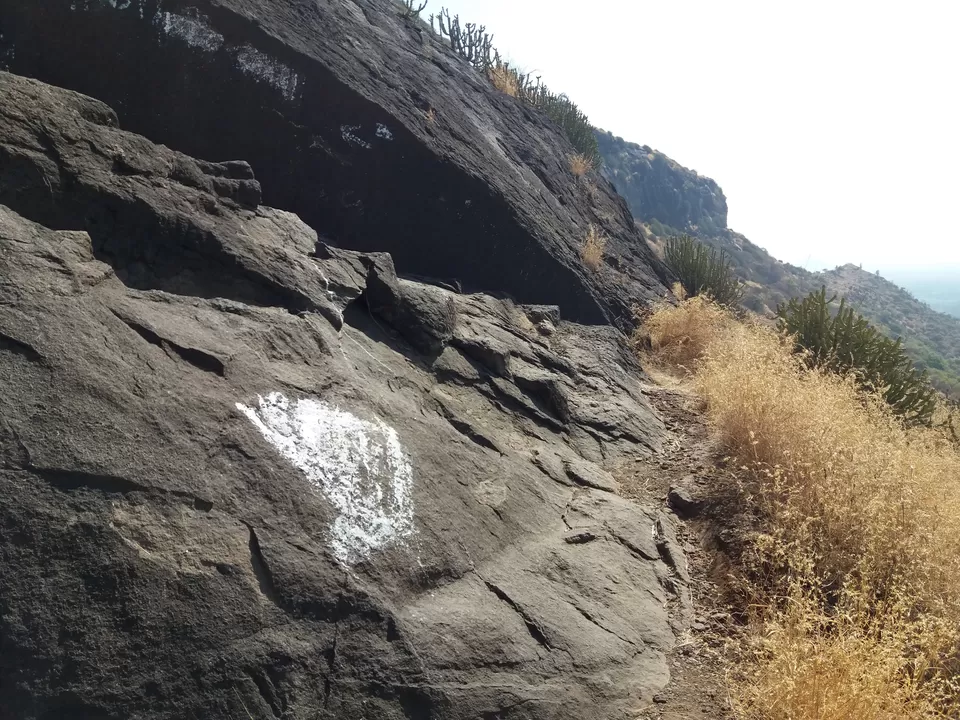 Once we cross these steps, there are old rock cut steps for half the distance. Be little careful here.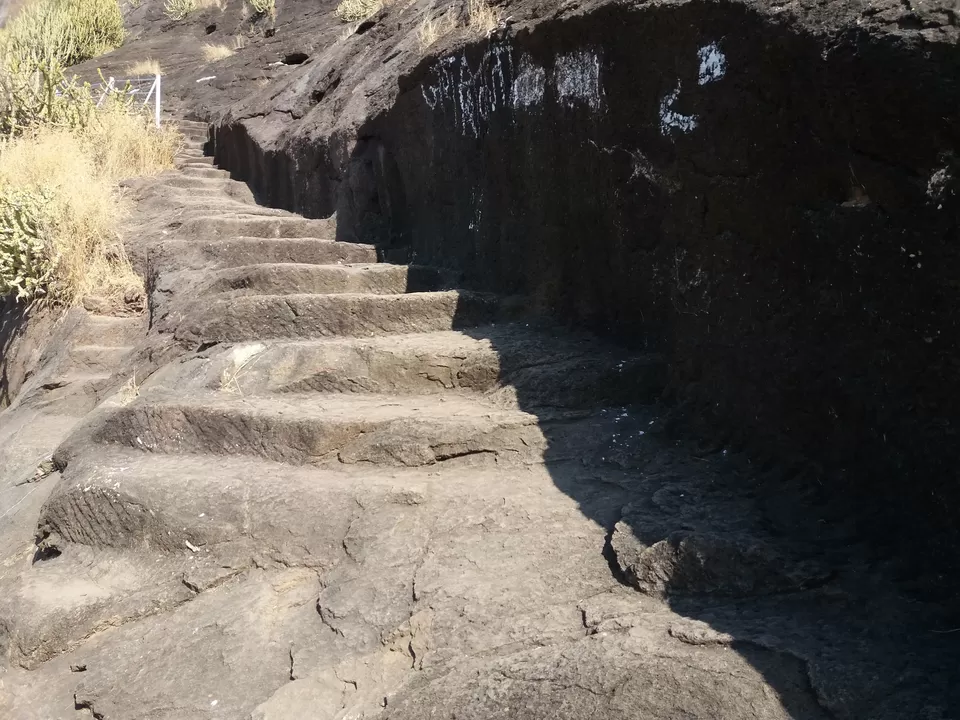 We reached the top in 30 minutes. There is a hole in the rock like below. It must have been used to hold gate's pole.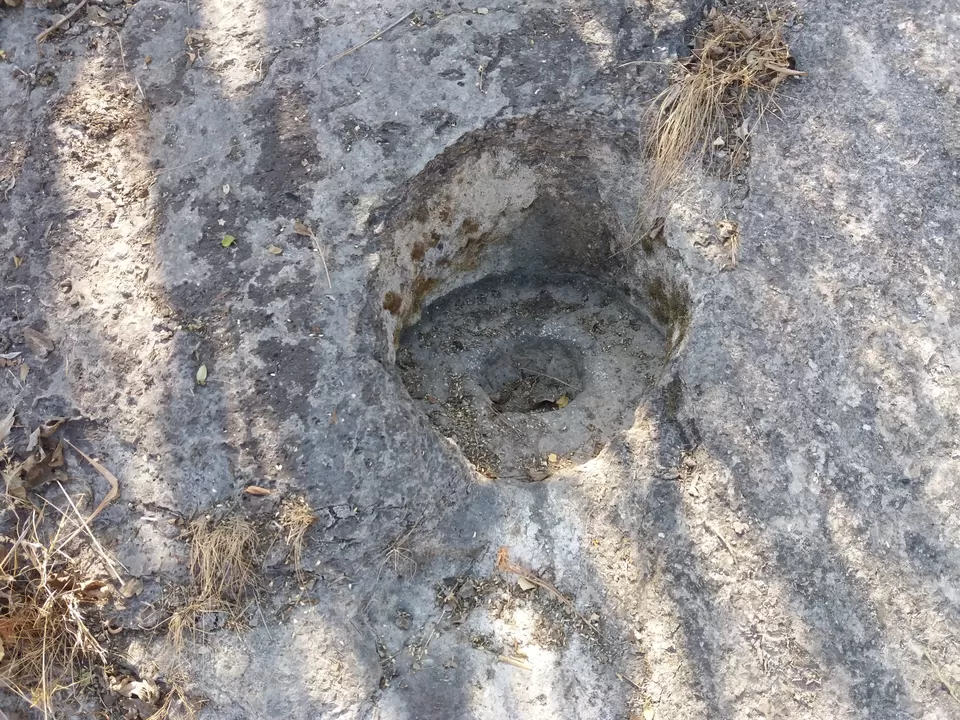 There are two ways here, we took the right turn. Found this place in ruins, could have been used as a court.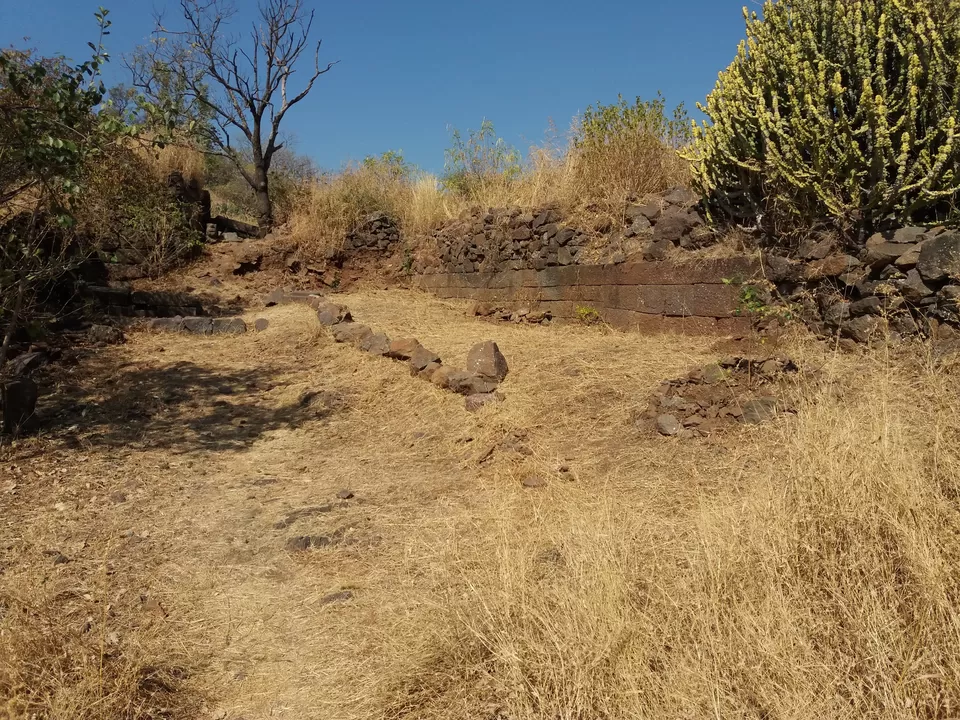 Going ahead, there is a Lord Ganesh sculpture, carved out from a rock.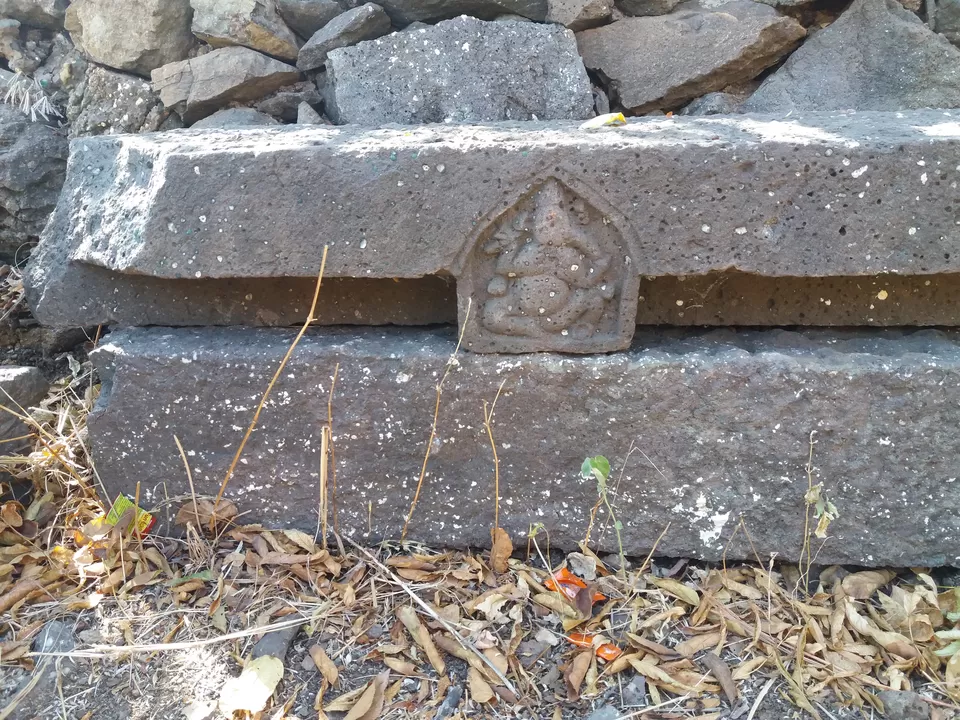 Just beside that, we saw a sculpture of two tigers on the rock.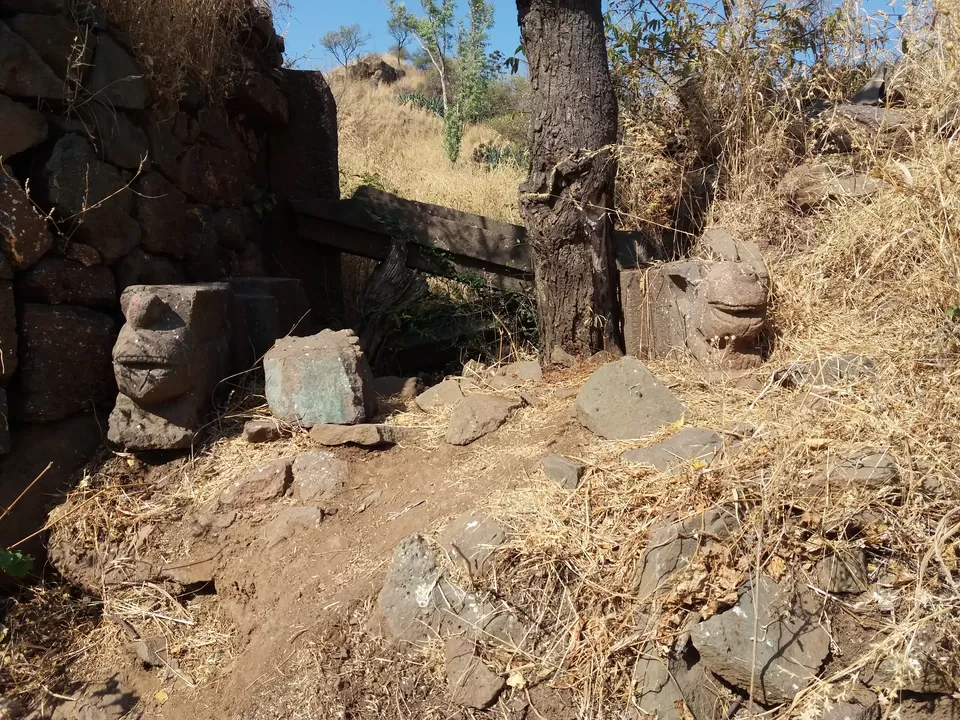 A pot like rock structure.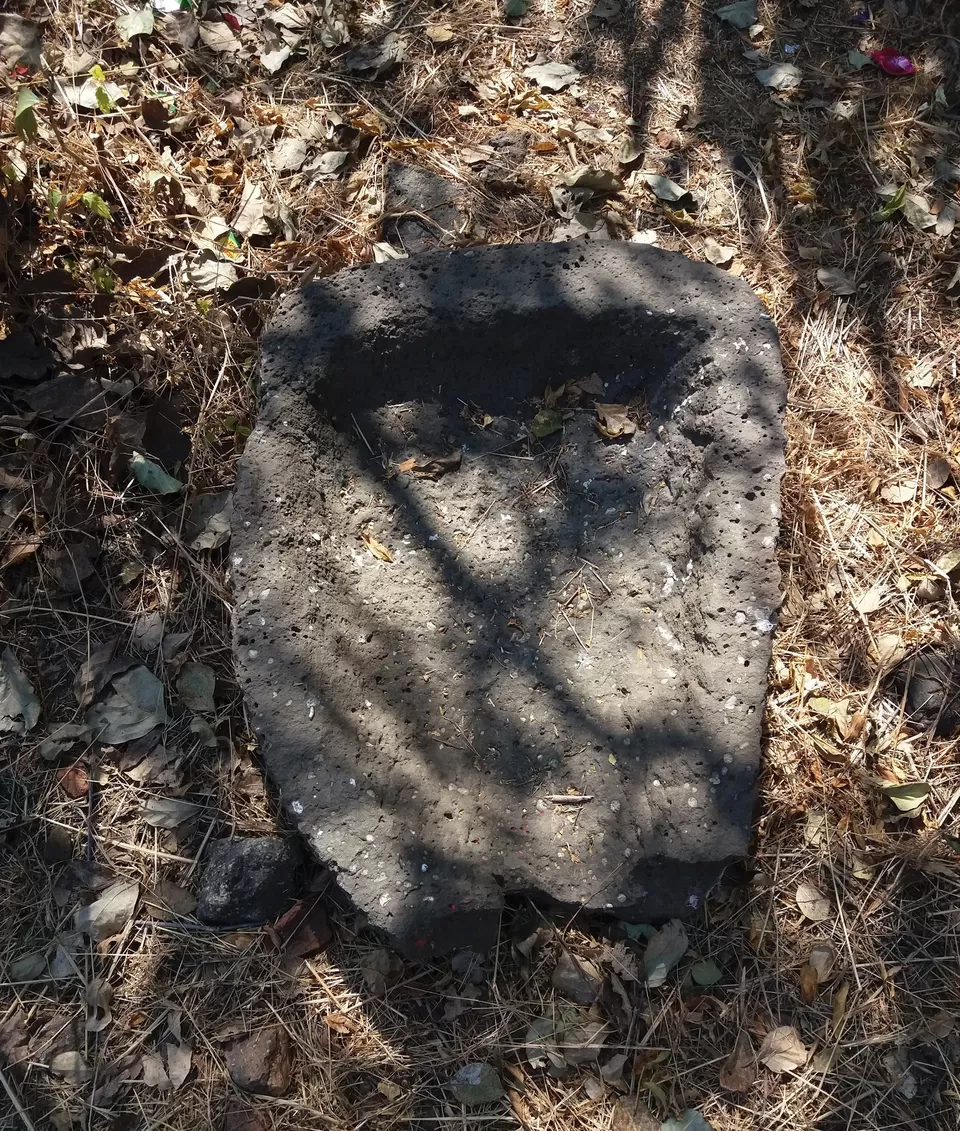 A plantation just beside this. Commendable!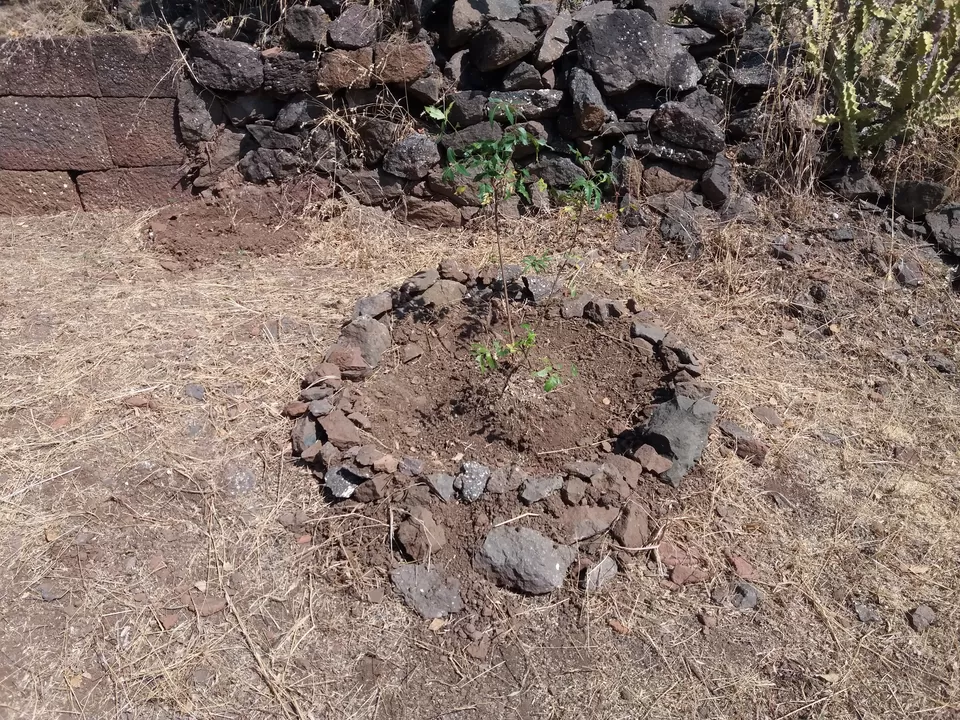 We came back to initial point, and turned left. The fortification of the fort.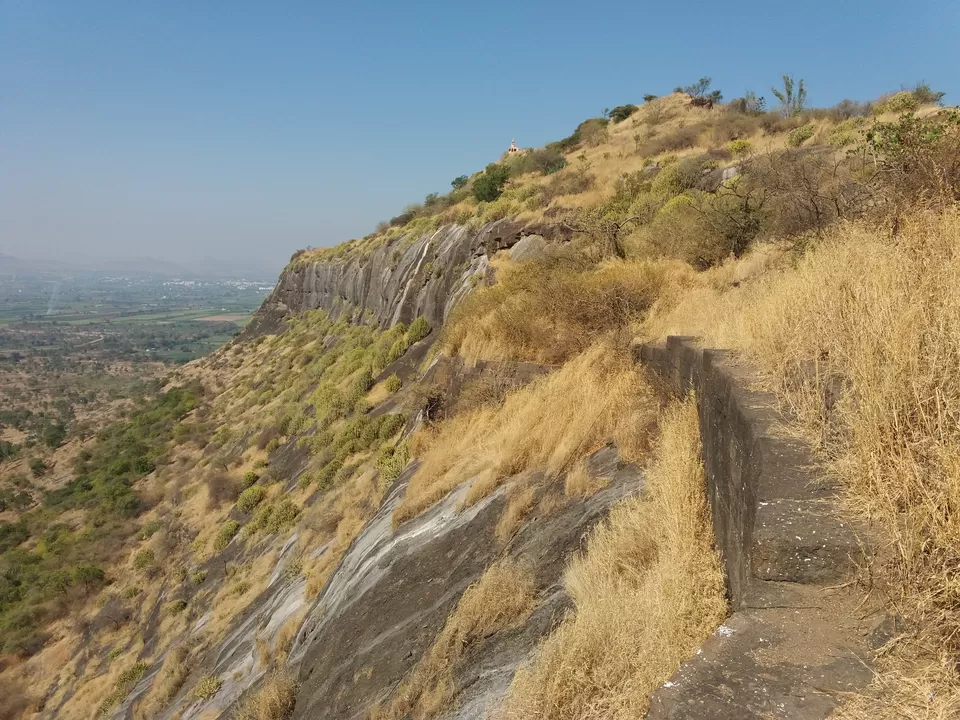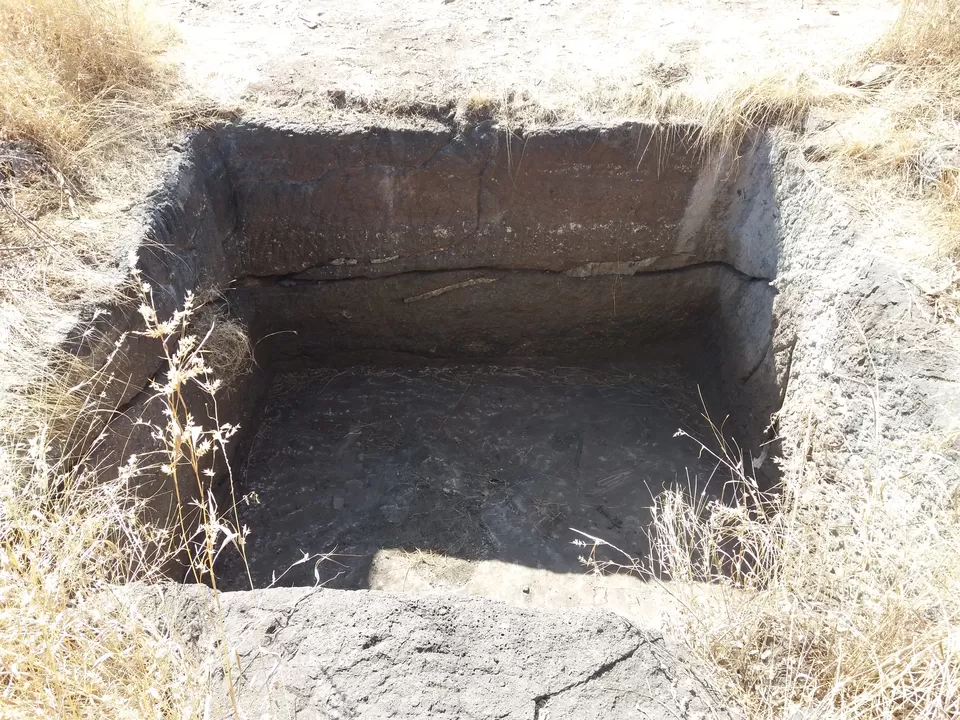 We reached the highest point of the fort. Views from the peak.
The saffron flag was fluttering due to strong wind.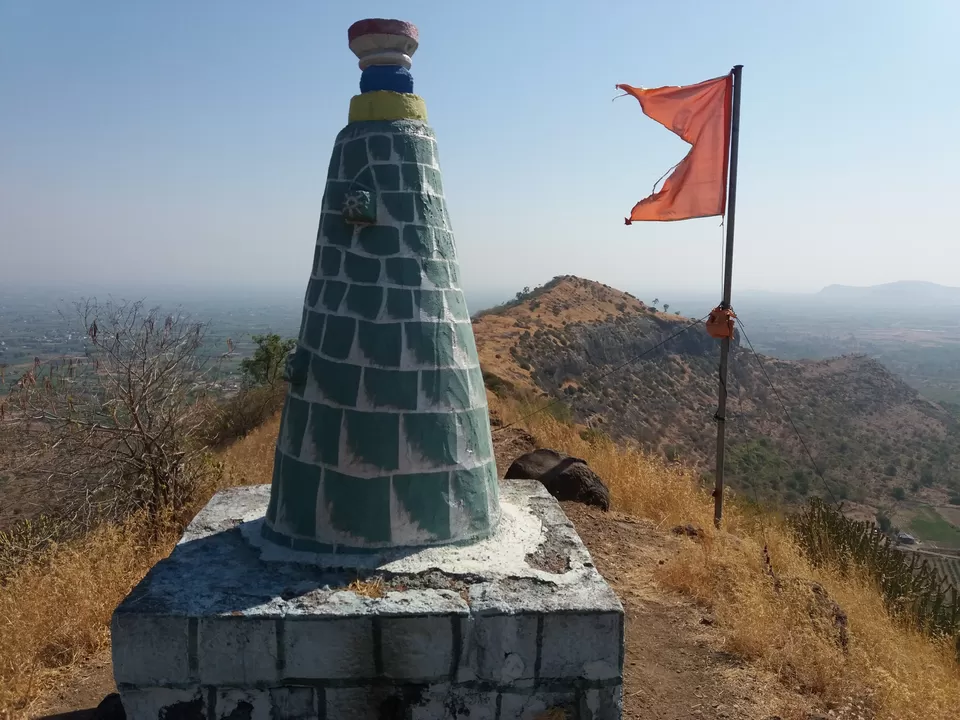 At the top there is a temple of Goddess Hastamata. This is the only structure on the fort which is visible from long distance.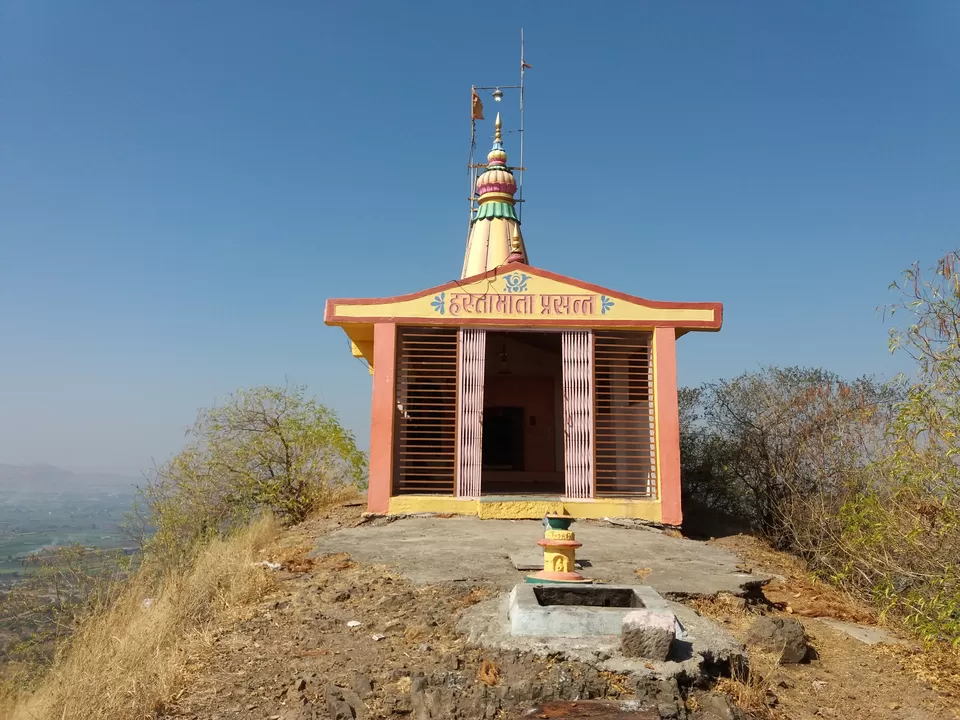 It was so refreshing to breathe pristine air and seeing beautiful views all around. We could see Yedgaon dam, as huge body of water. We could not see much farther due to haze.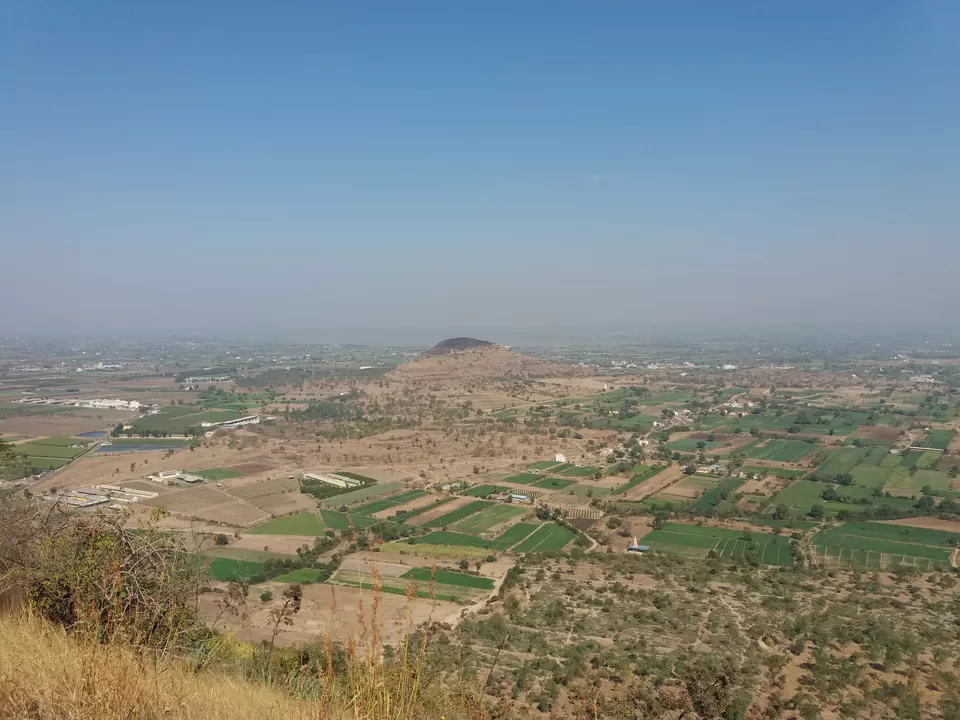 After exploring the west side ridge, we strolled to eastern end of the fort. On the way, we found many water tanks created by digging the rock. A water tank with some inscription.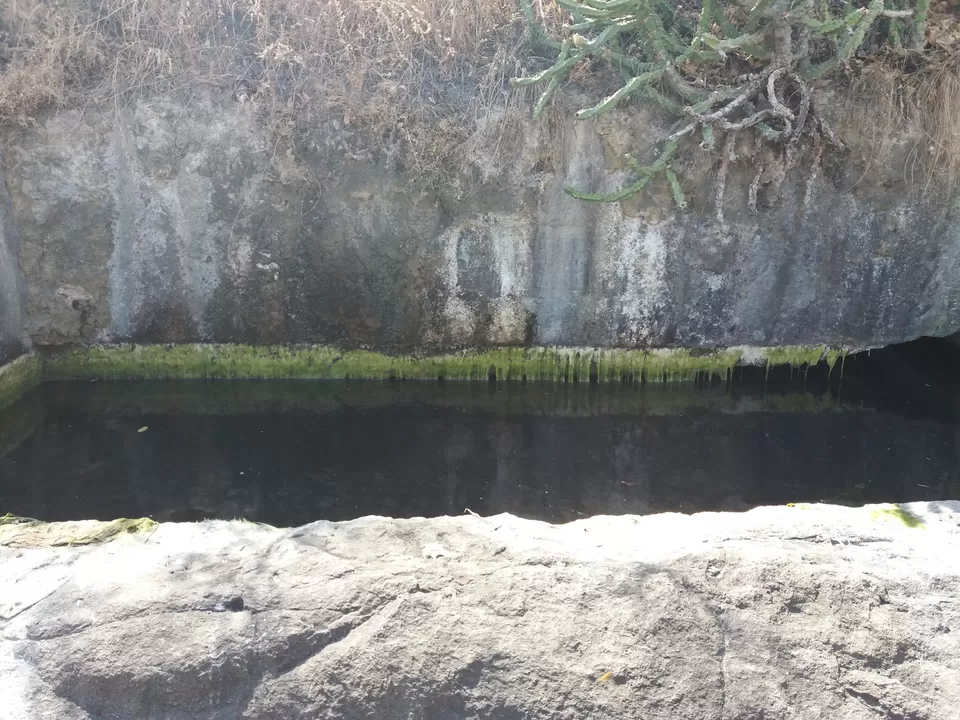 We had to make our way from bushes that were of nearly 4 feet in height.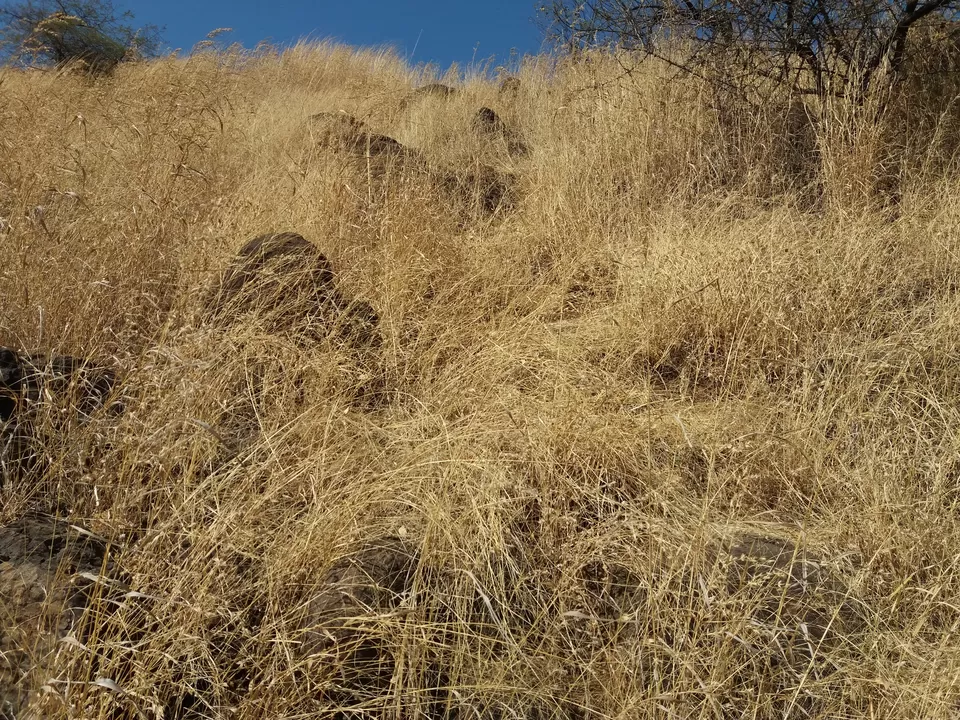 From this point, we saw wonderful view of nearby villages and giant telescopes. GMRT stands for Giant Meterwave Radio Telescope. It was installed by Tata Institue of Fundamental Resarch. As the name suggests, it was built to study and observe radiations at meter wavelengths. It is said to be the world's largest project at the time it was built. It can be visited on Fridays and also on National Science day, which falls on 28 Feb.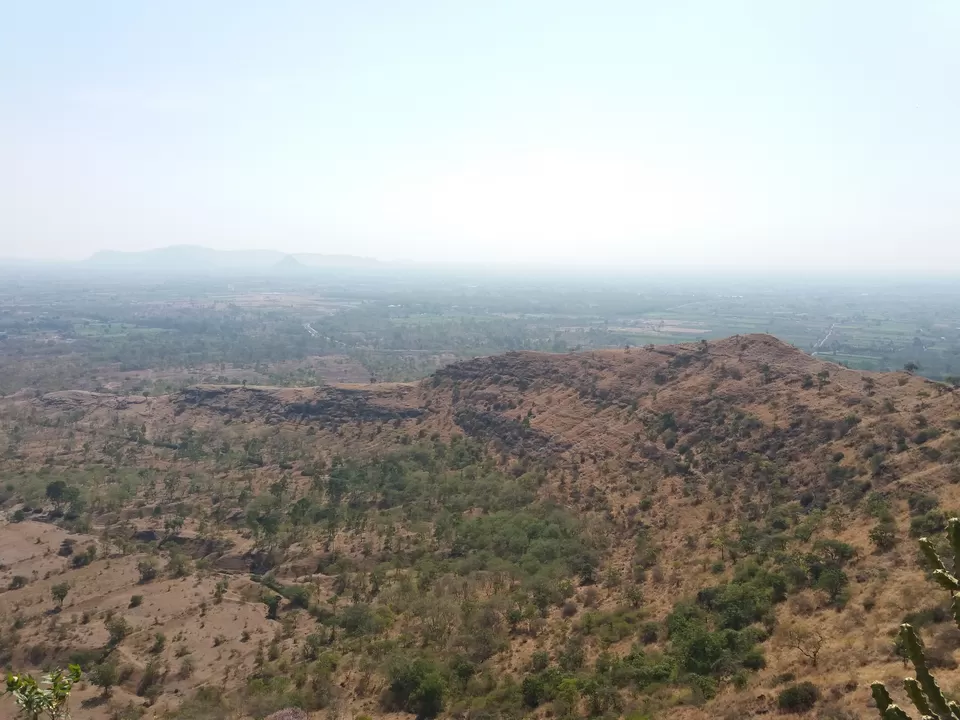 We relaxed here for few minutes and then returned. Found these water tanks.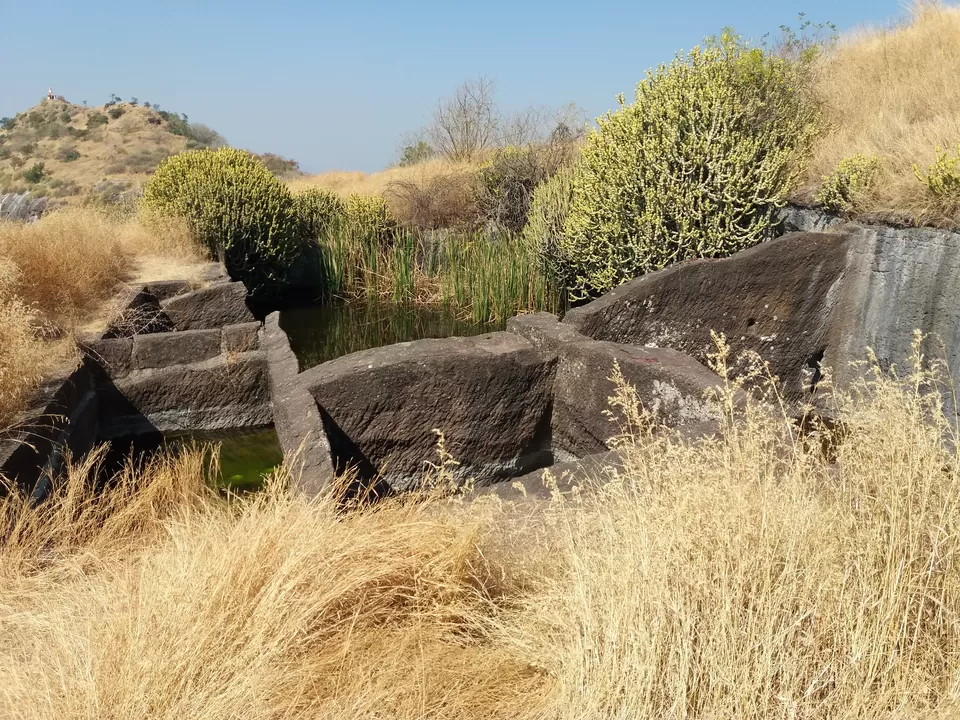 After roaming for nearly an hour, we started our descend.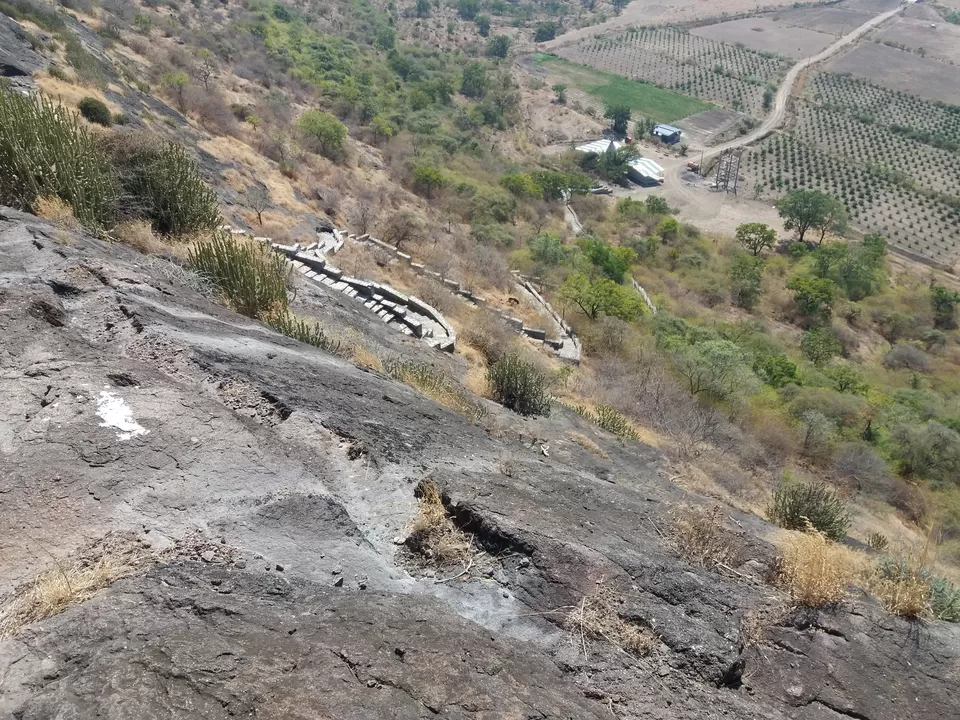 A giant telescope in the field.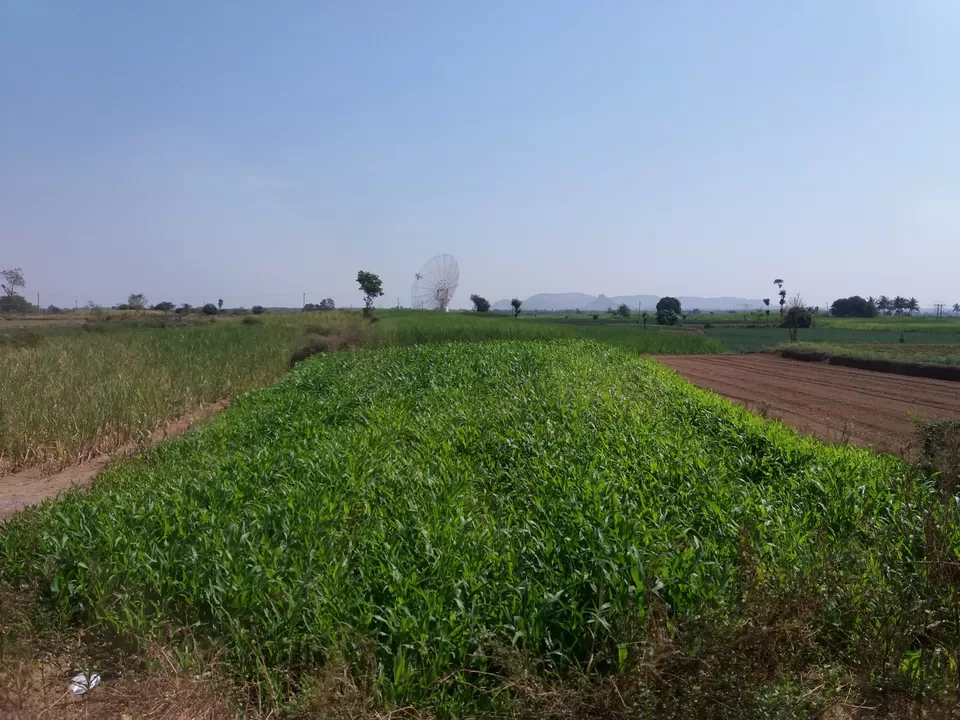 Everyone of us was hungry, ate delicious lunch on the way and returned back to Pune.
Leave only your footprints, Take back only pleasant memories.