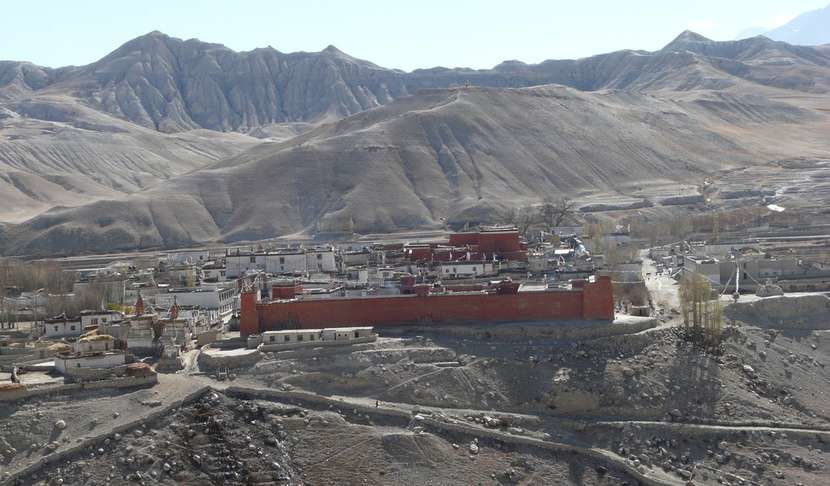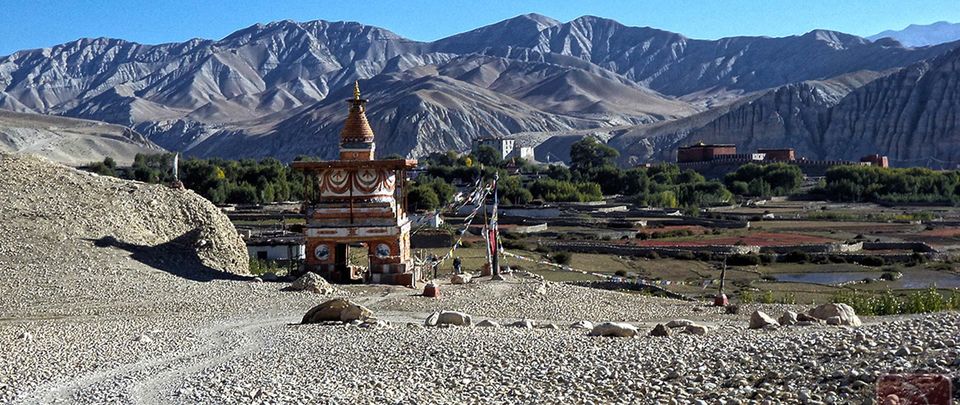 Upper Mustang Trek is the best way to do it simply and also it is one of the preferred trek route in Nepal. Mustang is located in the vicinity of Nepal, along the border with Tibet and also with full of rocky barren mountains, deep valleys, eroded cliffs and Moraine valleys. As you may not know that the meaning of Mustang is "Fertile Plain". Upper mustang is a barren valley with Trans Himalaya. This pace used to be an important route for crossing the Himalaya between Tibet and Nepal. During the time, many of the old salt caravans passed through Mustang. It's an area where we will trek to, exploring the wonders of the architecture, language, culture and traditions which are almost purely Tibetan.
During the Upper Mustang Trek, you'll experience an astonishing wilderness, one with untouched high desert mountain scenery, snowcapped peaks, old monasteries and many other unique sights. The sight of Kali-Gandaki valley, vast spaces around Kagbeni and vast ridges that straggle high mountains provide a mind-blowing experience. A trek into this legendary forbidden kingdom of vast, dry valleys, ochre valley, yak caravans, colorful-painted mud brick houses, and majestic mountain of Nilgiri, Tukche, Annapurna and Dhaulagiri makes your primitive walled kingdom Mustang trekking a very especial one. Trekking in Mustang is truly one of the most pleasing experiences in Nepal. So, through this trek you will have a close up view of the primitive society that has remained unaffected by modernization for centuries.
The Lo Manthang which is the capital of Upper Mustang Trek, lies in the far-flung Himalaya desert behind the Dhaulagiri and Annapurna mountain ranges, is an historic Tibetan Village, with rare Buddhist arts and exotic culture. We, The Nepal Trekking Company offer you this package in an affordable price. Our aim is to meet your time frame for Nepal holiday.
Outline Itinerary
Day 01: Arrival in Kathmandu
Day 02: Sightseeing in Kathmandu
Day 03: Drive or Fly to Pokhara
Day 04: Fly to Jomsom (2720m) and trek to Kagbeni (2800m) 03 Hrs
Day 05: Trek to Chussang (2920m) 06 Hrs
Day 06: Trek to Samar (3290m) 06 Hrs
Day 07: Trek to Ghiling (3600m) 06 Hrs
Day 08: Trek to Tsarang (3520m) 06 Hrs
Day 09: Trek to Lo-Manthang (3780m) 05 Hrs
Day 10: Exploration day at Lo-Manthang
Day 11: Trek to Ghami (3440m) 06 Hrs
Day 12: Trek to Syangboche (3800m) 04 Hrs
Day 13: Trek to Chhuksang (2920m) 05 Hrs
Day 14: Trek to Jomsom via Kagbeni (2700m) 06 Hrs
Day 15: Fly back to Pokhara
Day 16: Drive or fly back to Kathmandu
Day 17: Free day in Kathmandu
Day 18: Final Departure
Cost Include
All airport pick up drop by private vehicle
04 night twin/double shearing deluxe accommodation on BB in Kathmandu
Guided sightseeing tours with private vehicle in Kathmandu
Fare Well dinner in Authentic Restaurant
Kathmandu to Pokhara to Kathmandu by tourist bus
02 night twin/double sharing deluxe accommodation on BB in Pokhara
Pokhara to Jomsom to Pokhara by flight
ACAP Permit and Special permit for upper mustang trek for 10 days
Accommodation in the mountain during the trekking
Three meals a day; breakfast, Lunch and Dinner and tea/coffee during the trekking
A highly experience, helpful, knowledgeable, friendly , English speaking well trained, Government license holder guide with all his salary, food, drinks, accommodation, Transport and insurance.
02 guest=01 porter with their Insurance, Salary, Food, accommodation and equipment
Safe drinking water and first add kid box
Cost Exclude
Nepal Visa fee
International airfare to Kathmandu and from Kathmandu Diner and lunch in Kathmandu and in Pokhara
Personal travel Insurance, Insurance for helicopter evacuation
Extra night accommodation and lunch and dinner in city because of early arrival, late departure and early return from the mountain (due to any reason) then the scheduled itinerary
Personal expenses (phone calls, baggage charge, laundry, bar bills, battery recharge, extra porters, bottle or boiled water, shower etc)
Tips to the trekking crews and drive
Extra expenses due to flight delays, strikes, weather condition or any event out of our control
See more at http://www.thenepaltrekkingcompany.com/upper-mustang-trek/
The Nepal Trekking Company (p) Ltd – Your Travel Partner In Nepal
Chhetrapati Thamel,Kathmandu.
Web – http://www.thenepaltrekkingcompany.com
E_mail – info@thenepaltrekkingcompany.com
Post box no – 21707
Contact – 014 219082
+977 9841812218 (santosh)