A brief about Penang: Penang is an island located in the northwest Malaysia and one of the popular destination in Malaysia. Georgetown a UNESCO world Heritage site is the capital of Penang and the city is known for its British colonial buildings, Chinese shophouses and mosques. Beyond the old town, George Town is a modern city with skyscrapers and shopping malls.
Places to Visit:
1. Penang Hill
2. Kek Lok Si temple
3. George Town Street Art
4. Penang Peranakan Mansion (Also known as Green Mansion)
5. Cheong Fatt Tze Mansion( Also known as Blue Mansion)
6. Batu Ferringhi Beach and Night Market
7. Nightlife at Upper Penang Road
8. Clan Jetties(The floating Chinese villages)
My Journey:
Penang was the third destination on my Malaysia trip and I had other places lined up to explore, but when I reached to this beautiful island I got awestruck. I immediately decided that I am not leaving this island until my last day in this country.
I started my journey to Penang by taking a train from KL to Butterworth. I booked my train tickets at KL Sentral station as I didn't make reservation in advance (It would be wise if you do it online in advance to your travel as you will find more options). I got a KTM train at 11:15 as all others were booked already. KTM train is an ETS train which starts from KL Sentral station and reaches Butterworth station in just 4.5 hours. You can take Bus too from Sentral which is cheaper, but it takes more than 6 hours as it takes a snacks break on the way. As I reached Butterworth around 3:30, took a Ferry from Butterworth to reach Georgetown. Ferry is a better option to travel from Butterworth to Georgetown as it's frequent (every 30 mins) and cheaper(only 1.4 MYR/person) with lesser travel time.
Once you come out of the Ferry Terminal you will find a Bus terminal right outside. Just inquire at the Inquiry counter and take the bus accordingly. There are CAT buses running around the city and are totally free for everyone. As I was staying in Komtar, I took a CAT bus and reached Komtar bus stop in 30 mins. Checked into the hotel by 5 and decided to take rest for some time.
Late Evening headed to Upper Penang Road to grab a beer and indulge into the nightlife of Penang. Could spot some nice pubs and bars on Chulia Street (Love Lane and Muntri street).
Day2: Next morning started early from hotel to see the Kek Lok Si temple in the bright sunlight and less crowd around for better photos. (You can take 201/203/204 bus from Komtar bus stop to reach the temple). Kek Lok Si is a Chinese Buddhist temple and located at the hilltop In the Air Itam town. It consists of monasteries, prayer halls, pagodas, tortoise pond, temples and beautiful gardens. As I entered the temple, I arrived at the turtle pond filled with frightening number of turtles. From the pond kept walking up and visited the main temple, prayer hall, pagoda and gardens in just 45 mins as it was calm and peaceful to roam around due to less crowd and no souvenir shops opened. The highlight of the temple is the hard-to-miss seven storey pagoda containing 10,000 statues of Buddha.
Note: To visit the pagoda one has to pay 2 MYR as entrance fee.
Penang hill is just a 15 mins stroll from Kek Lok Si if you follow the google maps Or you can take 204 bus to reach the Penang hill bus stop. As I reached Penang hill, could spot a long queue for ticket purchasing. They have different ticket prices for Funicular train which takes you to the top of hill for locals and foreigners. (MYR 30 per adult (foreigners)). Do note the train runs from 6:30AM to 9PM daily.
When you buy the ticket a batch no would be mentioned on it and you need to wait until your batch no is called out. Once it's called out you need to again stand in queue to board the Funicular train and size of the queue depends on the day and daytime. It can be really long if it's a weekend or midday. As I was a little early, could board the train in just 45 mins. The train ride is just 4-5 mins towards the hilltop. The top affords stunning views of the entire island. For an even higher view, head up to the new attraction called "The Habitat" for an educational guided tour of the local flora as well as the treetop walk and canopy walk. See the pictures below:
Spent around 3-4 hours on the hill roaming around, taking pictures followed with a coffee at KOPI Hutan. Reached ground by 3:30 and ran towards Cheong Fatt Tze- The Blue Mansion which is located on the Leith street. Arrived at the Mansion around 4:30 and got to know that Mansion has been closed for the day as no entry is allowed after 3:30 PM. After inquiring with the guard got to know about the Green Mansion which is located at Church street, just 10 mins stroll from Blue Mansion.
After reaching at the mansion, purchased the tickets and got an English guide assigned for our batch named Stanley. Stanley was fun and told many interesting facts about the Chinese history, mansion and collectibles in witty way. Tour ended in 45 mins and then last 15 mins we could roam around the mansion own our own and take photos. They have an amazing collection of Wood, Bedrooms, Glass items from Italy, Jewellary/clothes collection of Baba and Nyonyas and many more things.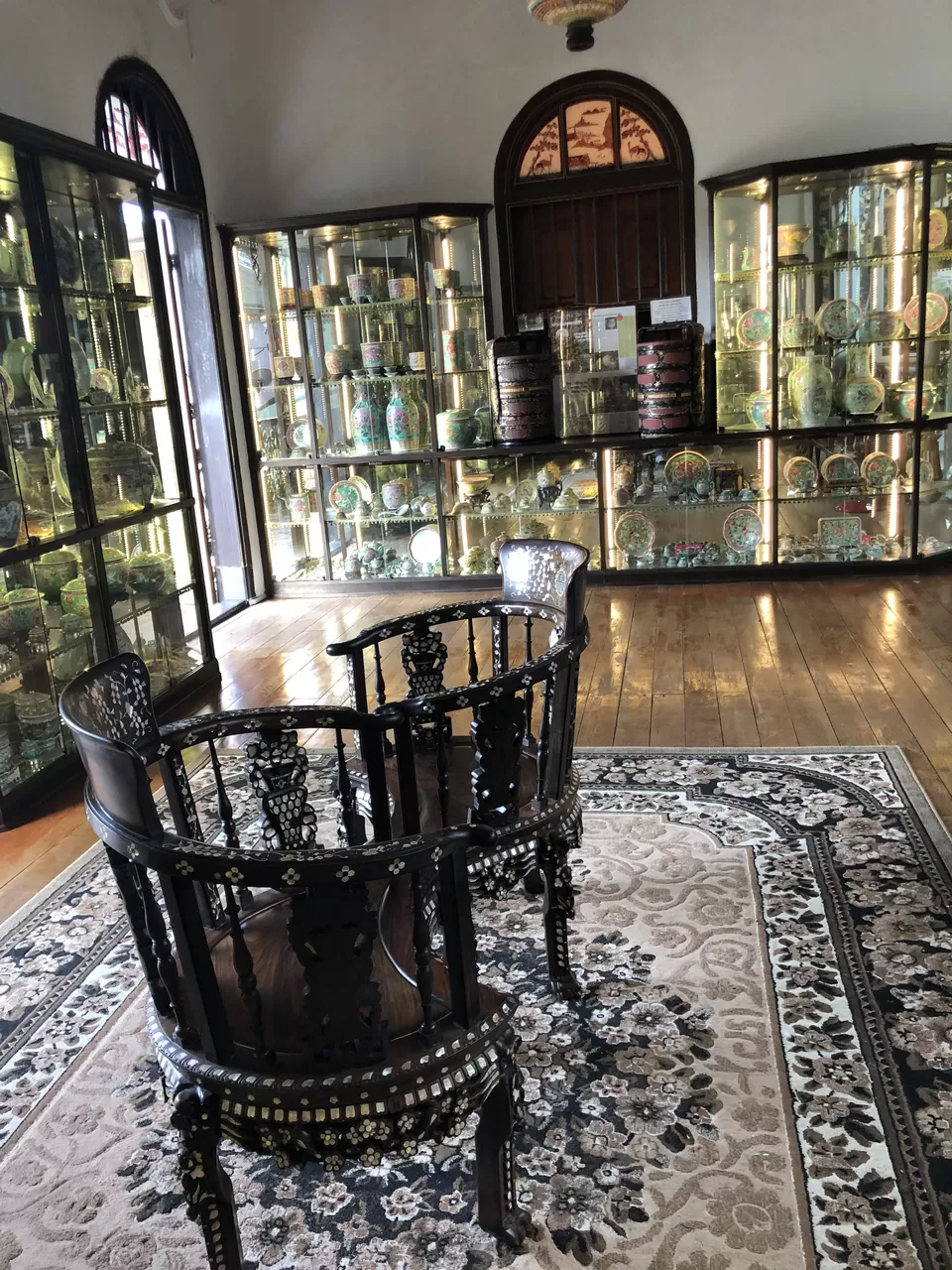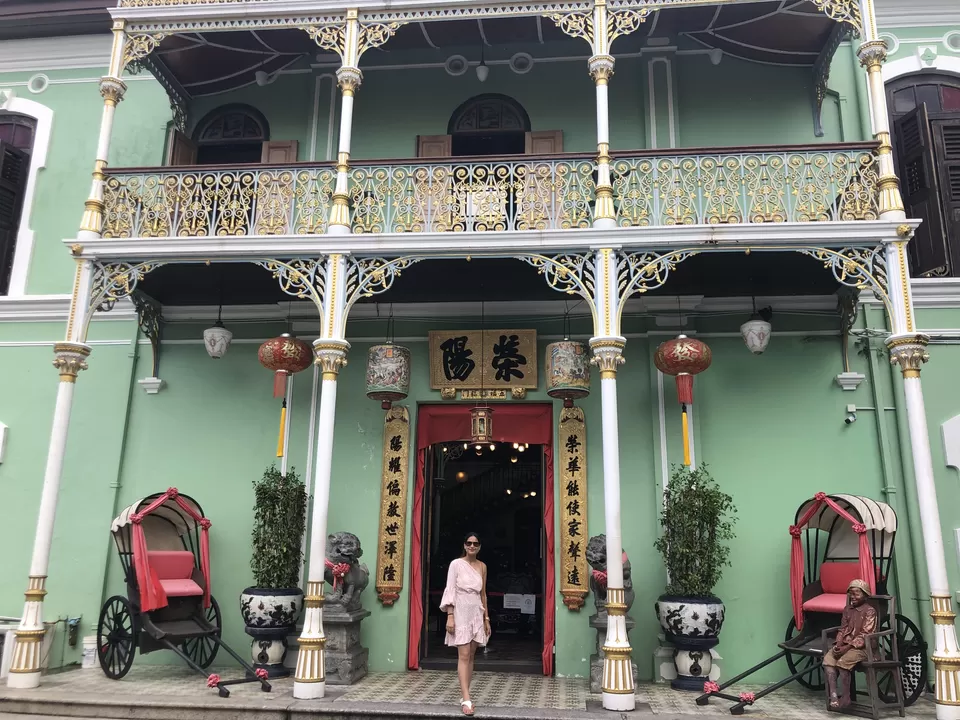 As the mansion closes at 5:30, strolled towards Eastern and Oriental Hotel. It's a beautiful white colonial building overlooking the sea. You can access the beach through this hotel if you are at UPR. It's calm, quiet and airy in evenings. Sat there for an hour and than headed to hotel calling it a night.
Next morning woke up fresh early and decided to do the one ultimate thing in Penang which is: Penang Street art. George Town is full of street art whichever lane you follow but Murals are something that make's it spectacular. You can take cycle on rent/Hire a Trishaw and wander on the streets if you have time constraints as i had none so decided to walk around streets of George Town with map in hand and explore own my own. That way I could walk around at my own pace, stop whenever and wherever I wanted, and grab an ice Teh Tarik (Malaysian ice tea) and some noodles from a street vendor along the way. Walking is a great way to explore George Town since it is a rather small city. Armenian Street, Muntri Street, Love Lane, Chulia Street are the one's not to be missed if you want to find the best artwork as below:
After spending whole morning and most of my afternoon exploring the artworks, i headed to the Clan jetties. The Clan Jetties are basically a complete village above water that houses people from the Chinese Clans. Also known as floating villages, the clan jetties showcase the harmony of two different lifestyles and cultures, the perfect blend of rural and urban life. There are total six jetties and are just next to each other. My favorite one is Chew and Lee jetties as they have broad walkways, friendly people and nice stalls to buy souvenirs.
After spending two hours exploring Jetties, boarded the bus 101 to Batu Ferringhi from Jetty bus stop. Batu Ferringhi is Penang's popular beach destination as it offers long clean stretch of sand and plenty of water sports activities for adventure seekers (parasailing, jet-skiing and even windsurfing). And hey, if you're not one to hop about in the sun, you too will surely be able to appreciate the idea of lazing around on a beach with an ice cold cocktail in hand. Believe me when I say that watching the sun set over the horizon at Batu Ferringhi beach is just one of those things you never knew you'd like until you've experienced it firsthand.
After Spending great time by beach, explored the Batu Ferringhi night market to check out those hawker stalls. Don't buy things from these hawker stalls if you are bad at haggling. Got back to hotel by 11 and called it a night.
This is how i spent my three days on this teeny tine but wonderful island and bid good bye with heavy heart. Hope to go back one more time and explore the rest.