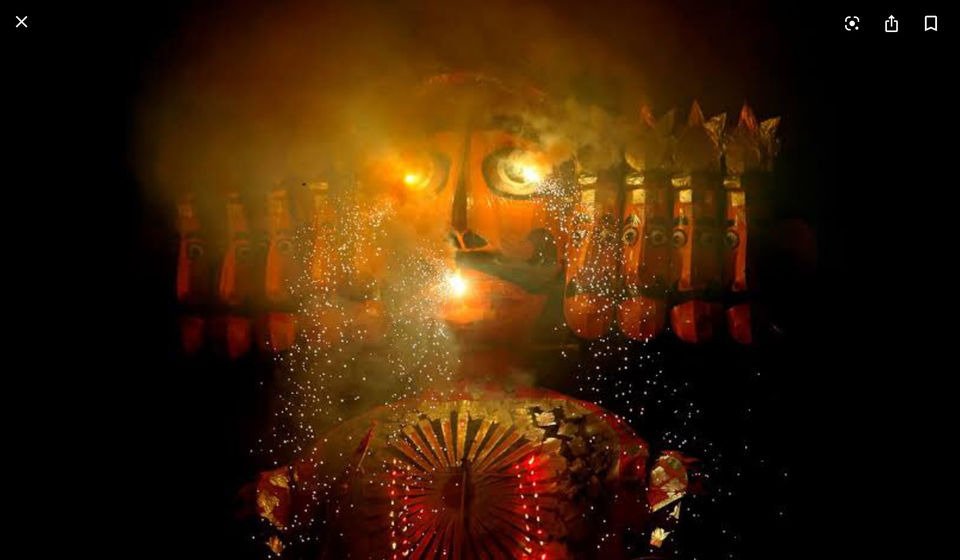 Dussehra is called as, Pooja holidays, in India. They generally fall, during the month of, September-October- 10 to 12 days, of holidays are granted, for schools, all over India, that many plan, a solid travel, during these days. Dussehra, is very grandly celebrated, all through India, that every place would look very colourful, with grand processions all over. There are some destinations, where Dussehra, is not only popularly celebrated, but has made, that destination so famous, that travellers must never miss travelling, to those spots.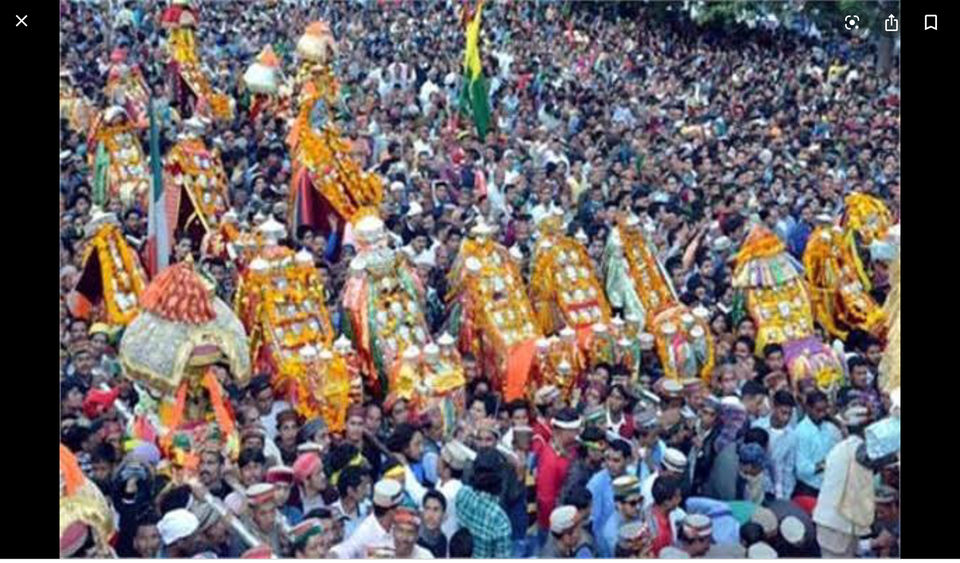 -KULLU DUSSEHRA☝️-It was started in the 17th century, by King Jagat Singh, in Himachal Pradesh state, that over years, it is called as, International mega Dussehra festival. The myth story is, Maharishi Jamadagini, once carried a basket filled with 18 images of Gods. While crossing chandrerkhani pass, a fierce storm, scattered the basket, that the images fell all over, which later are worshipped till date. Kullu Dussehra, has lot of singing, dancing, all through 10 days. To reach Kullu valley, Bhunter airport is the nearest, while by train there are trains till Joginderanagar, and by road, highways are well laid. Pandoh dam, Parvati valley, Chandrakhani pass, Himalaya national park are places to visit.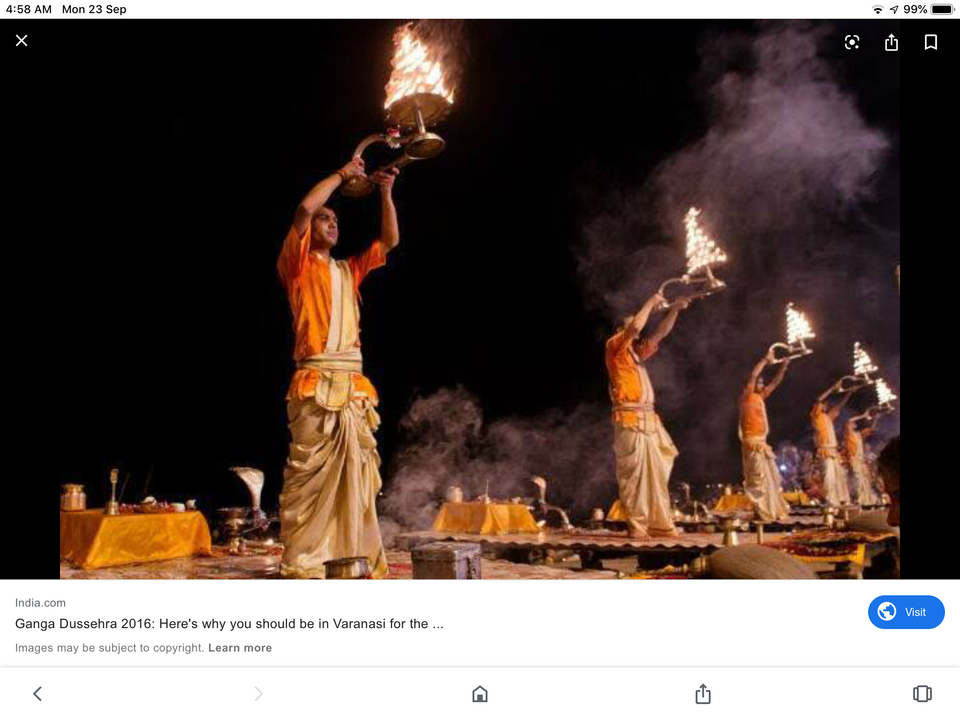 -VARANASI DUSSEHRA☝️-It is called as, Ganga Dussehra, which starts with, Durga Pooja and completes, with immersion of the idol. Burning of King Ravana, followed by Ram Leela, there is lot of fireworks, colourfulness involved, in Varanasi Dussehra. Poojas are performed, all these 10 days, that diyas-lamps, are floated all over, River Ganga, followed by Aartis. Varanasi is called the, temple town of uttarpradesh, where Kasi Vishwanatha temple, assi ghat, Tibetan temple, Nepali temple, Ramnagar fort, Bharata kata Bhavan museum, Chinese temple, are places to visit.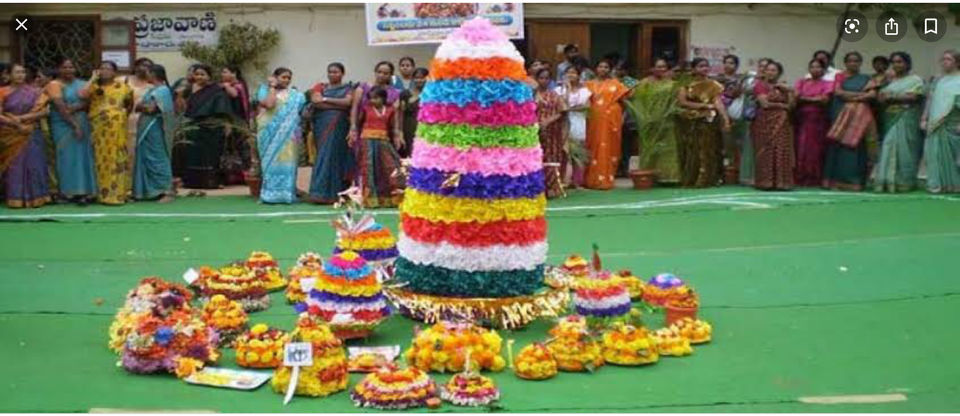 HYDERABAD DUSSEHRA☝️- A flower festival, celebrated for 9 days, all through Dussehra, that the very name, Bathukamma means Mother Goddess who comes alive. This festival is started during, Rastrakooga kings who built, Rajarajeshwara temple. Chola dynasty attacked and, took over, where shiva Linga temple was built. The myth story is that, Lord shiva in lingam form, was taken away to Thanjavur, that Parvathi, in Bathukamma form worshipped him, here. This festival, is grandly celebrated, all over Andhra Pradesh, but Hyderabad is famous for this festival, that the whole capital state is filled with grandeur. Chowmahalla palace, Charminar, Golconda fort, taj Falaknuma palace, Nehru zoo park, Sanghi temple, NTR gardens are some places to visit.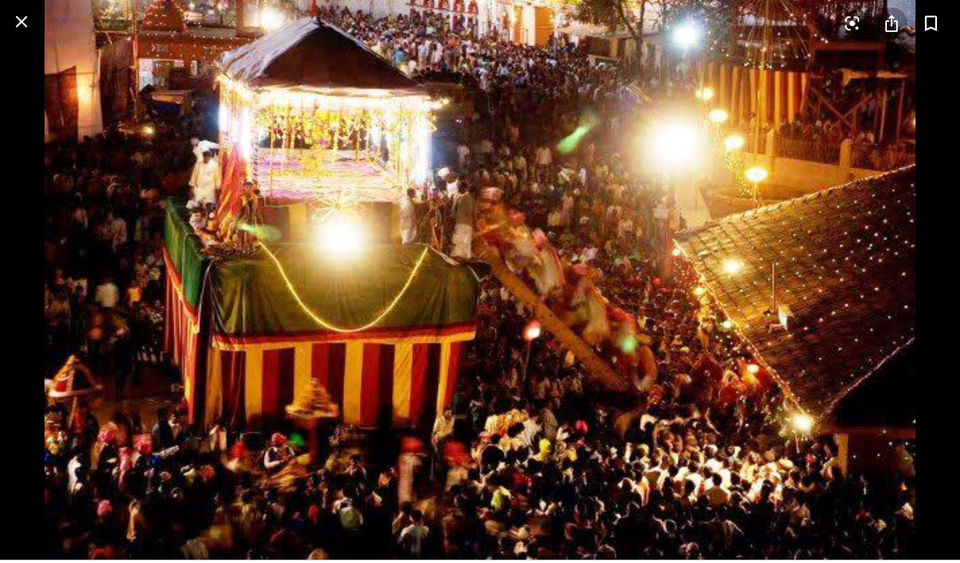 BASTAR☝️-Bastar Dussehra, is popularly celebrated all over, Chhattisgarh, where Goddess Dangeswari, is popularly worshipped. This festival was started by, Maharaja Purushottama Dev, from 15th century. A girl with wooden sword, stands in warlike posture, who is worshipped. Even today, the existing tribes of chhatisgarh follow, this ritual. This festival is celebrated for 75 days, but 10 days, are important days of this festival.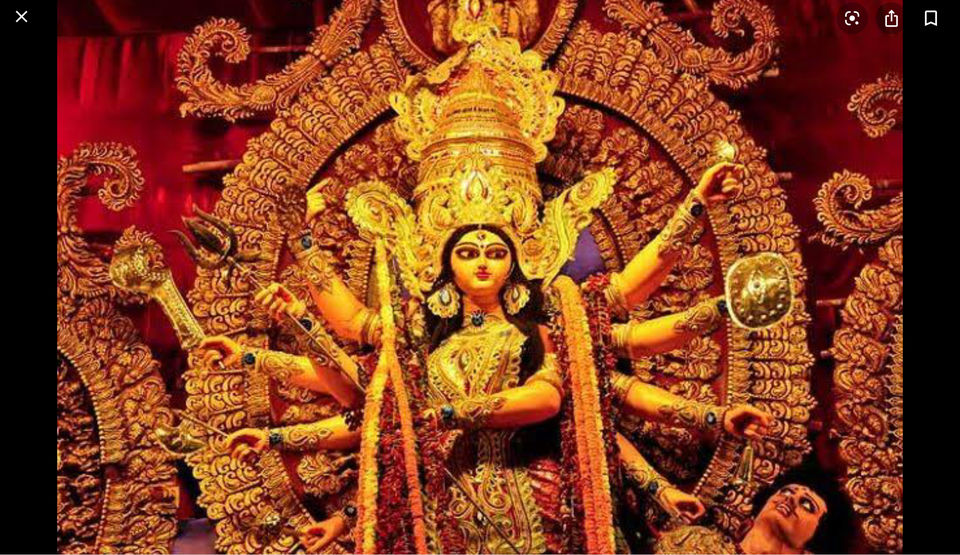 -KOLKATTA DUSSEHRA☝️- It is called as, Durga Pooja that is, grandly celebrated for, 10 days. Lord Durga is honoured, these 10 days which, is called as, annual Navarathri festival. It is also called as, Durgaotsava, where elaborate pandals, are made off of bamboo, and cloth that these idols, of God are made at home. The history says that, Durga Pooja in Kolkata was, started from Middle Ages by, Raja nabakrishna deb of Kolkata. Initially it was celebrated in small groups, which over years, became grand celebrations. Being a metropolitian city, of India it is easily, accessible from anywhere. Fort William, Howrah Bridge, Indian museum, marble Palace, Eden gardens, Rabindra Sarovar, Kalighat temple, botanical gardens, Alipore zoo, are places to see.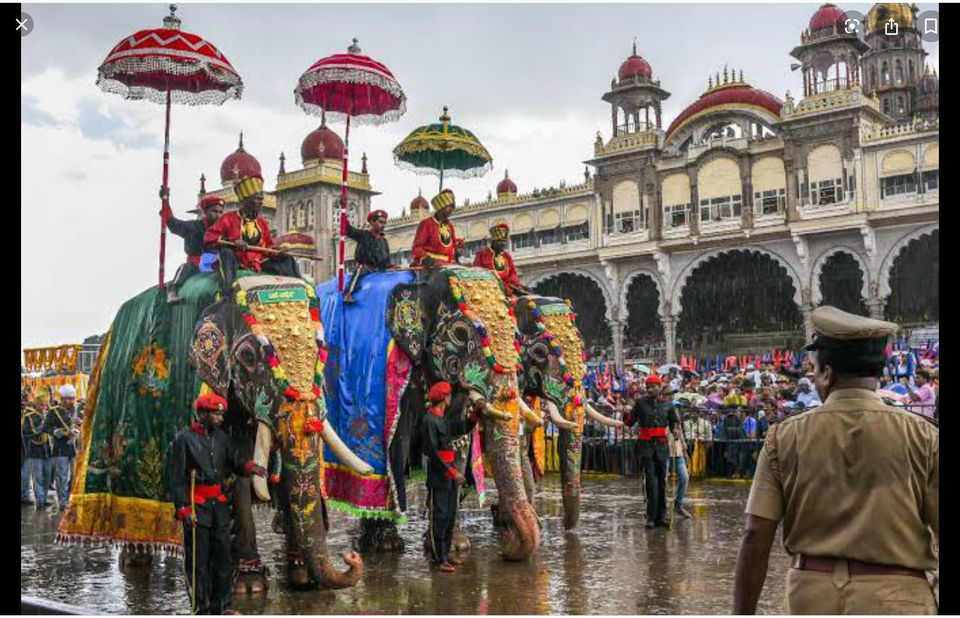 MYSORE DUSSEHRA☝️- Popularly Called as, nadahabba-state festival, of Karnataka, it is a 10 day festival, that completes with, Vijayadashami. This festival was started during, Vijayanagar kings from 15th century, where then it was called as, Mahanavami then. Lord Durga is worshipped, all 10 days, that after fall of Vijayanagara, it was Wodeyars who restarted, this festival. Mysore palace, is grandly lit all these 10 days. There are processions, and exhibitions held too. From Bangalore, Mysore is easily accessible, though there are flights, trains, buses direct to Mysore. Mysore palace, Chamundi hills, Brindavan gardens, karanji lake, rail museum are places to visit.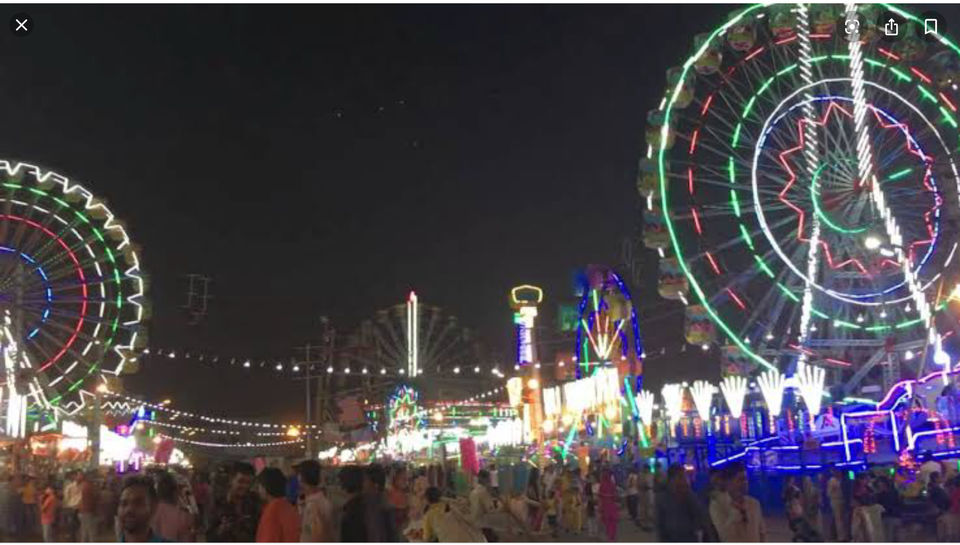 KOTA DUSSEHRA☝️- Located on the banks, of Chambal river, Rajasthan Dussehra, here is much connected, to Ramayanam, that 75feet tall idols of Ravana, is burnt, followed by, celebration of Lord Rama. This festival, was started by Maharao Durjanshal Singh Hada. There is a, fair associated with this festival, that it is called, longest fair in India. This Dussehra, is coupled with music, dance, delicacies, competitions and fairs. "Maut ka Karan", is the most thrilling adventure, of this fair, where bikes, cars are risen inside a wooden well. Jaipur is the nearest airport, and junction, that highways are well laid to Kota. Seven wonders park, Garadia Mahadev temple, Chambal garden road, Kotah Garh city palace, jag mandir are places to see.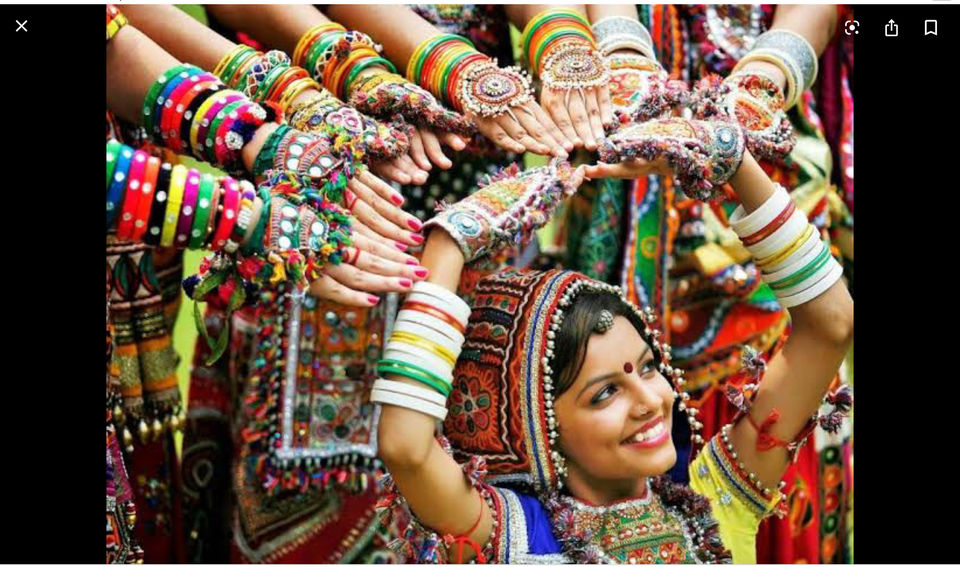 AHMEDABAD MAHOTSAV- A 10 day festival, celebrated, all through Gujarath, that symbolises, victory of truth over evil. There are different images, of Ravana made, that they look very vibrant. Navarathri here, is devoted to Goddess Shakthi, that the main part of Navarathri is, garbha dance, all through these 9 nights, using stick dandiya. Being a populated city of India, it is well connected, that reaching this city is very easy. Dada had wav, Sabarmati ashram museum, Ranabaria lake, Hathisingh Jain temple, Vaishnodevi mandir, Bhadra fort, Kamala Nehru zoo are places to visit.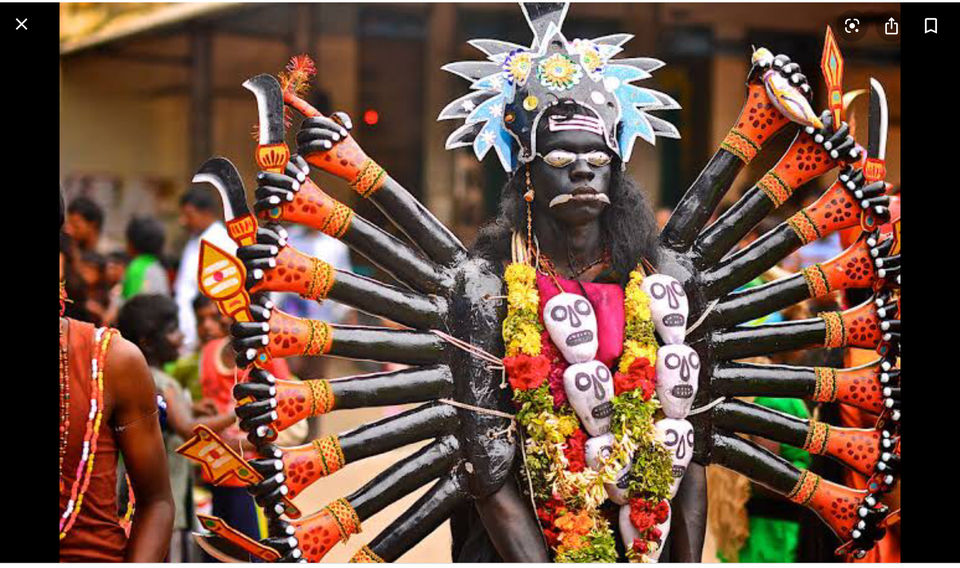 KULASEKARAPATTINAM☝️- Located in Tamilnadu, Tuticorin a 10 day, grand celebration, of Dussehra is done at, Muthagramman temple, that is accompanied, by colourful costumes, and grand decorations. Here Dussehra is, uniquely celebrated, where people transform themselves, as Goddess Kali, or any other form, that they have to beg, on the streets, collect money, and offer to Goddess Muthagramman. Then they walk, to the seashore, have a dip in the water and, do prayer. Tuticorin, is easily accessible, and highways are well laid. Manapad beach, Sri devijathamma temple, Panchalankurichi, and Veerapandian kattabomman memorial fort are places to visit.
Navarathri-Dussehra holidays, have always been filled with, wearing colourful, clothes, playing with friends, going house to house, for Sundal, tambulam that travel, during these 10 days, has been very memorable, in my life. So far have seen, Mysore Dussehra, Tamilnadu bommai dussehra and Delhi Dussehra, that after writing this article, I realised, the need to travel, has begun. An ideal time, to travel in India, of course pre-planning, is a must, that along with festival mood all over, India travel could be made memorable.