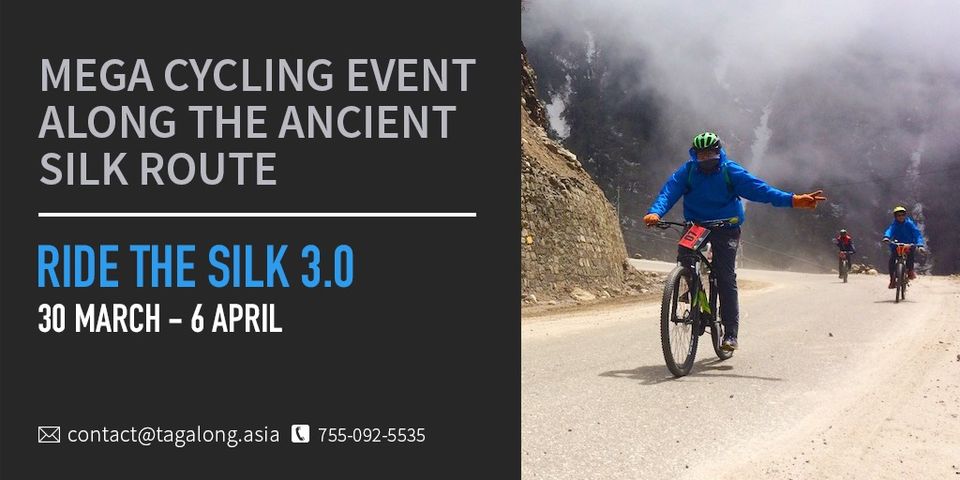 An epic 6-day cycling journey along the ancient Silk Route in East Sikkim that will change your perception towards high-altitude cycling forever – you will have been there and done that. Aninsane 160-km adventure ride along the 900-km trade route, that onceconnected Lhasa to the port of Tamluk in West Bengal in the first century A.D.
The thrill of kick-starting the ride from Aritar in East Sikkim, rising up the many hair pin bends towards Dhupidara, and then to Nathu La mountain pass at roughly 14,000 ft, moving close to the Indo-China border and finally completing the ride on reaching Gangtok, the capital city of Sikkim.
DAY-WISE ITINERARY
▸ DAY 1 (30th April)- We pick you up from Bagdogra Airport in the morning/afternoon and drive you to Aritar (120 kms/4-5 hours). This is your starting point where you rest for the day at a local homestay and prepare for the electrifying ride ahead
▸ DAY 2 (31st April) - The ride starts off from Lampopkhri Lake in Aritar (4,600 ft) and you initially ride downhill towards Rongli. From the Rongli bridge, you move uphill towards Phadamchen(8,000 ft) and this is our first pitstop on the trip. On this day, we cover 36.7 kms and makean elevation gain of 3,400 ft. The day's arduous ride uphill is greeted by a fun-filled evening at a local homestay, where you experience Sikkimese hospitality and exquisite local cuisine.
▸ DAY 3 - We leave Phadamchen early morning and steadily ride up a beautiful 10-km stretch with pine forests on both sides. From here you will see the famous 32 hair-pin bends of the Zuluk loops. Once the tree lines have ended, your ride up the Zuluk loops begin. The day's pitstop is at Dhupidara, a total 24 kms of cycling route and elevation gain of 3,500 ft. At the end of the day, if the weather remains clear, you will have the opportunity to see all 32 bends, the Zuluk town and the valley below, Aritar, your starting point and a spectacular view of Khanchenzonga, the third highest mountain in the world.
DAY 4 - On this day, you wake up to the grandeur of Khanchenzonga and make asteady climb of 2 kms of zig-zag loops to reach the ridge line of the mountain. From here, the mountain peaks of Bhutan will be visible from a distance. The day's short 9-km ride with an elevation gain of 2,000 ft, will include many army settlements, and you eventually finish the day's ride on reaching Gnathang (13,500 ft).
▸ DAY 5 - The most iconic day of the trip, as you ride from Gnathang towards Nathu La Pass and back. You cover a total distance of 29 kms, and with the high winds at 14,140 ft, it is going to be a challenging day of mountain biking. However, the challenge ceases to feel like one because you pass several beautiful landmarks including the majestic Elephant Lake, the famous Baba Harbhajan Mandir, and Hangu Lake. When you reach Nathu La Pass, the border gate with Chinese flags fluttering will serve a firm reminder of how far you have come. From Nathu La, you head back to the same homestay in Gnathang and rest before the next day's downhill ride towards Gangtok.
DAY 6 - The downhill ride in the morning starts close to the Nathu La Pass, approx. 2 kms. On this day, you will cross more army settlements, have many cliff-side riding moments and reach the spectacular Tsongmo Lake crossing. This day will be the longest in terms of distance, a mammoth 59.5-km route with an elevation drop from 12,500 ft to 5,400 ft on reaching Gangtok.
▸ DAY 7 - A complete rest day for you to take full opportunity and explore Gangtok, the capital of Sikkim. The places to explore in and around Gangtok includes monasteries like Rumtek, Pemayangtse and Tsuk La Khang, Namgyal Institute of Tibetology, Sikkim Himalayan Zoological Park, Hanuman Tok, Tashi View Point, Lal Bazaar and M.G. Marg. If your zeal for adventure is still unsatiated, take a dig at Paragliding. For food lovers, authentic local delicacies and flavours await you.
▸ DAY 8 - We drive you to Bagdogra Airport in the morning and bid you adieu only to meet again soon, on another adventure!
FREQUENTLY ASKED QUESTIONS
1. Which is the nearest Airport or Railway Station to Sikkim?
The nearest airport is Bagdogra Airport (IXB) located near Siliguri, West Bengal. The nearest railway station is New Jalpaiguri Railway station (NJP).
2. Where does the event Ride the Silk start from?
Ride the Silk flags off from a picturesque village called Aritar in East Sikkim. It is well connected by road and is 120 kms away from the airport and railway station.
3. Where will I be staying?
All riders will be put up in standard hotels or home-stays on twin or triple share basis during the trip.
4. What to do in case of medical emergency while on tour?
A doctor and a nurse would be available throughout the journey to take care of all medical needs.
5. What to do in case of a flat tyre or any mechanical bike problem?
If the cyclist doesn't know how to fix the mechanical problem he may call for help to the volunteer who will contact Operation Head and Bike Maintenance for further assistance.
6. Will the bike spares be for free?
The team will have basic spares available and it is included in the trip cost. However, if your bike needs special parts you will have to carry them along or it will be charged for.
7. What if I lag back during the tour?
There is no need to worry as our support team and sweep vehicle will be there to assist you and accompany you.
8. Can I bring my own bike?
Of course, you can. However, since you may be traveling from a distance, logistics may be daunting. So, we will have one ready for you anyway.
9. What all are included in the package?
‣ Pick up and drop from Airport or Railway Station
‣ 8 nights accommodation in standard home-stays/hotels
‣ Luggage assistance during the tour
‣ 3-course meals on all days of the tour
‣ Refreshments during the ride
‣ Medical assistance on tour. A dedicated team of one Doctor shall accompany and be on standby with general medical supplies at all times
‣ Back-up sweep vehicle to accompany riders throughout the tour
REACH OUT TO US
PHONE - (+91) 7550925535
EMAIL - CONTACT@TAGALONG.ASIA
WEBSITE - WWW.TAGALONG.ASIA