Don't we all dream of going on a voyage at least once in our lifetime? But we often ignore the urge, dismissing it as a luxury beyond the ordinary. I had the same thoughts till I visited Vietnam. In Hanoi last year, in the month of November, I came about a dreamlike cruise that would help me experience some stunning natural sites on earth. And guess what? I went for it and I am glad I did as it was the best money I ever shelled out of my usual backpacker budget.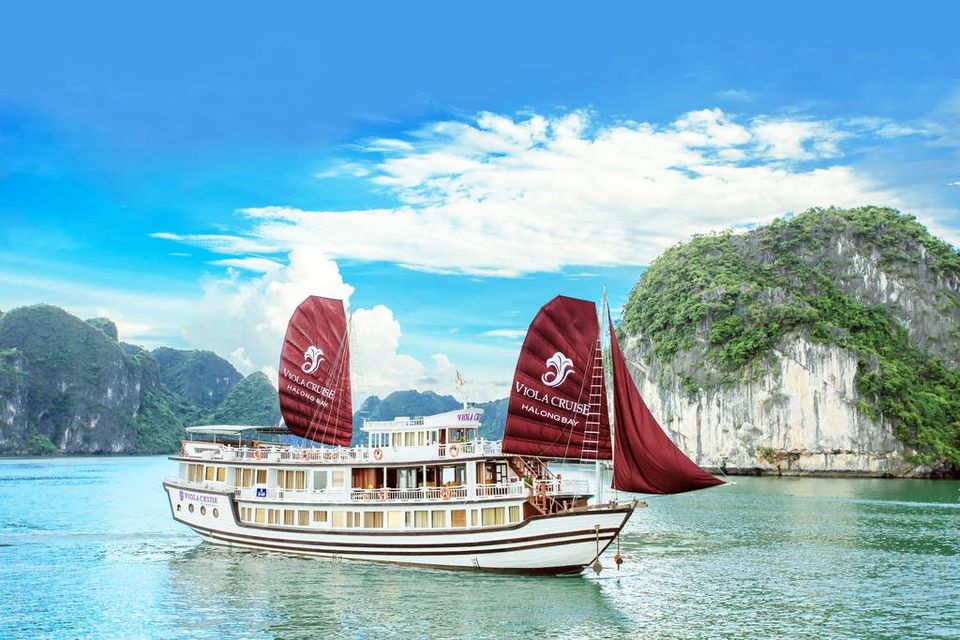 About the Viola Cruise
You can explore Hạ Long Bay which is one of the seven natural wonders of the world with the Viola Cruise. I went through several cruise companies and chose this cruise as it had the most value for money and was hands down the best.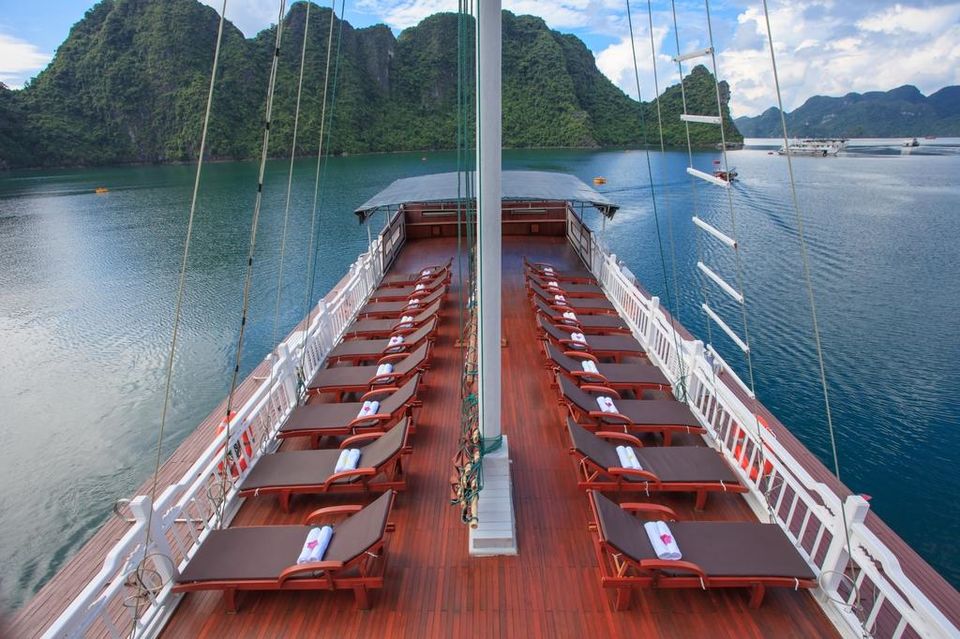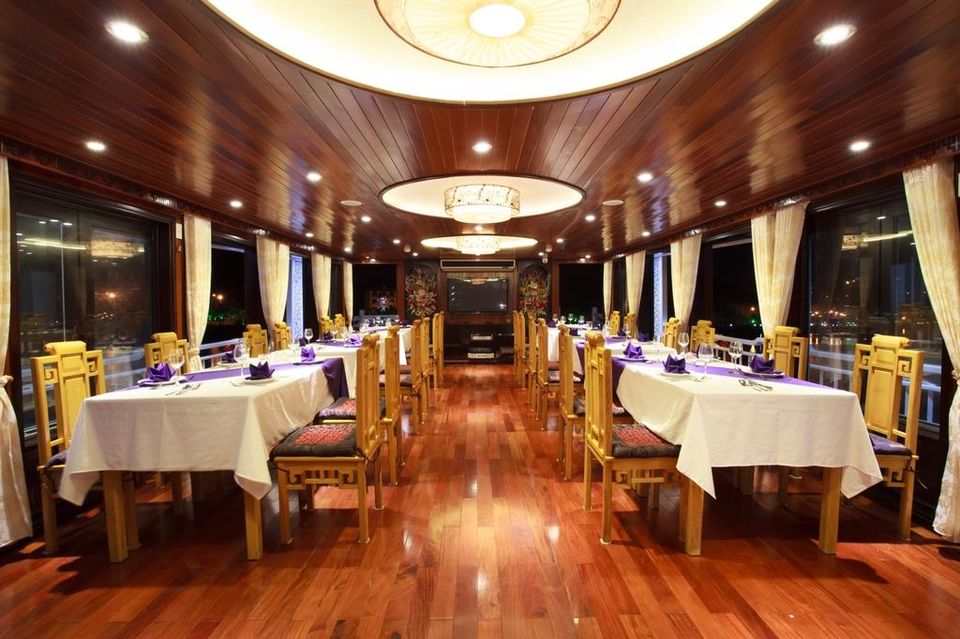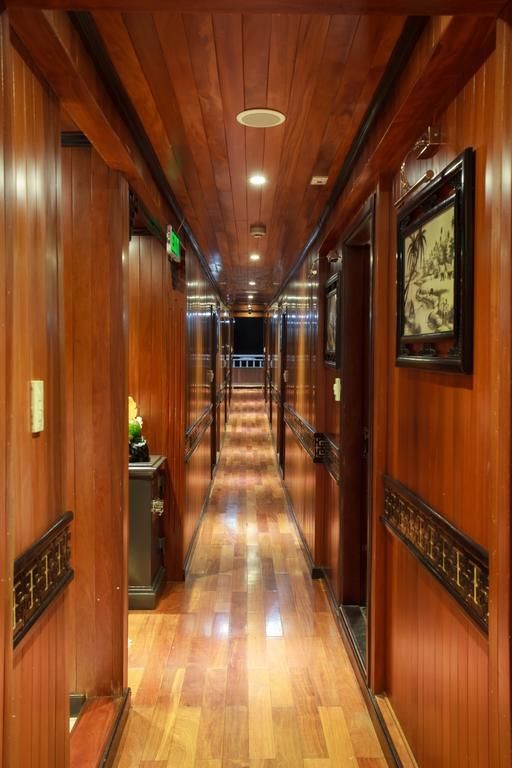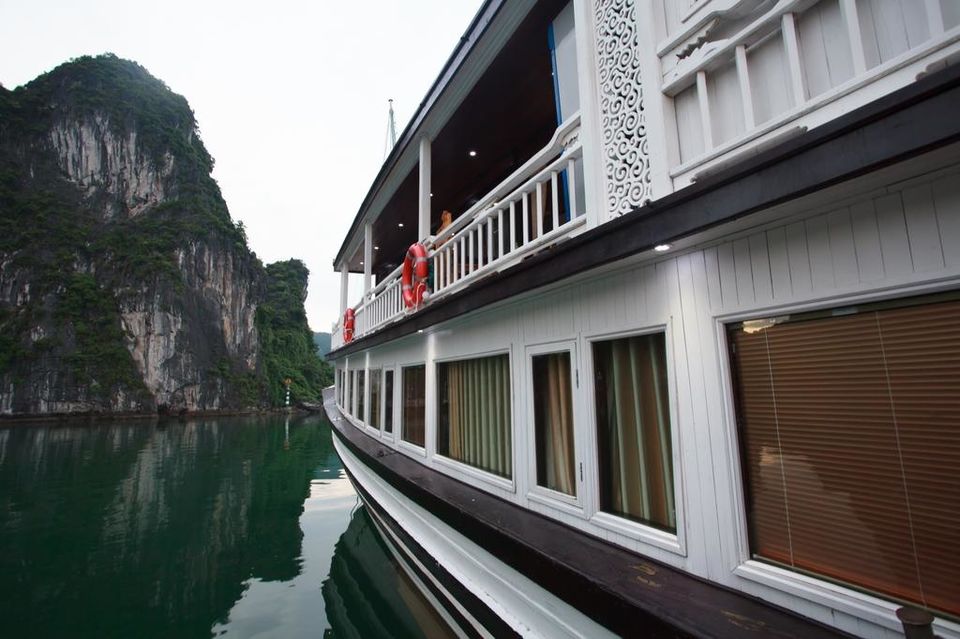 Viola Cruise features 16 luxurious and comfortable cruise cabins complete with a sundeck, an incredible dining room and a bar. Enjoy the views of the sea from your air-conditioned room that comes with hardwood flooring, a cloth rack, a wardrobe and a seating area. In the afternoon, you can relax in the common lounge area or lie down for a tan on the rooftop sundeck. You will also go on little wooden boats from the cruise to explore the pearl farm, the bamboo floating village, kayaking in the sea and several other adventurous activities.
I had the time of my life as I enjoyed the magnificent views of the limestone islands and shimmering South China Sea from the comfort of the private balcony of my super-luxe yet cozy room.
Accommodation
There are 16 cruise cabins of three types on the Viola Cruise — Deluxe Cabin, Luxury Cabin, and Honeymoon Suite Cabin.
Deluxe Cabin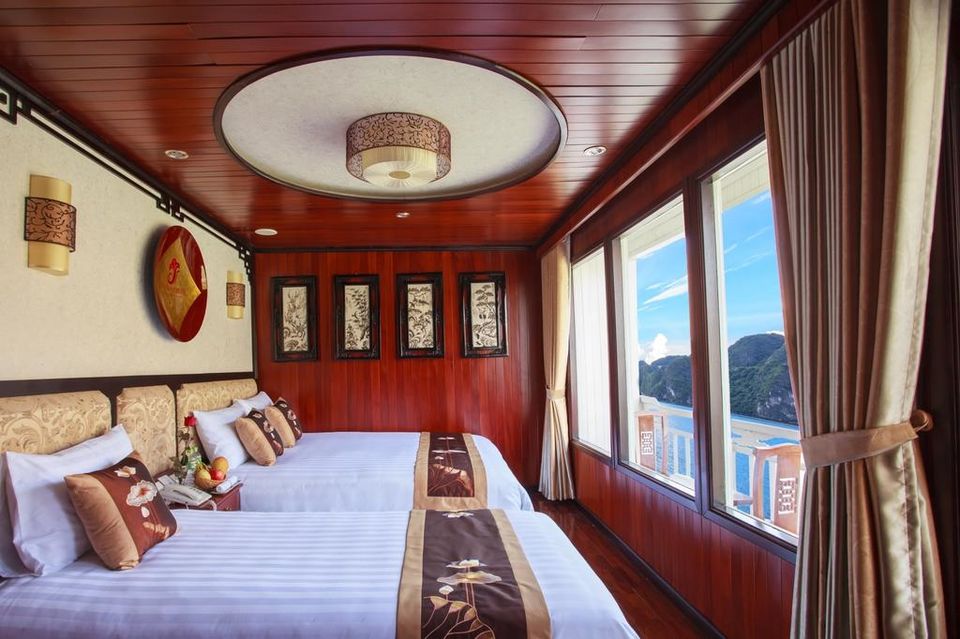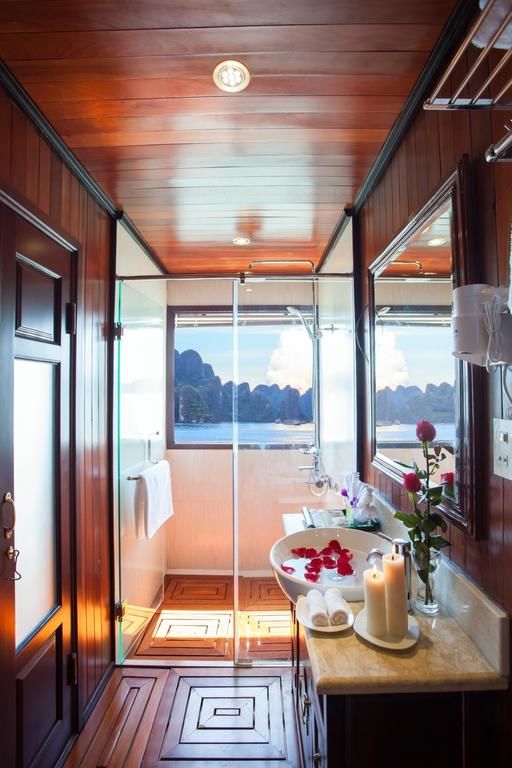 This cabin is ultra cozy and has a large window with an excellent view of Hạ Long Bay. The spacious room is suitable for a small family. Enjoy the beautiful sceneries of the bay and sleep comfortably when you choose this cruise. A free welcome drink on arrival, bottles of water, and a hot buffet breakfast all days is included in the price.
Luxury Cabin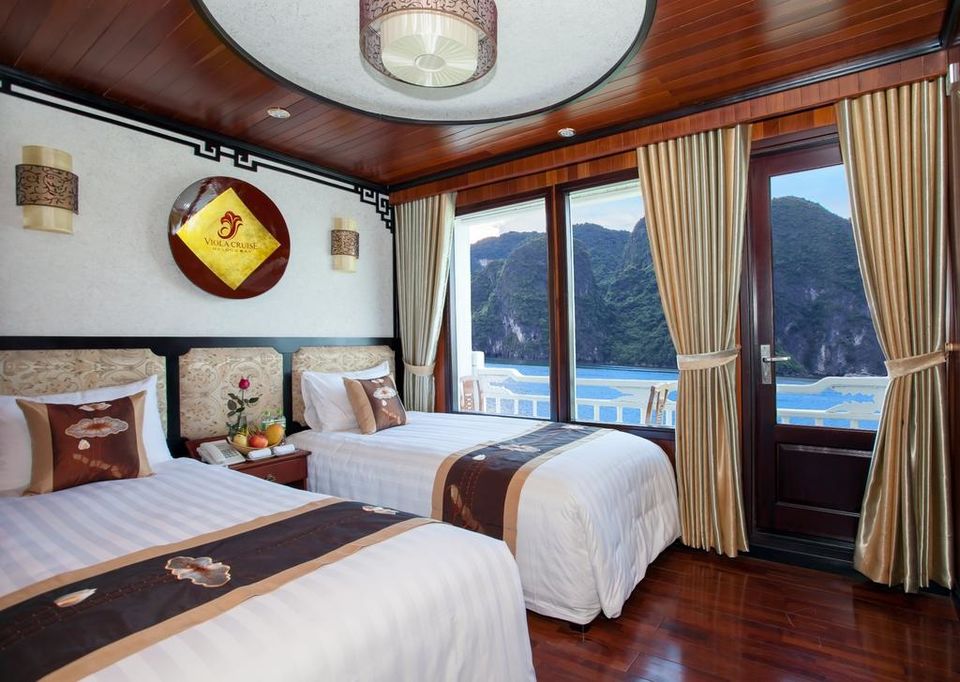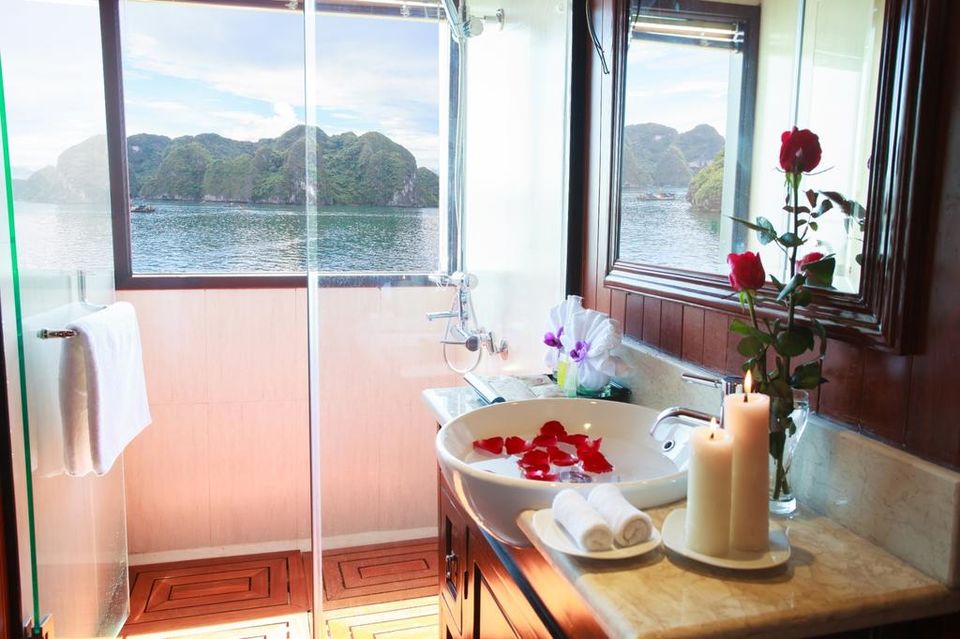 I was sharing this room with an American girl I had met while travelling. The cabin is ideal for couples and friends travelling together. The room has cozy wooden furniture and a private balcony that provides a comfortable and cozy setting to hang out, share a cocktail or just enjoy the fabulous view of Hạ Long Bay. A welcome drink on arrival, daily fresh fruit, tea, coffee, bottles of water, and daily hot buffet breakfast is included in the cruise package.
Honeymoon Suite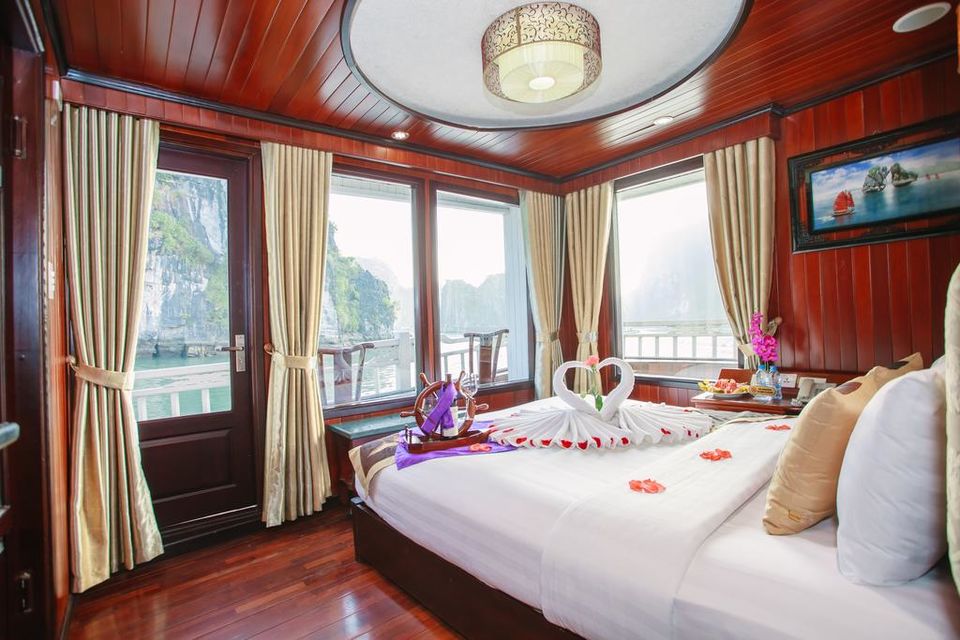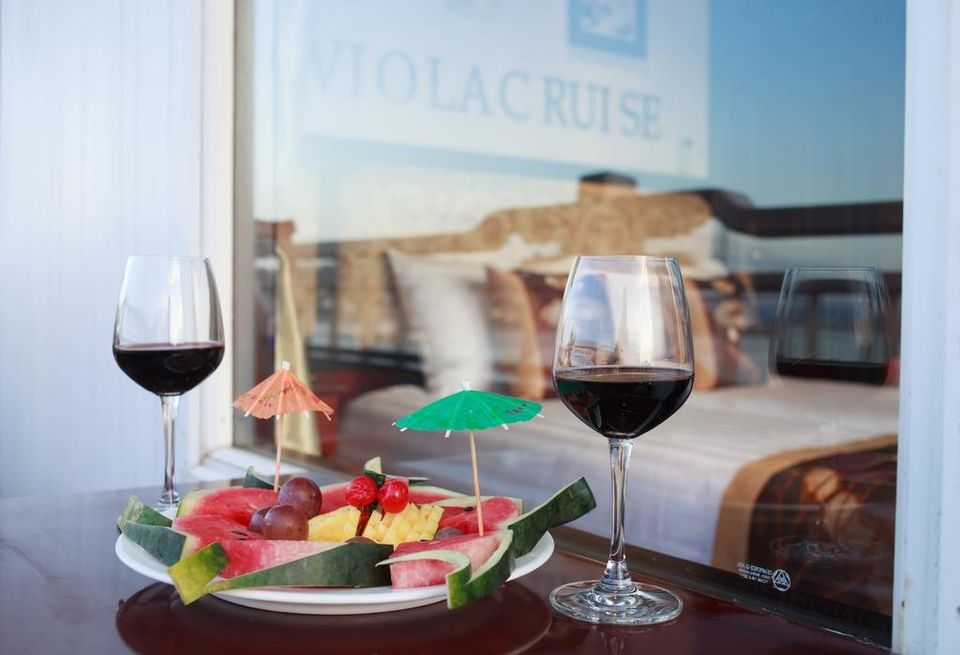 The Honeymoon Suite is perfect for newly-weds. It has a private balcony where you can enjoy a romantic evening in the mesmerising backdrop of Halong Bay with the love of your life. A welcome drink on arrival, a bottle of red wine, daily fresh fruit, tea, coffee, bottles of water, and daily hot buffet breakfast is included in the cruise package.
Dining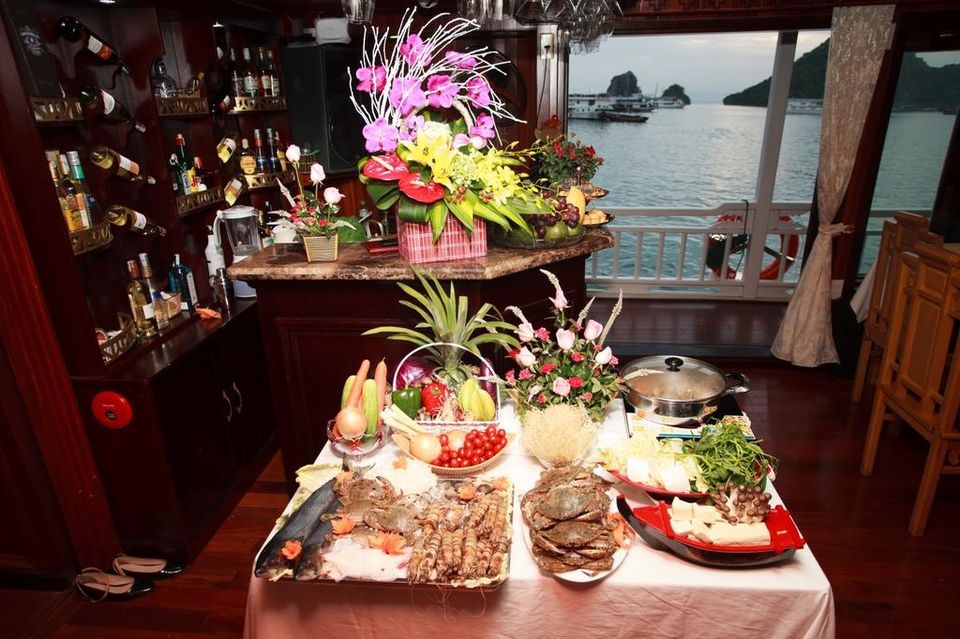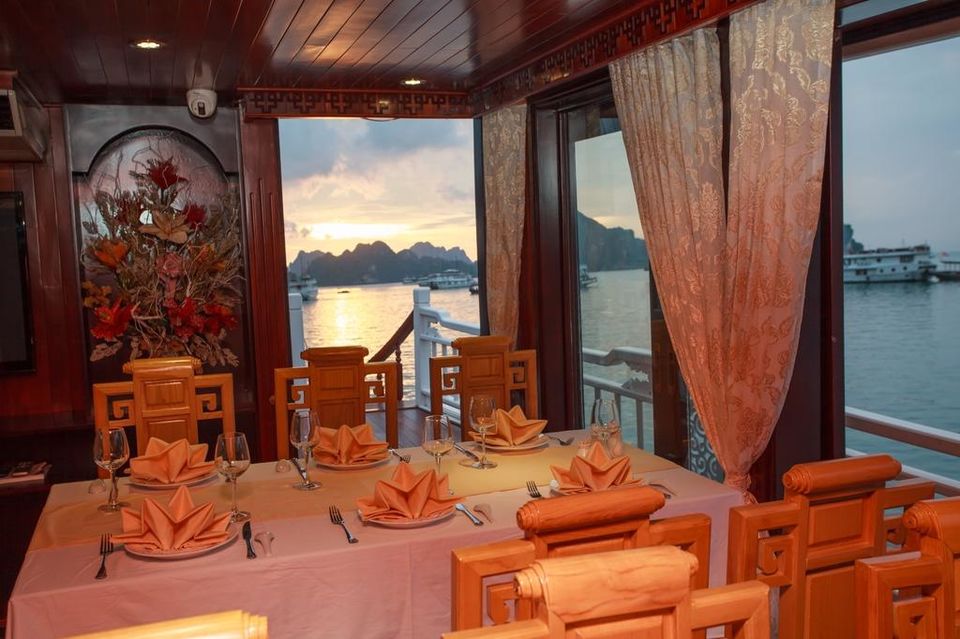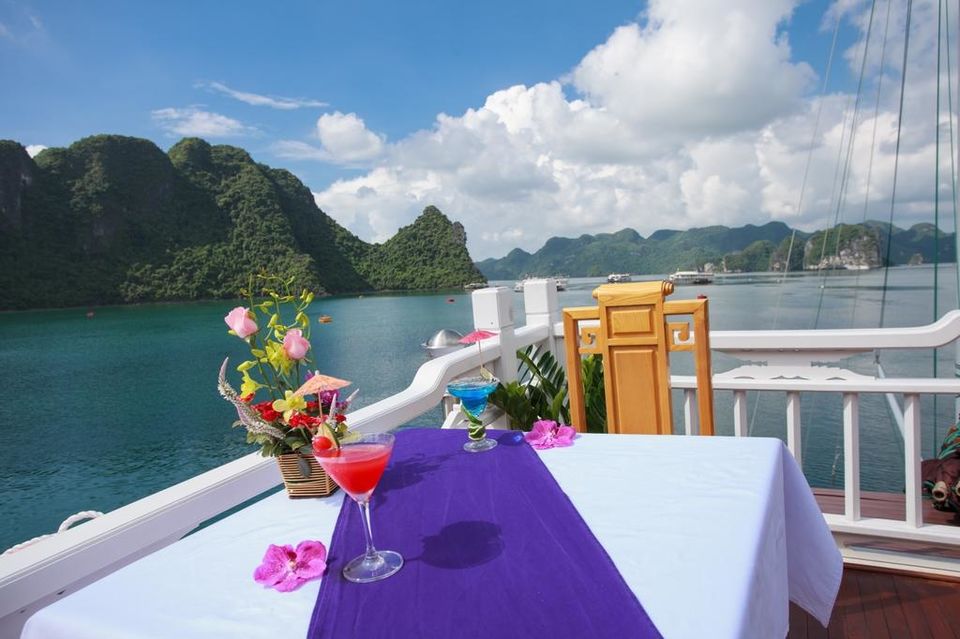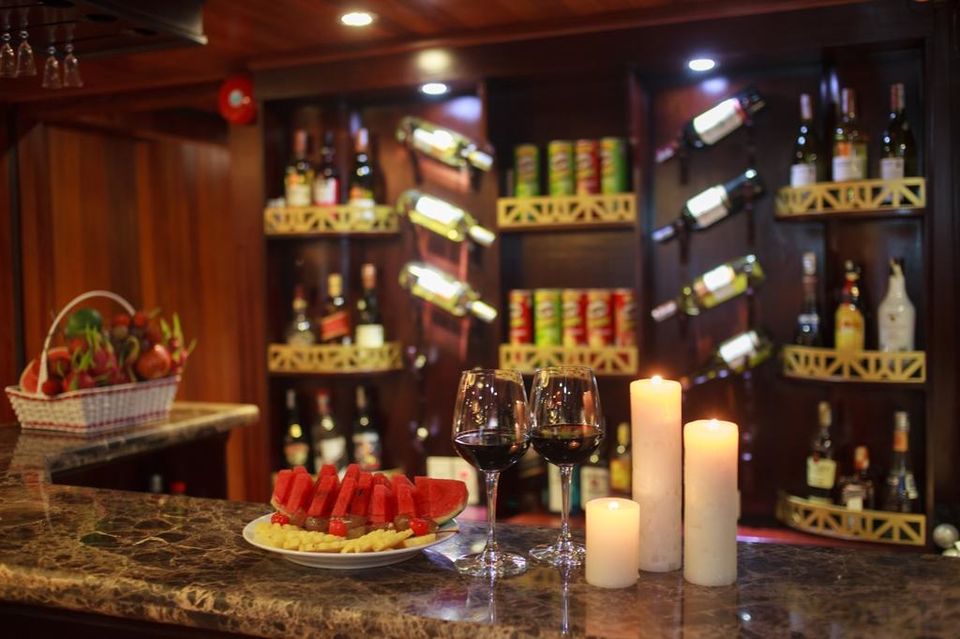 The dining room is located on the second floor of the Viola Cruise. Get ready for a gastronomic journey through Vietnam with an eight-course feast. The dishes on the menu are similar to those served in a traditional Vietnamese family meal. You will have a chance to understand the Vietnamese culture along the voyage.
The bar on deck showcases an excellent selection of spirits, wines and beer and are available at an additional cost.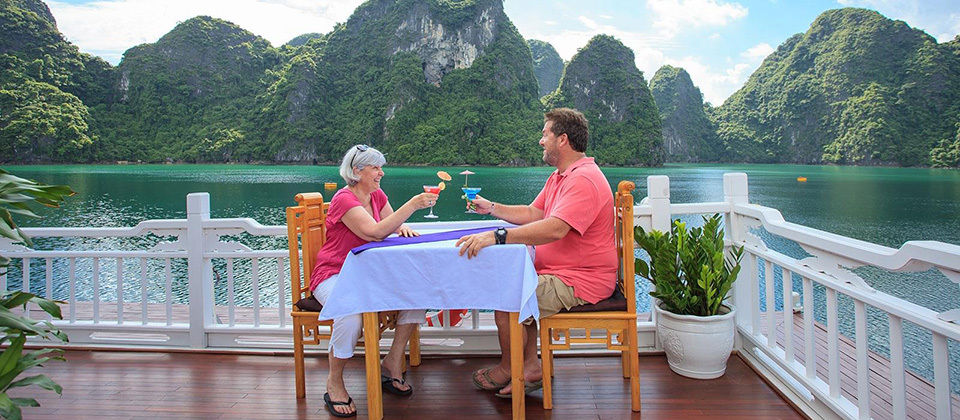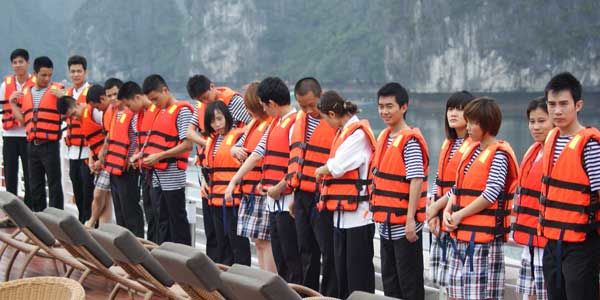 Other activities you can enjoy on this cruise:
• Squid fishing • Cooking classes • Tai Chi • Hiking • Cave exploring • Fruits carving classes • Kayaking • Board games • Swimming • Massage and spa
Essentials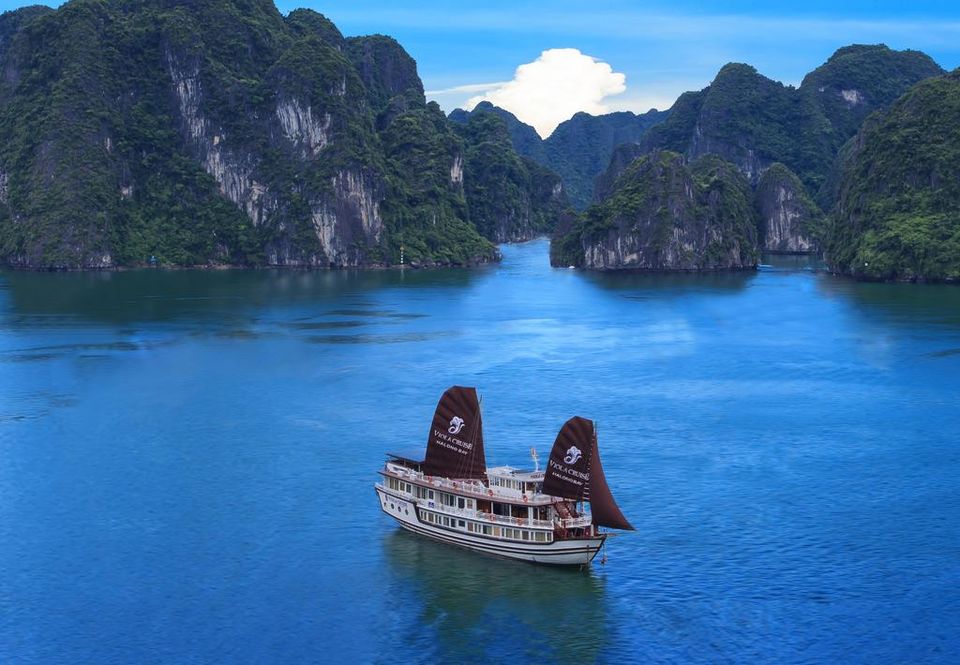 Best time to visit Hạ Long Bay
October to December is an ideal time to visit Hạ Long Bay with the weather being pleasant and calm.
It is best to avoid the wet season from July to September as there is a high chance of storms and typhoons during that period and it can sometimes lead to a delay or cancellation of the cruise.
Recommended for
Anyone who dreams of being on board a luxury cruise without exhausting all the savings in the bank account. This is one of the cheapest and best cruises that will take you around the spectacular setting of the world-famous Hạ Long Bay. So it doesn't matter whether you are just a couple of friends, a couple in love, a family on vacation, or a backpacker needing a time-out from all things frugal, you are going to have the time of your life.
Cost
A reasonable ₹20,778 and upwards for a Deluxe Cabin that accommodates two people for two days and one night.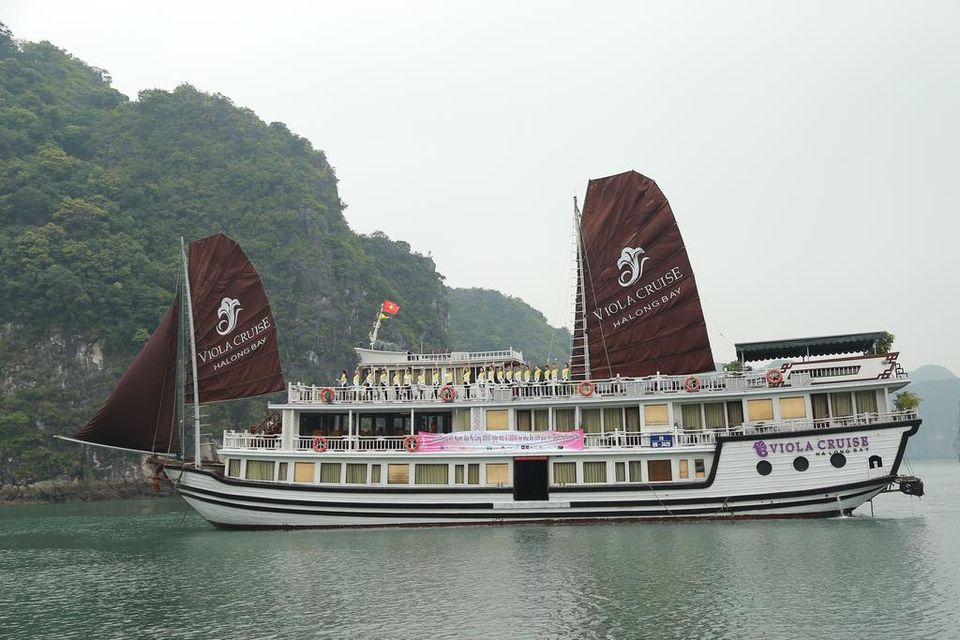 Getting there
Hạ Long Bay is 162 km away from Hanoi, the capital of Vietnam. Round-trip fares from Kochi to Hanoi start at ₹13,836 onwards. Book in advance to get the best price. You can apply for an approval letter to visit Vietnam online and carry a printout of it to get a visa-on-arrival. You can reach Hạ Long Bay from Hanoi in four hours by a bus or taxi. This transfer is inexpensive and is usually included in the cruise package.
If you are really low on time or want a royal treatment, you can opt to reach Hạ Long Bay from Noi Bai International Airport in Hanoi on a seaplane. This journey takes only 45 minutes and costs $175 or ₹11,358.
Have you ever been on a cruise? Share your experience with the Tripoto community and become a part of India's largest community of travellers.