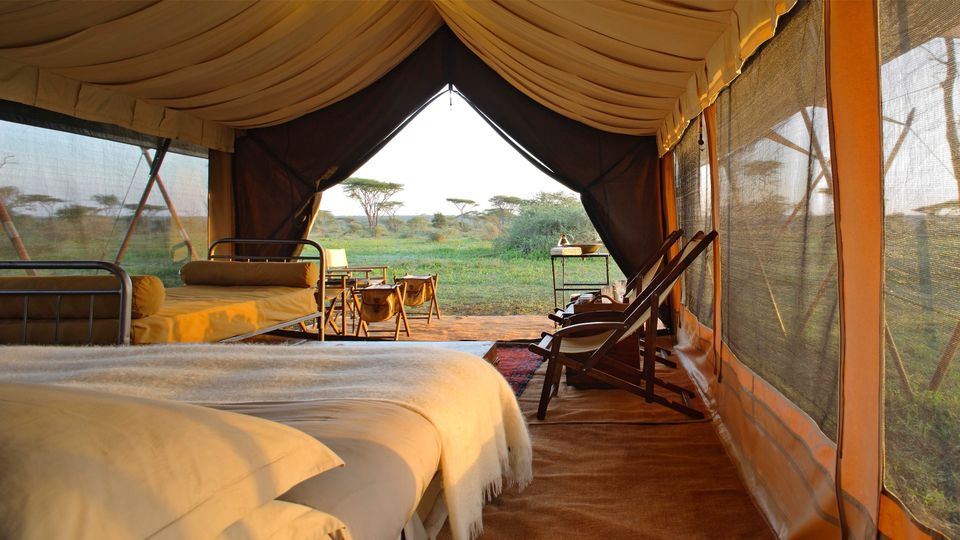 Spot wildlife from the tent's sit out or the migration of wildebeest, gazelles, and zebras from the Serengeti plains and at night fall asleep to the roaring of lions and howling of hyenas. Undoubtedly a trip to Serengeti is a bucket list experience and comes with a big budget of around USD 10,000 or Rs 7,00,000+ per couple! Now with Travelzoo's 50% slash on the deal guests (2 person) can spend 7 nights in luxury tents, with meals, drinks, game drives and with expert guides at a cost of $5999 or Rs 4,00,000+.
If an African safari is on your wish list for a long time, this Serengeti all-inclusive wildlife safari is a steal deal you cannot miss.
What is the exclusive deal?
Being one of the largest wildlife national parks in Africa, encounters with lions, cheetahs, leopards and giant African tuskars are a daily occurrence here. On special days wildlife can come to greet you at the glamping grounds, at mealtimes while you stay cocooned in luxury. The company offers a deal that includes, four night stays at the Siringit Serengeti Camp and the rest three nights at Taasa Lodge — with meals, drinks, game drives (two game drives or walking safaris) transfers and a private butler at your service all time of the day. Set off with your photographer eyes to this great African safari of your lifetime.
What can you expect on these luxury glamps and lodges?
The Siringit Serengeti Camp sits at the heart of the central Serengeti and that calls for an amazing game viewing year-round. The 10 luxury tents comes with private verandahs and en-suite bathrooms; rooms with a verandah take a new meaning at this property. A dinner set out under the canopy of Acacia trees amps up the excitement.
The Taasa lodge nestled on a ridge in the northern stretch of Serengeti is a community venture to support the land and the wildlife. Here too, the priority remains the comfort of the guests. Catch the sunrise on your deck with a cup of coffee; immerse in the sights and sounds of the wilds waking up to the day; after a day's safari, the infinity pool facing the grasslands invites for a soak followed by a sundowner.

The offer has a limited time. Hurry.
Note, this great deal ($5999 or Rs 4,00,000/ 7 days) ends until December 24, 2022. You can time the trip during the migration (June and September) or during the rutting season (May and June) both seasons allow ample opportunity for big cat sightings and if lucky one can watch a kill up-close. Whichever season you come, don't forget in Serengeti there's plenty of room for impromptu activities, and to enjoy each moment as it comes.
It's time to gift yourself an all-inclusive luxury African wildlife Safari because Africa is ready and waiting to welcome visitors.
Follow Tripoto to get early access to top travel stories every day.
Explore the best of travel inspiration on Tripoto Instagram!