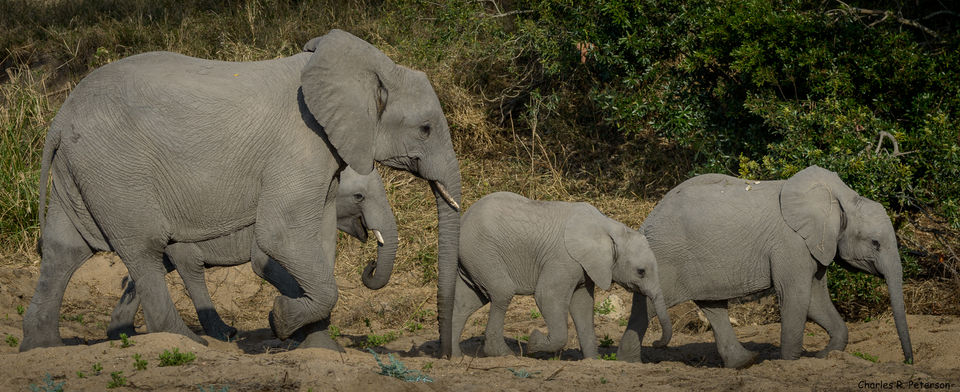 Africa's southern tip is nothing short of a treasure-chest. Travellers from all around the globe are attracted to South Africa because of its magnificent climate, cultural diversity, wonderful attractions and a massive assortment of wildlife. The country has everything from the densest forests to the driest deserts, both of which are home to thousands of animal species and exclusive flora. The Big Five (Lion, Elephant, Rhino, Buffalo and Leopard), however, tend to be the drawcard and watching them walk with pride in their natural habitat is an experience like no other. The national parks and game reserves of the nation have acquired cult status because of their conservational efforts and flawless hospitality. Getting to stay in one of the many lodges/camps of these protected areas is a once in a lifetime opportunity and must therefore not be missed.
Best Time To Visit: May to September (Dry Season)
With an endless expanse of red sand dunes and a glimpse of a mighty lion or two, the Kgalagadi Transfrontier Park is a huge wildlife conservation area within the Kalahari Desert. The San and Mier communities call it home and so do a plethora of eco-friendly rest camps that welcome several thousand tourists every year. The first peace park in the continent, it is shared by South Africa and Botswana and stretches across some 36,000 square kilometres. Experienced rangers will take you on unforgettable game drives around this protected area. Don't be surprised if ferocious beasts like hyenas, foxes, leopards and cheetahs approach your 4WD just to say hello. Exploring the craft village of the Bushmen is another delight.
Getting There: The city of Upington is 250 kilometres from the park and it is advisable to fly there from Johannesburg or Cape Town and hire a car. A 4X4 vehicle is imperative as the terrain is extremely rough.
Pro-Tip: Carry enough woollens as the weather is very harsh. All meals will be provided by your camp.
Best Places To Stay:
!Xaus Lodge (Rs. 42,000 onwards)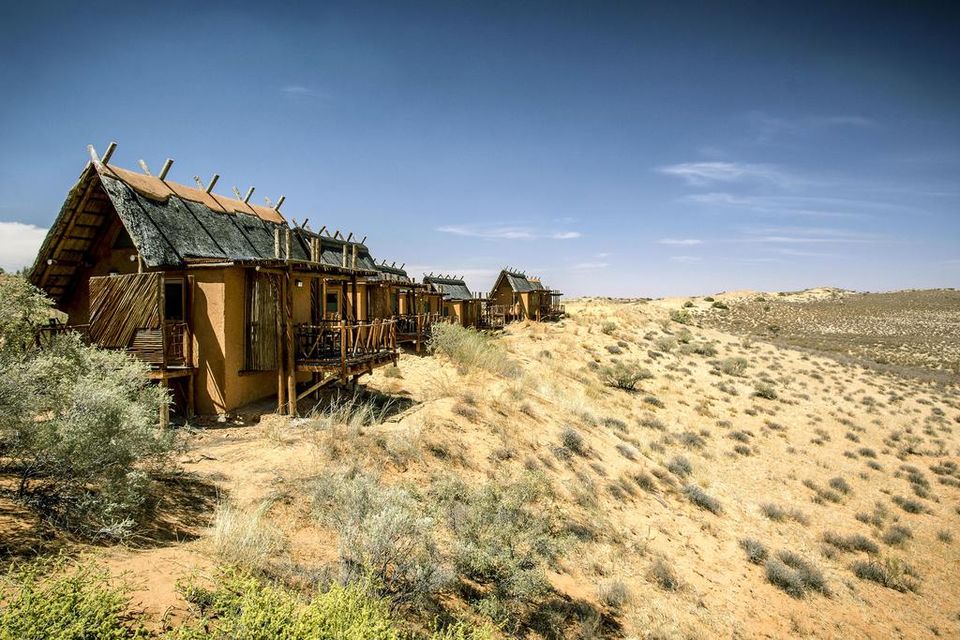 There's nothing quite like living in the literal heart of the Kalahari Desert, surrounded by lions, a vast expanse of sand and a blanket of stars. !Xaus Lodge is an eco-friendly camp in the Kgalagadi Transfrontier Park that has comfortable rooms, a massive lounge cum library, a swimming pool and an observation deck for all stargazing experts. The chefs will whip up traditional meals that will keep you coming back for more and the forest rangers will take you on night safaris that you will remember for the rest of your life.
Twee Rivieren Rest Camp (Rs. 5000 onwards)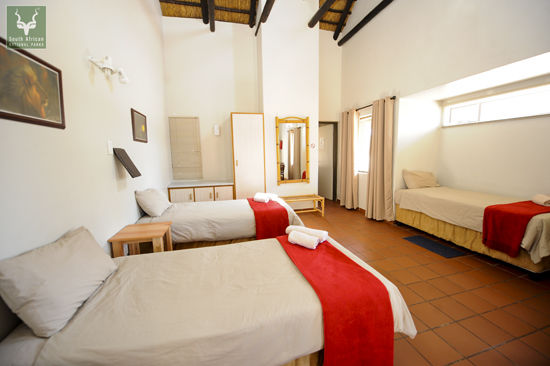 The largest rest camp in the Kgalagadi Transfrontier Park and the most affordable, Twee Rivieren is the only camp with a 24 hour supply of electricity and a decent network coverage. They have everything from basic tents to family chalets apart from a dedicated reception, a restaurant, a swimming pool and a shop. Expect to spot meerkats, hyenas, foxes and cheetahs around the camp.
Mata Mata Rest Camp (Rs. 4500 onwards)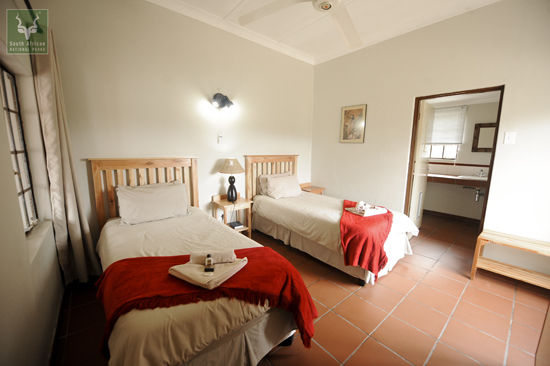 One of the more humble places to stay in the Kgalagadi Transfrontier Park, Mata Mata is the closest to the Namibian border. Apart from well-equipped cottages (the newer ones have air-conditioning and satellite tv), there's a gas station, a tuck shop and a swimming pool in this fenced campsite. Do book well in advance as this place is very popular amongst seasoned safari-goers.
Home to the Big Five, the Kruger National Park is perhaps the most iconic safari destination in the world. Spread across 20,000 square kilometres, it is shared by the South African provinces of Limpopo and Mpumalanga. Safari enthusiasts have the chance to explore some 150 mammals, 100 reptiles and more than 500 bird species. Apart from the indomitable wild and exquisite fauna, Kruger also possesses more than 250 cultural heritage sites. The open vehicle game drives around the park are incredible and so are the many luxury and high-end accommodation options.
Getting There: The easiest way to get to Kruger is to drive from Johannesburg via N4. The journey should be around 5 hours long as the South Entrance (one of the nine entrances to the park) is 500 kilometres away.
Best Places To Stay:
Imbali Safari Lodge (Rs. 55,000 onwards)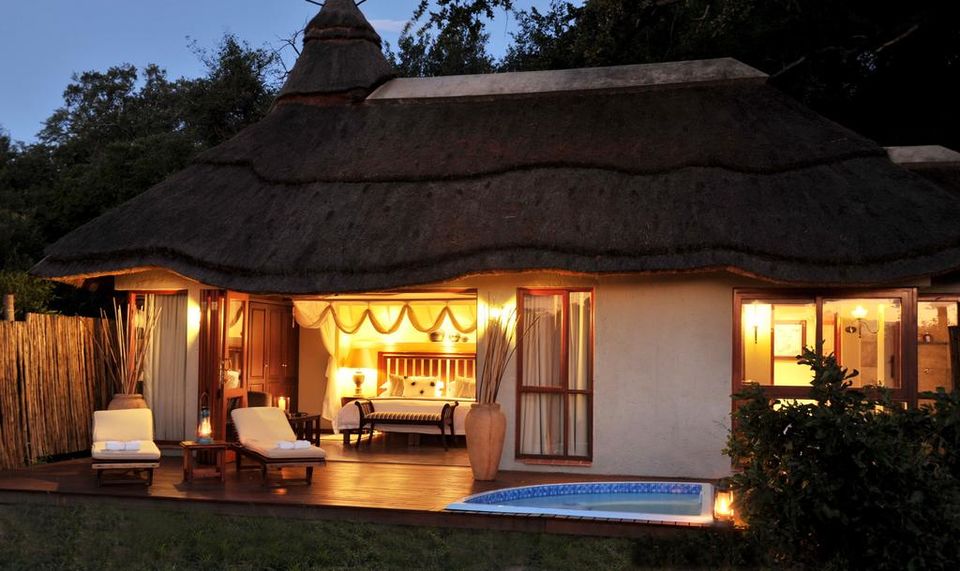 With 12 luxurious suites and impeccable service, Imbali is a romantic address in the private Mluwati Concession of Kruger National Park. All suites come with a private wooden deck and a jacuzzi while the gorgeous dining hall offers pristine views of the river. Guests can go on game drives which give you the opportunity to feast your eyes on lions, elephants, rhinos, wild buffaloes, giraffes and leopards.
Camp Shawu (Rs. 25,000 onwards)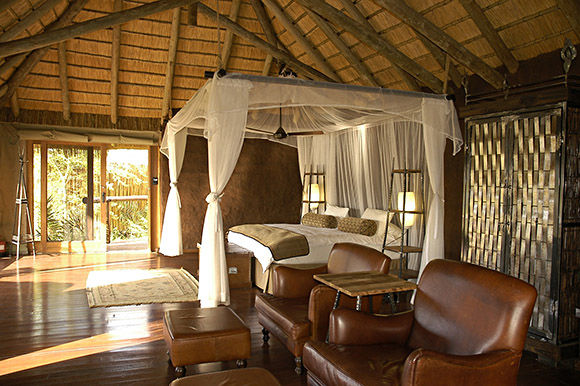 Camp Shawu is a part of one of the many private concessions of Kruger and was named after one of the seven magnificent elephants of the park. While it only has five rooms, they are all gorgeous with four-poster beds and elegant bathtubs and overlook the Mpanamana dam. The food served in its indoor and outdoor dining area is excellent and so are the game drives.
Lion Sands Kruger (Rs. 1,10,000 onwards)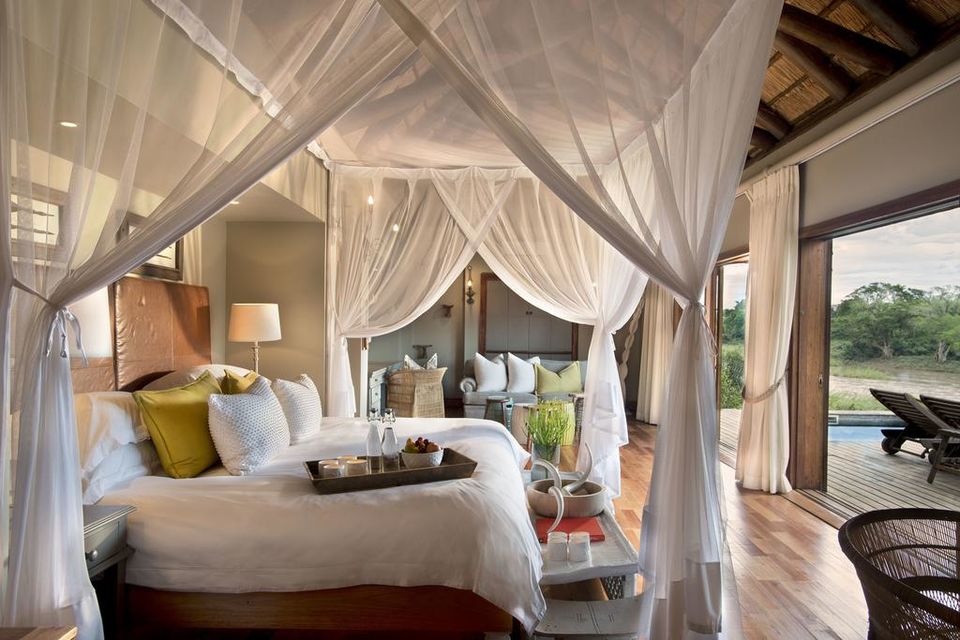 Kruger's private Lion Sands reserve has four stunning lodges (River, Ivory, Tinga and Narnia) which pamper visitors with their opulent suites and villas. There are open baths, wooden viewing decks, private swimming pools and unparalleled views of the Sabie River. All of these ultra expensive properties are fully air-conditioned and have satellite TV and WiFi. Animal sightings with qualified forest rangers are the icing on the cake for obvious reasons.
The fifth largest game reserve in South Africa, Madikwe occupies an area of 750 square kilometres and is yet another haven for the Big Five. What was once a farming land, Madikwe now stands tall as a malaria-free park and has a good number of fancy lodges to boast of. It is possible to spot more than 300 bird species and some hundred mammals including the endangered African Wild Dog. Apart from the early-morning game drives, the Madikwe Dam is great to watch animals, especially around sunset.
Getting There: The Madikwe Game Reserve is 350 kilometres from Johannesburg and driving there is a wise decision. The journey should be four hours long.
Best Places To Stay:
Tau Game Lodge (Rs. 20,000 onwards per person)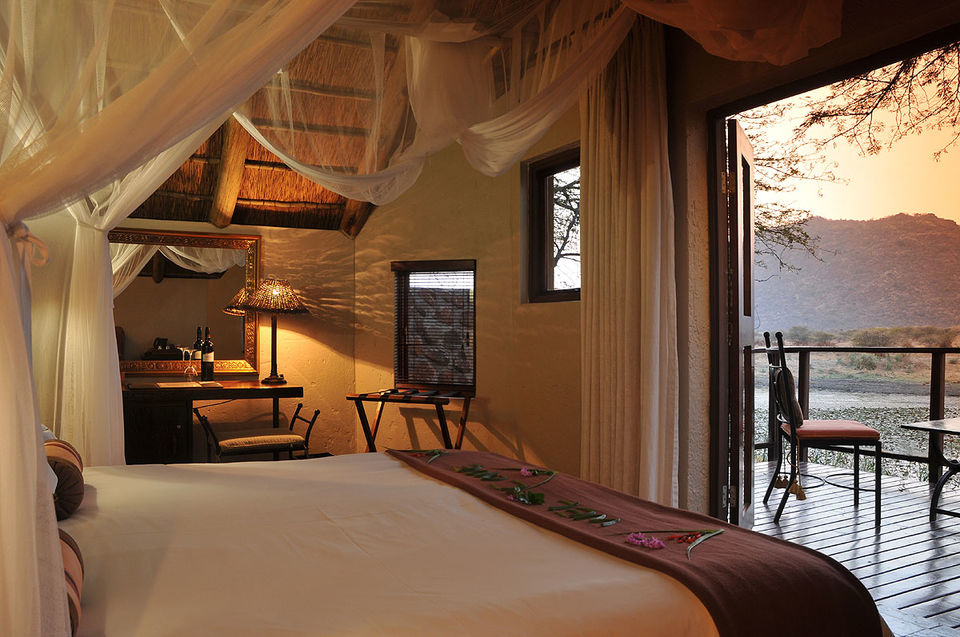 What could possibly be better than watching elephants drinking out of a waterhole right outside your room? Madikwe's Tau Game Lodge offers you this memorable experience and so much more in the form of its cosy chalets, beautiful seating areas, a plunge pool and sumptuous fine dining. There's also a spa to soothe your senses after an adrenaline-pumping game drive around the reserve.
Buffalo Ridge Safari Lodge (Rs. 21,000 onwards per person)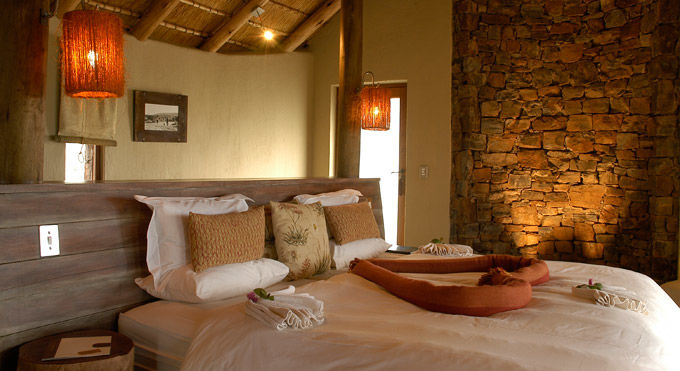 Yet another upscale accommodation option in the malaria-free Madikwe Game Reserve, Buffalo Ridge is the first community-owned safari lodge in the country and is the torchbearer of eco-tourism. The property sits on the Tweedepoort Ridge and can be accessed by a wooden bridge. All of its eight glamorous suites have a viewing deck and a thatched roof. Expect to encounter the Big Five during your many game drives.
Madikwe Safari Lodge (Rs. 45,000 onwards)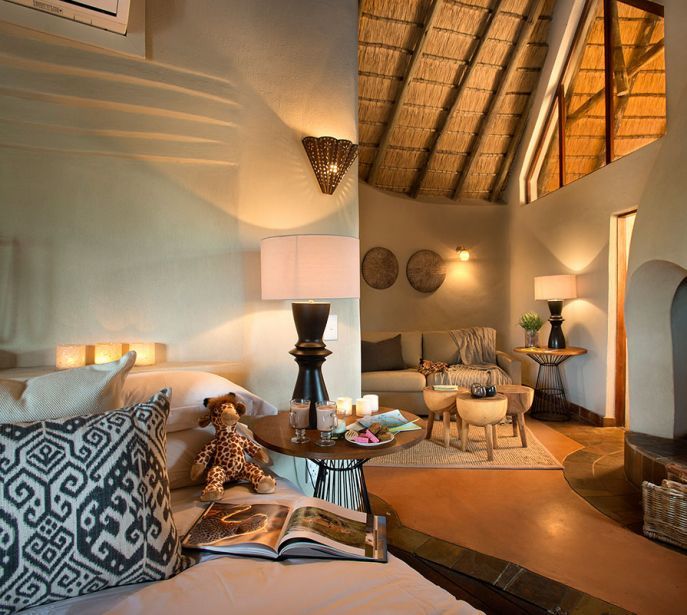 One of the more expensive names in the reserve, the Madikwe Safari Lodge basically consists of three lodges- Lelapa, Dithaba and Kopano. All three of these are quite secluded and have 20 plush suites in total. The daily meals in the outdoor dining spaces will make you crave second helpings and the game drives will thrill you. Guests can also spend time in the lounge bar, laze around in the library or burn calories in the gym.
Perched on top of a crater of an extinct volcano, the Pilanesberg National Park is the most popular excursion from South Africa's leisure capital, Sun City. You can spot the Big Five in the 580 square kilometres of this malaria-free zone, relax in one of its many picnic sites and also witness the surreal beauty of the Mankwe Dam, Pilanesberg's central lake. Apart from a tryst with the wild, there are five luxury lodges to spoil you with their top-notch hospitality. Adventure-laden game walks and drives are all included in your stay.
Getting There: Pilanesberg is less than 10 kilometres away from the Sun City Resort and you can easily drive around. If you're not staying in the reserve, keep in mind that the gate closes at 7pm.
Best Places To Stay:
Tshukudu Bush Lodge (Rs. 42,000 onwards)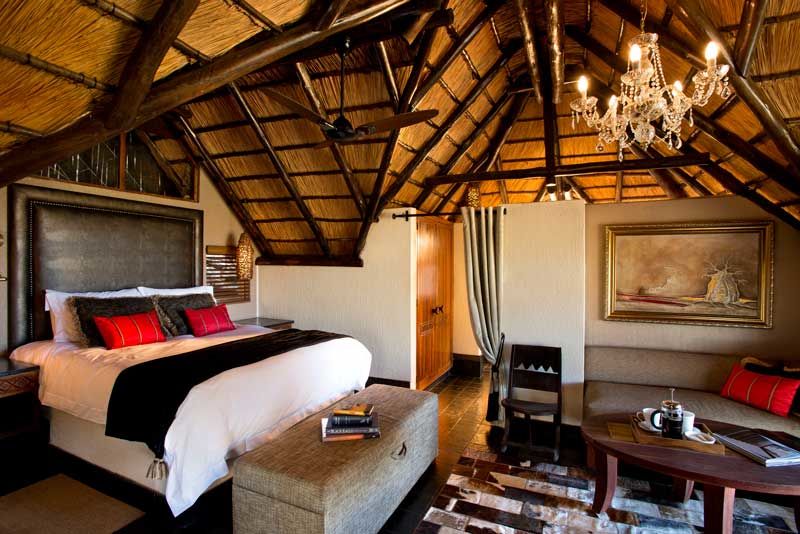 With exceptional views of the Savannah and a pristine waterhole, the Tshukudu Bush Lodge has luxury chalets (think chandeliers, fireplaces and sunken baths), a romantic dining area with delicious six course meals, a library, a plunge pool and spa facilities. Their splendid game drives will bring you as close as possible to the Big Five. Guests have to climb some 100 steps to get to the lodge.
Pilanesberg Tented Safari Camp (Rs. 9000 onwards)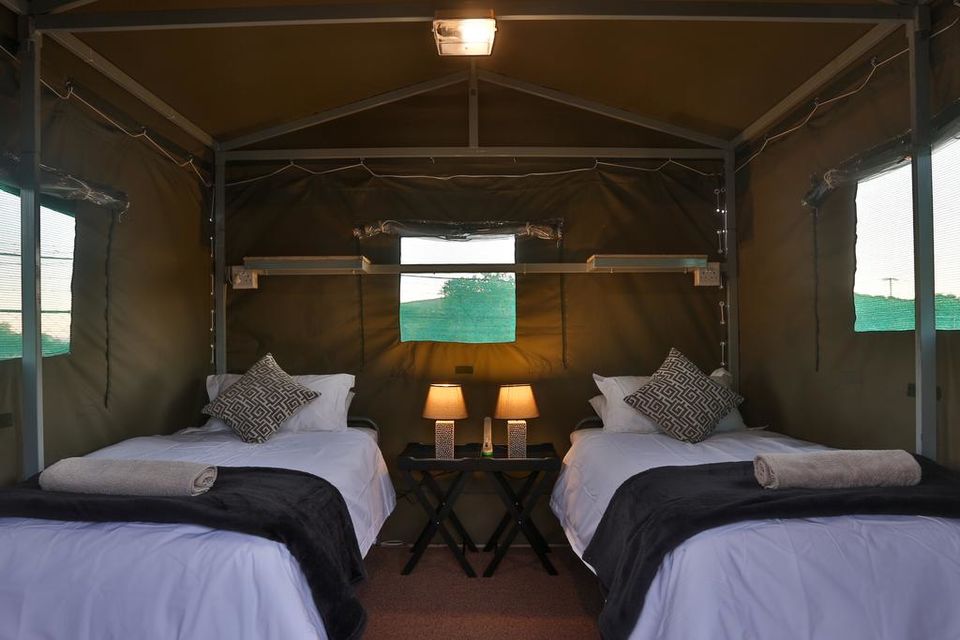 For an authentic and relatively affordable tented safari experience, look no further than the Pilanesberg Tented Safari Camp. There are comfortable twin beds, a constant supply of electricity, shared bathrooms and a swimming pool. Basic English breakfast and traditional South African meals are also provided. The highlight, however, are the terrific game drives with lion, elephant, cheetah, leopard and rhino sightings.
Bakubung Bush Lodge (Rs. 25,000 onwards)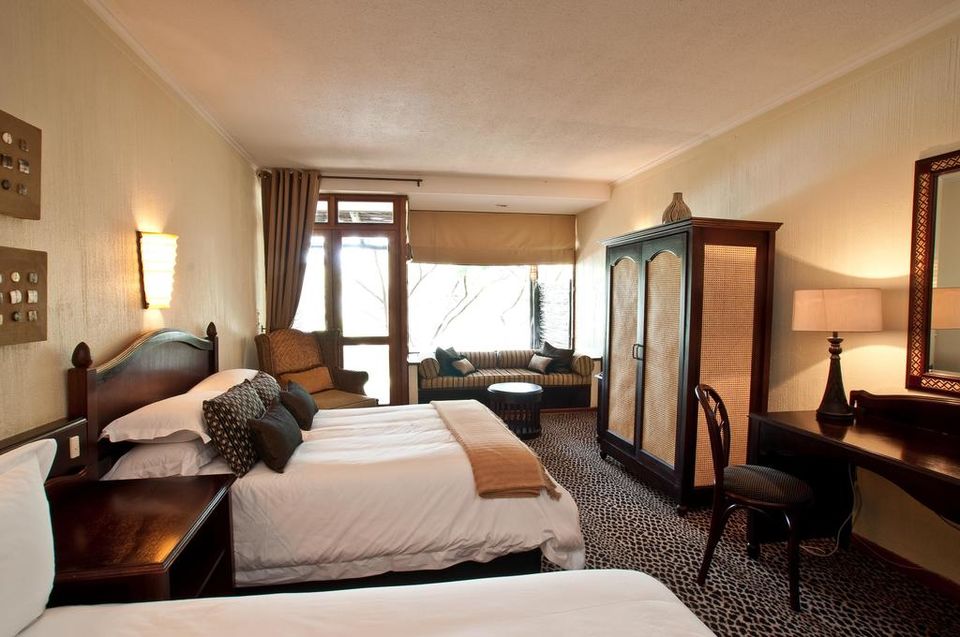 There seems to be no dearth of high-end accommodation in South African national parks and the Bakubung Bush Lodge is just one of them. Apart from cosy five-star-esque rooms, guests can also make the most of the complimentary internet, satellite tv, a spa, a volleyball and tennis court, a swimming pool and an African themed restaurant and bar. Arresting views of the park are an added bonus.
Frequent Searches Leading To This Page:-,
South africa wildlife travel destination, south africa wildlife tour packages, south africa group tour from india, south africa 7 days package