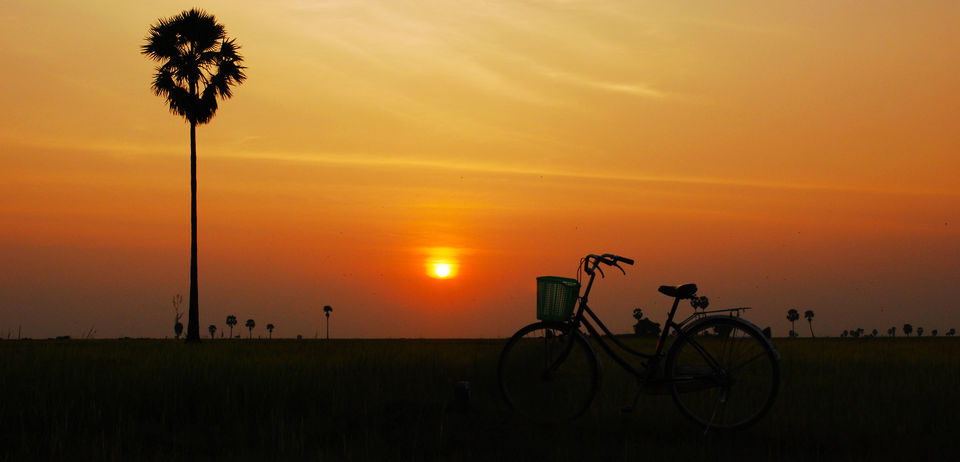 Description
If you have an afternoon to spare and are looking for something to do other than the temples why not join Siem Reapers Sunset Ride. On this tour, you will have a great ride out of the hustle and bustle of Siem Reap's downtown to the wonderful views of Siem Reap's countryside through paddy fields and stunning scenery as well as watch the sunset surrounded by palm trees and wildlife.

Exploring the evening life on this bike tour will give you a unique experience to enjoy the friendly environment on two wheels. This bike ride will take you through the narrow dirt lanes where you'll see the everyday life of Siem Reapers and get insightful information from our knowledgeable local tour leaders.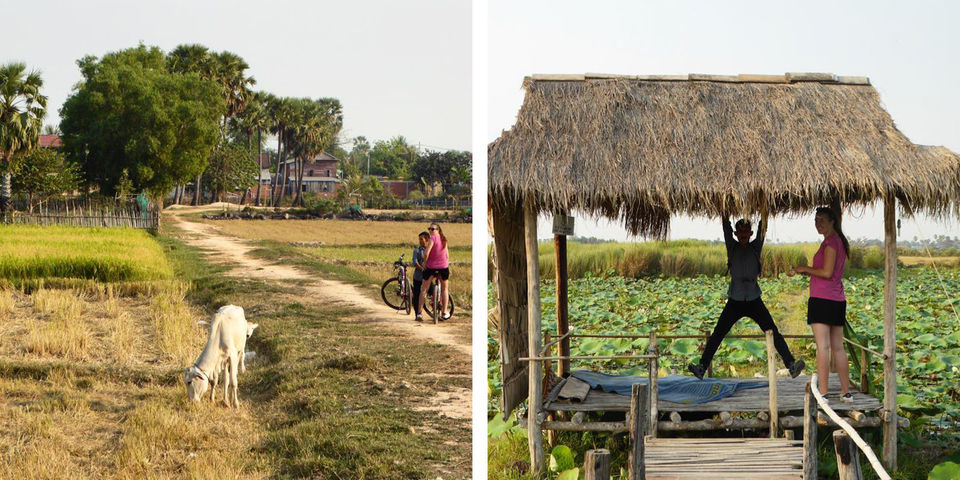 At the end of the tour, you will be served delicious snacks with cold beverage whilst you watch the sunset over the wide, flat, expanse of rice paddies.
Tour Itinerary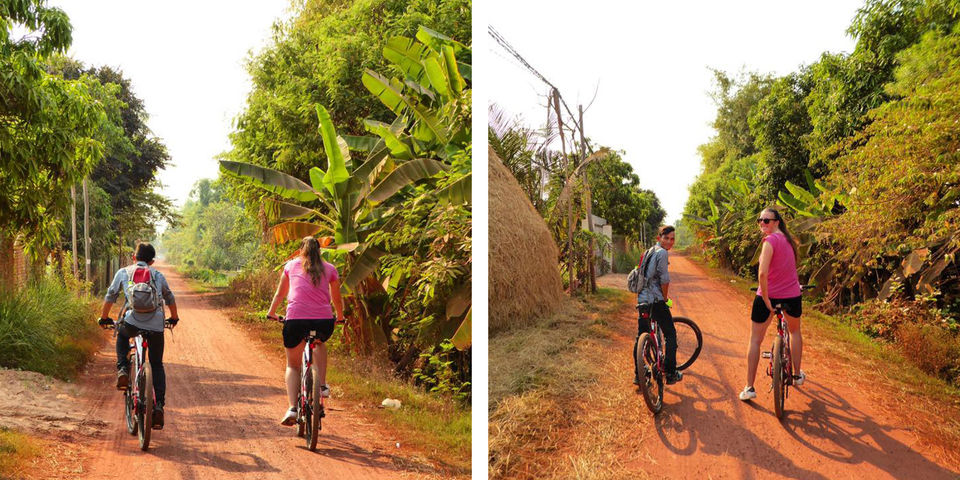 Stop 01: Escape the Siem Reap downtown
You will be picked up from your hotel on the complimentary tuk-tuk at 3:30 pm. Once you arrive at our shop, your guide will set you up on the mountain bike. After a brief introduction about the tour, you will take a quick ride through the somewhat busy streets of Siem Reap to get off the beaten track and ride through the beautiful villages which many visitors often miss.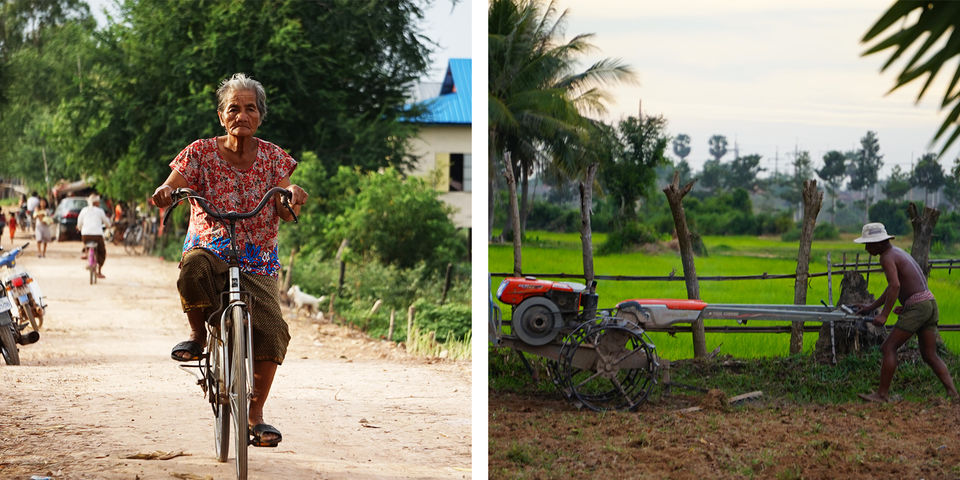 Stop 02: Immerse yourself into Siem Reap livelihood
Your first stop will be at a small village in order to take a break and to learn about local livelihoods. Along the way, you will most likely see children waving and saying hello! Through this tour, it equips you will the opportunity to interact with the locals and the lush landscape. Continuing along the dirt roads you will also stop off at local farms to understand the many ways people make a living.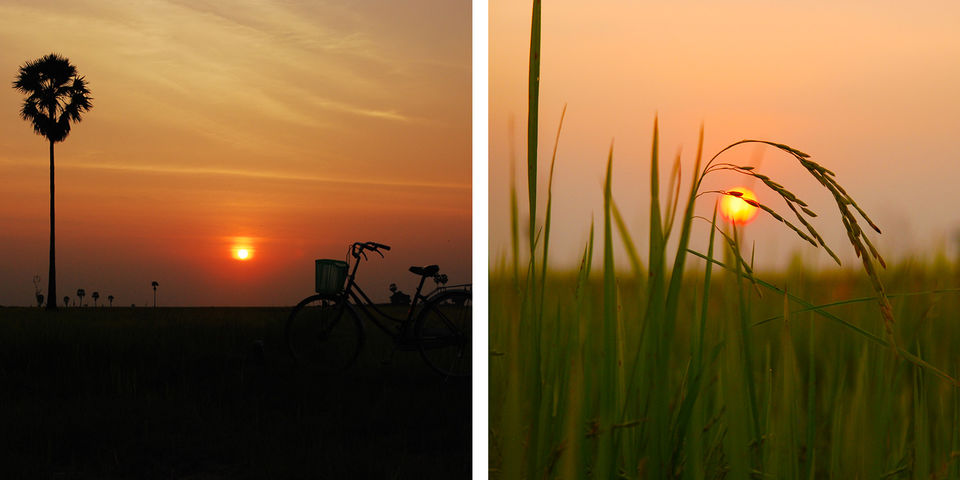 Stop 03: Sunset views and cold beverage
To end the tour, we will find the perfect spot to watch the setting over the palm trees whilst washing down a cold beverage and local snacks. This tour is expected to return back around 7 pm.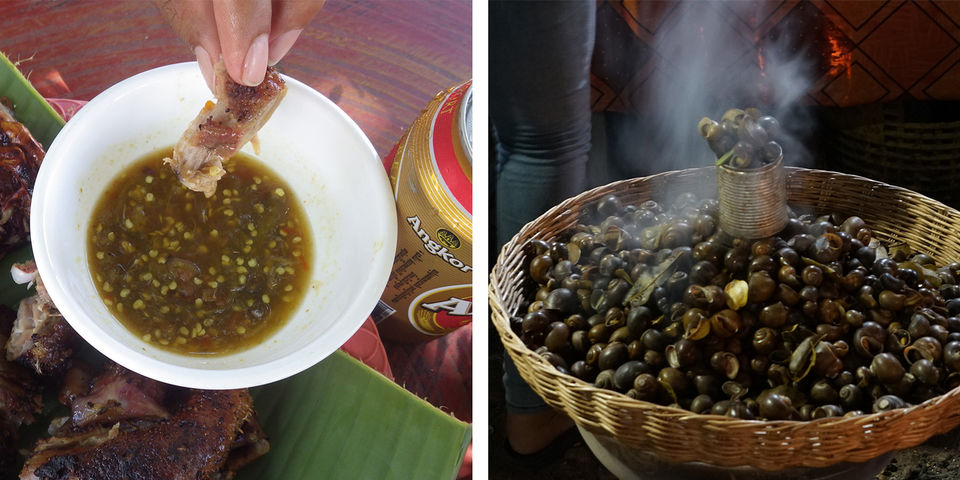 What to bring: Camera, sunscreen, sunglasses, mosquito repellent, wear comfortable cycling clothes, etc.
Departure: 3:30 pm to 7 pm, Daily.
What's included:
- Hotel Pick up & drop off
- Pure drinking water
- Local snacks and fruits
- Cold beverage
- Mountain bike
- Bike helmet
- Village fee
- English speaking tour guide
- Cold towels