Anyone who's not excited on an airplane that person does not deserve a fucking holiday! So i travelled all the way to Bombay from Delhi to travel with my friends to Singapore! So excited for the Ultra music festival- The first ever in Singapore! Though the excitement was ruined by immigration who took me aside for further questioning and wasted an hour. Anyways just a tip, While going to singapore-TIP 1- No beards please! Anyways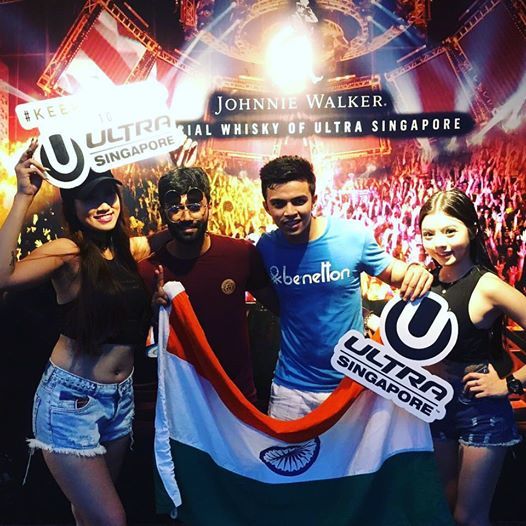 Crazy UMF , btw im the one in sunglasses:D
UMF was crazy! Danced until the music stopped or we passed out:p! Line up was crazy but Kygo was exceptional! Music definitely makes you high, crazy and brings people together. Majority of people were from asia and the festival was right i below Marina Bay Sands resort which comes in the list worlds top 10 hotels. Marina bay area has enormous manmade beauties. TIP-2 Stay in Marina Bay Sands resorts.

Infinity pool is incredible!Just what you need :p like everytime!
The hotel has 57 floors with an infinity pool on the top, 2 clubs, a fitness club and a bar to chill. Everything you need is on the TOP. It also has a shopping mall, casino and botanical garden to itself. Its pretty amazing how poor a hotel can make you feel. TIP 3- While you check-in in Marina Bay ask for an upgrade!you might just get it. Thank me later babes:)
Where to shop?
-Pretty much everywhere but Orchard street has got a lot of high end branded shops and well Changi airport got a lot of high end shopping too. Other than these two you got the MBS mall.
-Mustafa market is the thing of the past in little India, still if you wanna go there then the best thing to probably buy is shoes.
TIP4- Shop from Charles & Keith- cheapest in Singapore as compared to the world because its the local brand people!
Where to party?
Bang Bang in Pan Pacific hotel is a pretty good club being its roots in Vegas & NYC. Just mind your steps while you get drunk and dance on the stage and in the cage you just might fall of the stage and have broken arm like me!
Ce La Vi in Marina Bay is best for few drinks with a view.
Highlander in Clark Quay is good for a chilled out night or just explore the area Clark Quay(pronounced as ki).
If you like your after party to be a Boom Boom night then Gelang street should be your call! People will say Orchard tower but believe me not worth it. haha!
Tip 5- Never get into a fight in Singapore even if you have big group with muscles. It is compulsory for a singaporean to serve in uniform services, generally the army for 2 years. They will knock you out in seconds buddy.
So that would be all i hope you have an amazing trip just the one i had with my group of friends. Cheers!!