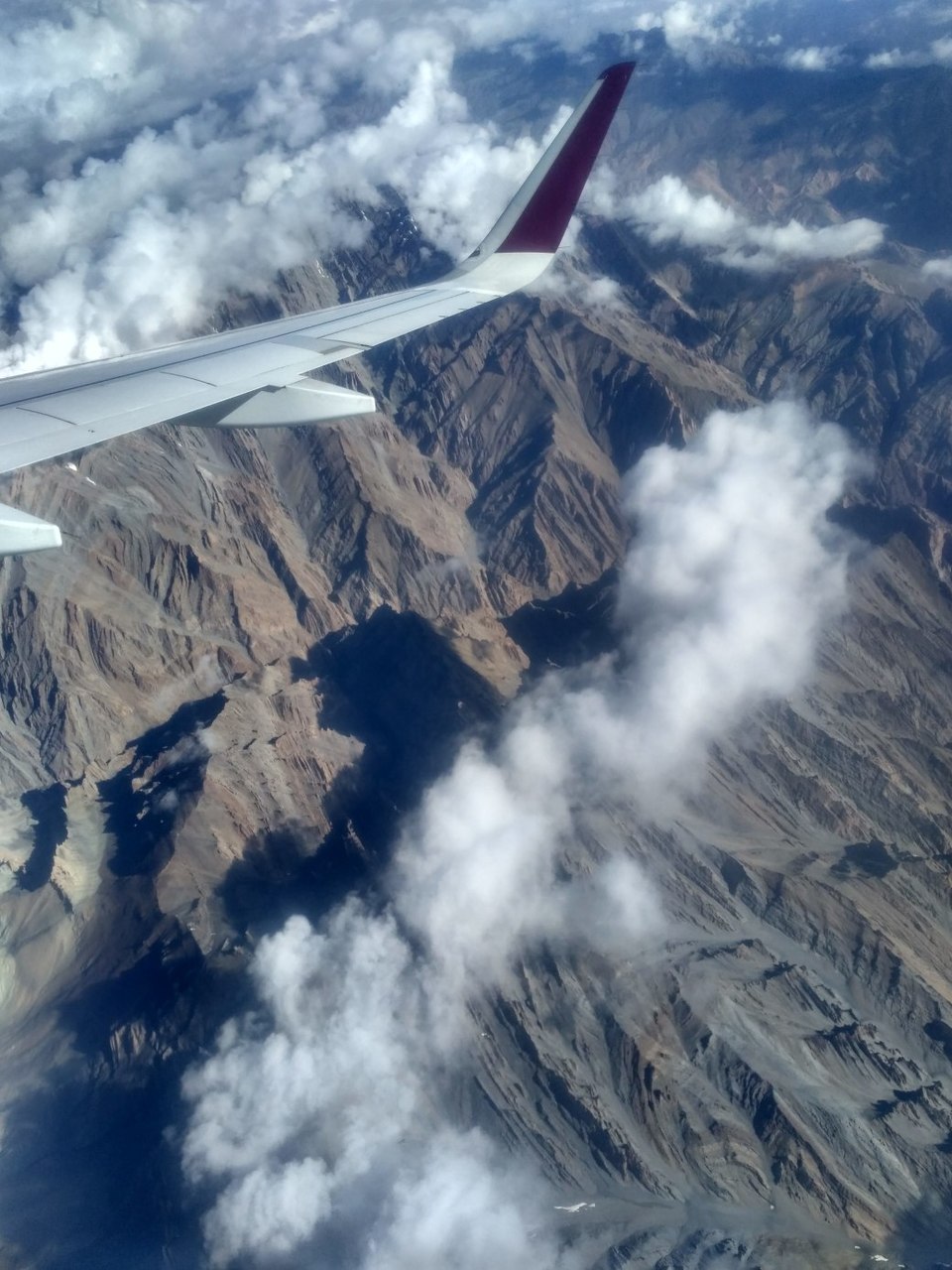 I had booked my tickets to Leh very well in advance and had got a great deal in booking of tickets, but till the time I wa in the flight I was unsure whether I will go or I will have to drop out. I always had this deal from my boss that if you convert this number of people for the trek, you will be able to go for free. I had matched my numbers and there was still tension in the air because now its August and I am leaving for Leh in the next three days, but there was something important that I told my boss - I will not be able to continue with the company anymore because I have to undertake this trip to North East for my mountaineering course. For the course I had to take leave for almost 40 days which my boss was not in favor of. But as the tickets were booked, he said take this trip and then you can leave the company. Finally I landed in Leh, whatever I had heard about that place was true, its one of the most beautiful places on Earth. The raw mountains, the cleanliness, the landscape , everywhere you see is worth taking a photograph. I had gone to Leh to be the trek leader for a small trek called : Stok La trek. My co trekkers were supposed to reach the next day.
We had two acclimatization days in Leh. Once you reach an altitude of more than 3000 m directly from sea level, you have to adapt to the atmosphere around you, there is less oxygen in the air and your body is not used to thin air. Not exerting my body much, I just visited the market in the evening and used the rest of the day resting and acclimatizing. The next day we went to the monastery nearby with all the clients and guides, this was an acclimatization walk, so that the body is used to walking at this altitude before the trek begins. The visit to the monastery was a good warm up exercise for me and the clients as well. In the afternoon, we packed our stuff and started for the base of the trek. Our bus stopped an hour before the base as I wanted everyone should get the feel of trekking even before the base of the trek and then we walked an hour to reach the base of the trek called Zingchen. The place was one of its kind, with river stream flowing beside(a basic rule while camping : Always camp beside a river stream so that you always have access to water), the campsite was made neatly, our tents were already pitched and we have separate pee and poop tents for Men and Women (Although we only had one lady in the group). The surrounding mountains were raw, without any vegetation, I had never seen such landscape ever before. After playing some rounds of UNO, we had our dinner and went off to sleep.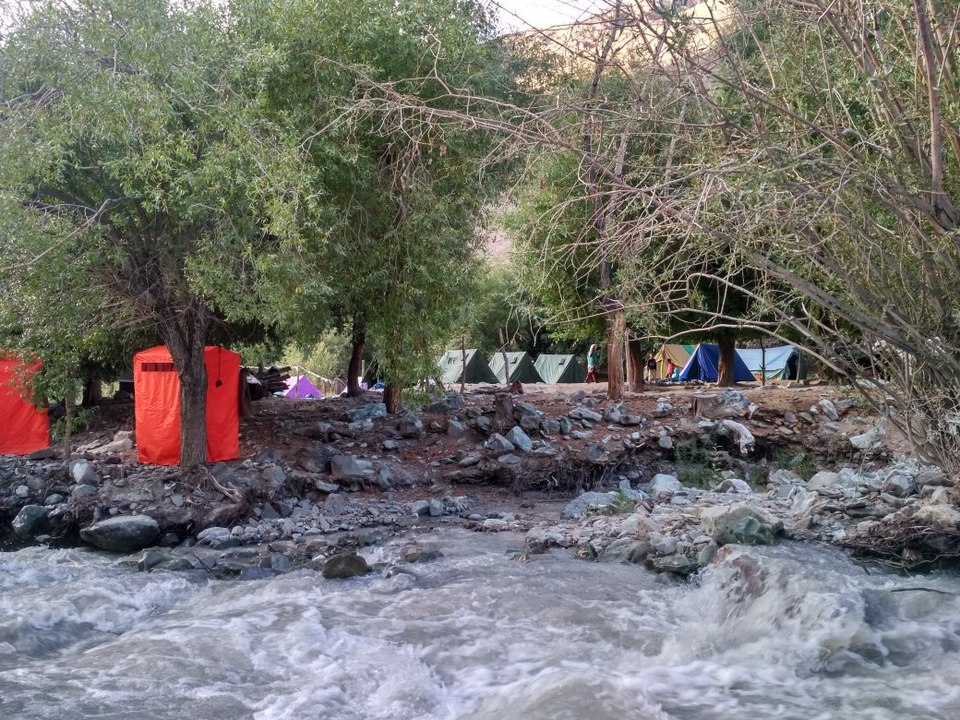 The next day, we had a long walk to a place called Rumbak, which was at a height of 4000 m above sea level. We started with walking on the road, then we entered the woods and started trekking. Today's trek took us through a couple of small untouched villages of Leh Ladakh. Walking along the Indus river stream, and among the sky scrapper barren mountains felt as if there is some painting and we are walking among the painting. The change in the colors of landscape as we made our way towards Rumbuk made me awe struck. By lunch time, we reached our next destination and before we reached, our tents were already pitched and food already prepared. There was only one group besides our which was trekking to Stok Kangri, the whole ampsite was for us. We were able to see some wildlife while on the trek and got to know about Snow Leopard, which one can see while trekking in Leh region during winters. The night was a full moon night, the dim light of the moon showed different view of the astonishing mountains, there was a glow in the night and the stars were shining as they used to be years ago when I was a kid, when there was less global warming. One of the best things about going for a trek is to time travel and go to the past just to realise how beautiful the world was before internet, mobile phones and when there was less connectivity, less connectivity leads to more talking to the people who are around you and you get to acknowledge the beauty of the nature around you.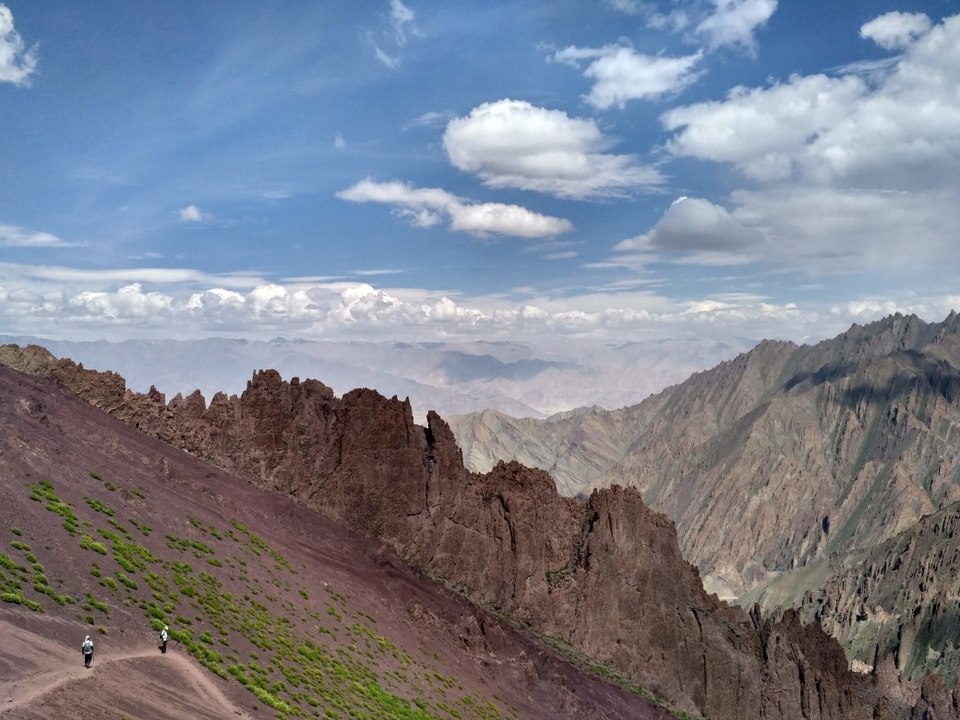 The next morning when we got up for the final push, climb Stok La and then descend to Changma we had a problem before starting. There was one guy in our group whose oxgen levels dropped to 55 and there was no scope for him to move forward. After turning that guy back and sending an assistant guide with him we headed towards Stok La. The path was as difficult as beautiful. When you start your trek for the day, the first hour is always very demanding as the body is getting warmed up and you feel very tired during that time. After the first hour the beauty of the walk starts. After walking on a gradually inclided slope for an hour, the real climb started when it was steep ascend. Ascending our way towards Stok La we crossed a number of ridges and different colors of the terrain, the walk was so beautiful that one should take up the trek to experience the wonders of nature. The last hour was difficult and each and every person from our group managed to get to the top just on time. From the top we could see clear views of Stok Kangri mountain and all of the stok Region. On my left were the mountains which were covered with snow, in front of me were mountains with little vegetation and on my right were barren colorful mountains. Now the most important part of every climb : DESCEND. As rightly said by somebody, it is not necessary to reach up, but it is compulsary to come back down. The journey to Changma was quite steep and long (as this was the most important day of the trek, it had to be difficult). We walked and walked to descend but we could not see the end anywhere. All the clients started asking me why was it necessary to put up the camp so far and make the day so long, I simply said : do you see any flat place where we can pitch our tents ? Having no reply they started walking behind me in the hope to see our tents somewhere. And finally after descending for more than two hours, we could see our colorful campsite , everyone of us was completely overjoyed. We were having tea as we discussed our jourey of the day. "It was difficult they said, but it was worth it". There was this lady, Nandini, the only lady in the group she said " This was really a good move by me to sign up for this trek, I have always heard about Ladakh and its beauty, but I never had a chance to get here. Now when I am here I acutally believe in what people say : KASHMIR IS HEAVEN ON EARTH . This heaven has shown me its true colors and I am really grateful to the god of nature for this. Trekking in Ladakh is what what most people don't prefer because they usually want to sight see and bike around, but trekking in Ladakh is very important to get to know the culture when you see those villages which have no connectivity, yet they are happy in life, they demand nothing more, you get to experience the beauty of living among the mountains and the streams and get to cherish the basic necessities of life (Food - Clothing - Shelter).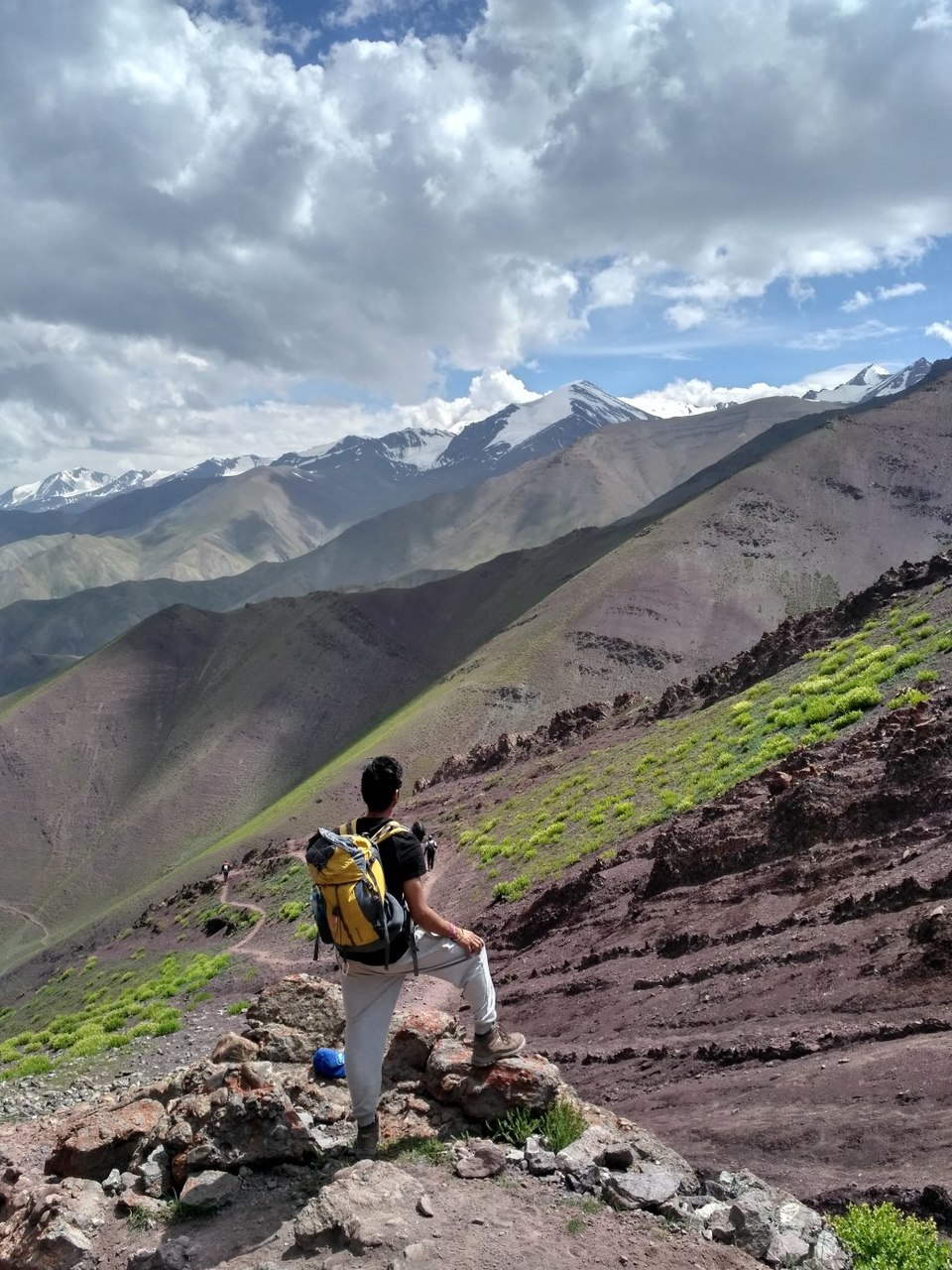 The next day we got up slighly late as we knew that today it's a relatively simple trek, rather a walk of an hour to reach Stok Village from where we will be picked up by a van to be dropped at Leh. Most of the group members chose to stay back and explore more of Leh, while some went back the next day.
I being a guy who likes to be alone had two more days in Ladakh. And they were also full of surprises. "What happens in the mountains, should stay in the mountains " .