Day 2: Hike to Mandara Hut, 2227 meters
You will start by driving from your hotel in Moshi and cross cultivation zone, Marangu village, heading to Marangu Gate, 1890 meters for about 1 hour's drive. You will do registrations and meet your crew and you will start hiking to cover 8 kilometers about 3 - 4 hours crossing rain forest. Picnic lunch and drinking water will be provided on the way.
Day 3: Hike from Mandara Hut to Horombo Hut, 3727 meters
This is a bit long day, about 10 kilometers' walk and estimated time will be 5 - 6 hours. Lunch and drinking water will be provided on the way. Also, you will get to moorland zone and you will be able to view Kibo and Mawenzi peak from far.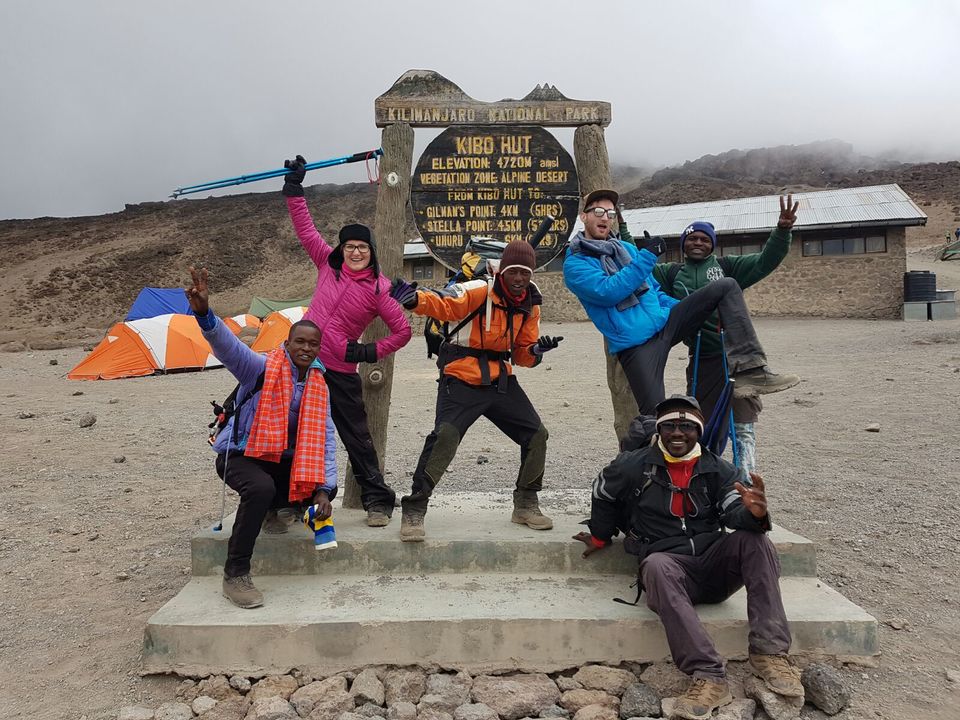 Day 4: Hike from Mandara Hut Kibo Hut, 4727 meters
Today you will be in the alpine desert and cross the saddle area between Kibo and Mawenzi. You will cover the distance of 9 kilometers for 4 - 6 hours. Lunch and water will be provided. Also, from this day is when some hikers start to experience some mountain sickness.
Day 5: Hike from Kibo Hut to Uhuru peak and descend to Horombo Hut, 5895 meters
Around midnight, you will be provided with some tea and snacks. Dress warm and starting hiking heading to the summit. It will take 6 - 8 hours', about 6 kilometers to get to Uhuru peak. The first peak will get at Gilman's point at 5685 meters which located at the crater rim and then Stella point at 5756 meters. Then, you will join other hikers from other routes heading together to Uhuru peak and you will be able to see the sunrise on your way or at the summit. You are recommended to stay at the peak for 10 - 15 minutes for view and pictures after you descend via the same trail to Kibo Hut for resting. After resting for 1 - 2 hours, you pack your stuff. Have brunch and start to descend down to Horombo Hut.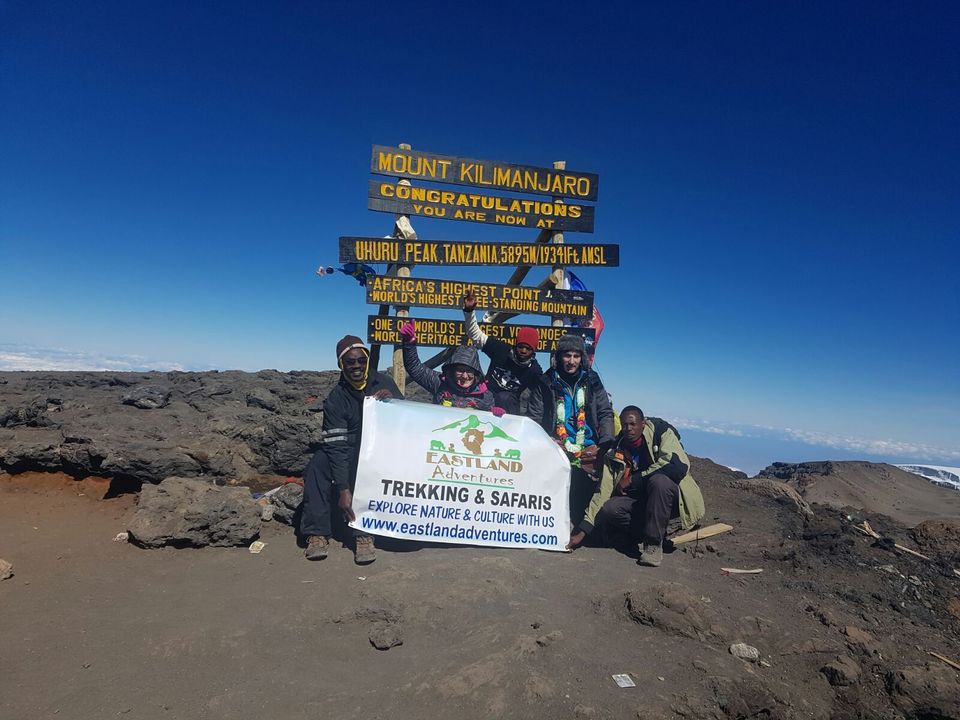 Day 6: Descend to Marangu gate
Soon after breakfast, you will meet your Kilimanjaro Eastland Adventures crew for group pictures and Kilimanjaro songs. After, you will keep descending down to Mandara Hut where you will stop for hot lunch and then descend to Marangu gate. The total distance to cover will be 18 kilometers and estimated time will be 6 - 8 hours. At Marangu gate, you will sing out to the Kilimanjaro National Park log book. Your Kilimanjaro expert officer (guide ) will collect your certificate for those who manage successful summit then drive you back to your hotel in Moshi for a long hot shower and Kilimanjaro beer.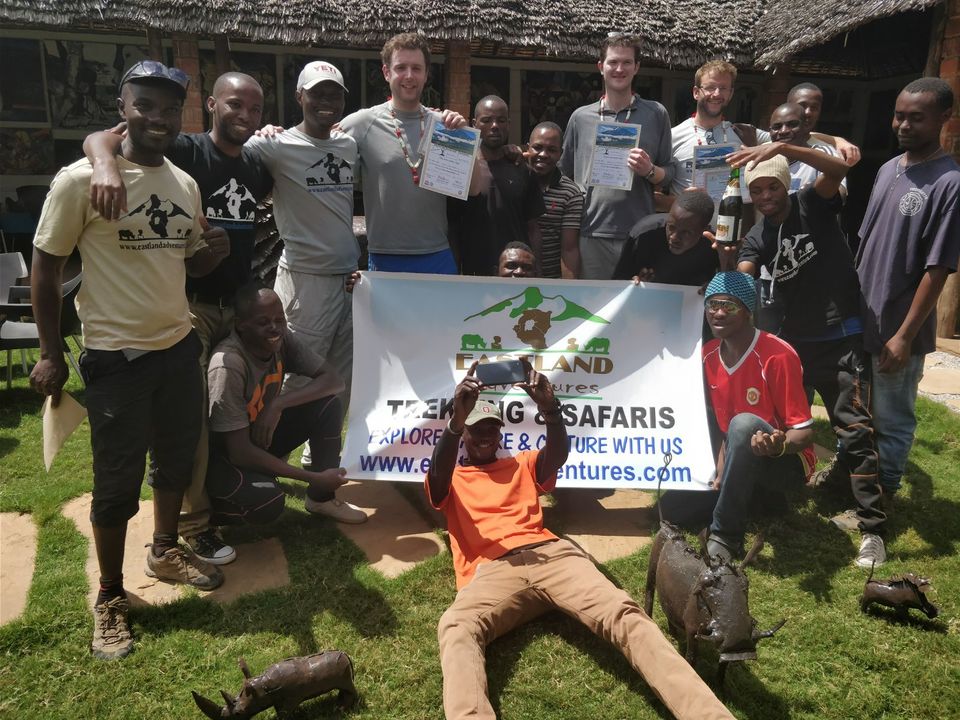 DAY 7: Join us for the Safaris
What's included?
• 4 nights' accommodation
• Crews' salaries, guide / cook / porters
• Kilimanjaro entry and accommodation fees
• Kilimanjaro rescue fees
• Hotel accommodation in Moshi, one night before trek and another night after trek
• Meals and water while trekking
• Oxygen cylinders for emergencies
• Pulse ox-meter
• Amref flaying doctors
• Service of an English speaking guide
• Transfers from Moshi to Marangu gate and back to Moshi in comfortable vehicle
• Airport transfers on arrivals and departures
What's not included?
• Extras at the hotel such as drinks, telephone, laundry etc.
• Extra hotel accommodations
• Immunization papers (yellow fever recommended)
• International and local flights
• Passport
• Tipping for the guides, cook and porters (recommended)
• Travel insurance documents
• Visa fees (100 USD for American citizens and 50 USD for non-American
• Excess luggage above 15 kgs
"EXPLORE NATURE AND CULTURE WITH US"