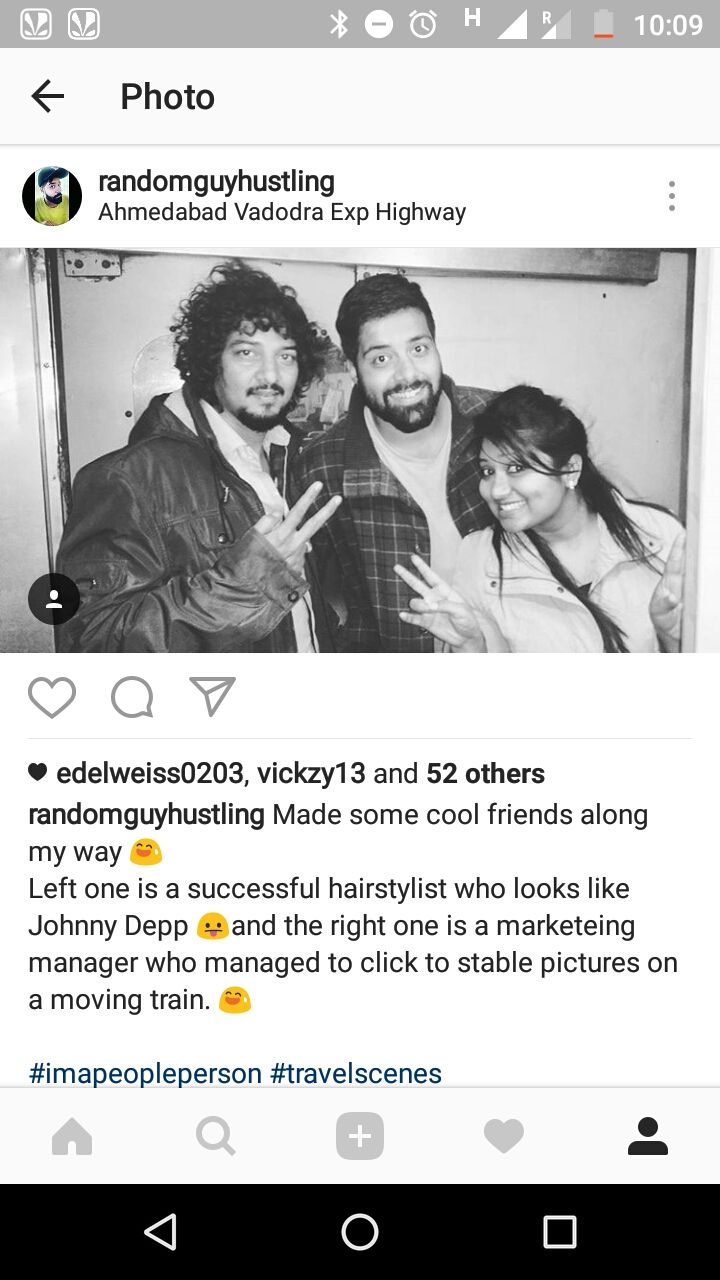 #SwipRightToTravel
So I'm supposed to return to Delhi from Pune. Thank god I missed my main train and it made me wait for a day to spend over my friend's hostel at IIT Bombay and I'm clueless what to do next as I had a little less time to wait and catch up with my buddies. So eventually I board this train from Navi Mumbai to Delhi and I'm free for the rest of the day to explore. And to tell you to your imagination I'm a lazy person and I don't travel much but when I  want to, I do travel from time to time but it mostly work which decides my journey unbenknownst to my admiations or any adventurous inclination. I'm just, whatever.
So, I find myself sitting with my college time buddy at Hiranandani brewing up ideas like where to go and what exactly do except staring at those greek buildings and random beautiful women passing us by. Beleive me it really took a toll on our knees and feet walking the same place just for the sake of seeing new places.
Samar and I had a great time together. Hiranandani is an amazing place to enjoy architecture and the people around are really cooperative and generous. After a tiring day's length of walking we finally put ourselves to hoppipola,  a decent looking bar near the same place,  had a couple cold ones and went back to the hostel.
I boarded my train the next day in the afternoon and to my surprise and shock I was given a chair car to Delhi because of the last minute reservations,  I had no choice for my next day rush hour. So I was to make this unhappening and not- able- to- stretch- my- legs- flat kind of a journey all alone. There were barely 5 or 6 people in the boogie and I was so pissed that I went straight immersed inside my kindle.
But then I found a girl behind my seat who works for Hindustan Unilever ltd. and also an elderly guy who is a professional hairdresser in Bollywood. I was a little curioud about his looks because the guy resembled a bit like Johnny Depp,  haha. Now, we bonded up real quickly over the common question of 'why the hell are we alloted here? ' and began sulking the railways for that. But then, train kept its pace and we had to make peace with our fates.
2 hours straight, we don't bat an eye over each other and then suddenly Ria asks me about my kindle and from there our conversation resumes again.
There's nothing else special or crazy about this journey except that we went smoking out the cabin doors and shared our stories, views and preferences about movies, music, weather changes, each other's adventure stories and future aspirations.
We had a really bad time adjusting with our seats for the rest of the night as we had to sleep on 3 leaning chair seats. Such a pain in the ass. But we made it through. After dinner, Ria went straight off to sleep in a blink(i hate these kind of people, sleep takes them away in seconds) and Salim went on to read his pre-installed 'A tale of Two Cities on his smartphone.
Time passes. Dawn breaks. Delhi arrives. We thank each other for bieng with us through this tiring journey. We knew we'll never see each other again in person. Made promises. You know what happens, so.
Sometimes all we need in our lives are just random people in random places to have a good time. At it's never supposed to mean that something crazy or special is gonna happen. It restores our normality to the present. For the rest of it,  we know where we came from and want to go.
Thank you,  Ria Sharma and Salim Sheikh,  you guys were awesome throughout. :)
(I wanted to write more about what happened in detail, but you know I'm lazy right?) :-p